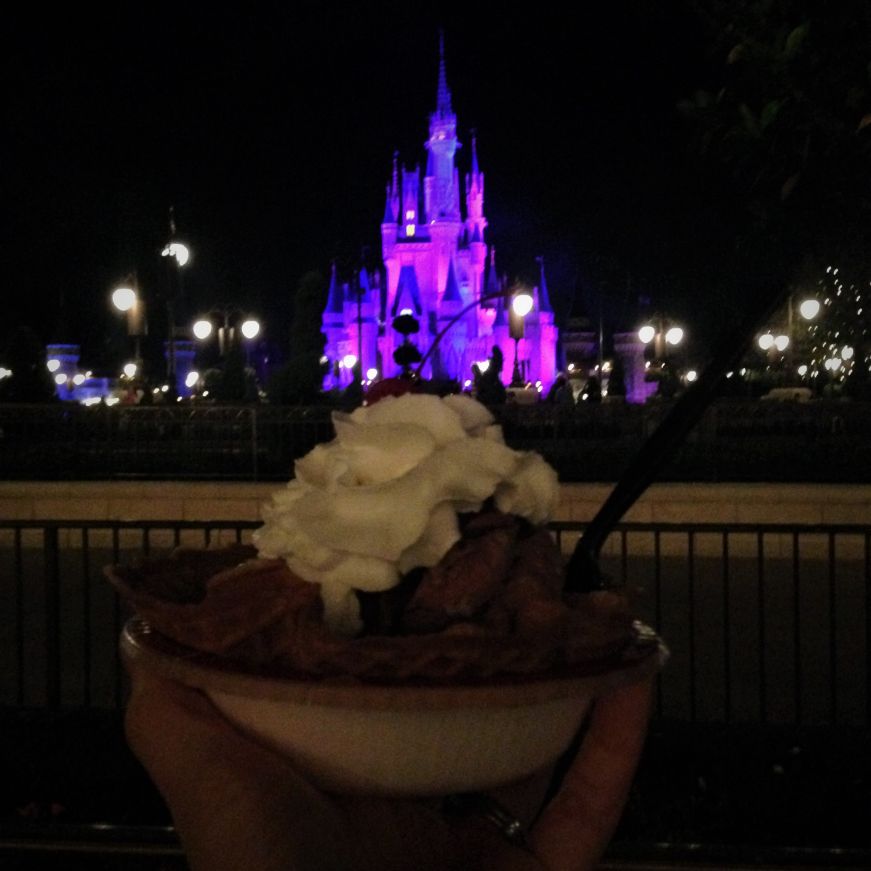 For me, one of the best things about travel is the food: trying local specialties, visiting markets and grocery stores, and eating dessert far more often than I do at home.  But our recent vacation to Disney World presented a challenge, especially since we were staying on Disney property without a rental car.  After spending about $200 per day on theme park tickets, I couldn't stomach the sticker shock of Disney's casual table service restaurants (entrees range from $14.99 to $34.99, with most around the $20-$25 mark).  On the other hand, five days of cheese pizza wasn't terribly appealing. 
Browsing through the menus on Disney's dining website allayed my concerns.  As someone who eats a mostly-vegetarian diet, I love that Disney posts menus for all of their restaurants, from swanky fine dining down to snack stands selling popcorn.  All prices are listed, and you can filter by location, price range, and cuisine.  I narrowed down the 300+ restaurants to counter-service places with at least one solid vegetarian option, and then came the fun part: field research.  Here are my favorites, organized by theme park, plus some bonus suggestions outside the parks.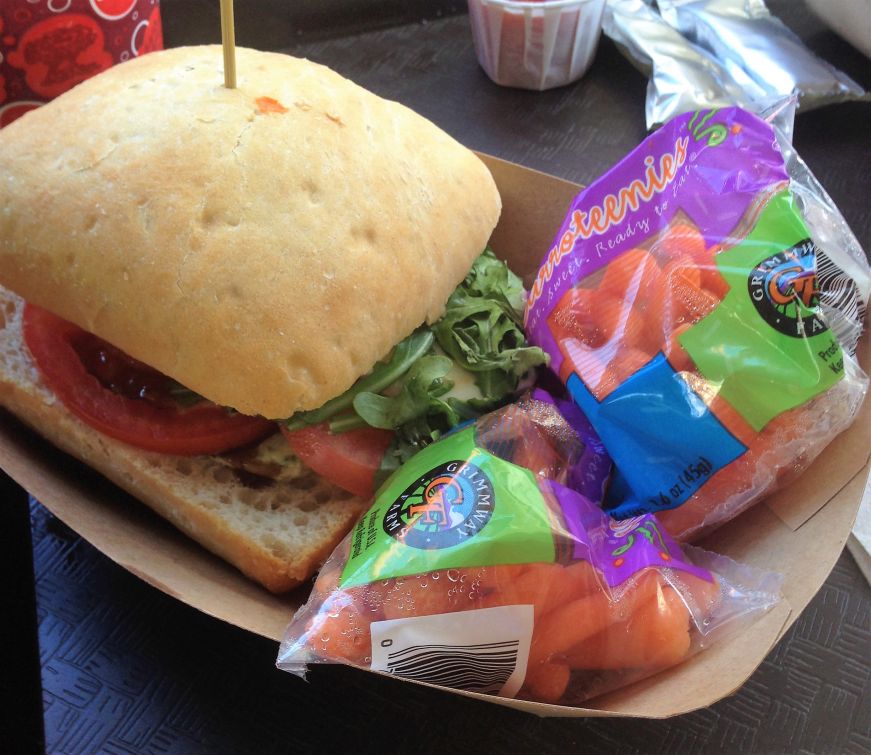 Disney's Hollywood Studios offered the fewest options for budget foodies, skewing heavily towards burgers, chicken nuggets, and pizza.  But since there aren't all that many attractions at Hollywood Studios either, we only had to eat one meal there.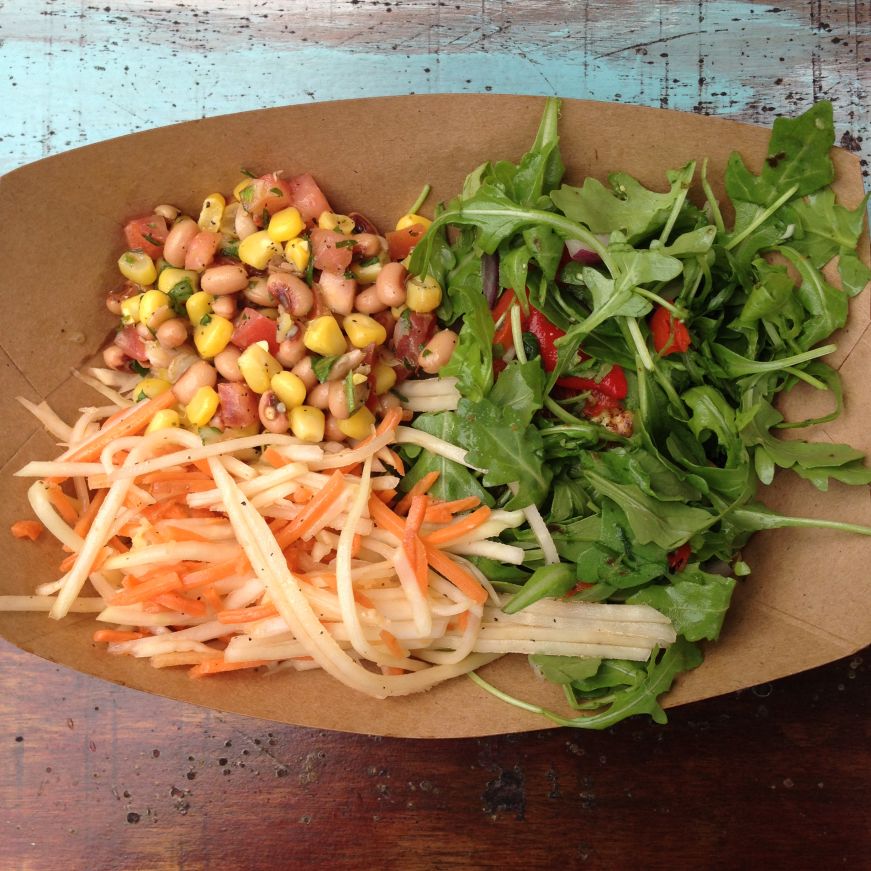 At Disney's Animal Kingdom, quick-service food options in the Discovery Island and Dinoland U.S.A. areas are mostly standard Disney burgers and pizza.  However, there are some gems in the Africa and Asia sections of the park.  Africa is styled as the fictional East African port town of Harambe, and Asia encompasses the fictional kingdom of Anandapur in the foothills of the Himalayas.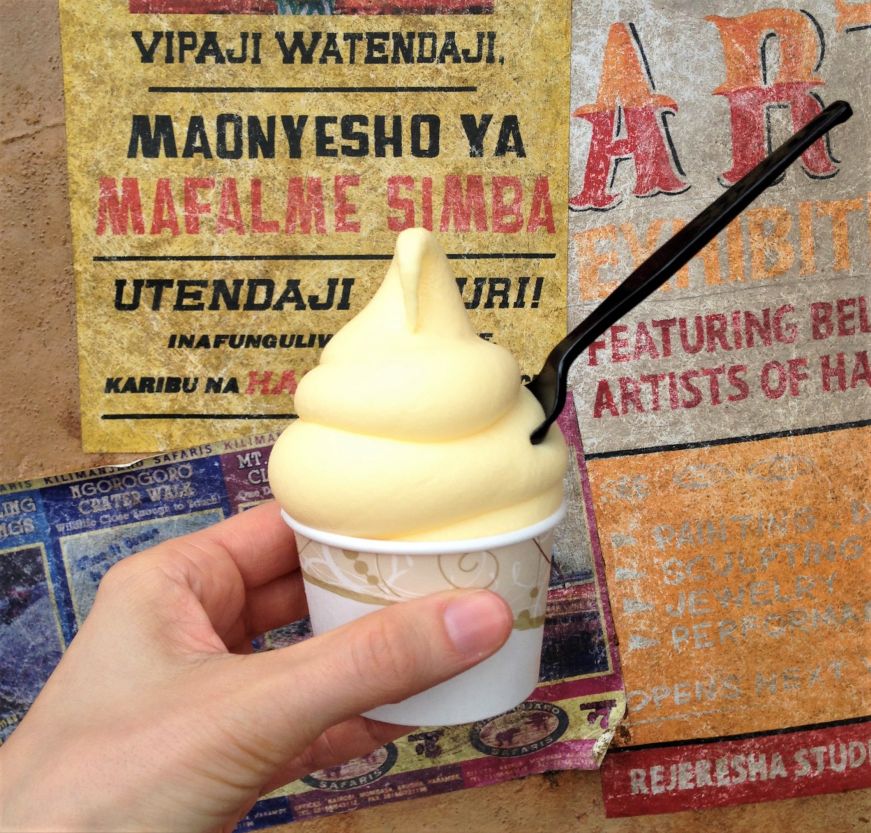 Food at the Magic Kingdom is geared towards the younger crowd, with lots of hot dogs, chicken nuggets, and popcorn kiosks. Luckily there are few spots that cater to budget foodies, too: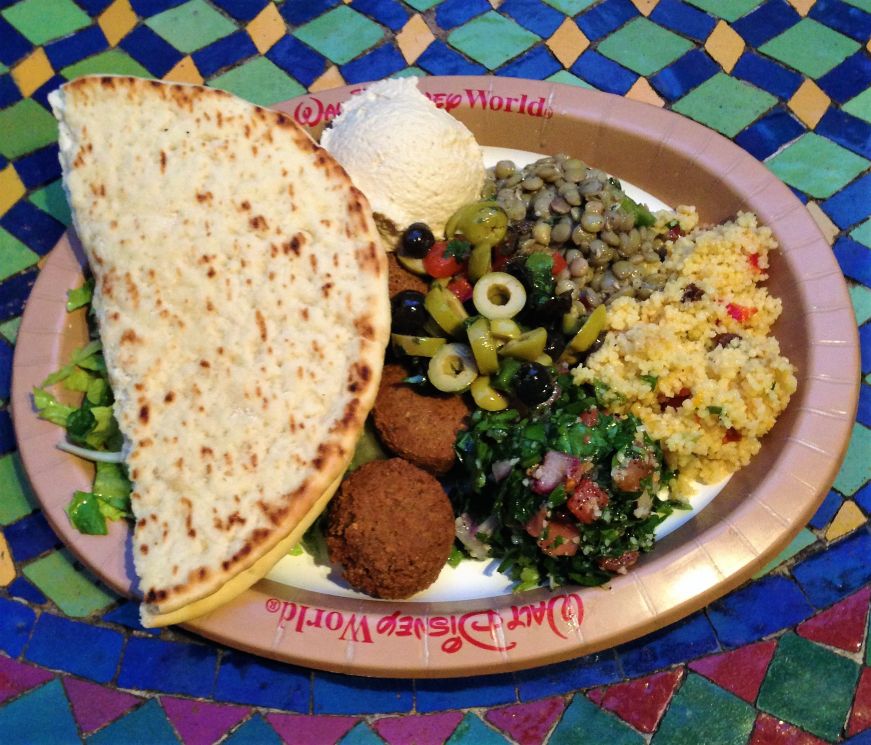 Epcot is hands-down the best spot at Disney World for budget foodie eats: the World Showcase has delicious globally-inspired cuisine, and Future World's Sunshine Seasons is several notches above Disney's typical cafeteria options.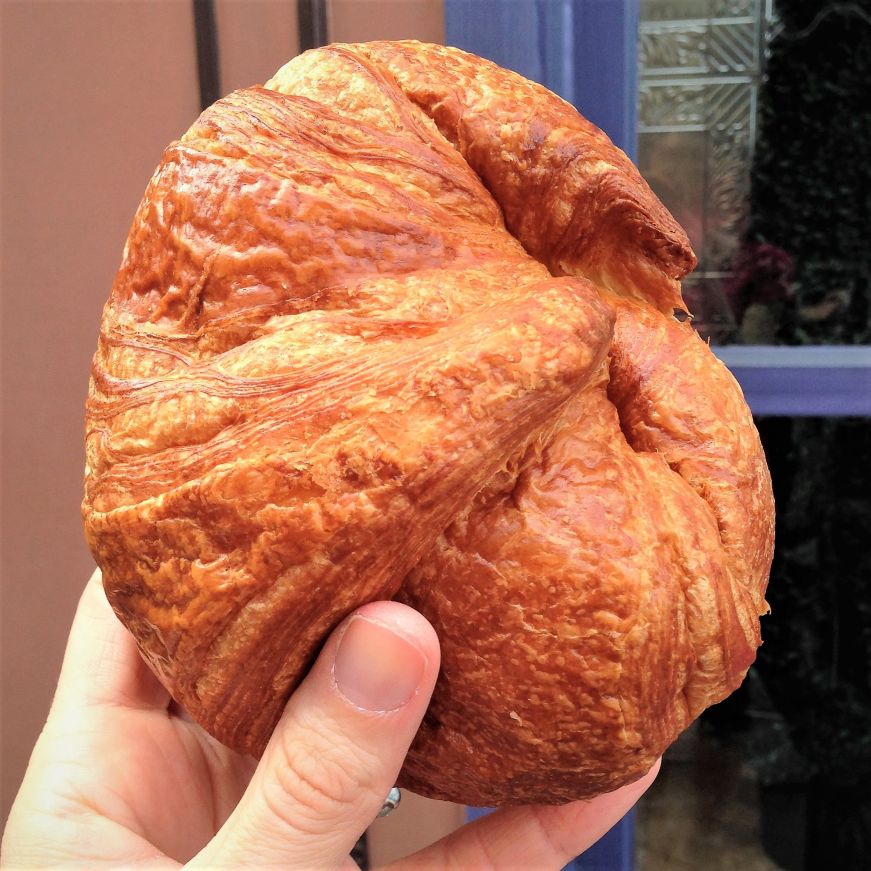 Outside the parks, Disney Springs has dozens of budget dining options, from outposts of national chains to Disney-themed food trucks.  My personal favorite is Ghirardelli Ice Cream & Chocolate Shop: not only does the shop hand out free samples of Ghirardelli chocolate, the ice cream parlor has a neat vintage feel and an extensive menu of elaborate treats.  Mike is partial to the very rich and very delicious chocolate malts, while I prefer an old-fashioned chocolate ice cream soda (it's not listed on the menu, but just ask and they'll make one for you).
Quick service dining is also offered at many Disney resorts.  We stayed at Pop Century Resort, which has Everything POP Shopping & Dining.  There's a cafeteria-style selection of crowd-pleasing fried chicken, pot roast, burgers, sandwiches, salads, pasta, and pizza.  The cooked-to-order flat breads are excellent (we enjoyed the garden vegetable, buffalo chicken, and breakfast versions), but the other food we tried was lackluster.  Pop Century's other refreshment option is the drinks-only Petals Pool Bar, which serves up some nice (albeit overpriced) signature cocktails poolside.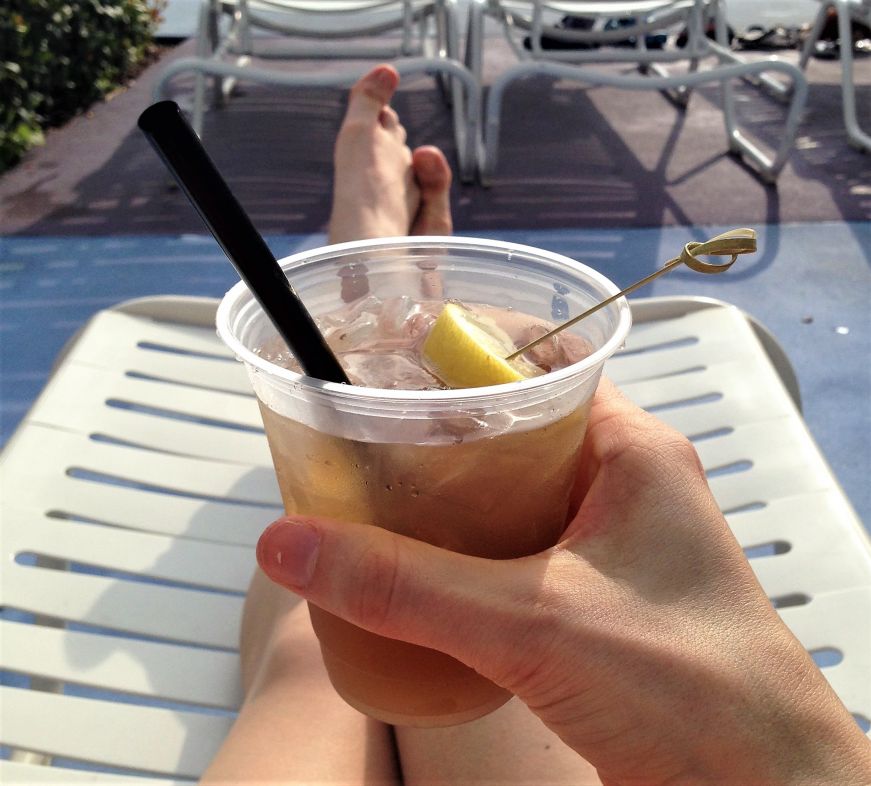 We also tried out the cafeteria at the nearby Art of Animation resort, Landscape of Flavors.  The food selection is similar to what's available at Pop Century, with the exception of some Asian-inspired entrees.  It's a similar hit-and-miss experience: my Mongolian fish and spinach and paneer were decent and I found the naan quite tasty, but Mike ended up with strangely flavored curry chicken and uncooked rice.
The takeaway: Budget foodies don't have to settle for chicken nuggets--Disney World offers plenty of tasty options, especially at Epcot's World Showcase. 
A note about the Disney Dining Plan: For our 5-night vacation, the quick service dining plan would have cost $463 for two adults.  This included 2 meals (an entrée and non-alcoholic beverage) and 2 snacks (like an ice cream bar, pretzel, or non-alcoholic beverage) per person, per day, plus a refillable drink mug that can be used at resort quick service restaurants.  I usually drink water with meals (glasses of tap water are free throughout Disney), and I knew that my vegetarian entrees would be cheaper than average; I just didn't see how we would be spending $92.60 per day.  Skipping the dining plan was the right call: all of our food and non-alcoholic beverages, plus 5 cocktails and a rum-spiked Dole Whip, came in at $406. 
If you enjoyed this post, pin it!