Most restaurants in Grand Marais have a view of the water.  At the Angry Trout Café, you can get one step closer, by literally dining on Lake Superior at one of the dockside restaurant's patio tables.  Yes, you may need to bundle up and have a healthy tolerance for bracing breezes, but the catch of the day really does taste better within view of the commercial fishing vessel that caught it.  Obviously, fish features prominently on the menu--you can get the catch of the day in sandwich, entrée, salad, or fish and chips form, or opt for wild-caught Gulf shrimp or locally smoked trout.  If you'd prefer something land-raised, there are several chicken options, turkey or beef burgers, and steak.  There's also plenty for vegetarians, from entrée-sized portions of fettuccine or wild rice to shiitake mushroom skewers.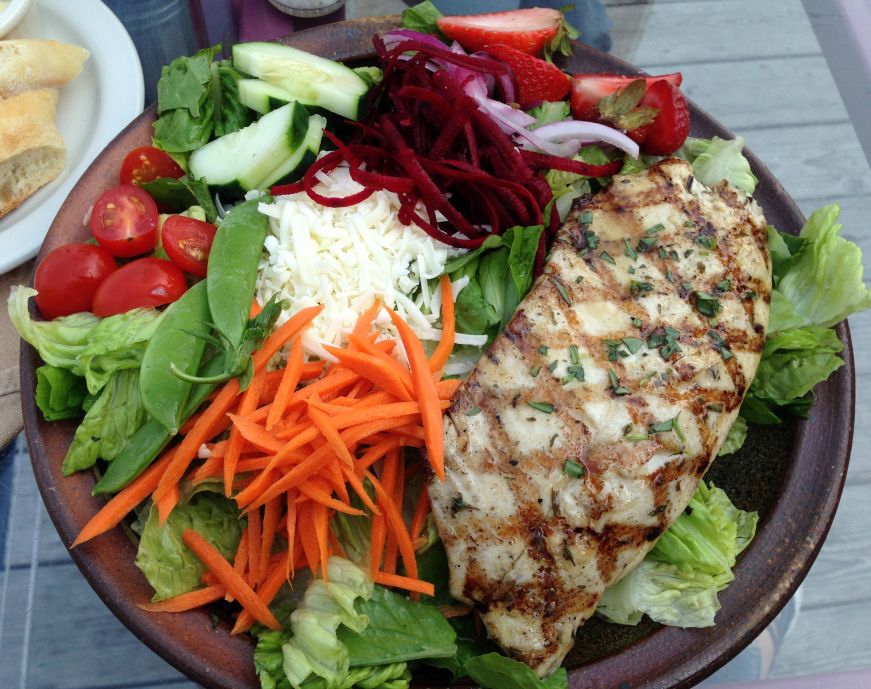 On the day we visited, there were two catches of the day: herring and whitefish.  I opted for the milder whitefish, grilled and served on a salad.  The fish was prepared with just enough olive oil, lime juice, and tarragon to set off the delicate freshness of the fish without overwhelming it.  The rest of the salad was a bit hit and miss.  Although all of the components were delightfully ripe and crisp, some of the ingredients--particularly the strawberries and the beets--didn't pair well with the fish or the rest of the salad.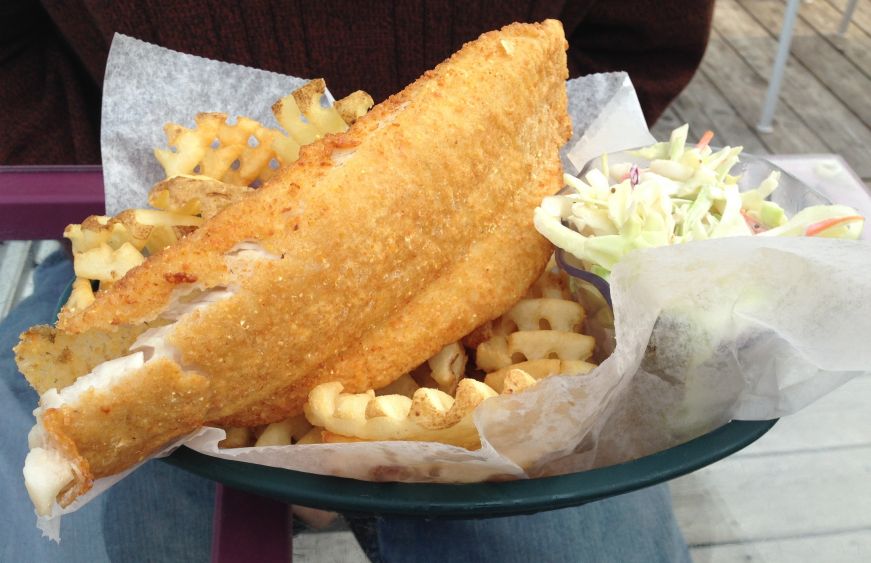 The fish and chips (also prepared with whitefish) were a lighter change of pace from the pub-style standard.  The thin coating of batter allowed the quality of the fish to shine, and the tarragon-heavy tartar sauce added a complementary fresh note.  The waffle fries and coleslaw were unremarkable, although the coleslaw did contain a little regional flourish in the form of dried cranberries.
The Angry Trout doesn't take reservations, but you can call up to 15 minutes before you arrive to be added to the seating list.  When the wind is blowing off the lake, the wait for outside seating will be much shorter than the wait for the dining room--so bundle up and enjoy some well-prepared Lake Superior fish in its native habitat.
Angry Trout Café
http://www.angrytroutcafe.com/
408 W Hwy 61
Grand Marais, MN 55604
(218) 387-1265