Like many contemporary American restaurants, the Birchwood Cafe is committed to serving local, seasonal produce.  In Minnesota, the land of an all-too-brief growing season, this level of commitment in the root-vegetable-intensive winter months is a bold move.  However, the Birchwood Cafe delivers admirably with a menu of standard favorites with some interesting twists.  The menu changes eight times a year and features a few seasonal entrees (for our March visit, there were pork ribs, monkfish stew, turkey pot pie, and sweet potato latkes).  On the "classic" section of the menu, the dishes stay the same year round—salad, vegetables and rice, handpie, and savory waffle—but the ingredients change with the seasons.  Finally, the dinner options are rounded out by a selection of sandwiches and pizzas.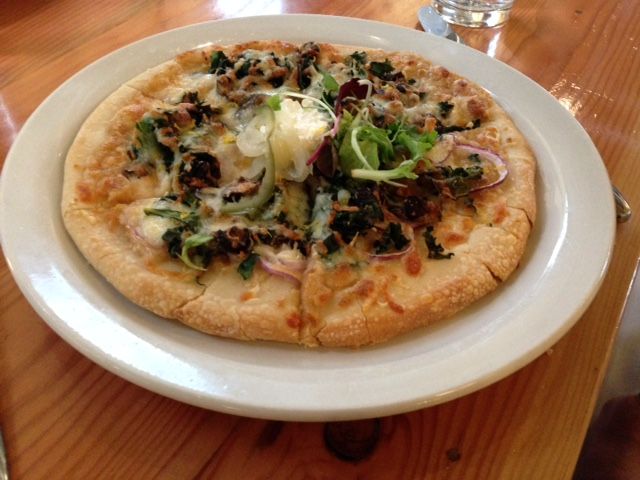 The vegetable pizza is topped with many of the usual suspects: mushrooms, onions, Parmesan, and provolone.  However, the more unconventional  sprinkling of kale, dollop of cream cheese, and unexpected dash of lemon zest take center stage, while a mild garlic spread solidly performs its supporting role.  What looks like a mishmash of strange toppings on paper becomes pizza perfection when applied to a marvelously chewy crust.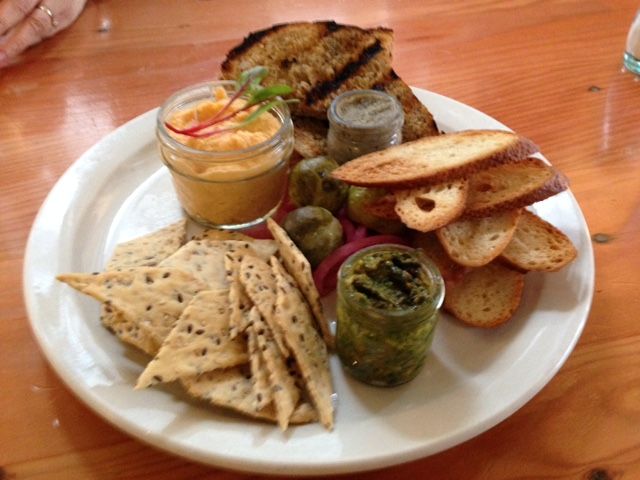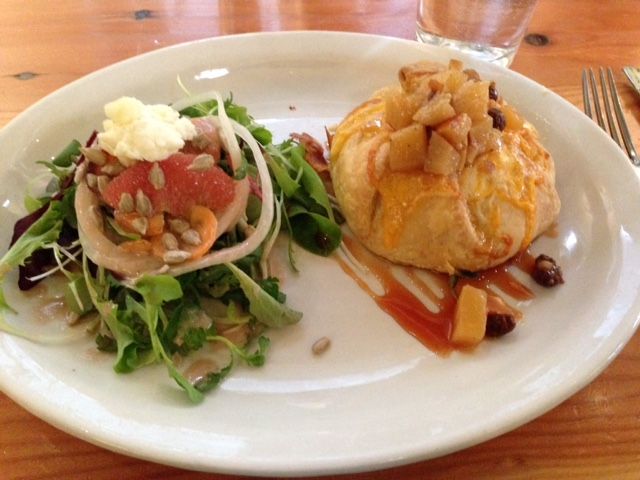 Our other dishes fell just short of the high bar set by the vegetable pizza.  The crostini plate appetizer featured deliciously thick slices of grilled birdseed bread, a bright arugula pesto, and pickled Brussels sprouts that would win over a vegetable skeptic, but the cauliflower sweet potato and garlic lentil purees were disappointingly bland.  The root vegetable handpie included several stellar components: an inspired combination of kale and feta, a tender crust, a bold blood orange sauce, and a well-composed miniature salad with grapefruit and sheep milk cheese. Unfortunately, the handpie's jarringly strong parsnip notes kept the other flavors from coming together cohesively.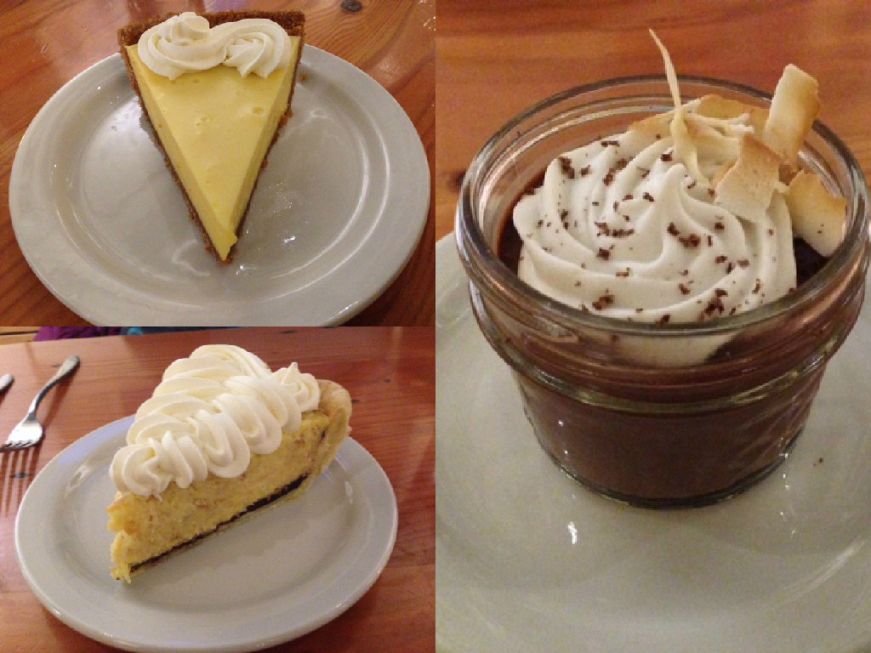 As all good meals do, ours ended on a high note with a sampling of desserts.  A Mexican chocolate pot de crème had an I-can't-believe-it's-vegan creaminess, with bittersweet chocolate, a touch of cinnamon, and a coconut whipped cream providing complex layers of flavor. The biggest disappointment of the evening was a one-note key lime pie that lacked freshness.  Luckily, our spirits were restored by a generously-sized slice of coconut cream pie with an intense nuttiness and hint of dark chocolate that kept each bite interesting.
If the Birchwood Cafe can create local food this good during the deprivation of a Minnesota winter, a return visit in summer or fall is definitely in order--I want to see what flavor artistry can be created with a richer produce palette.
Birchwood Cafe
http://birchwoodcafe.com/
3311 East 25th Street
Minneapolis MN 55406
(612) 722-4474