Duluth's Fitger's Brewhouse is appropriately located within a former brewery on the shoreline of Lake Superior.  Although the attraction for most is the beer, the menu of "Duluth pub food" has a lot to offer for a casual meal, whether or not you're pairing it with a beer.  Classic bar food is well represented--lots of burgers, chicken strips, nachos, and artichoke dip--but there are also vegetarian friendly-items like a hummus platter, a grilled portabella mushroom salad, three iterations of the signature wild rice burger, and black bean chili.  For pescatarians, options include locally smoked trout served in a salad or wrap and a locally caught whitefish burger.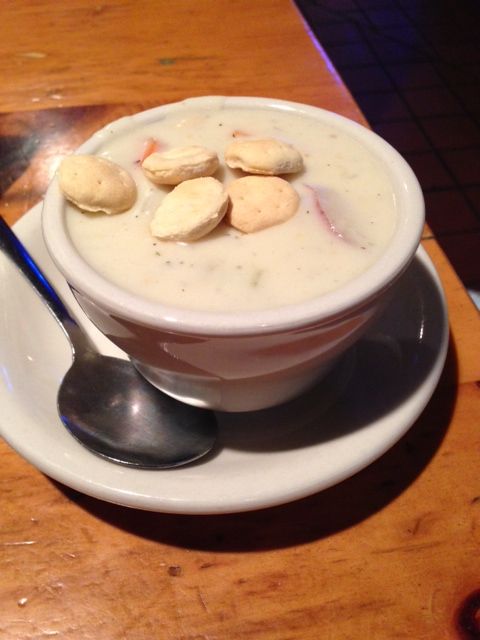 In addition to the vegetarian black bean chili, there's a featured soup of the day.  We were treated to a steaming bowl that would do any New Englander proud: a chowder rich with clams, but not overly fishy, and fortified with tender chunks of potato.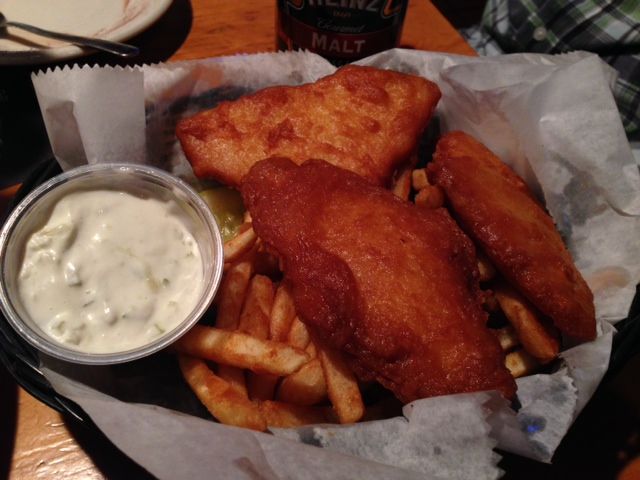 The fish and chips were served seconds from the deep fryer, with a thick, crisp beer batter on the fish and a thinner coating of the same beer batter on the chips.  The slender dimension of the chips optimized the deep-fried-to-potato ratio, making them the most satisfying French fries I've had in long time.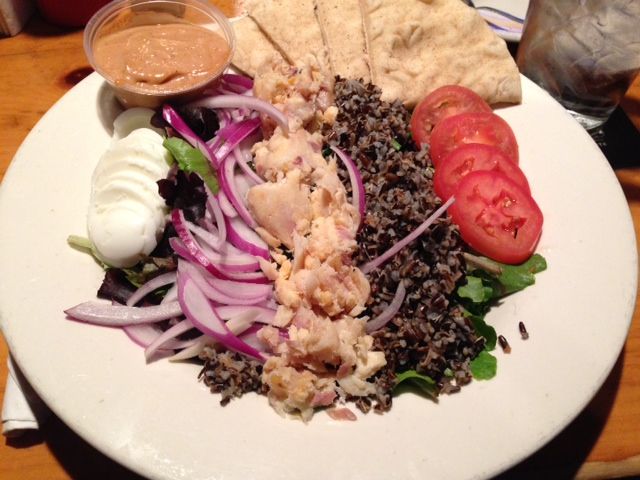 I ordered the smoked fish salad without the cheddar cheese listed on the menu (the fish/cheese combination just seemed too weird), and I think I made the right call.  Northern Waters smoked trout, wild rice, tomatoes, onions, and a hard boiled egg are arranged atop a bed of mixed greens, with a warm, fluffy pita on the side.  The smoked trout is the rightful centerpiece, while the wild rice provided a pleasantly chewy note.  The salad is served with a house-made smoked dressing that was truly unique: it tasted slightly charred, with a hint of barbecue flavor.  The only off note about the salad was the overwhelming volume of onions, which I could still taste hours later.
And although it might be strange to get a mug of hot chocolate at a pub, the Brewhouse version is as good as anything you'll find a your local coffee shop, and comes topped with a mound of homemade whipped cream (actually, this makes it better than my local coffee shop--they use Redi-Whip).  This attention to detail is evident throughout the menu--the perfectly tender potato in the chowder, the excellent fries, the smoked dressing--and it makes Fitger's Brewhouse a worthy culinary stop on a trip to Duluth, even if you don't like beer.
Fitger's Brewhouse
http://brewhouse.net/grille/
600 East Superior Street
Duluth, MN 55802
(218) 279-2739