The Chef Shack Ranch is a hard place to pin down.  The decor is eclectic antique (a bathroom wallpapered with the pages from 1950s magazines, wall art made from well-worn cake pans, the classroom map of Minnesota I remember from eighth grade geography), but the Caesar salad includes trendy ingredients like kale chips and quinoa.  Brisket and pulled pork are prominently featured on the menu, in tacos and the signature "Big Boy Ranch Plate", but there are also vegetarian-friendly tacos and a tempeh Reuben.  Most intriguing of all are the Indian spiced mini doughnuts, a state fair classic back from a sojourn in Bangalore.  The interesting cuisine and down-to-earth atmosphere attracted a wide variety of patrons on the Friday we visited, from heavily tattooed college students in cutoffs and flip flops to party of eight celebrating Grandma's birthday dressed in their Sunday best.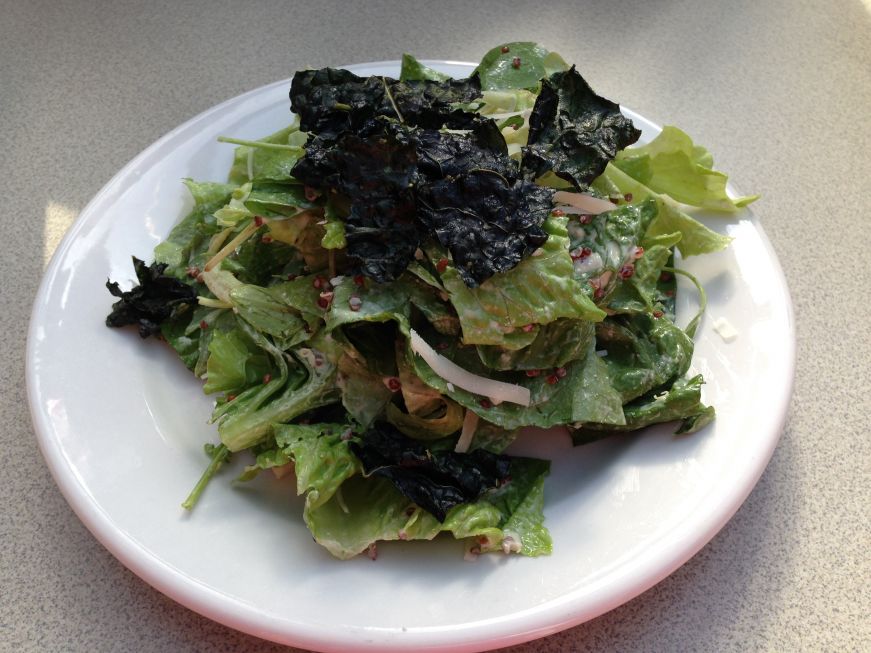 The aforementioned Caesar salad starts as usual, with dressed romaine lettuce and shaved Parmesan.  Then come the unorthodox additions: kale chips and a token sprinkling of quinoa.  Besides a novel papery texture, the kale chips contribute a slight bitterness that mellowed the richness of the dressing.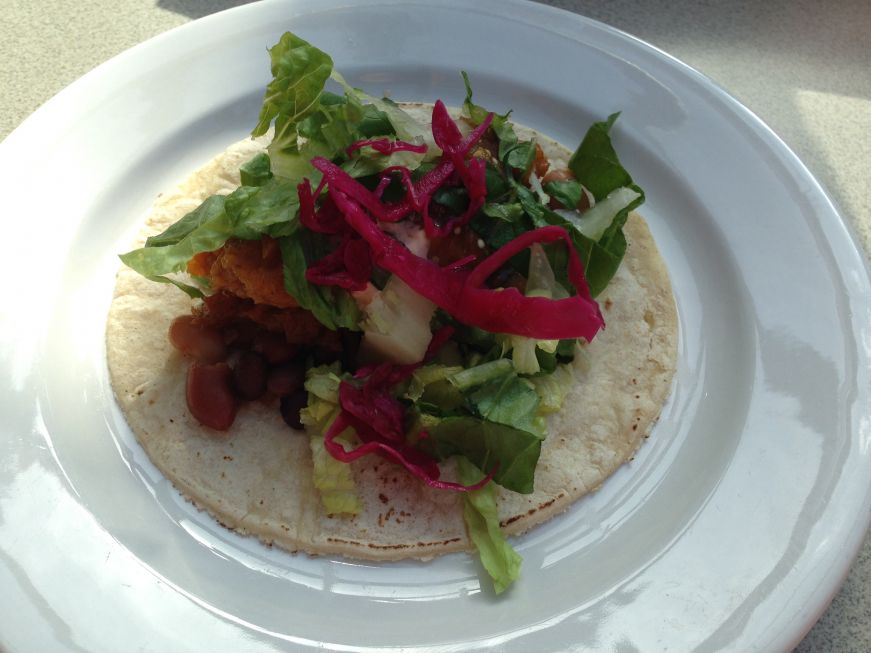 The sweet potato taco also includes baked beans and lettuce.  As served, the mashed sweet potato is a bit bland, but this can be rectified with a side of hot sauce--similar in texture to a pureed salsa, it admirably adds the necessary heat.  My major quibble is that the tempeh, mushroom, and sweet potato tacos are the same price point as the pulled pork and brisket versions, $4 each, which seems a bit steep for a single vegetarian taco.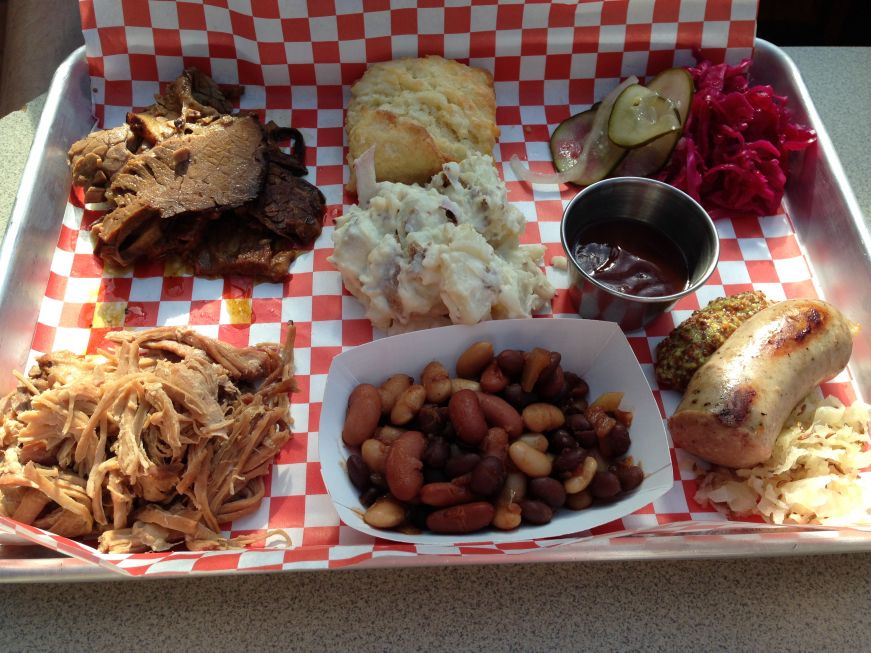 The Big Boy Ranch Plate (get the half size if you're eating it solo) includes three types of meat and five sides, wildly varying in quality.  The smoked brisket, pulled pork with barbeque sauce (the sauce is a must, the pork is too dry without it), and the unexpectedly gingery slaw are the plate's strongest components, making you wish you could go back to the kitchen for a second helping.  Unfortunately, the potato salad, curiously devoid of seasoning, and the parched specimen of a biscuit were hardly worth finishing.  The beans, pickles, and sausage were in between, tasty but not notable.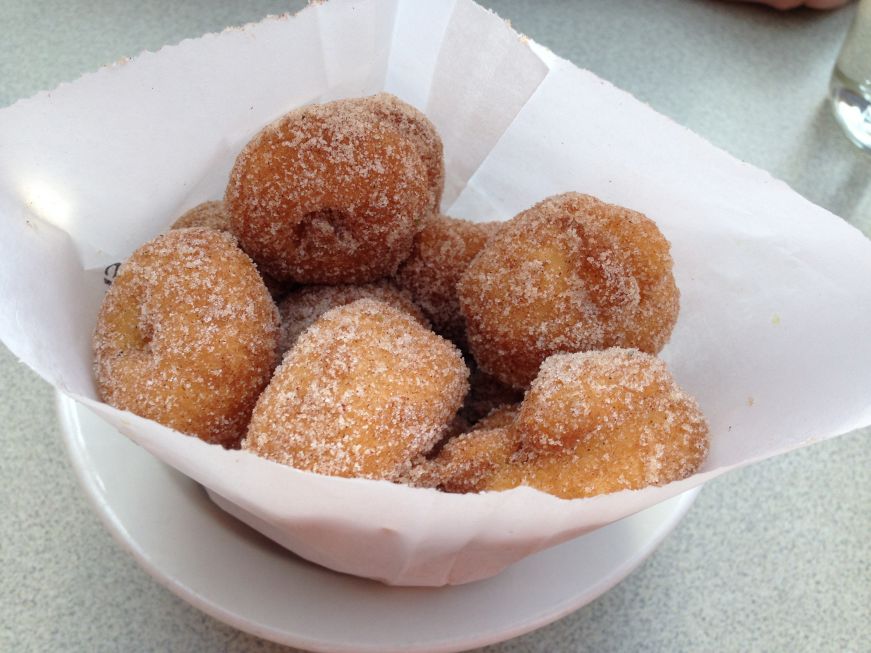 No matter how much you've eaten, no matter what else is on the dessert menu, order the Indian-spiced mini doughnuts.  They arrive at your table still hot from the fryer, little doughy pillows encrusted with sugar, cardamom, and the slightest hint of salt.  One serving (about 20 mini doughnuts) generously serves two, making it the restaurant's best bargain.
Is the Chef Shack Ranch's cuisine impossible to neatly categorize?  Definitely.  But that--and the mini doughnuts--are what make it worth a visit.
Chef Shack Ranch
http://chefshackranch.com/
3025 East Franklin Avenue
Minneapolis, MN 55406
(612) 354-2575