Update November 2017--Flamingo Restaurant has closed.
"You don't like collards?" asked the waitress as she whisked away the remains of my giant vegetarian combo platter.  Some collard greens and a few soggy bits of injera were all that remained.  I confessed that I had enjoyed everything else on the platter, but collards just didn't do it for me.  "Oh, lots of people don't like them," she reassured me. "Next time, just ask for a double serving of one of the other things in the combo instead."
That's St. Paul's Flamingo Restaurant for you: generous portions of East African food served with a comfortable friendliness.  The storefront restaurant's decor is fairly utilitarian, but the East African music in the background and vibrant paintings set a welcoming tone.  The menu mostly consists of injera entrees: a variety of chicken, lamb, beef, and vegetarian dishes served on a thin, platter-sized round of spongy injera flatbread.  Many of the entrees can be ordered as a small plate, a welcome option for lunch.  A few pita bread sandwiches and rice entrees ranging from sweet and sour chicken to goat meat round out the menu.  Most of the items are listed with both their Ethiopian and Eritrean names--the restaurant's owners, Shegitu Kebede and Frewoini Haile, hail from Ethiopia and Eritrea respectively.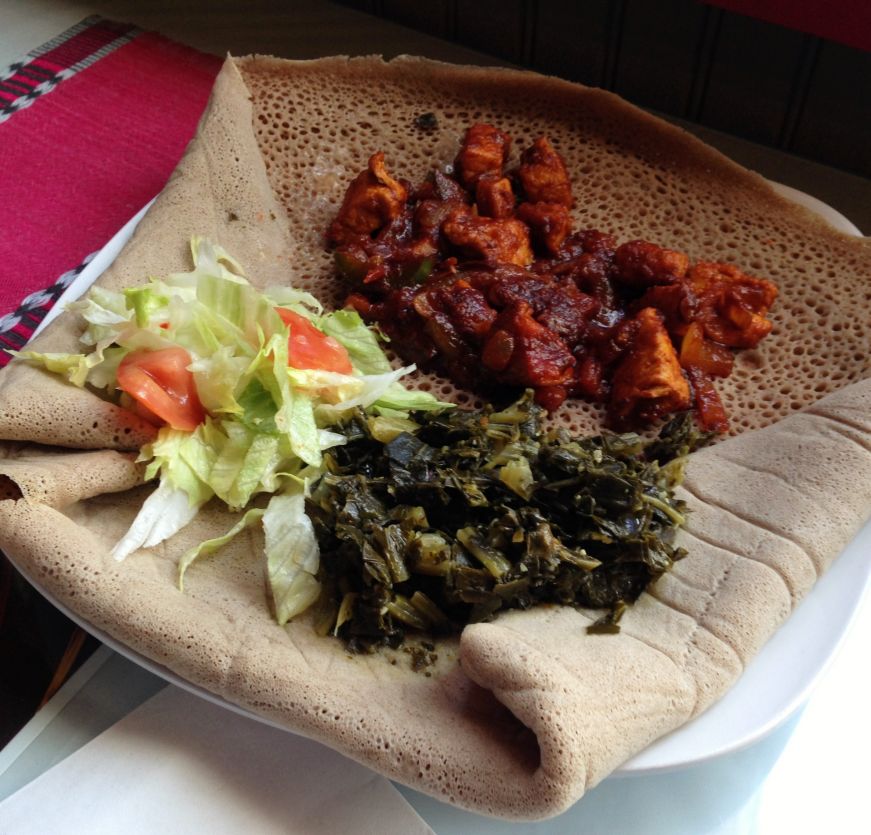 The dorho kilwa/doro tibbs is a good starting point, slightly spicy with hint of smokiness.  The chicken breast is stir-fried with onions, ginger, and jalapenos in an herb butter spiced with garlic, ginger, and cardamom.  In lieu of utensils, eat the chicken using the injera it's served on--tear off a small piece of bread and use that to grab a bite of food.  Like all of the injera entrees, the dorho kilwa/doro tibbs is served with two sides, a house salad with a tangy vinegar dressing and a chef's choice vegetable (in our case, hamil/gomen, or collard greens).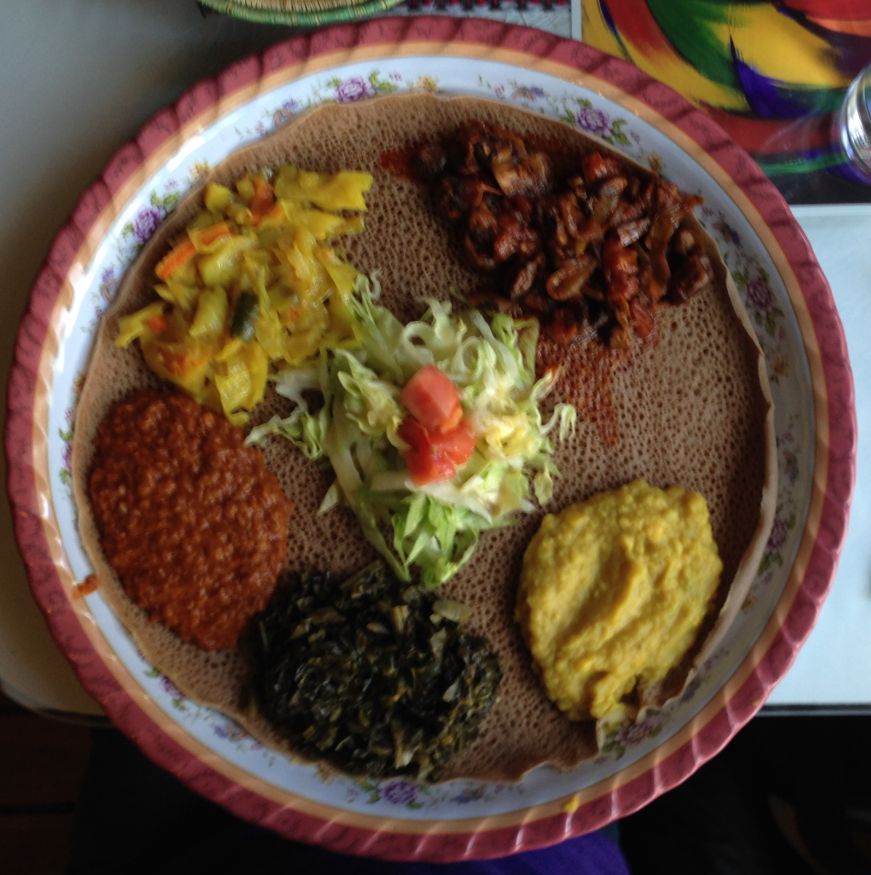 The menu offers plenty of injera entree options for vegetarians, in addition to a vegetarian combo consisting of hearty portions of alicha, hamil/gomen, ater, timto/miser, and a salad.  The difen miser or mushroom entrees can be added to the combo for an additional charge--the mushrooms entree is definitely worth including.  My favorite items from the vegetarian combo were the slightly spicy, berbere-seasoned items: the timto/miser, a red lentil stew; and the mushrooms.  The ater (a yellow split pea stew) and the alicha (a combination of crisp-tender cabbage, carrots, and potatoes) shared a similar flavor profile, both modestly seasoned with a blend garlic, ginger, and tumeric that allowed the main ingredient to be the focus of the dish.  The hamil/gomen is decent, but as mentioned above, collard greens have a pungent bitterness that I haven't yet learned to appreciate.
As a fan of East African fare, I've noticed that often everything on the sampler platter tastes the same: delicious, but all nuance has been lost under a heavy dose of berbere.  That's where the Flamingo Restaurant stands out.  Although the various dishes have similar flavor profiles, careful preparation draws out the unique flavors of each main ingredient.  Beneath the berbere and spiced herb butter, you can savor the mushrooms, chicken, lentils, or it you're so inclined, even the collards.
Flamingo Restaurant
http://flamingorestaurantmn.com/
490 N. Syndicate Street
St. Paul, MN 55104
(651) 917-9332