Full disclosure: when Mike and I go to Champlin's Ginza Sushi & Grill, we gravitate towards the "grill" portion of the menu.  I'm fond enough of sushi, but the grill items always pique my interest more: udon and soba noodles, fried rice, and hibachi and teriyaki entrees.  My dinner of choice is the teriyaki salmon bento, ideal for those who like to try a little bit of everything as well as obsessive-compulsive types who hate it when their food touches.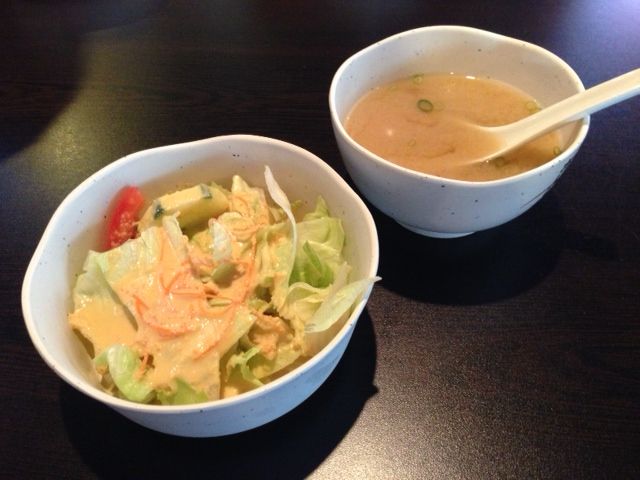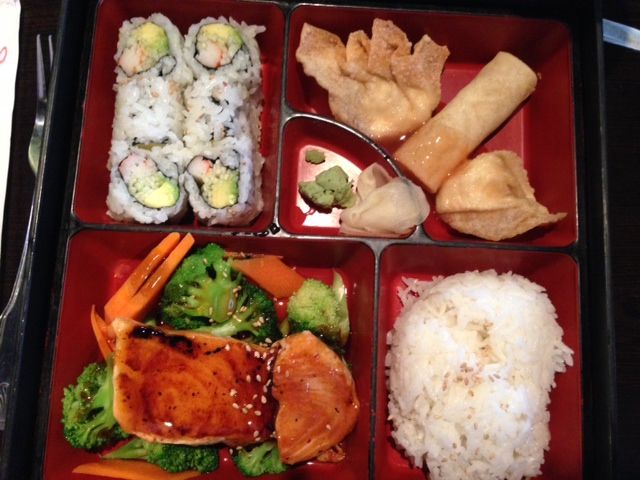 Although the meal starts with a lackluster miso soup and iceberg salad drowning in a sea of weak ginger dressing, the main course is artistic in execution: a bento box with precisely assembled portions of teriyaki glazed salmon and steamed broccoli and carrots, white rice garnished with a sprinkling of toasted sesame seeds, a California roll, harumaki (a fried vegetable spring roll), and cream cheese wontons (in no way authentic, but still very tasty).  The salmon is moist, with a teriyaki sauce that neatly walks the tightrope of flavor without becoming overly salty, while the vegetables are cooked to crisp perfection and serve to soak up the excess teriyaki sauce.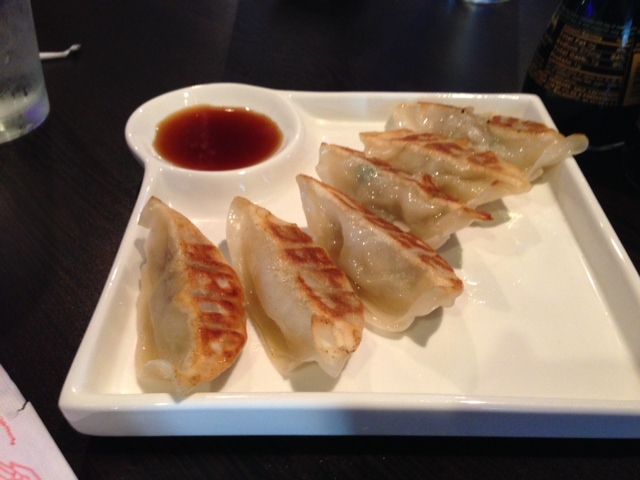 If you're not ordering a multi-course dinner, appetizer favorites include the wholesome-tasting giant portion of steamed edamame, lightly seasoned with salt, and the gyoza, pork dumplings served with a savory dipping sauce.  The vegetable rolls are a light, fresh option, whether or not you're a vegetarian; in lieu of fish, they're filled with cucumber, avocado, asparagus, or more intricate combinations of vegetables, tofu, and seaweed.
As far as atmosphere, Ginza Sushi & Grill has a sleek contemporary decor that's a notch or two above the typical strip mall eatery, with a subdued ambiance that makes it perfect for a quiet date night or a happy hour meet up where you can actually hear your tablemates.
The wide range of Japanese dishes and quiet surroundings make Ginza Sushi & Grill a satisfying, Zen-like change of pace in an area of the metro mostly populated with chain restaurants and sports bars.  Now I just need to delve into the sushi side of the menu.
Ginza Sushi & Grill
http://www.ginzachamplin.com
11460 Jefferson Court
Champlin, MN 55316
763-421-0268