At Harry Singh's Original Caribbean Restaurant, the décor is comfortably rundown: a not-very-convincing fake palm tree in one corner, a toy parrot hanging from a perch on the ceiling, and assorted tourist kitsch from the proprietor's native Trinidad.  But the walls are covered in accolades from the past couple decades--Best Caribbean Restaurant, One of the 99 Best Meals for Under $10, Best Cheap Eats--and Harry Singh himself takes your order, brings you a pitcher of water with your jerk pork because he knows you'll need it, and presents you with a handwritten receipt at the end of your meal.  There's not much in the way of elegant presentation or locally-sourced free-range artisanal ingredients.  Instead, Harry Singh's is where you go when you want a plate of Caribbean comfort food, served with a side of calypso music that will have even staid Minnesotans swaying in their seats by the end of the meal.
Trinidad's cuisine reflects its diverse population, with East Indian, African, Creole, European, and indigenous influences.  Harry Singh's signature item is a 12-inch circle of roti, a flatbread made of ground peas and rolled out to a paper thinness to order.  It's served folded around your choice of about a dozen fillings (half of which are vegetarian), from mild curries to spicy jerks.  The menu also features Creole and curry rice dishes and an interesting selection of tropical fruit juices and punches.
The curry potato and chickpea roti is as basic as it sounds: curry-seasoned potatoes and chickpeas, wrapped in roti.  However, the textural contrasts and comforting flavors make this a vegetarian dish well worth your while.  The potatoes are well-done, cooked almost to the point of mushiness, while the chickpeas retain a solid bite.  The curry flavoring is mild, and deceptively simple at first.  But on the second bite, and the third, the warming spices spread across your mouth and give you a feeling of contentment.  The roti provides an additional boost of slightly nutty flavor, besides taking on the seasonings of the filling--the highlight of my dinner was coming across little chewy folds of doubled up roti that had soaked up bits of smashed potato.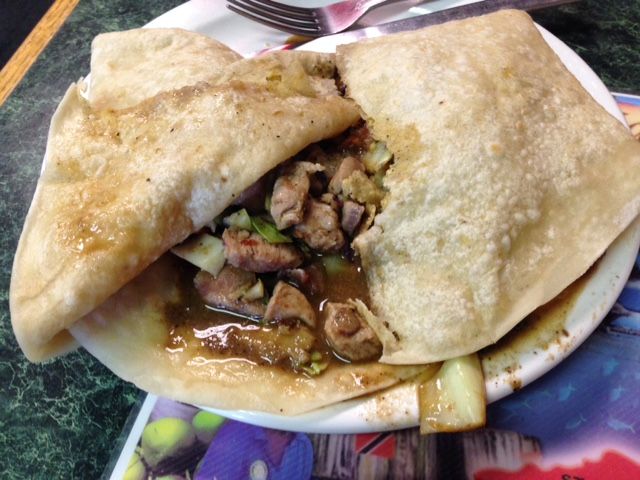 The jerk pork roti was generously portioned (and priced the same as the potato and chickpea roti, making it a bargain), with broccoli, cabbage, and onions in addition to chunks of chili-seasoned pork.  The heat level was manageable if you enjoy spicy food, but go slow--you've got a big job ahead of you.  Like the curry potato and chickpea roti, the best part of the dish is how the excess roti is saturated with the jerk pork juices.
I tend to be unenthusiastic about comfort food--it usually seems to connote an overabundance of cheese and a bland heaviness.  But a potato and chickpea curry, wrapped in a skillfully handmade roti and served to you by a man who has been doing what he does very, very well for a very long time?  That's comfort food I can get behind.
Harry Singh's Original Caribbean Restaurant
http://harrysinghs.com/
2653 Nicollet Ave S.
Minneapolis, MN 55408
(612) 729-6181