If the Holy Land is busy, you may find yourself queued up between packages of feta cheese and piles of olives--the Middle Eastern counter-service eatery shares space with a specialty grocery store of the same name.  The restaurant's décor is brightly utilitarian, but any similarities to a fast food franchise end there.  A glance into the open kitchen reveals several slowly rotating vertical spits of lamb meat, barrel-sized rice cookers, and a half dozen rotisserie chickens spinning their way through leaping flames.  But despite all the meat on display, the Holy Land is a rare budget-friendly restaurant with plentiful and interesting vegetarian options (in other words, it's the perfect cheap date night for this mostly-vegetarian and her enthusiastically omnivorous husband).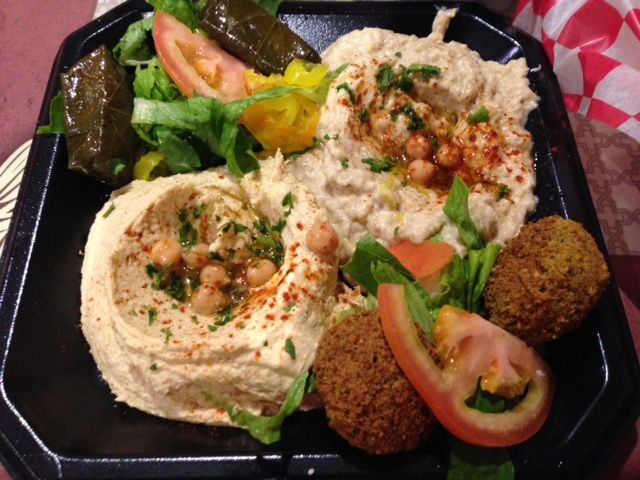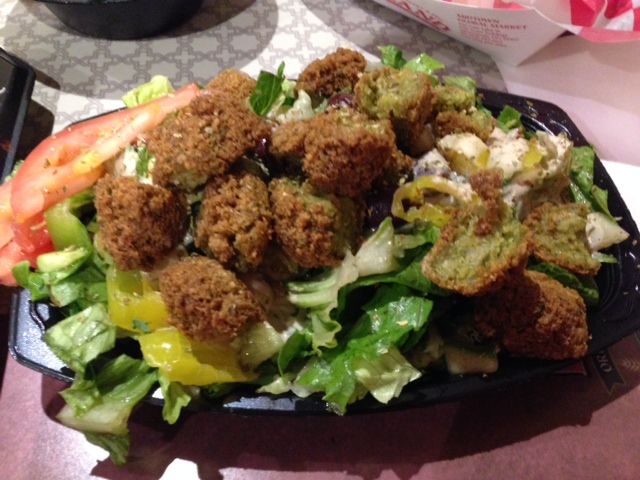 The appetizer sampler (which happens to be vegetarian) consists of large servings of hummus and baba ghannuj, a side salad, and two pieces each of the falafel, stuffed grape leaves, and pitas.  The highlights of the sampler are the falafel, their green parsley-hued interiors a bright flavor contrast to the deep-fried exterior; and the pitas, which are baked fresh daily.  The hummus and grape leaves are well-prepared but not particularly memorable, and the overpowering bitterness of the baba ghannuj made it impossible to eat more than a few bites.  Next time, I'll stick with the falafel, which I further enjoyed in the form of a falafel salad; they can also be ordered as a 10-piece appetizer, pita sandwich, or wrap.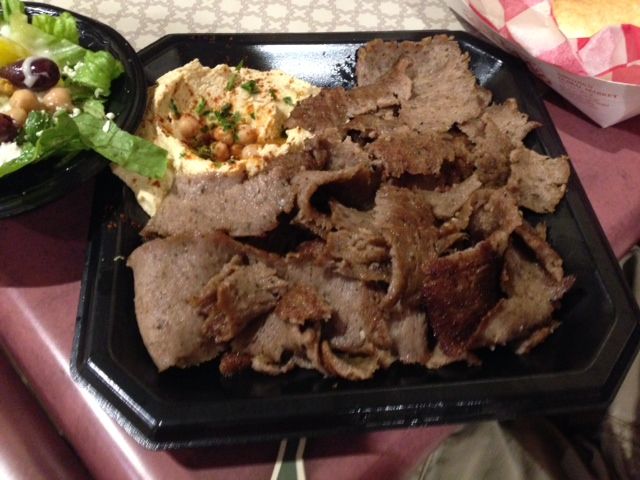 The gyro is your chance to try some of the meat you were watching rotate earlier, skillfully shaved from a vertical spit and served with a side salad, pitas, and your choice of rice, hummus, or fries.  The meat is crisp and peppery, with a potato chip-like addictive quality--I don't think I've ever seen my sister eat that much meat in one sitting.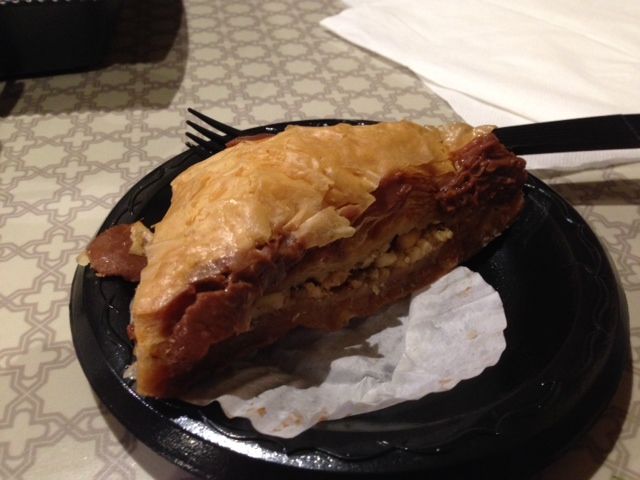 Tempting as it may be to finish your dinner, pack up some of it to go (everything at the Holy Land seems to come in super-sized portions--just ask at the counter for a box). You need to save some room for a piece of chocolate baklava, its thin layers of chocolate a subtle complement to the classic honey and walnut flavor profile.
Your Holy Land experience doesn't need to end with dessert: you can buy the Holy Land's hummus and fresh bread at the adjacent grocery store, as well as halal meats, olives, cheese, dates, spices, dry goods, and baklava (and for some reason, Ethiopian ingredients; the Holy Land is my injera and berbere source for Ethiopian Yellow Split Pea Stew).
Although service is minimal by design at a counter-service restaurant, the Holy Land's employees seem dedicated to providing an excellent customer experience.  During our visit, the cash registers crashed due to a computer glitch, and it took an extended period of time to get them up and running.  As the line grew longer and longer, the cooks came out from the kitchen to apologize profusely, hand out coupons for $5 off our orders, and offer us complimentary beverages while we waited.  The food was well worth the wait, and the proactive customer-focused service was some of the best I've experienced, at any price point.
Holy Land
http://holylandbrand.com/
2513 Central Avenue NE
Minneapolis, MN 55418
(612) 781-2627
The Holy Land also has a location in the Midtown Global Market, with a smaller grocery selection (they do carry injera)
920 East Lake Street
Minneapolis, MN 55407
(612) 870-6104