If you're the kind of person who likes bucket lists, a visit to Khyber Pass Café for an Afghani dinner checks off one of the 1,000 Foods to Eat Before You Die (the restaurant is specifically recommended).  On the other hand, reducing an entire country's cuisine to a single list item in the pursuit of racking up frantically-paced life experiences kind of misses the point.  Don't just scarf down your meal at Khyber Pass Café and depart, having experienced Afghani cuisine once and for all.  Instead, return again and again: the café is a cozy place to spend a Friday evening, you can customize your meal with an assortment of house-made chutneys, and everything down to the side order of spinach is prepared with care.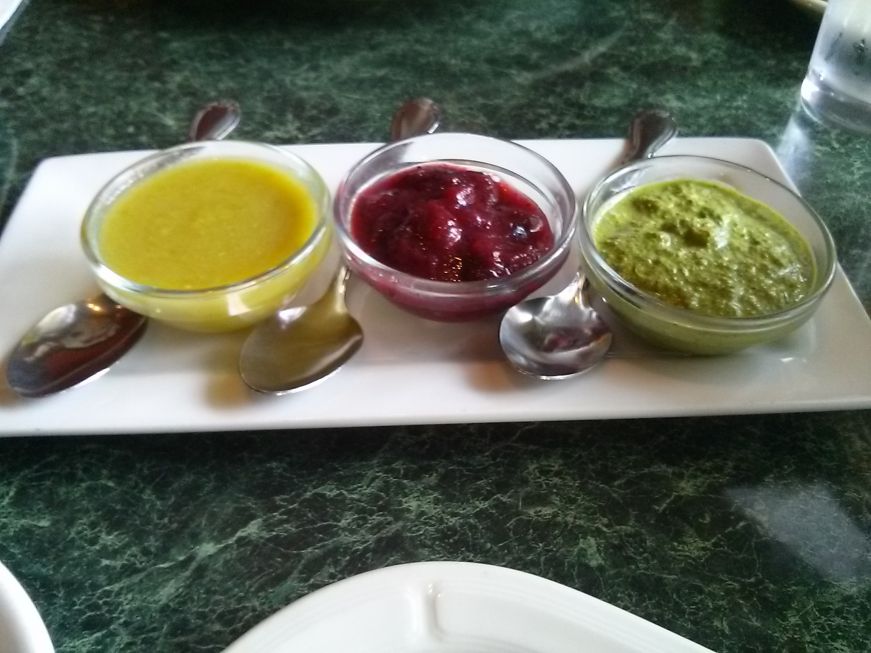 The menu encourages you to accompany your meal with one of the house-made chutneys--since I couldn't settle on one, I skipped the entrée and ordered the chutney sampler, which includes three chutneys of your choosing and a basket of pillowy-soft Afghani bread.   I tried the ginger-jalapeno, cranberry, and cilantro-walnut chutneys.  The ginger-jalapeno chutney was the spiciest, and the strident ginger note made it too overwhelming to enjoy on bread.  However, it was a welcome addition to my side of spinach and would also pair well with rice or chicken.  The cranberry chutney was identified on the menu as "slightly spicy", but I just detected a pleasant balance between tartness and sweetness.  My favorite chutney was the cilantro-walnut, shimmering with cilantro and a generous helping of salt.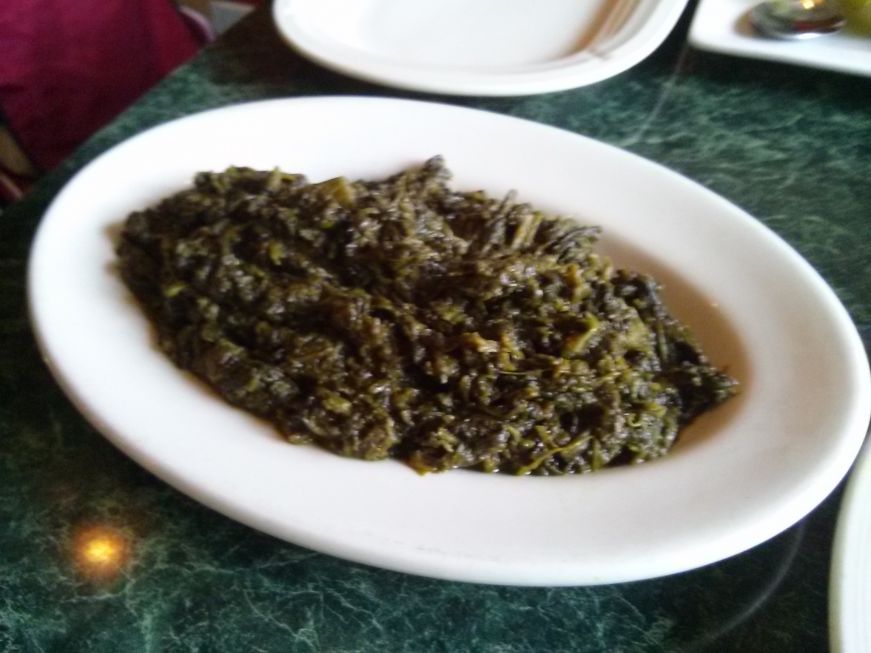 As mentioned above, the spinach was best when paired with the ginger-jalapeno chutney, and I appreciated the generous serving size for a side dish.  On its own, the spinach was nicely cooked but minimally seasoned, so definitely order a chutney to accompany it.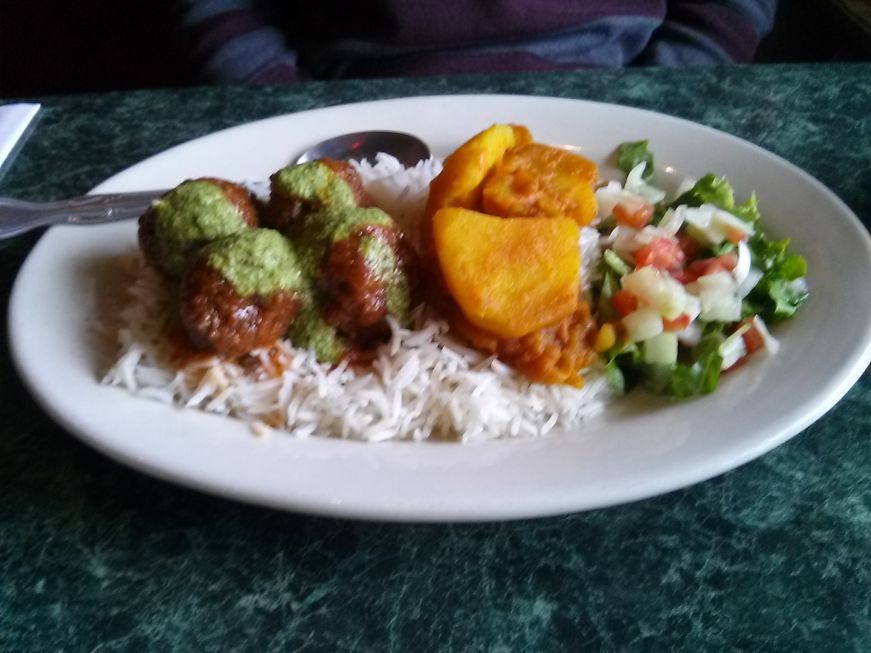 In a city strongly influenced by Scandinavian immigrants, it seems a bit lame to go to an Afghani restaurant and order one of the most familiar items on the menu: kofta and aloo, or beef meatballs with potatoes.  However, Khyber Pass's version is a welcome detour from the Ikea-style Minnesota classic, with curry-flavored potatoes and lean meatballs drizzled with cilantro-walnut chutney.  The meal is rounded out with a side salad and a serving of rice.
Other items on the menu include several preparations of organic New Zealand lamb, a build-your-own vegetarian combo plate, and chicken kebabs.  Thursdays feature live music at 9 pm (check the website for details), and there's a rotating dinner special on Friday and Saturday evenings. Service is attentive without being rushed, and the textiles hanging from the ceiling provide lovely décor and acoustics conducive to conversation.
Regardless of your stance on culinary bucket lists, a meal at Khyber Pass Café with a side of cilantro-walnut chutney is an experience worth having.
Khyber Pass Café
http://khyberpasscafe.com/
1571 Grand Avenue
St. Paul, MN 55105
(651) 690-0505