The fluorescent-lit entry, cafeteria trays, and Styrofoam cups at Maya Cuisine are deceptive.  After you pay for your food at the end of the counter and stop at the salsa buffet, you can dine on a cobblestone plaza, complete with a gurgling fountain and faux building facades.  Maya Cuisine may be the most unexpectedly atmospheric eatery in the Twin Cities, and the menu of Mexican specialties does justice to the surroundings.
Although the menu primarily focuses on meats ranging from marinated pork to beef tongue, vegetarian options are well-represented: a sauté of potatoes and peppers is incorporated into a vegetarian burrito, taco salad, quesadilla, tacos, or torta; there are a few meatless tamales; and a few of the entrees (including the chile relleno, huaraches, and sope) are either already meatless or can be made so.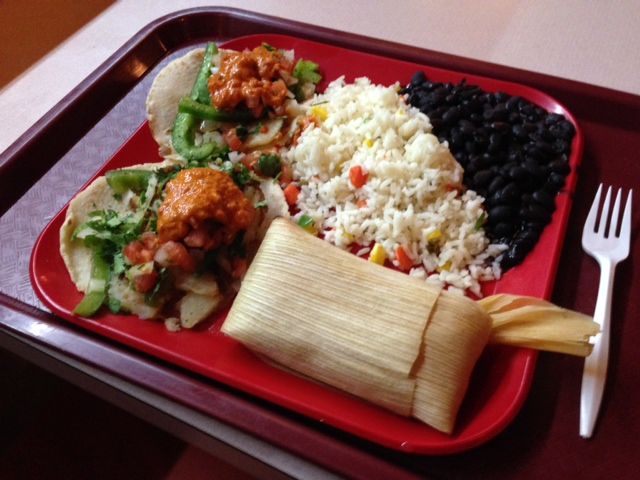 The Maya Plate is a bargain if you want to try a few different items.  You choose any combination of three tacos, tamales, or tostadas, with sides of rice and black or refried beans.  I opted for two vegetarian tacos and a rajas poblanas con queso (poblano pepper and cheese) tamale.  Note that you can either have your meal garnished as it's assembled, or do it yourself at the self-serve salsa buffet—if you're trying out the spicier salsas, go for the self-serve.  While one of my tacos was just right, the other was a drenched with a bit too much medium-hot salsa for my Minnesota-bred taste buds.  Although some peppers were too close to the crisp end of crisp-tender, the fresh, handmade corn tortillas and perfectly tender potatoes made the tacos a success.  The rice and black beans had a serviceable institutional quality, nothing snazzy but decent.  The highlight of the platter was the rajas poblanas con queso tamale, with a flavor focus squarely on the roasted poblanos and just enough cheese to tantalize.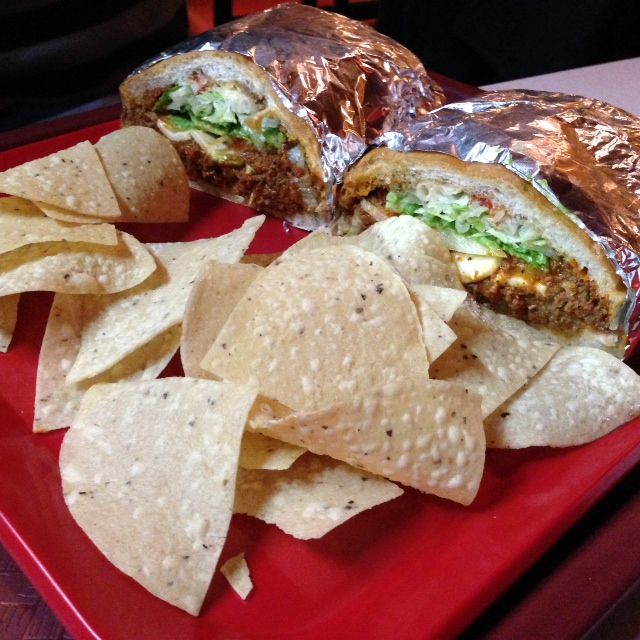 The torta de chorizo, served in two foil-wrapped halves, is large enough to be mistaken for two sandwiches at first glance.  A slab of toasted bread is slathered with refried beans and loaded with chorizo (a Mexican sausage), lettuce, tomatoes, onions, cheese, avocado, jalapenos, and chipotle sauce.  It's a respectable sandwich with fresh ingredients, and the moderate spiciness of the fillings is tempered by the refried beans and thick layers of bread.  But honestly, I fell in love with the handful of tortilla chips on the side.  Thickness-wise, they were more similar to potato chips, and that plus their generous dusting of salt gave them an addicting quality.
Although the food isn't anything fancy, there are several culinary touches--the tortilla chips, the handmade corn tortillas, the perfectly cooked potatoes, the poblano tamale--and a festive atmosphere that make Maya Cuisine a worthy stop for a quick lunch or dinner in Northeast.
Maya Cuisine
https://www.facebook.com/MayaCuisine
1840 Central Avenue NE
Minneapolis, MN 55418
(612) 789-0775