The Maple Grove outpost of Patrick's Bakery & Cafe is a welcome refuge from the Shoppes at Arbor Lakes' plethora of chain restaurants and vast expanses of asphalt.  Patrick's is a sleek space, with a case full of glistening pastries, a wine bar, and breakfast, lunch, and dinner menus emphasizing French cuisine.  While vegetarians will find plenty on the lunch menu--quiches, sandwiches, and flatbreads--vegetarian dinner options are limited to a few appetizers and a couple salads. 
My favorite lunch entree is the tarte flambé, a flatbread traditionally topped with crème fraîche, onions, and bacon.  If you're in the mood for a lighter lunch (which I recommend, so that you have room for dessert), they're are large enough to split.  For a vegetarian version, try the forestiere tarte flambé, which includes mushrooms, and have the chef leave off the bacon.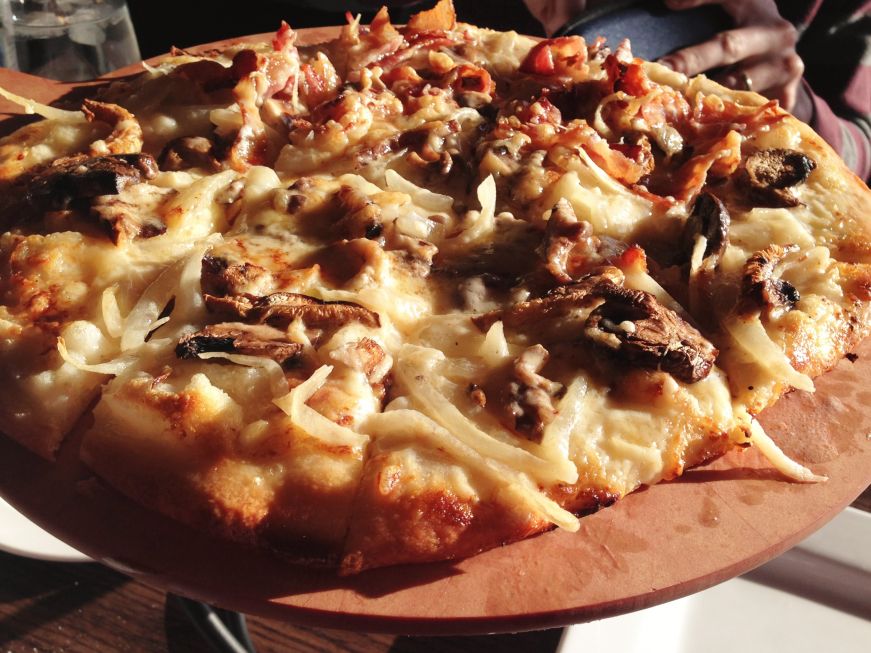 The tarte flambé's crust is thinner than a traditional pizza (although thicker than the typical cracker-thin flatbread), balanced just between crispy and chewy.  The crème fraîche provides a tangy note, pairing well with the deep, rich flavor of the mushrooms and the sweet roasted onions.  Mike enjoyed the addition of bacon on his half, but my half tasted complete without it.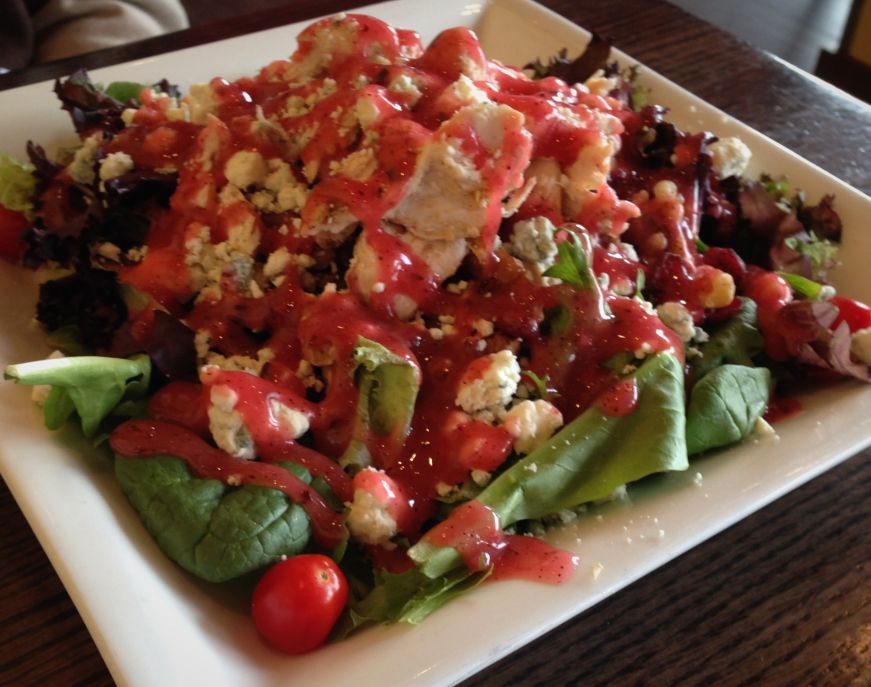 For omnivores, the bistro salad makes for a satisfying lunch--a heaping bed of spring greens is topped with shredded chicken breast, chunks of bleu cheese, dried cranberries, walnuts, and a raspberry vinaigrette dressing.  The sweetness of the dressing and dried cranberries plays well with the the pungent bleu cheese and slightly bitter greens, although the chicken itself was somewhat bland. 
If you're in the mood for a sandwich, try Patrick's vegetarian.  It's a nondescript name for a noteworthy sandwich, served warm on a lightly toasted wheat roll with a zesty feta spread, grilled portabella mushroom, and roasted red peppers.  The meatiness of the portabella mushroom and bold flavor of the feta will satisfy vegetarians and meat-lovers alike.

A trip to Patrick's wouldn't be complete without dessert.  There are a variety of individually-sized cakes and tarts, meringues, macaroons, and cookies.  Favorites include the Ryan cake, a pecan brownie topped with a caramel mousse, vanilla creme brulee, and a chocolate-caramel glaze; and the classic opera cake, with layers of delectably moist coffee-soaked sponge cake, rich coffee buttercream, and chocolate ganache.  I'm also partial to the pistachio macaroons, with their crisp exteriors, gooey centers, and thick dark chocolate filling. Be sure to get a fork, not to eat the macaroon with, but to scrape up every last crumb.
Patrick's Bakery & Cafe at Arbor Lakes is a sweet slice of France amidst suburban sprawl--the perfect place for a relaxing lunch or a quick stop for dessert.
Patrick's Bakery & Cafe
http://patricksbakerycafe.com/locations/arborlakes/
12489 Elm Creek Boulevard
Maple Grove, MN 55369
(763) 420-7770
Other locations in Edina and Richfield