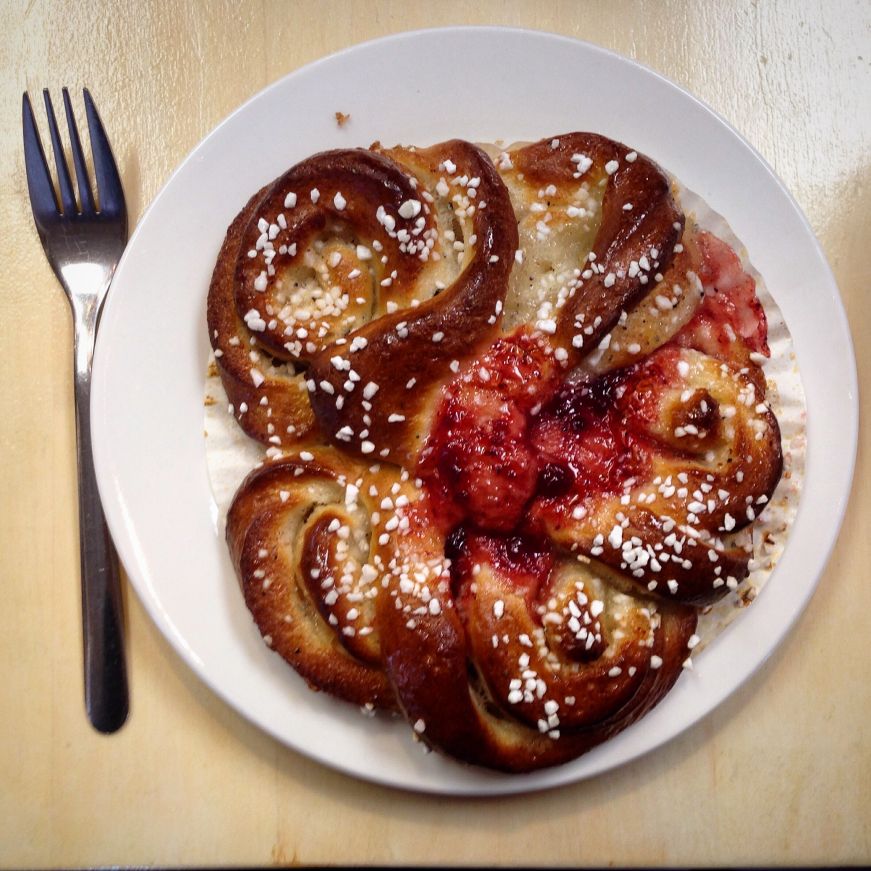 The Swedish Crown Bakery uses all of the modern buzzwords to describe their offerings: organic, natural, non-artificial.  And yes, it's nice to know that my kringle is made with ingredients my grandmother would recognize.  But the Swedish Crown's elegant pastries transcend their lists of foodie adjectives.  They provide a respite from hectic suburban existence, an invitation to sit down and savor each cardamom-laced bite.  
About half of the bakery case is devoted to individually-sized Scandinavian sweet breads, with sugar levels dialed back a few notches from the typical American pastry.  My favorite is the "in Sweden" pastry, a cardamom bread swirl with a seasonal filling.  Pictured above is "Fall in Sweden", with apples and lingonberries; currently it's "Winter in Sweden", featuring molasses and pumpkin spice.  "Summer in Sweden" involves a variety of berries, and I'm looking forward to seeing what "Spring in Sweden" will bring.
The almond twisty is a close runner up for my affections.  A bit sweeter than the "in Sweden", soft ropes of bread are rolled with almond paste, filled with homemade custard, and sprinkled with sliced almonds and pearl sugar.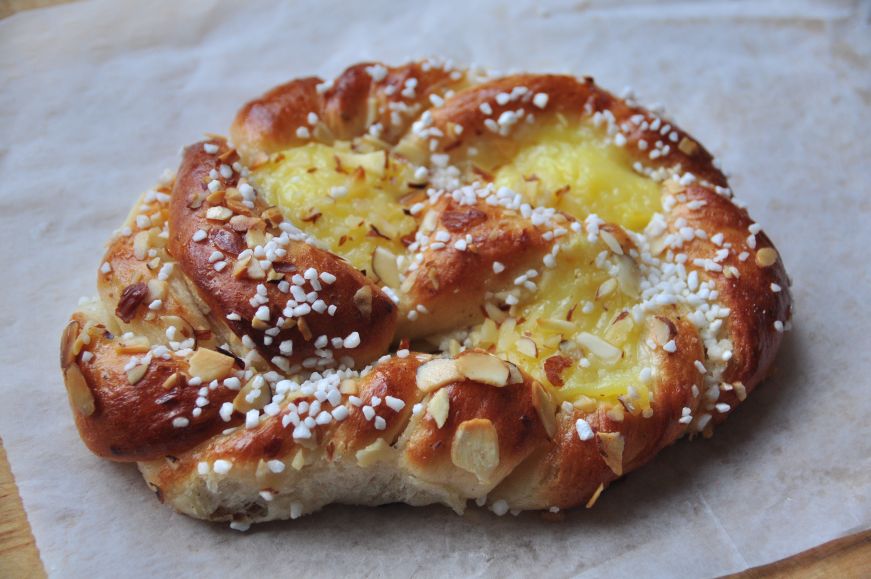 In addition to sweet breads, there are lavender cookies and baked cinnamon doughnuts (similar to a dense, sweet muffin).  Then there's the other half of the bakery case, devoted to rich continental European desserts like eclairs and tiramisu.  There are also a couple of American-themed offerings--the Twix bar is a delicious improvement on the packaged version, with a buttery shortbread crust, homemade caramel, and a dark chocolate topping.
During lunch time, the bakery serves a small selection of sandwiches and soups, and you can also purchase loaves of bread.  My favorite is the garlic sourdough (although to be honest, I like it so much that it's the only thing I ever buy).  It's chewy and light, with a layer of garlic paste that permeates the loaf.  Yes, you will need several breath mints afterwards, but it's worth it.
For those of you based in Minneapolis, St. Paul, or inner-ring suburbs, driving out to Anoka to visit a bakery may seem like too much to ask.  But give it try.  Linger over an almond twisty and bring home a loaf of garlic sourdough.  And once you make the trip to the Swedish Crown, you might find yourself visiting again, and again, and again.
Swedish Crown Bakery
http://swedishcrownbakery.com/
530 W Main Street
Anoka, MN 55303
763-427-0506