On our Irish honeymoon, Mike and I ate a lot of our meals in pubs.  This wasn't due to a deep, abiding love for Guinness--I think it took me at least two hours to consume my first and only pint--but instead because Irish pubs are a reliable place to get decent meals at a reasonable prices.  The cuisine is usually several notches above your typical American bar food, although the classic fried fish and chips are always on the menu.  Mike still raves about a roasted chicken dinner he ordered in Dingle, and I enjoyed many well-prepared salmon filets.  But Twin Citians don't need to go to Ireland to get delicious food in a pub setting: The Liffey offers the well-prepared casual cuisine and cozy atmosphere of the best Irish pubs, and in the summer months adds rooftop seating with great views of the St. Paul Cathedral.  The menu includes the usual suspects--fish and chips, sausage and mash, burgers--but there are also healthier and vegetarian options, like curried chicken, a quinoa salad, and a house-made vegetarian burger packed with vegetables, chickpeas, quinoa, and wild rice.  There are daily drink specials from 11am to 6pm and happy hour appetizer specials from 2pm to 6pm, with discounts of up to $3.75.  There's also a short dessert menu, or you can hit up the nearby Cossetta for pastries or gelato.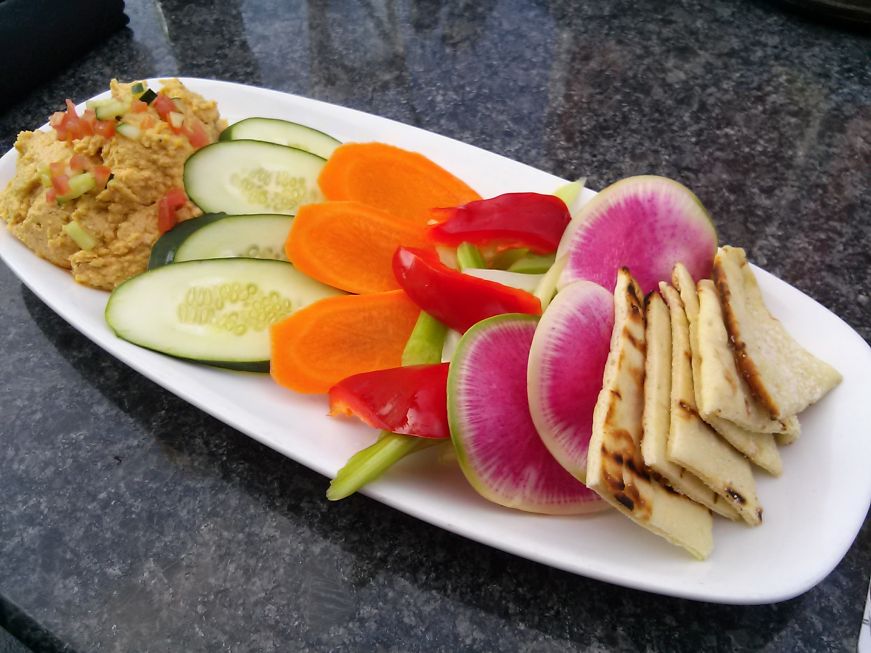 Ordering a hummus platter at a pub is the equivalent of ordering the chicken sandwich a burger joint.  But the Liffey's hummus platter is a solid vegetarian option, with freshly grilled naan and colorful crudités.  Although the hummus lacks the roasted garlic promised on the menu, the unexpectedly sweet citrus flavor more than made up for the inaccurate description.  The sea salt on the naan counters the sweetness of the hummus, and the crisp slices of watermelon radishes were a welcome addition to the standard assortment of carrots, cucumbers, celery, and peppers.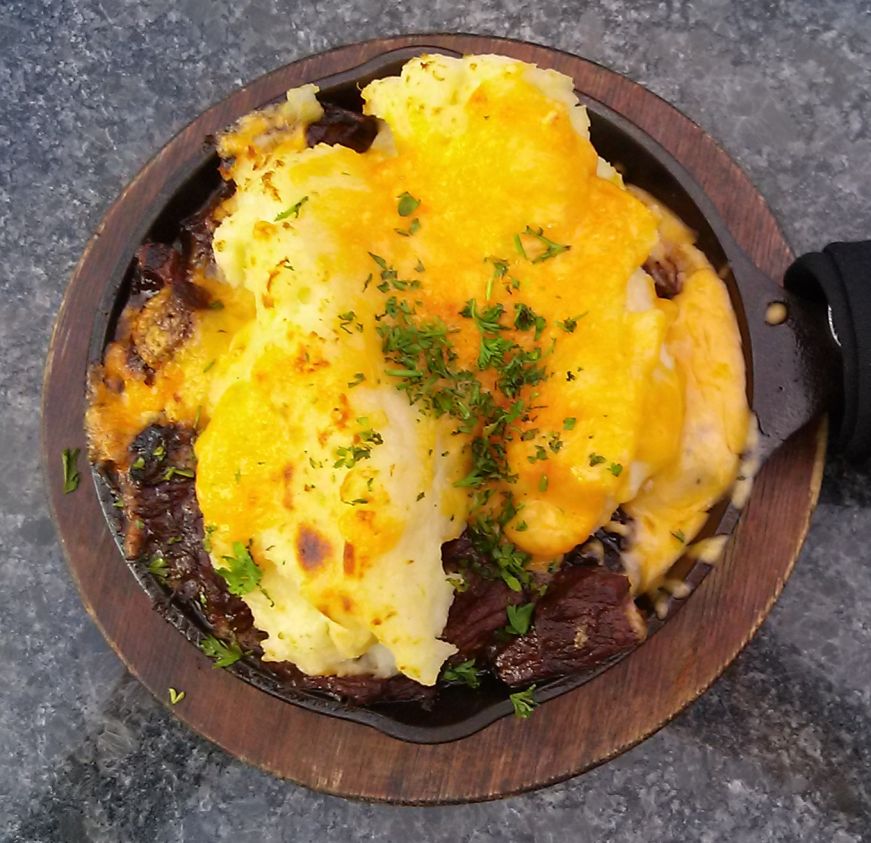 The best thing about the steak and mushroom pie is actually the red wine--the steak picks up a wonderful richness from its red wine braise, and when combined with the mushrooms, each bite of steak tastes meatier that it logically should.  The crowing mound of mashed potatoes has a flaky texture reminiscent of a good baked potato, although the puddle of cheddar cheese distracted from the rich flavors of the steak.
The Liffey's satisfying menu of traditional favorites and lighter options, exceedingly friendly service, and rooftop seating make it the perfect pub experience, even for those of us who want to skip the Guinness.
The Liffey
http://theliffey.com/
175 West 7th Street
St. Paul, MN 55102
(651) 556-1420