Stillwater's The Wedge & Wheel cheese shop and bistro is initially daunting to the cheese ignoramus.  And by cheese ignoramus, I mean myself.   I purchase the majority of my cheese pre-shredded (the exception is feta, which is pre-crumbled), and our fridge door is home to a green plastic cylinder of grated Parmesan.  Artisan cheese is something that I appreciate on the same level as symphonies and Pilates: I can see the intrinsic value, but I don't really get it.  So The Wedge & Wheel's gleaming white subway tile, refined black and white color scheme, and case with unpronounceable expensive cheeses were all a bit much.  But if I never stepped out of my culinary comfort zone, I would still be subsisting on instant ramen noodles, so we settled in to try some fancy cheese.
Besides the retail side of the operation, the shop offers a small daily-changing menu of reasonably priced cheese and charcuterie (cured meat) flights, along with sandwiches, salads, beer, wine, and cider.  The cheese flights feature three different cheeses, bread, and accompaniments, and there is enough food to be shared by two as an afternoon snack (or enjoyed as a meal by one, if you really get this artisan cheese thing).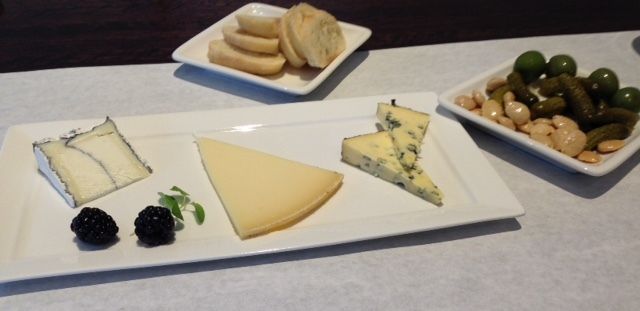 Our American cheese flight featured Humboldt Fog, a blue cheese, and a mild, slightly buttery firm cheese whose name I neglected to note (possibly Toma).  The range of flavors and textures made the flight accessible to the uninitiated--I started by sampling the mild, firm cheese, then moved on to the spreadable Humboldt Fog, and finished up with an enjoyable bite of the pungent blue cheese that I initially thought I would dislike.  In between bits of cheese, I nibbled the thoughtfully paired accompaniments: almonds lightly coated in olive oil and sprinkled with salt, and pickles and olives that put the aggressively salty mass-produced grocery-store versions to shame.  The shop's owner was on hand to bring us two rounds of extra bread and enthusiastically answer our rudimentary cheese questions, all while also chatting up customers at the retail counter and assisting other dining patrons.
Whether you're a cheese aficionado or a hesitant novice, The Wedge & Wheel has something to offer--a wedge of cheese from across the ocean or a local farm, the most gourmet cheese sandwich you'll ever come across, or the chance to sample a flight of cheeses and step beyond your comfort zone.
The Wedge & Wheel
http://wedgeandwheel.com/
308 Chestnut Street East
Stillwater, MN 55082 USA
(651) 342-1687