My favorite thing about subscribing to a CSA is the exposure we get to vegetables that we wouldn't otherwise try.  Because I'm the type of cook who hates to waste anything (I have been known to plan a week's worth of dinners based on using up a 69 cent bunch of cilantro), if it shows up in the CSA box, we will eat it.  Mike had scared me off of trying kale, but thanks to our CSA I discovered that I loved kale chips.  We had never heard of garlic scapes, and even if we had, they are difficult to find.  Luckily, our CSA provides us with them each year, and we've gotten hooked on garlic scape pesto.
Another vegetable I discovered through our CSA is eggplant.  I had previously eaten eggplant exactly once, as part of a sandwich at Cafe Manna.  Clueless as to how to incorporate eggplant into an entree,  I went to my go-to recipe source, Real Simple.  A search for "eggplant" with the "meatless" filter turned up an eggplant lasagna, with slices of eggplant in lieu of noodles.  Even better, since the sauce is made with fresh tomatoes, it's a good way to utilize additional CSA produce.   Mike was initially about as enthusiastic about eating eggplant as he is about kale, but after a couple bites he declared the lasagna to be "much better tasting that I thought eggplant could ever be."  I'll take that as a compliment.
Adapted from the Real Simple recipe by Kate Merker
Serves 4
Ingredients:
Eggplant:
2 medium eggplants (about 3 pounds) sliced lengthwise into 1/4 inch thick slices
2 tablespoons olive oil
salt and pepper
Sauce:
2 medium tomatoes (about 1/2 pound), quartered
1 clove garlic, minced
1 tablespoon olive oil
1/4 teaspoon salt
1/4 teaspoon pepper
Filling:
1 cup ricotta cheese
1 egg
1/2 cup fresh basil, chopped
Topping:
1/4 cup grated Parmesan cheese
Place eggplant slices on foil lined baking sheets.  Brush with 2 tablespoons olive oil and sprinkle with salt and pepper.
In batches if necessary, broil the eggplant for 3 minutes on each side, or until eggplant is browned and tender.  After removing eggplant from oven, preheat oven to 400 degrees Fahrenheit.
Meanwhile, puree tomatoes, garlic, 1 tablespoon olive oil, 1/4 teaspoon salt, and 1/4 teaspoon pepper in a food processor until a chunky sauce forms.  Combine the ricotta, egg, and basil in a small bowl and mix until smooth.
Spread half of the tomato sauce into a greased 8x8 baking dish.  Layer in one-third of the prepared eggplant slices and spread with half of the ricotta filling.  Layer in another one-third of the eggplant slices and spread with the remaining filling.  Top with the remaining eggplant slices, spread with remaining sauce, and sprinkle with the Parmesan.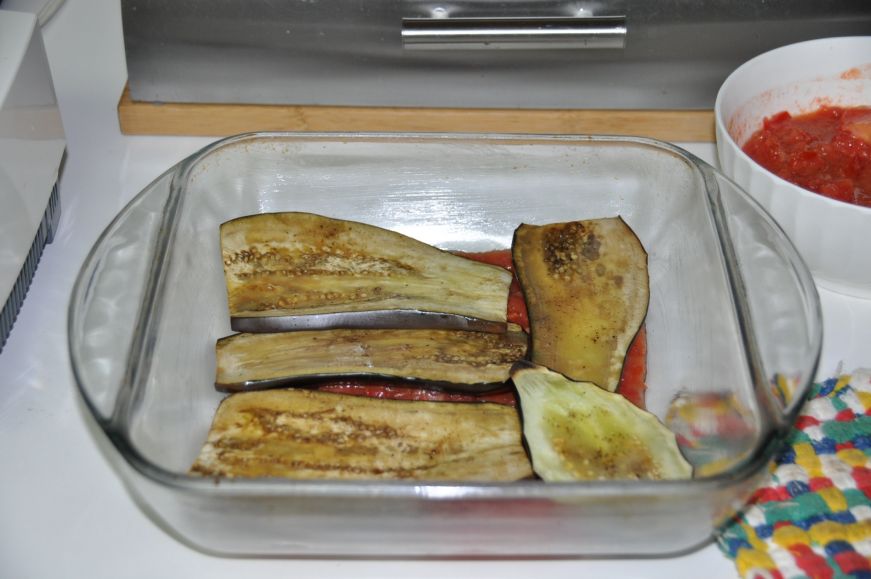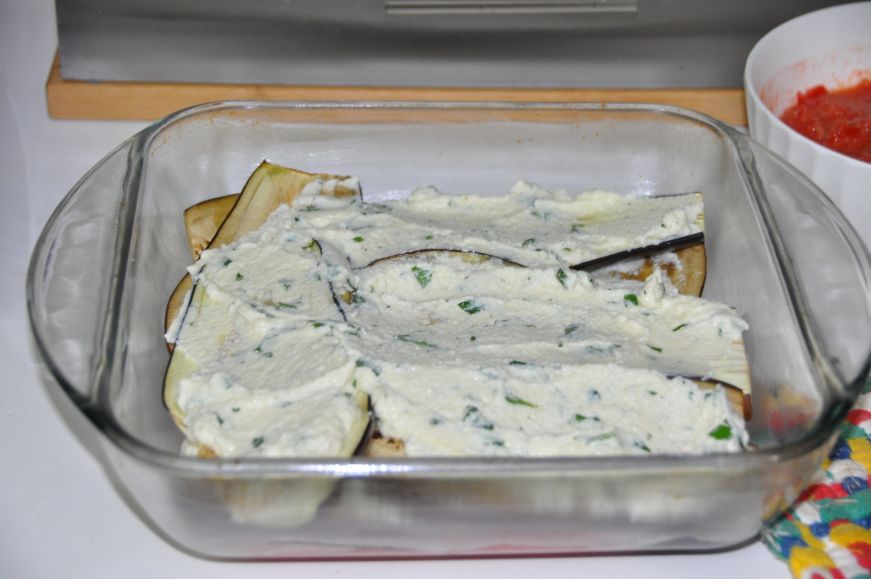 Bake lasagna for 15-20 minutes, or until the Parmesan cheese is lightly browned and the lasagna is bubbling.