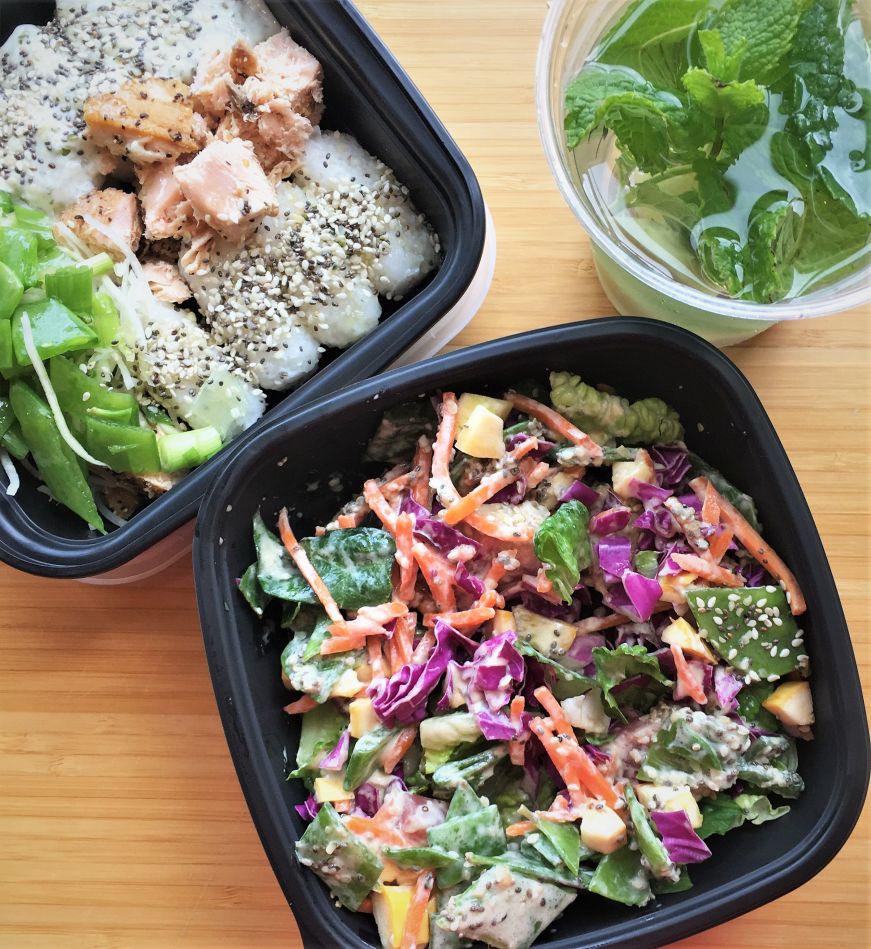 Thank you to Visit Greater St. Cloud for hosting my visit to St. Cloud.  As always, all content and opinions are my own.
Usually I see St. Cloud from the window of my car: I have a friend who lives in central Minnesota, and I drive through St. Cloud whenever I'm heading there for a visit.  Sometimes we meet for lunch in St. Cloud, since it's roughly halfway—a couple of our favorite restaurants are Sawatdee and Fuji Sushi & Steakhouse.  Obviously, there's a lot more to St. Cloud than what I've been able to experience via drive throughs and lunch dates, so a few weeks ago I was happy to take Visit Greater St. Cloud up on their offer to host me for an afternoon of exploring.  Located about an hour northwest of the Twin Cities, St. Cloud is a city of about 67,000 along the Mississippi River, with a vibrant downtown, plenty of parks and trails, and of course, tasty food.
I kicked off my afternoon in St. Cloud with lunch at Quarks American Bento, a counter-service restaurant where you build your own bowl, rice balls, cabbage wraps, or soup.  The nerd in me loved the physics theme (the various meal components are even named after different types of quarks).  Quarks is proud to serve healthy fast food: their food is low in sodium, served in reasonably-sized portions, and made with wholesome ingredients.  Sauces are made in-house from ingredients you'd find in your home kitchen, and are free of preservatives, artificial ingredients, and corn syrup.  I got to sample all of the sauces and can attest to their deliciousness—my favorites were the toasted sesame and ginger lemongrass, both of which paired particularly well with seafood.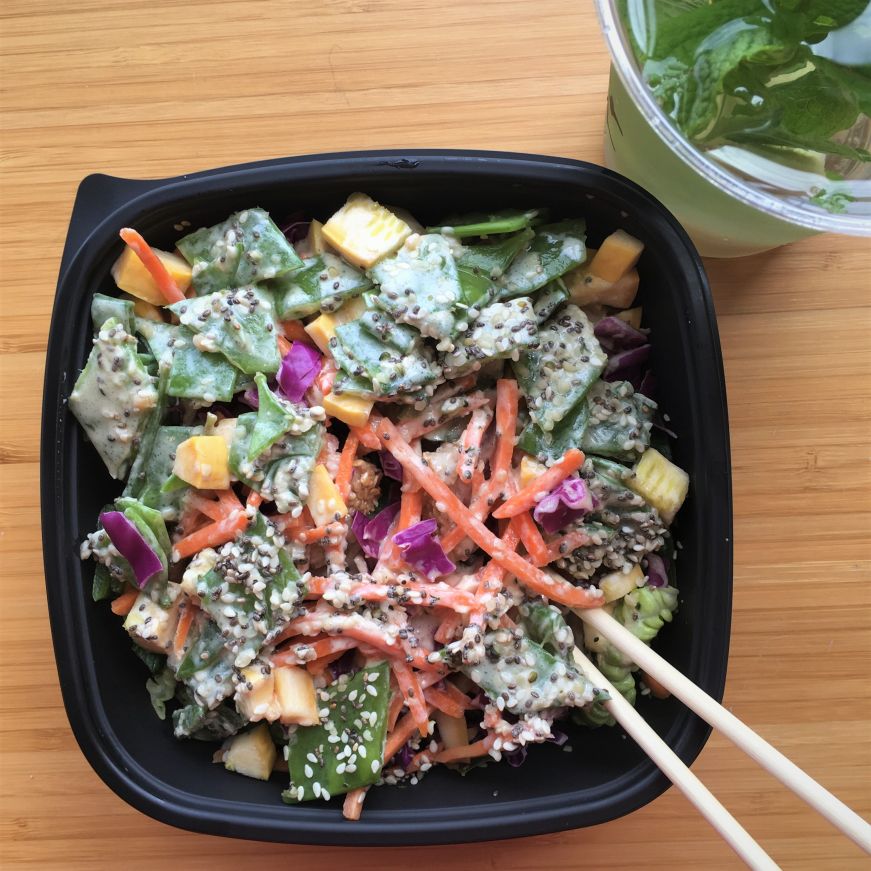 I sampled an ahi tuna bowl with a base of romaine lettuce (other bases include quinoa, brown rice, and white rice).  There's a rainbow of vegetables you can top your bowl with—I think I added almost all of them, including red cabbage, yellow zucchini, snow peas, and carrots.  Next up was the toasted sesame sauce and a sprinkling of the super seed blend for some added texture and nutrition.  The ahi tuna was perfectly seared, and like the salmon it's wild-caught and prepared in house (the other protein options are chicken and steak).  I also tried the rice balls with salmon and some vegetables on the side—I enjoyed the sushi-like texture of the rice and how well the ginger lemongrass sauce paired with the salmon.
Quarks also makes their beverages in-house: infused waters, teas, and lemonades (or you can order a mix of lemonade and tea, Arnold Palmer-style).  My ginger mint water included a hefty serving of mint and was wonderfully refreshing on a hot day.  I also tried the Invigorate iced herbal tea, which had a rich, almost savory flavor and really did put an extra boost in my step.
As someone who tries to eat healthfully, I truly appreciated Quarks' approach to fast food—it's very similar to how I cook at home, with a focus on vegetables, sensible portions, and just enough salt and sugar.  It would be great if they expand to the Twin Cities!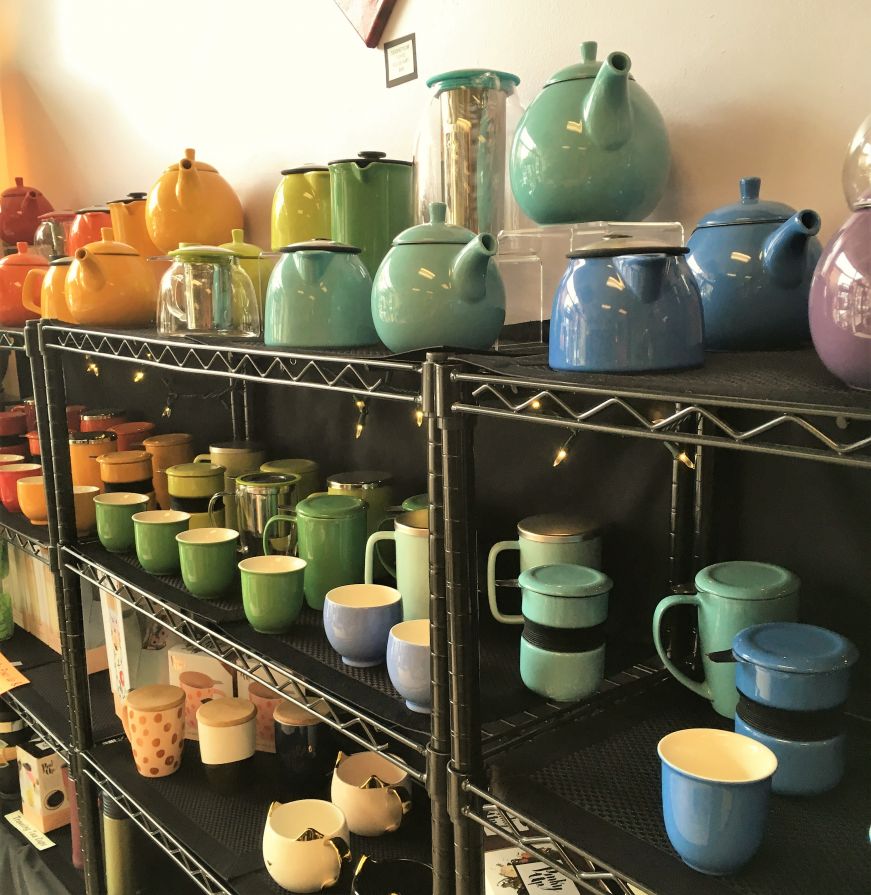 After lunch, I did some shopping downtown.  I loved browsing the well-organized selection at Books Revisited (especially the local community cookbooks, some of which I remember from my mom's kitchen).  Copper Pony has a fun selection of artisan gifts and decor, as well as specialty foods and cheeky cards.  Spice of Life Tea Shop has a wide range of teas and tea accessories.  Tea can be purchased in bulk or by the cup, and the shop offers a small selection of baked goods and a few armchairs.
Note that downtown street parking is metered, and most meters only accept quarters.  I've gotten out of the habit of keeping quarters in the car (in Minneapolis and St. Paul you can pay for street parking via credit card), so parking was a bit more complicated that it should have been.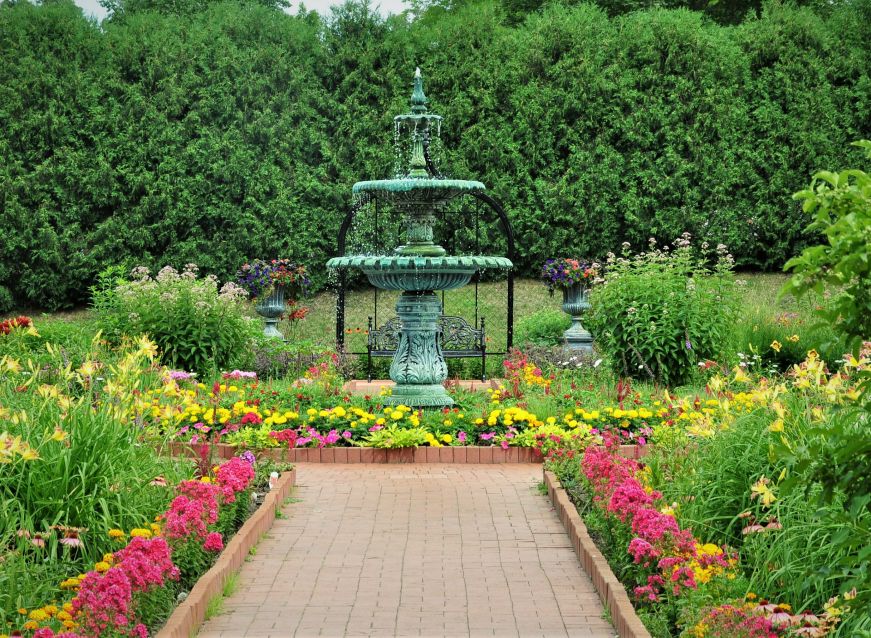 The non-culinary highlight of my afternoon in St. Cloud was my visit to the Munsinger & Clemens Gardens.  They're a 30-minute walk or 5-minute drive from downtown, and admission is free.  The Clemens Gardens are made up of six traditional formal gardens, including a rose garden with over 1,000 roses, a vibrant perennial garden, and a fascinating all-white garden inspired by a similar one in Kent, England.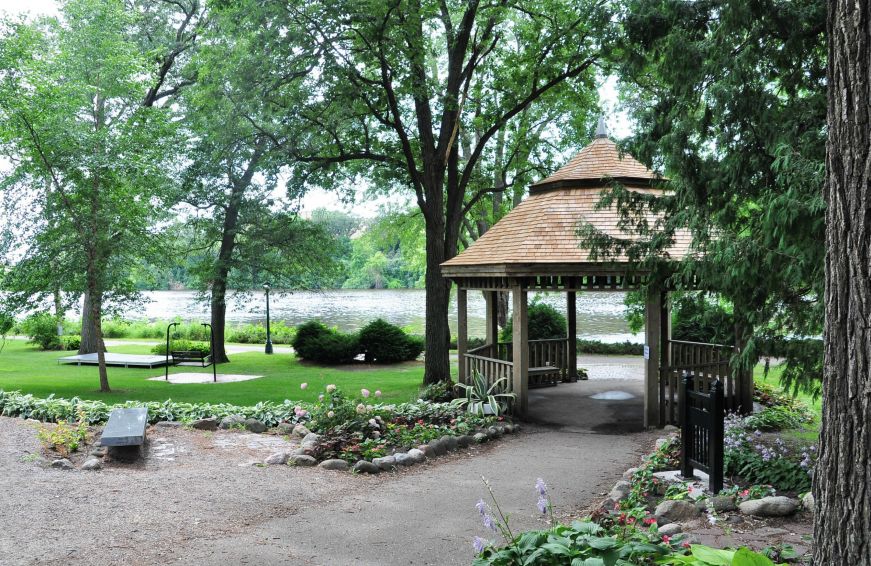 The Munsinger Gardens are laid out along the Mississippi River and originated as a 1930s WPA project.  Photos don't really do them justice—while there are some lovely flower beds, my favorite part was that the garden is shaded by towering pines.  There are swings facing the river, and I spent a relaxing half-hour just enjoying a perfect summer afternoon.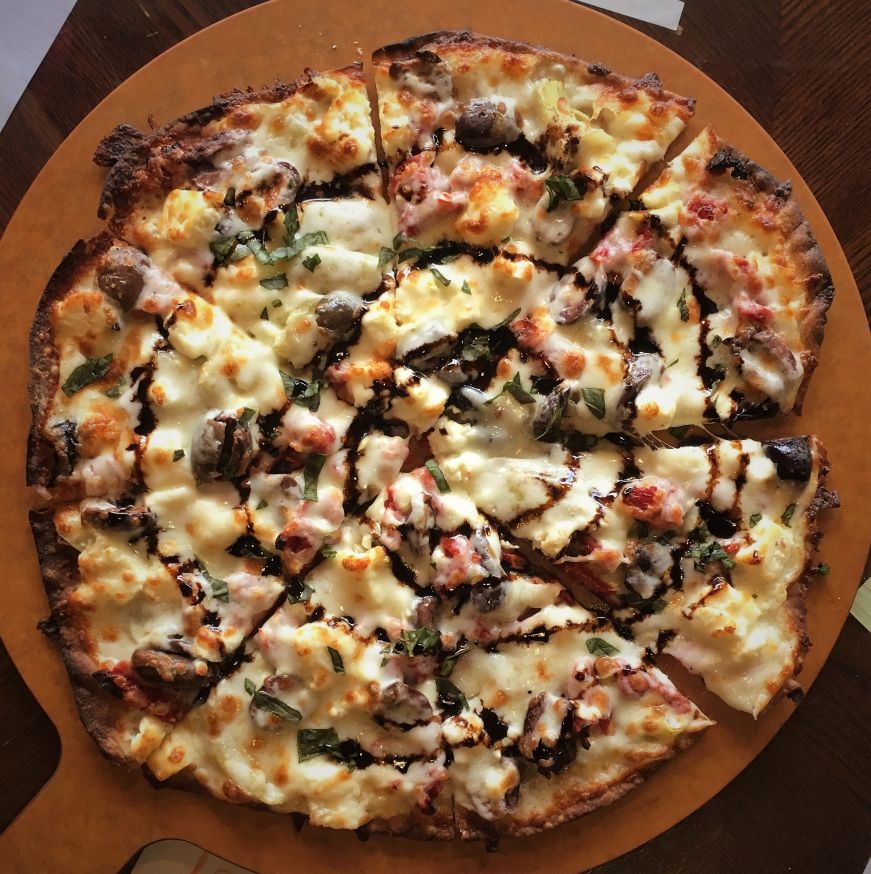 For dinner, I checked out Jules' Bistro, a downtown restaurant with a menu featuring flatbread pizzas, paninis, salads, and housemade baked goods.  I appreciated all of the vegetarian options on the menu, especially the pizzas—usually the only meatless options are cheese or margherita, but I had my pick of six of the thirteen pizzas.  I actually had a difficult time deciding, but ultimately settled on the Mediterrean, topped with olive oil, garlic, artichokes, sun-dried tomatoes, kalamata olives, feta, mozzarella, balsamic glaze, and fresh basil (the portabella & spinach was the runner up—next time!) 
The crust was cracker-thin, and I needed a fork and knife to make sure that I could scoop up all the toppings.  It was an interesting flavor combination: while the balsamic glaze was quite sweet, it was well-balanced by the saltiness of the feta and olives.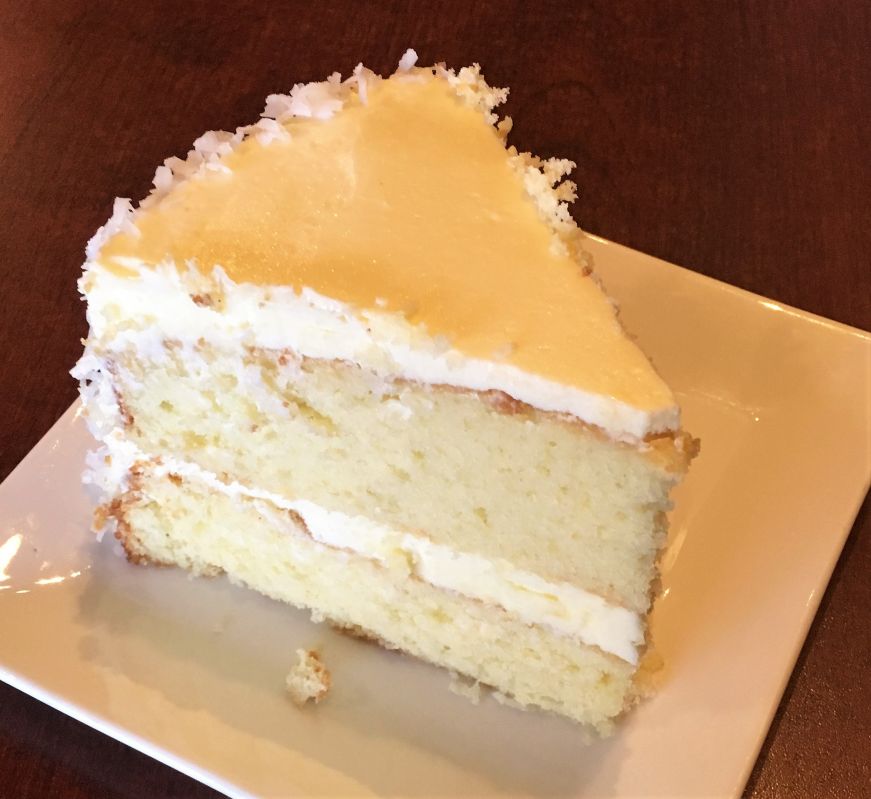 I couldn't resist the housemade cakes in the bakery case and ordered a piece of orange coconut cake for dessert.  It was one of the largest pieces of cake I've ever been served (the woman at the table next to me: "I think they gave you a quarter of the cake!") and I took at least half of it home for Mike.  The bright orange and coconut notes were a good pairing for summer, and I appreciated that the lighter texture and not-too-sweet flavor of the whipped frosting.
In addition to vegetarian options, Jules' Bistro caters to vegan and gluten-free customers.  Pizzas can be ordered with vegan cheese or gluten-free crust, and one of the dessert options was a gluten-free chocolate peanut butter cake.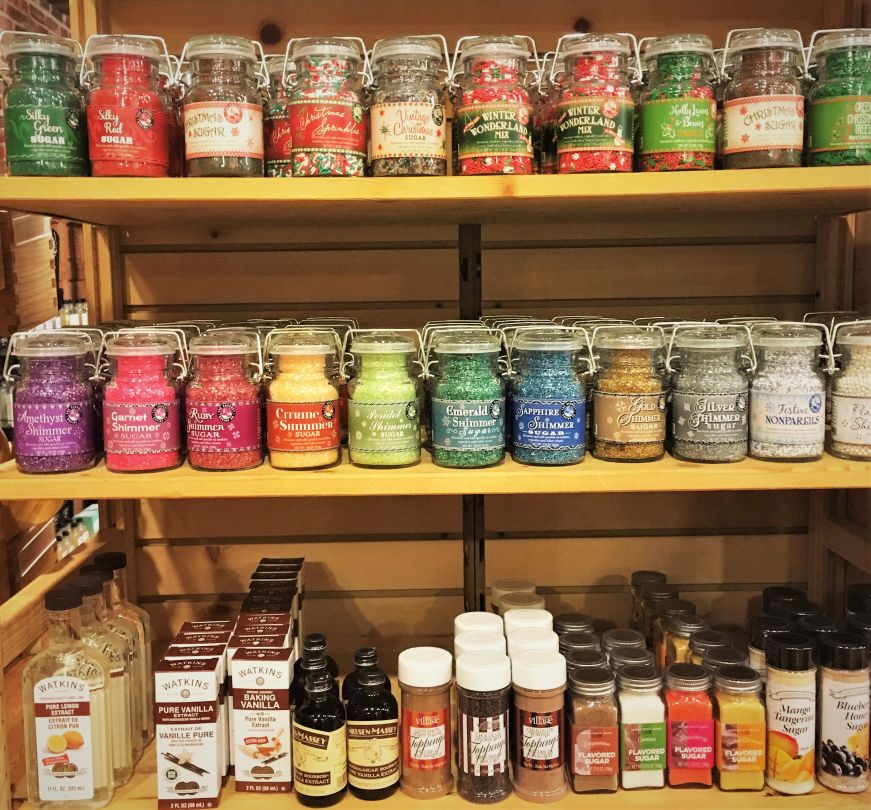 Grande Depot is housed in a historic train depot that's a 20-minute drive from downtown St. Cloud, but it's worth the trip for the huge selection of home decor, gifts, kitchenware, specialty foods, clothing, accessories, bath products, and more.  Minnesota brands like Nordic Ware and J.R. Watkins are well-represented, and I could've easily spent hours ogling the baking supplies and cheese selection.  There's also a liquor section stocked with wine, beer, and spirits.
Other fun things to do in St. Cloud include Quarry Park and Nature Preserve, which offers trails, rock climbing, swimming quarries, and scuba diving (I was out of commission due to a recent tattoo, otherwise I would've cooled off with a quick dip).  On Wednesdays from June through August, Summertime By George! is a free concert series and festival by Lake George with local and regional music acts, food and retail vendors, and kids activities.
The takeaway: My half-day trip to St. Cloud was a fun getaway from the Twin Cities—at about an hour drive from my home in the northwest suburbs, it was far enough to feel like an occasion without involving too much driving.  I'll definitely be back for another meal at Quarks and Jules' Bistro, and I highly recommend exploring the Munsinger and Clemens Gardens.
Want to plan your own trip to St. Cloud?  Start with Visit Greater St. Cloud for information about accommodations, dining, and attractions.
Many thanks to Visit Greater St. Cloud for hosting my visit to St. Cloud.
If you enjoyed this post, pin it!