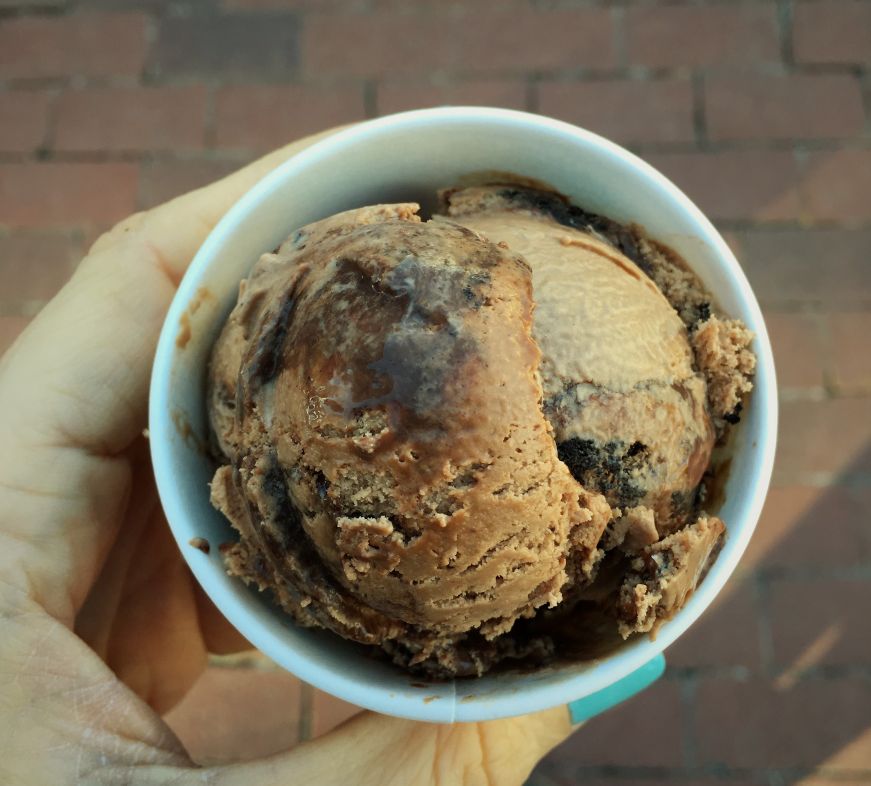 One of my favorite streets that I've come across in my travels is the Pearl Street Mall in Boulder, Colorado.  It's lined with local shops and restaurants, several blocks are pedestrian-only, and it has street performers and excellent people-watching.  Most importantly for someone like me who grew up in relatively flat state, you can see the Rocky Mountains.  Shopping, scenery, and ice cream—the Pearl Street Mall is tailor-made for my interests.
Since Mike's extended family lives in Colorado, we've made several trips to Boulder and the Pearl Street Mall.  Here's a recap of our most recent visit, plus some tips and favorites from past trips.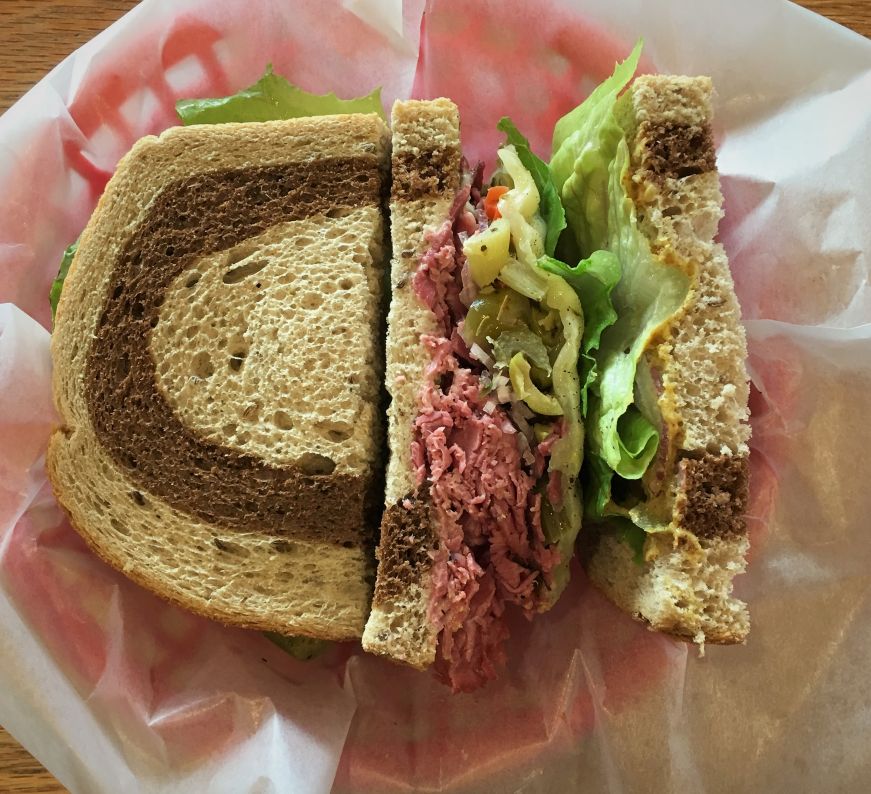 Lindsay's Boulder Deli at Häagen-Dazs is our go-to for lunch.  In addition to ice cream, they have a deli counter with sandwiches, salads, and homemade soups.  There are a handful of vegetarian sandwiches and at least a couple of selections in the rotating soup line up are vegetarian or vegan.  I usually order the soup and salad combo, with the tomato basil or tomato red pepper soup and a tossed Boulder salad with housemade balsamic vinaigrette.
Mike enjoyed the New Yorker sandwich: a bold combination of pastrami, corned beef, pepper jack cheese, hot peppers, red onions, lettuce, Dijon mustard, and mayonnaise on marbled rye.  Sandwiches are stuffed with a quarter-pound of meat, and you can get it "overstuffed" with a half-pound of meat for an extra $3.
For dessert, we hit up the ice cream counter for Häagen-Dazs ice cream.  I got a mini-sized dish of Midnight Cookies & Cream, and Mike got a ridiculously rich shake made with several scoops of Peppermint Bark ice cream.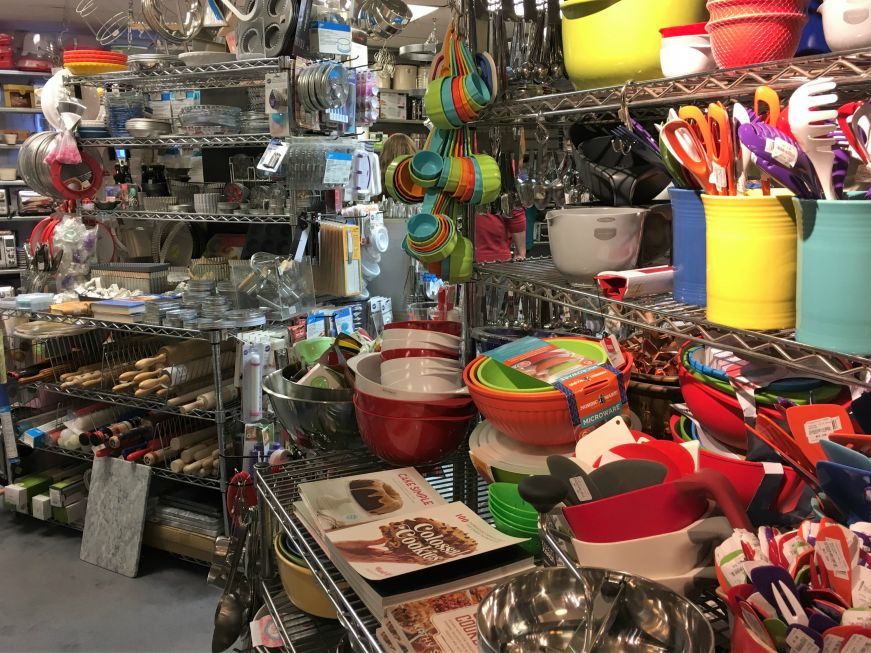 Peppercorn is one of the most expansive kitchen stores I've come across, with a huge selection of cookware, dishes, cookbooks, specialty foods, and gifts.  I was especially impressed with the baking section (so many specialty pans!) and the artisan chocolate bars.
The sheer volume of merchandise can be a little overwhelming, but on this and prior visits the staff has been very helpful—my vague description of a gadget was enough for the sales clerk to lead me directly to the appropriate shelf.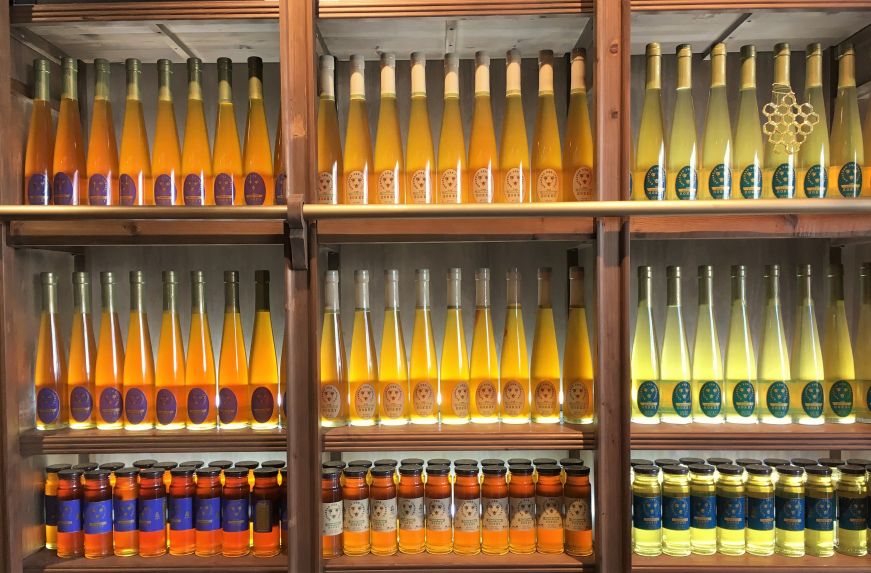 In addition to independent retailers, Pearl Street Mall is also home to specialty chain shops like Savannah Bee Company.  The rustic interior design and gleaming bottles of honey reminded me of a winery (they do actually have a mead bar and coffee counter at the back of the store).  I enjoyed sampling the various honeys from around the world, and Mike bought a small jar of whipped honey with cinnamon to spread on pancakes.  There's also a nice selection of honey-based beauty items—once I finish my current stash of sweet tea lip balm I'm planning to order the tupelo honey one.
I could easily spend an entire afternoon in Boulder Book Store.  With three levels, 20,000 square feet, and over 100,000 titles, they truly have a book (or a dozen) for whatever your interests are.  On this visit, I was thrilled to discover a whole display of reprinted classic American mystery novels, a heartwarming book of sloth photos, and a perfect gift for my sister, plus a Yay! Writing! magnet (I bought Yay! Gnomes! on my last trip to Colorado, obviously.)
Other shops we've enjoyed browsing on previous visits to the Pearl Street Mall include Art Source International (antique maps and vintage prints, plus contemporary local art) and Into The Wind (kites and toys).  A full list of the shops on Pearl Street Mall is available here.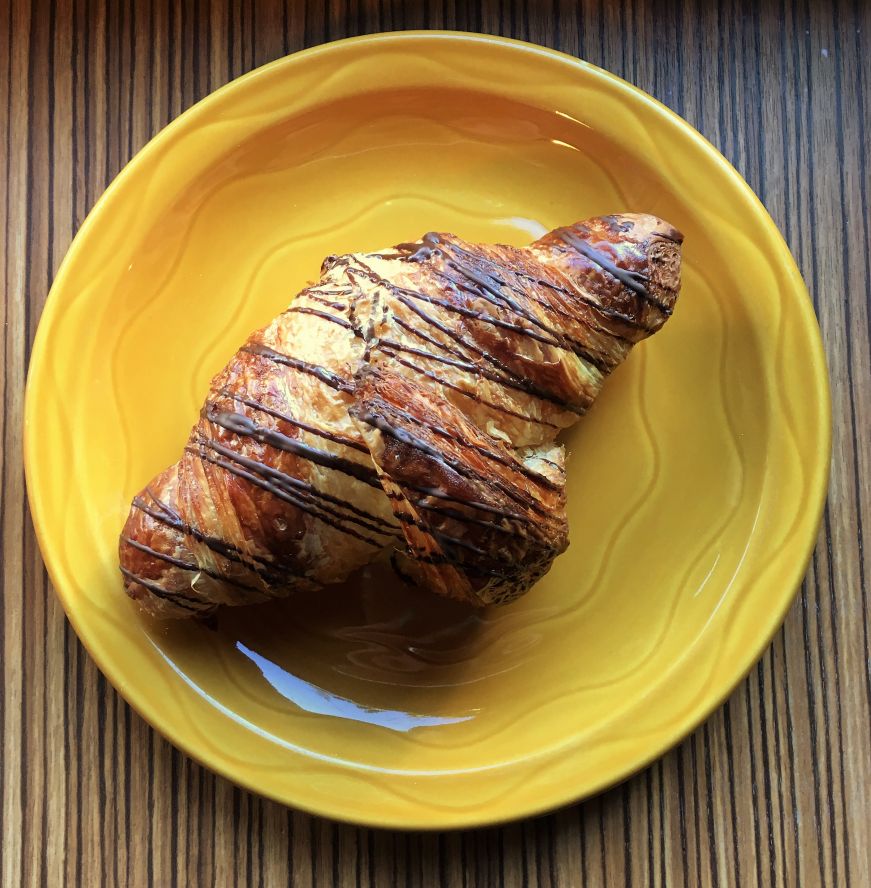 Our final stop was Piece, Love & Chocolate, an artisan chocolate shop and cafe.  Their selection of truffles is exquisite—we picked up a couple of build-your-own boxes as gifts—and Mike restocked his supply of sipping chocolate.   
The bakery case is filled with chocolate cakes, cookies, and pastries.  I was briefly tempted by an individually-sized chocolate pecan tart, but instead I opted for a past favorite, the chocolate croissant.  I have very strong opinions on chocolate croissants: they need to be chocolate-forward but also light and flaky.  Piece, Love & Chocolate's version is the best I've found.  They warm it up for you so that the thick tunnel of chocolate is perfectly melted, and then there's more chocolate drizzled on top.  It was the perfect finish to an afternoon on Pearl Street Mall.
Other fun things to do in and around Boulder:
Take a tour of the Celestial Seasonings Tea Factory.  There's also a tasting room with complimentary samples of every tea they make and a tea shop stocked with tea, tea accessories, and gifts.  Because the prices are significantly cheaper than the grocery store and since the selection is amazing, we buy several boxes of tea whenever we visit Boulder.
Estes Park is a picturesque mountain town with lots of neat shops and restaurants, and it's the gateway to Rocky Mountain National Park, which is worth visiting in summer for the hiking and in the winter for the gorgeous views of snowy peaks.
Beau Jo's pizza is worth the drive—currently they don't have a Boulder location, but there are restaurants in Longmont and Fort Collins.  Their mountain pie, made with a honey-sweetened thick braided crust, is my all-time favorite pizza.  So much crust!  It's amazing.  I'm a fan of the whole wheat, and I recommend ordering a personal-sized pizza so that you get the best crust-to-slice ratio.
If you enjoyed this post, pin it!