On the last day of our honeymoon in 2010, Mike and I stood on Dublin's Ha'Penny Bridge and promised each other we'd return to Ireland for our tenth anniversary.  A pandemic delayed our plans, so our return to Ireland marked a dozen years of marriage instead.  It was worth waiting for: history-packed cities, ruggedly beautiful coastal scenery, green fields crisscrossed by stone fences, castle ruins, pubs, sheep, and yes, plenty of delicious things to eat and drink.  Here are my favorite things I ate and drank in Ireland, from bustling spots in Dublin and Belfast to quiet cafes in rural market towns.
1. Asian veg crispy filo ring, MV Cill Airne (Dublin)
Our meal at MV Cill Airne was one of the first things we planned about our trip to Ireland—Mike bought me a gift card to the floating restaurant on the River Liffey in December 2020.  The boat (originally a tender in Cork Harbor) is home to both a casual bar and bistro and more formal restaurant, with similar menus featuring classic Irish fare and globally-inspired items.  I really enjoyed the bold flavors of the Asian vegetables in a filo pastry ring, which included a black garlic and miso dressing and pickled daikon radish.  The filo and the paper-thin slices of fried carrot added a welcome crispness, and the pickled ginger and chiles provided additional dimension.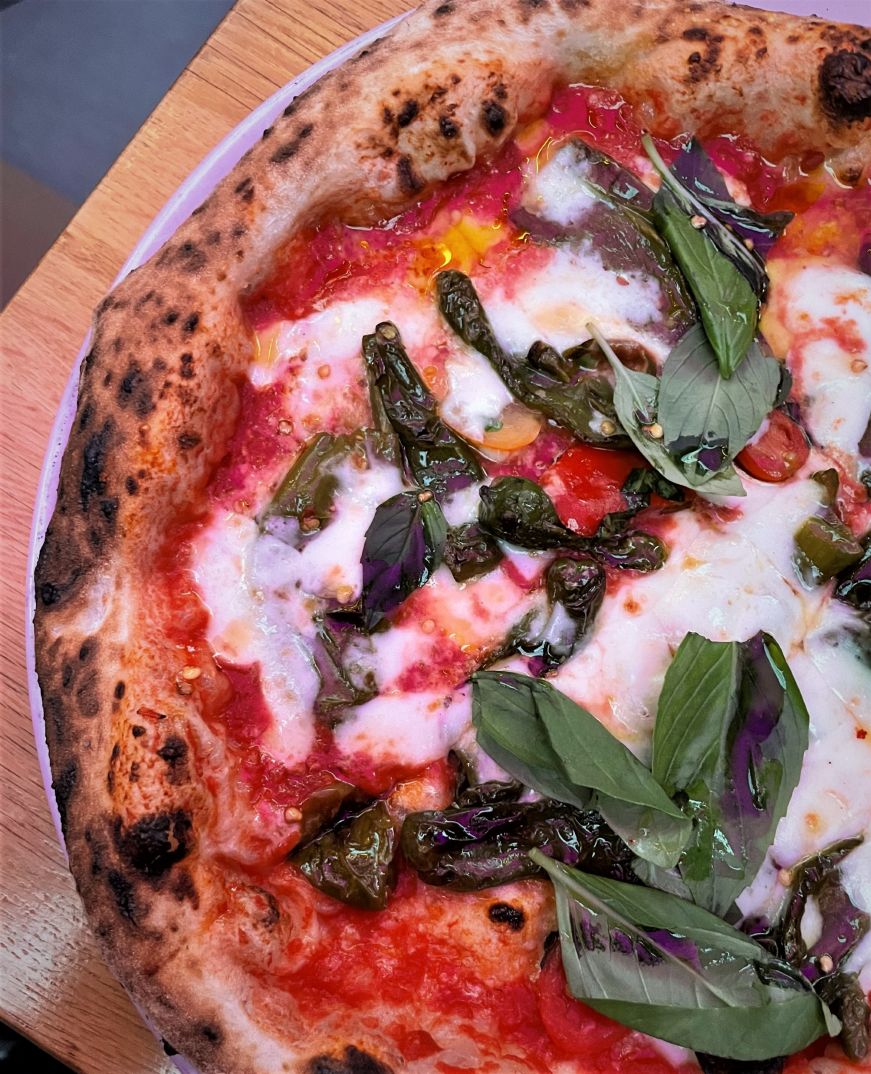 2. Spicy Little Pyg, Little Pyg (Dublin)
Powerscourt Centre is the most unique shopping mall I've visited: it's housed in an elegant 18th century townhouse in the heart of Dublin, with Little Pyg, an upscale Neapolitan-style pizza restaurant, in the enclosed central courtyard.  The setting is beautiful, with lush greenery and romantic lighting, and the pizza is fabulous—the restaurant's chefs trained in Naples with a Michelin-recognized pizzaiolo.
I appreciated the variety of vegetarian pizzas on the menu and opted for the Spicy Little Pyg, topped with a San Marzano tomato sauce, di latte mozzarella and pecorino cheeses, fresh basil, Italian peppers, chili, and olive oil.  Most of the food I ate during my time in Ireland had an understated flavor profile, so I especially enjoyed the respectable heat level of the peppers.  The crust was perfectly executed, chewy with a char from the wood-fired pizza oven.
We lucked out and were able to get a table, but I would recommend making advance reservations at Little Pyg if possible.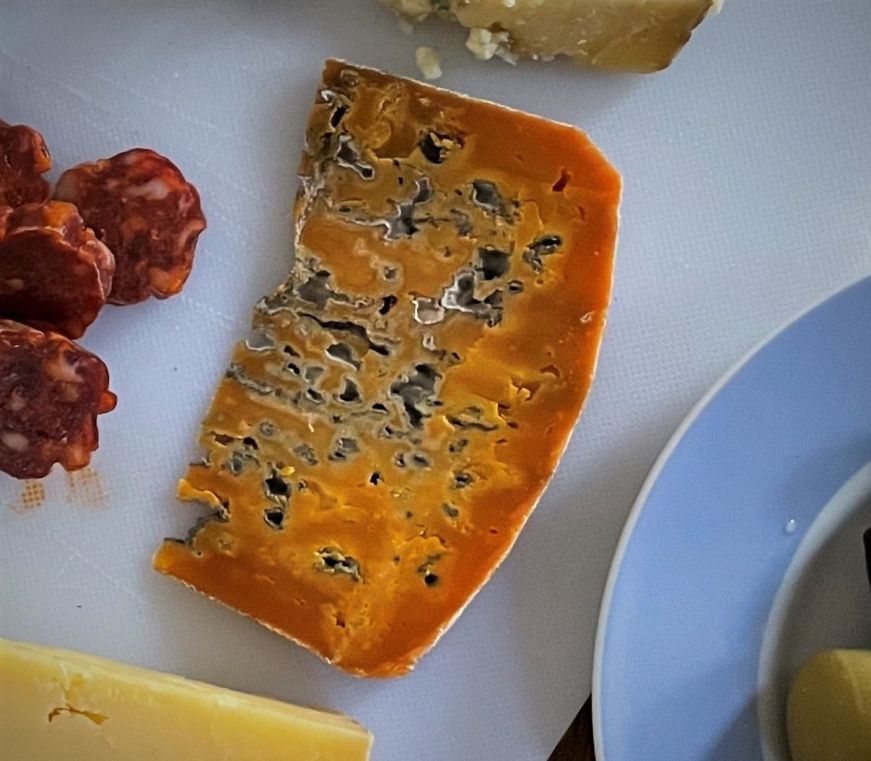 3. Ballyhooly Blue, Fermoy Natural Cheese (purchased at The Little Cheese Shop, Dingle)
Staying at an Airbnb in Dingle gave us the opportunity to create our own Irish-themed cheeseboard, with local cheeses and cured meats sourced from The Little Cheese Shop.  The cheesemonger was very knowledgeable and hellpful, walking us through each of the shop's different offerings so we could purchase cheeses that would be to our taste.  She recommended the Ballyhooly Blue, an intense, crumbly, raw cow's milk blue cheese—we got a small slice, and I easily could have eaten twice as much.  It had the funky, complicated flavors that I love in a blue cheese, with a texture that reminded me of an aged cheddar or Parmesan.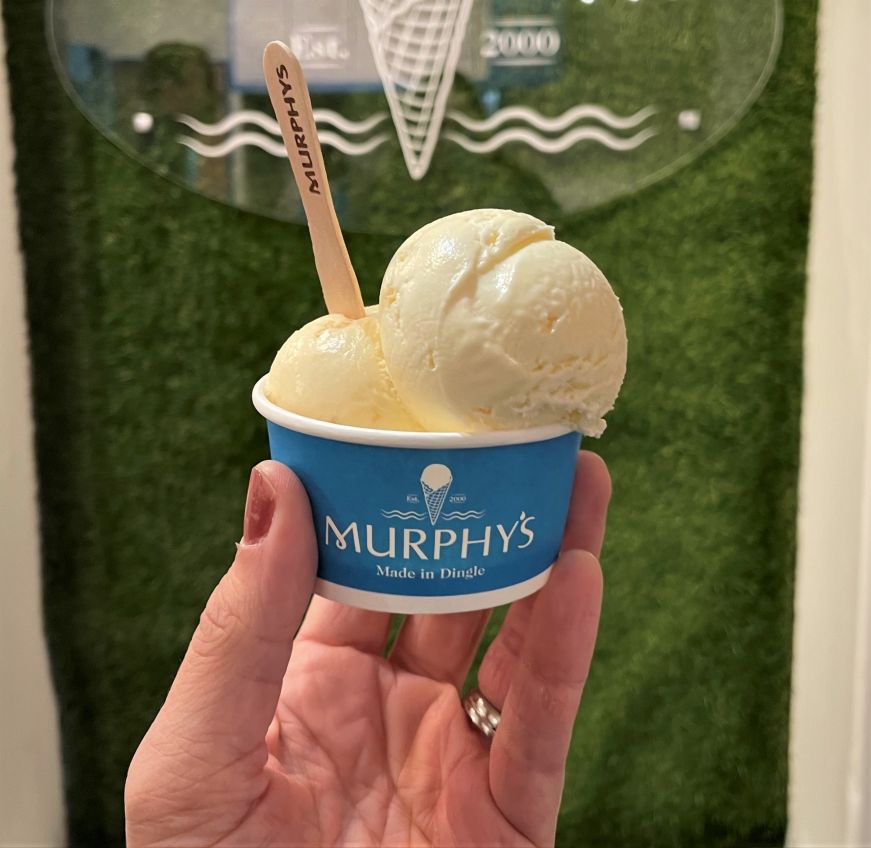 4. Dingle sea salt ice cream, Murphy's (multiple locations)
Murphy's has been making ice cream in Dingle since 2000, using all-natural ingredients like locally sourced cream, free range eggs, and organic sugar.  Their bestselling flavor is Dingle sea salt, and they actually make their own salt from seawater collected at a nearby beach.  With a flavor this basic—sweetened cream with a touch of salt—it has to be spot on, and it really is.  It's an enticing blend of sweet and salty, shining in its simplicity.
We visited the original Dingle location, but Murphy's also operates ice cream shops in Dublin, Killarney, Galway, and Kildare.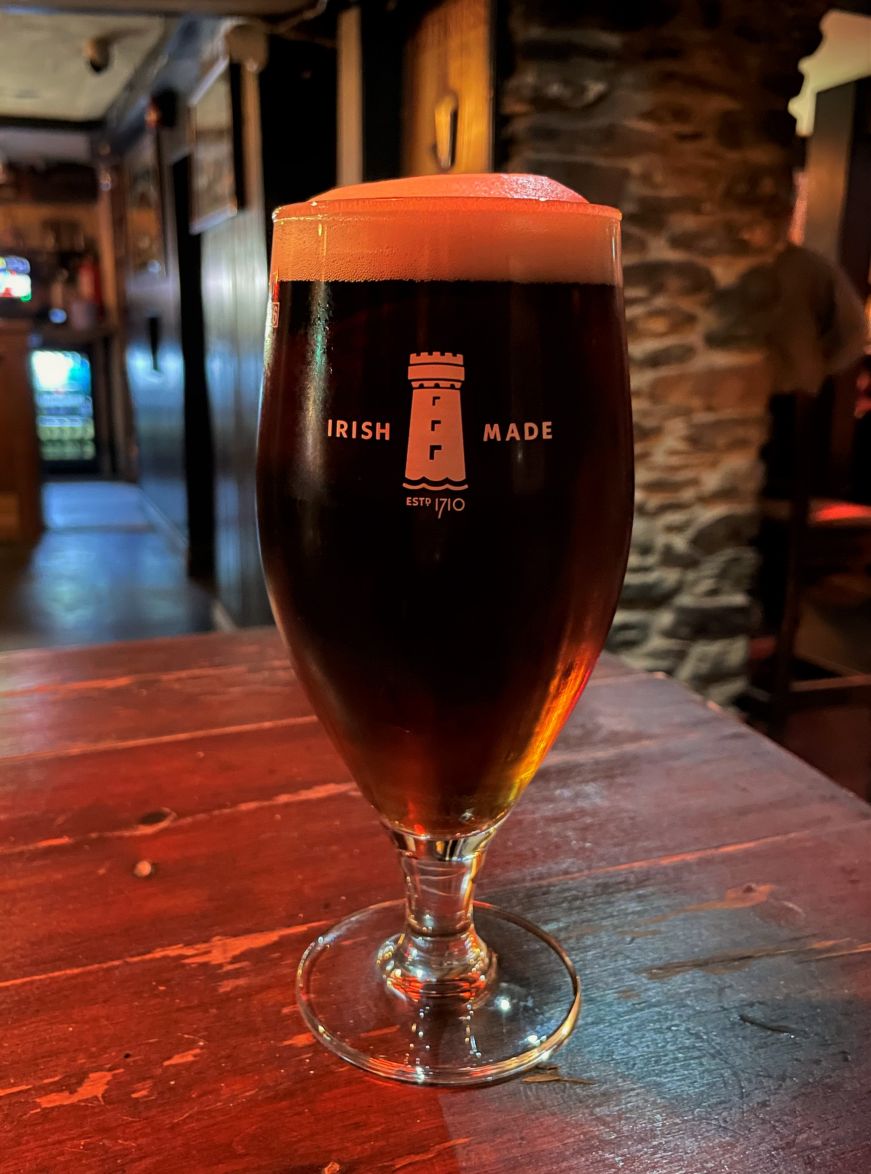 5. Smithwick's Irish Ale (on tap throughout Ireland)
Although Guinness might be more iconic, Smithwick's also has deep roots in Ireland—the brewery was founded in 1710 and the original brewery in Kilkenny was located on the site of a Franciscan abbey where monks brewed ale starting in the 14th century.  (Today, Smithwick's is owned by the same parent company as Guinness and is produced in Dublin.)
Made with malt and roasted barley, Smithwick's is the most popular ale in Ireland and is nearly always available on tap at pubs.  It's lighter than Guinness but still complex, with a balance of sweet, hoppy, and nutty notes, and a creamy mouthfeel.  I found Smithwick's to be flavor-forward without heaviness of Guinness, and like Guinness, I suspect it's best on tap in Ireland.
Tip: It's pronounced "smith-icks"—leave out the w.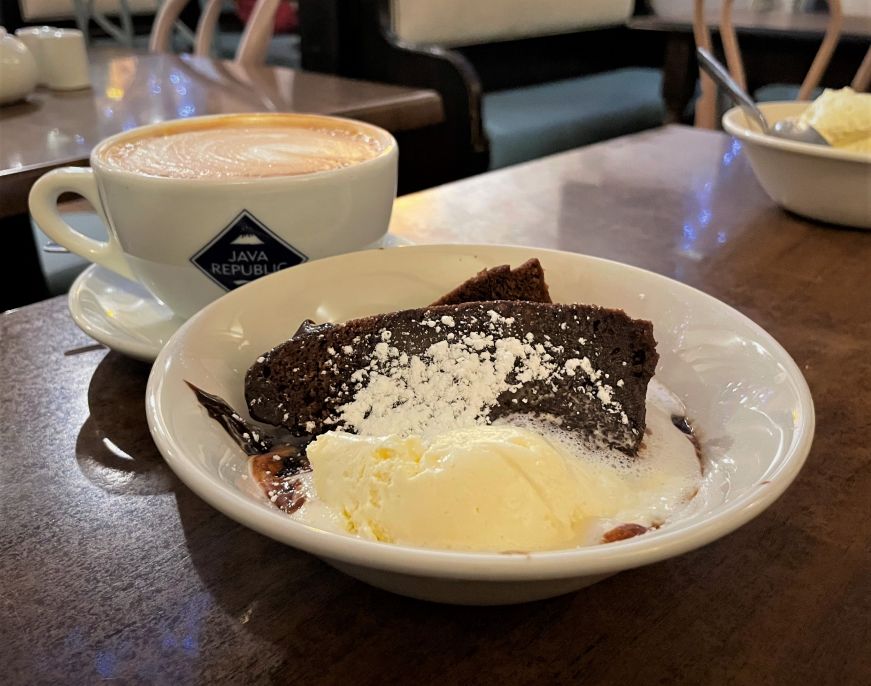 6. Chocolate steam pudding, The Blueberry Tearooms and Restaurant (Donegal Town)
The nomenclature is a bit confusing for Americans, but a steam pudding is closer to a cake than a custard—it's made by pouring cake batter into a mold and slowly steaming it over hot water.  The chocolate steam pudding I ordered at The Blueberry Tearooms and Restaurant had a dense texture somewhere between a brownie and a chocolate cake, and it was served with a rich chocolate sauce and ice cream.  It tasted like it was made with care, and the portion was satisfyingly large enough to share some bites with Mike.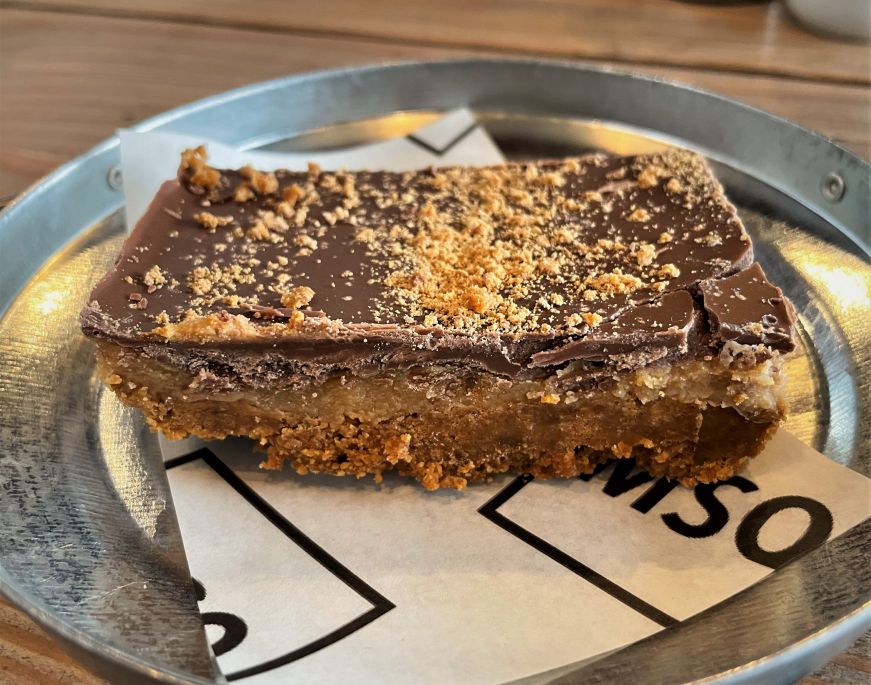 7. Biscoff caramel square, Market Square (Bushmills)
Every coffee shop and cafe we visited in Northern Ireland had a delectable-looking assortment of "squares" in the pastry case (as a Midwesterner, I'd call them bars).  Many of them featured a crumb crust and chocolate, and the Biscoff caramel square I got at Market Square would hold its own at any Minnesota potluck.  A crust made from Biscoff cookie crumbs, with their distinct caramelized, cinnamon flavor; a thick layer of homemade caramel; and a solid milk chocolate topping dusted with cookie crumbs—it was very rich and pretty much my platonic ideal of a dessert.  It was the one and only square I ate during our vacation, because I knew that any other version I tried would inevitably disappoint.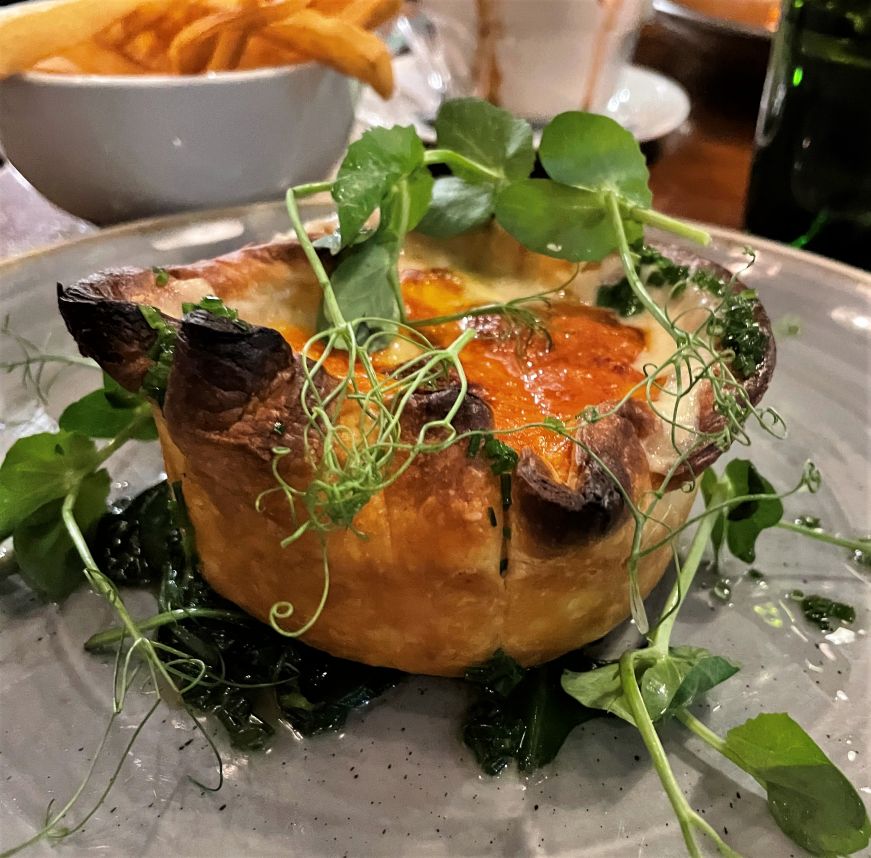 8. Potato, onion, butterbean, and cheese pie, Ginger Bistro (Belfast)
We had intended to spend a day in sightseeing in Belfast, but we got into town several hours behind schedule and spent the late afternoon and early evening arriving at a series of attractions just as they closed for the day.  Our initial dinner plan at a historic pub fell through too, and we decided to just head back to our hotel and stop for food at the first place that looked halfway decent.  Luckily, our path took us past Ginger Bistro, a lovely little restaurant serving cuisine that feels both familiar and unexpected, exquisitely prepared without being fussy.
I was in the mood for something comforting, so I ordered the elevated take on a vegetable pie, with a tender crust, potato, onion, and butterbean filling, and a creamy cheese sauce.  A bright garnish of fresh herbs and bed of wilted spinach balanced the heaviness, and the side of parsnip fries was surprisingly delicious—kind of like standard potato fries, but with a subtle sweetness.
We had our sole spot of luck in Belfast and got a table on a walk-in basis, but I would recommend making reservations at Ginger Bistro if possible.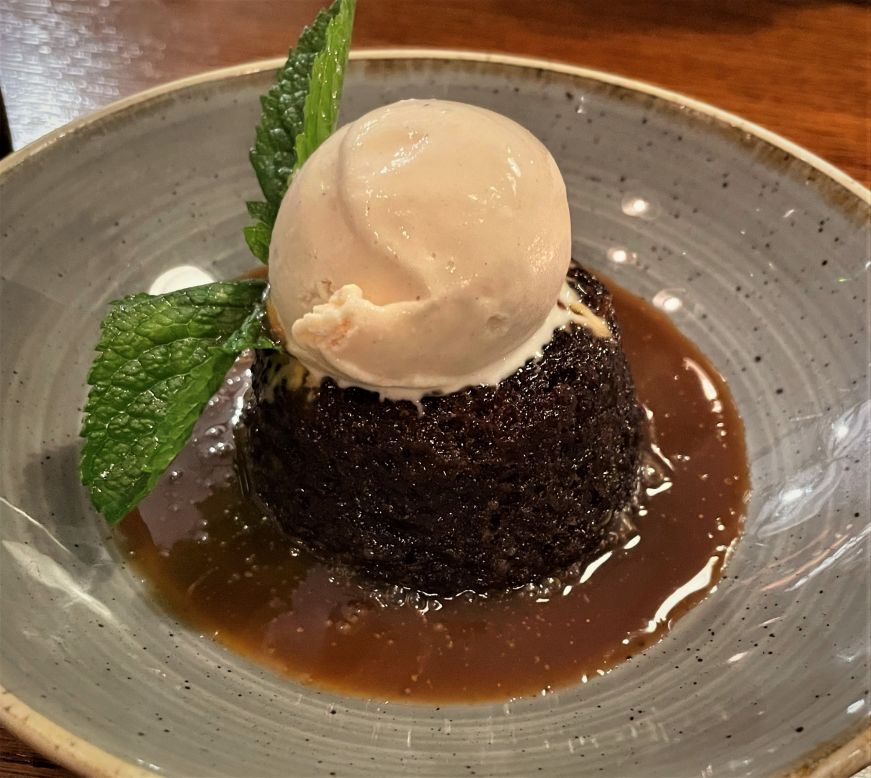 9. Sticky toffee pudding, Ginger Bistro (Belfast)
Obviously, when the main course was so good I had to try dessert, and the sticky toffee pudding at Ginger Bistro warmed my soul.  It was moist and crumbly, with a luxurious toffee sauce and a diminutive scoop of vanilla ice cream.  I gravitate towards chocolate desserts, but this was rich enough to satisfy that portion of my palate.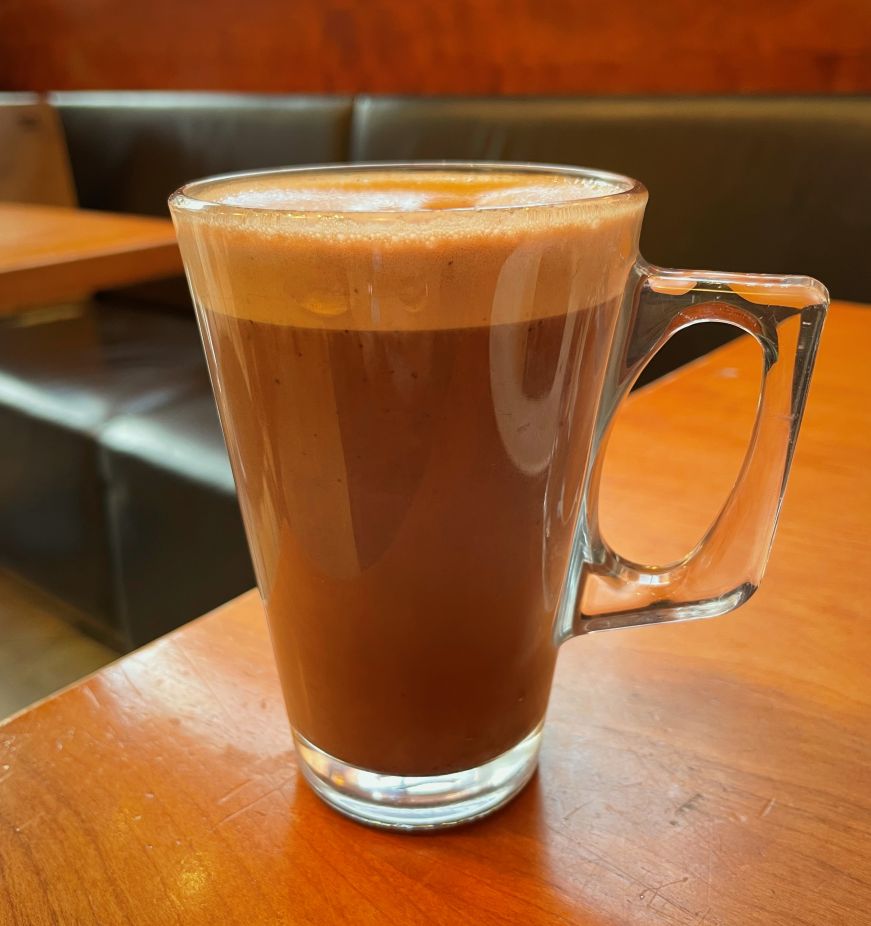 10. Hot chocolate, Butlers Chocolate Cafe (multiple locations)
Butlers is an Irish family-owned chocolate producer established in 1932, and the company also operates a chain of chocolate cafes that serve beverages and desserts.  The menu includes several flavors of hot chocolate made from a secret recipe chocolate sauce, and it's incredible—the intense chocolate notes make each sip feel like a special occasion.
We visited the original Butlers Chocolate Cafe on Wicklow Street during our last day in Dublin (there are several locations in Dublin, but check that one out if you can since it has the nicest seating area).  We enjoyed our hot chocolate so much that we bought another round at the airport location the next morning.  It was the sweetest end possible to our time in Ireland.