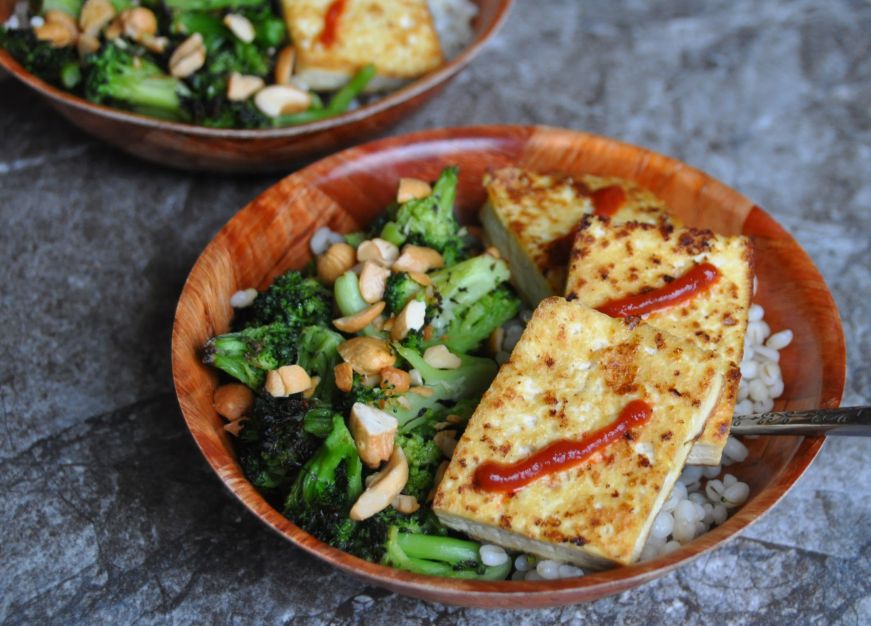 Since I eat a primarily vegetarian diet, tofu is one of my go-to proteins.  I actually didn't try tofu until college, when Mike introduced to me to the wonders of tofu stir fry.  Since then, I've expanded my repertoire to include various cooking techniques, vinaigrettes, and sauces.  Flavor-wise, tofu is a bit of a blank slate—it will soak up whatever seasonings you pair it with, whether that's a Thai-inspired coconut curry sauce or a spicy peanut dressing.  Tofu is also versatile: sure, you can cube it up and serve it with rice, but it's also great with barley, in a noodle soup, and wrapped in lettuce leaves. 
All of the recipes I've listed below call for extra-firm tofu, which I prefer for searing, baking, and stir fries; I also like its texture in soups.  If you want an even chewier texture, place your drained block of tofu on a plate lined with several layers of paper towels.  Set another plate and a weight (like a canister or large can) on top of the block of tofu, and let sit for about 20 minutes.  This trick squeezes out the excess water and will give you a firmer, chewier texture.
Whether you're already a fan or if you've never tried tofu before, here are ten tasty recipes for tofu, from rice bowls and soups to "steaks" and salad.
Rice and grain bowls:
Soup recipes:
Thai Tofu Noodle Soup: Cubes of seared tofu add texture and protein to this Thai-inspired rice noodle soup flavored with garlic, ginger, jalapeno, basil, and lime.
Hot-Sweet-Sour Soup with Tofu and Pineapple: The list of unlikely ingredients somehow manage to work together: Thai red chili paste, carrots, cherry tomatoes, mushrooms, pineapple, basil, tofu, and more.  There's quite a bit of prep work, but the soup itself comes together quickly.  
Hot and Sour Tofu Mushroom Soup: Seasoned with jalapenos, sriracha, and lime, this soup has sinus-clearing properties that are perfect for when you're recovering from a cold.  In addition to tofu, it includes mushrooms and cabbage.
More tofu recipes:
What's your favorite tofu recipe?
If you enjoyed this post, pin it!