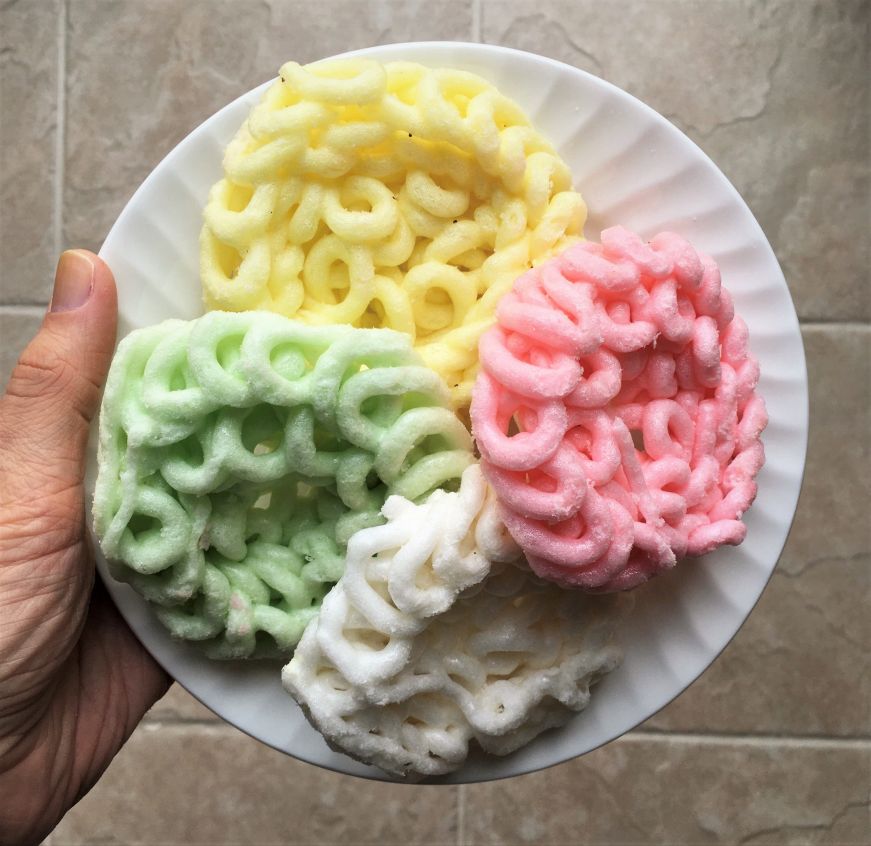 A couple of years ago, I wrote about how one of my favorite things to do when I travel is visiting grocery stores.  It's a way to get a glimpse into the home kitchens of another culture, as well as a budget-friendly way to stock up on local food and edible souvenirs.
Obviously, the past ten months haven't involved much travel (thanks, COVID) but I have been able to assuage my grocery store wanderlust with regular trips to United Noodles.  United Noodles is a family-owned Asian market with locations Minneapolis' Seward neighborhood and Woodbury, and it stocks a wide-ranging selection of groceries from China, Japan, Korea, Taiwan, Singapore, Hong Kong, Thailand, Malaysia, Indonesia, Vietnam, the Philippines, India, Sri Lanka, and Hawaii. 
While my haul is never quite the same from trip to trip, I have developed a core list of favorites.  Here are the ten items that always make it into my cart whenever I shop at United Noodles.
To ensure social distancing, United Noodles only allows one customer per household into the store.  Masks are required, and the first hour of shopping on Saturday is reserved for at-risk and elderly customers.  Carts are cleaned and sanitized, and hand sanitizer is provided at the door.  If you prefer not to shop in person, grocery delivery is available via Instacart.
Shelf-stable foods
1. Sena Fish Crackers
I don't remember what inspired me to first try Sena Fish Crackers, which are imported from Indonesia—maybe they just looked interesting.  Over the years, they've become my favorite snack food to buy at United Noodles.  I love the briny fish flavor (they're made with mackarel and tapioca flour), and the texture is perfect, kind of like a heartier, more satisfying version of a rice cake.
2. Rotary Colored Tapioca Crackers
If the texture of the fish crackers above sounds appealing but you don't like fish, I highly recommend Rotary Colored Tapioca Crackers, another Indonesian product.  They have a similar crunchy, lofty texture with a more neutral taste (the ingredients are tapioca flour, salt, sugar, coconut oil, and MSG, plus food coloring).  The colors all taste the same, but arranging an assortment on a plate always makes me happy.
3. Shrimp-flavored snacks
I have never met a shrimp-flavored food that I didn't like, so the dizzying array of salty, crunchy, shrimy snacks at United Noodles is much appreciated.  If shrimp aren't your thing, I get it, but if you're even a little curious, give shrimp chips (or shrimp puffs or shrimp crackers) a chance.  There are usually individual-sized bags for under $2, so you can give them a try without committing to a larger package.  
4. Sesame oil
In addition to snacks, the grocery aisles at United Noodles are stocked with a wide range of imported ingredients.  I've purchased plenty of spices, sauces, and condiments over the years, but sesame oil is always on my list, since it's a key ingredient in so many different recipes across cuisines.  While I can purchase sesame oil at Target, the quality and price are better at United Noodles.  My current favorite is Shirakuku, a Japanese brand with a rich flavor.
5. Furikake
A bowl of sticky rice is one of my favorite comfort foods, and I often season it with a sprinkling of furikake.  It's a dry Japanese condiment made with seaweed, sesame seeds, dried fish, salt, sugar, and MSG.  United Noodles stocks several brands and flavors, and I'm slowly working my way through them all.
6. Mochi
I always treat myself to a box or two of Japanese mochi, small cakes made with rice flour and a slightly sweetened filling.  I love the bouncy, chewy texture, and my favorite flavors are sesame and red bean.  The peanut ones are a good place to start, since the peanut butter-like filling might taste familiar, and the taro mochi have a pretty purple hue.
Frozen foods
7. Dumplings
Frozen dumplings are a great easy meal, and United Noodles has a huge variety of meat-based and vegetarian options.  I'm not loyal to a particular brand or flavor; I just buy whatever strikes my fancy and I've never been disappointed.
8. Shao Mei Brown Sugar Boba Ice Cream Bars
I learned about Shao Mei Brown Sugar Boba Ice Cream Bars from some local foodies I follow on Instagram—I enjoy tapioca pearls in bubble tea and love ice cream, so it seemed like a perfect combination.  Be prepared for a bit of sticker shock (a package of four set me back almost $10), but I think they're worth the price.  The rich, caramelized flavor, creamy ice cream, and chewy boba make these a truly delectable frozen treat.
Refrigerated foods
9. Fresh ramen and udon noodle soup packets
Fresh ramen and udon noodle soup packets are another easy meal—I like to add some extra ingredients from my fridge, like a hard-boiled egg, mushrooms, green onions, and sriracha.  I think the fresh noodles have a better texture than the dried versions, and the soup base tends to have a bit more depth and less salt.
10. Kimchi
If I'm not sprinkling my rice with furikake, I'm mixing in chopped kimchi—since I go through a fair amount, I like buying it at United Noodles since I can get it by the half-gallon for a much cheaper price per ounce than Target or my local grocery store.  One word of warning: the jars of kimchi look much smaller at the store than they do in your fridge.  I've had to talk myself down from buying the gallon-sized jar (that's more kimchi than I can get through before it spoils, but if your household can manage it, it's a great buy!)
United Noodles
2015 E. 24th Street, Minneapolis; 7730 Hudson Road, Suite 60, Woodbury
612-721-6677; 651-756-8848
unitednoodles.com
Further reading: A grocery store date at United Noodles
If you enjoyed this post, pin it!