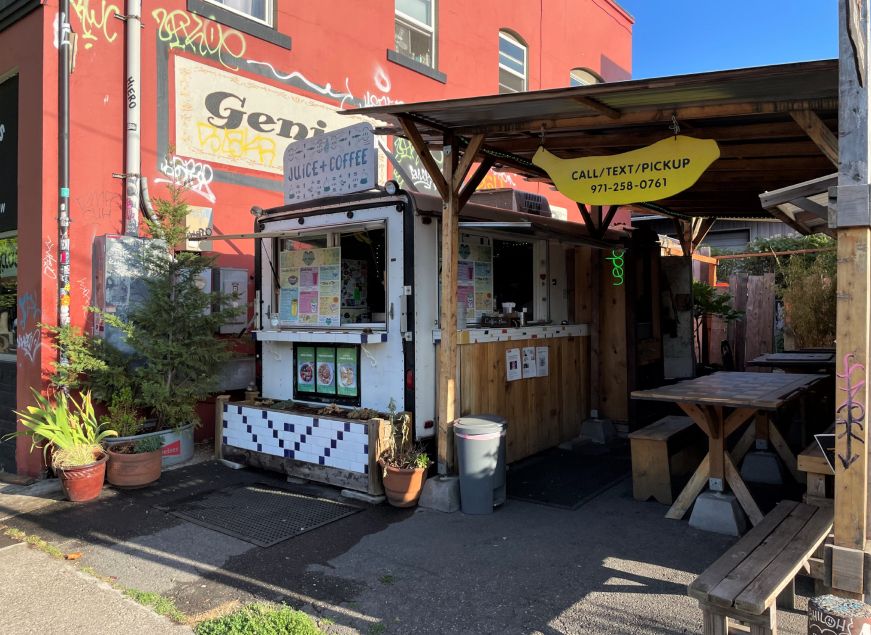 Josh and I have developed a winning formula for our trips best summed up as "walking around and eating stuff."  This past summer, we applied that approach to our five-day getaway to Portland, Oregon.  Portland is an wonderful food destination: thanks to the temperate weather, there are food carts throughout the city, sometimes grouped into pods with a central seating area.  It's a relatively affordable way to sample a wide range of cuisines, and we loved the food carts' low-key vibe.  Portland is also home to craft producers of nearly every beverage you can think of, including beer, spirits, cocktails, kombucha, and coffee.
Here are my favorite things I ate and drank in Portland, ranging from food cart eats to an nationally recognized, award-winning restaurant.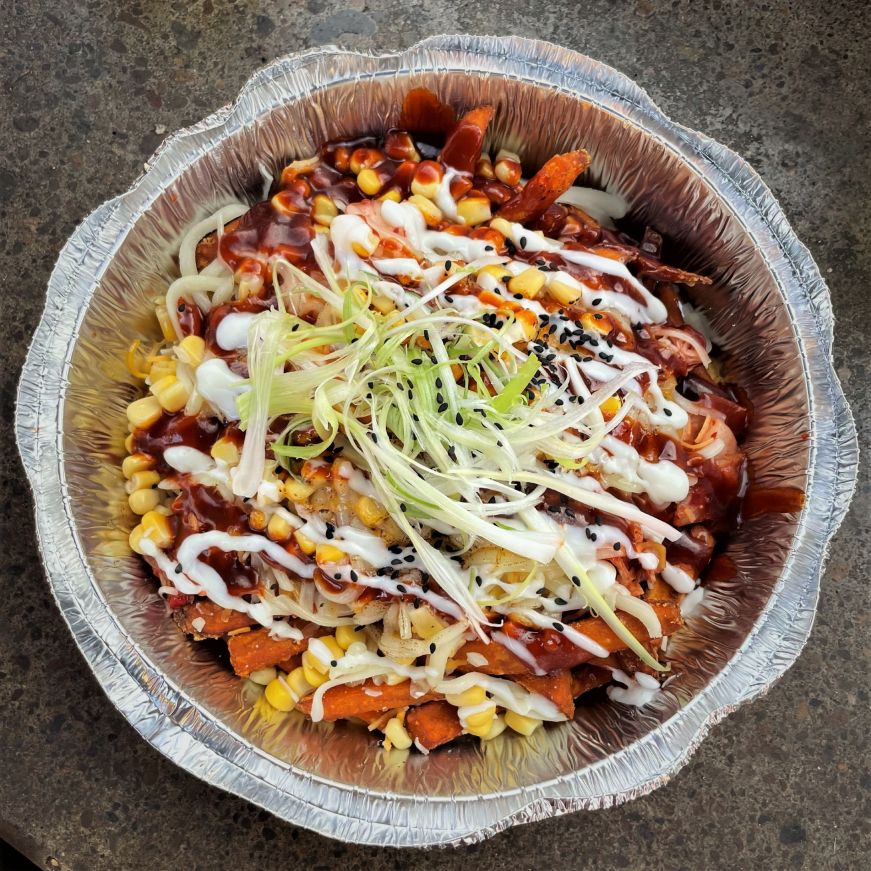 1. Kimchi fries, MUKJA
Our first meal in Portland was at Hawthorne Asylum, a food cart pod with over 20 vendors and a somewhat edgy, industrial aesthetic.  I ordered the kimchi fries at Korean comfort food spot MUKJA mostly because the dish was assortment of ingredients I would never think to combine: sweet potato fries, kimchi, roasted corn, melted cheese, housemade sauces, and fresh green onions.  On paper, all of the flavors and textures seem like they would be a confusing muddle, but everything came together in such a delightful way.  The freshness of the corn and onions lightened up the fries, and the funkiness of the kimchi cut through the richness of the sauce.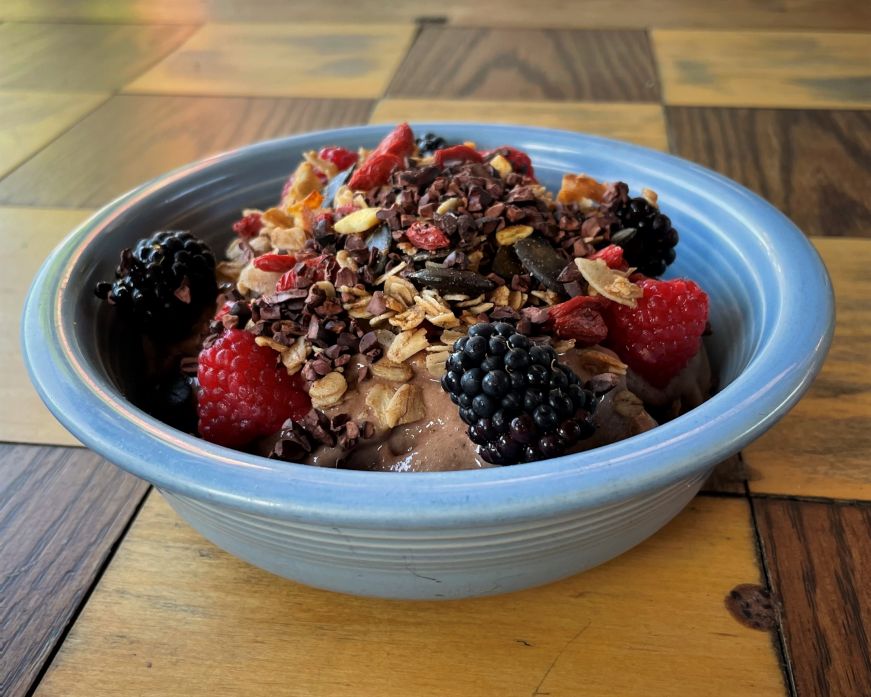 2. Chocolate smoothie bowl, Best Friend
I love smoothie bowls so much—something about the textural contrast and the visual appeal fills my heart with joy.  The chocolate smoothie bowl at Best Friend was very well-executed, with a sweet but not overwhelmingly so base of banana and cacao powder and a wonderful topping of fresh berries, locally made granola, and cacao nibs.  I also appreciated the ceramic bowl, silverware, and cute covered seating area next to the food cart (pictured at the top of this post).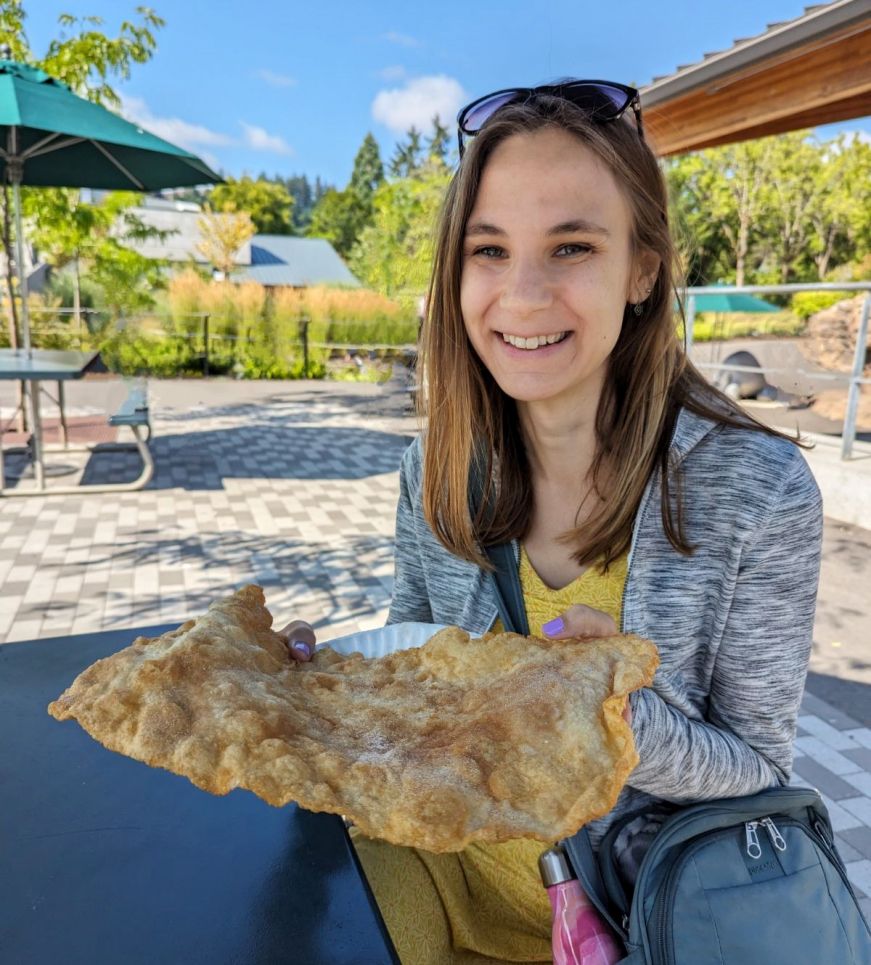 3. Elephant ear, Oregon Zoo
The Oregon Zoo is known for its Asian elephant breeding program and expansive elephant exhibit, so their best-selling concession item is elephant-inspired.  The elephant ear pastries were much larger and thinner than the version I'm accustomed to in the Midwest, with a nice chewy quality and generous dusting of cinnamon sugar.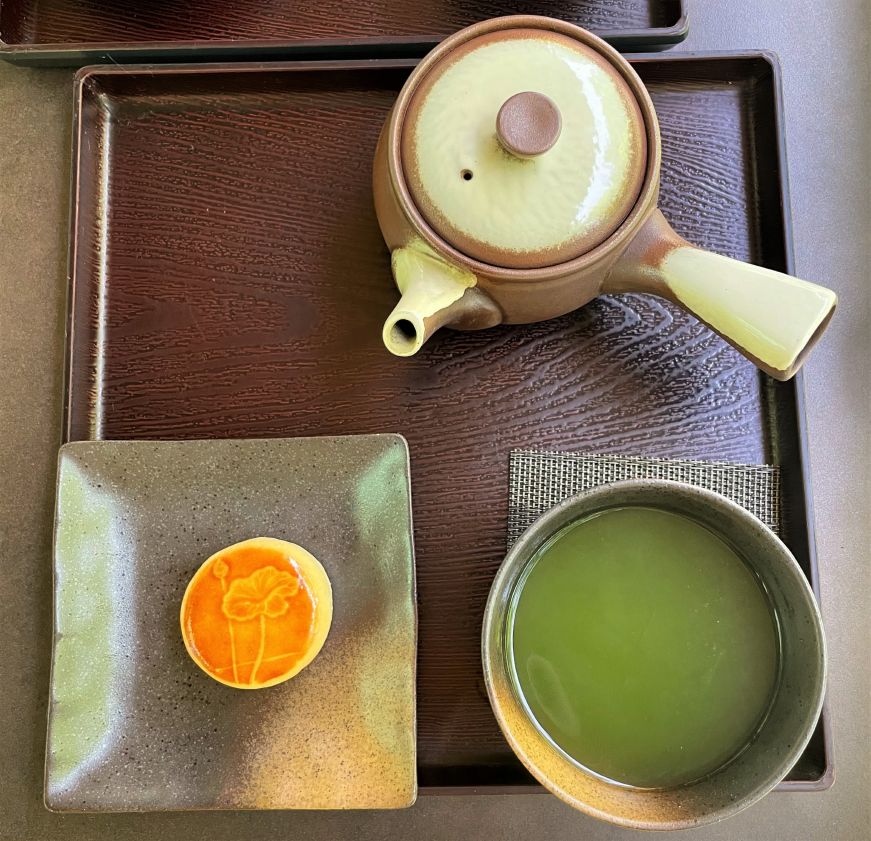 4. Genmaicha and manju tea set, Umami Cafe at the Portland Japanese Garden
Umami Cafe at the Portland Japanese Garden looks like a Zen tree house, and the menu features traditional Japanese teas paired with miniature pastries.  I wasn't able to land a reservation, but we got on the waiting list as soon as we arrived at the garden and an hour later, we were sitting down to afternoon tea.  I ordered the recommended pairing of genmaicha tea and a manju pastry.  Genmaicha is made from green tea mixed with roasted popped brown rice—it had a savory, earthy undertone.  It was a nice foil for the slightly sweetened manju, a small cake with an adzuki bean filling.
5. Vanilla rose pistachio paleta, Ice Queen
I was in the mood for dessert one evening, but the only spot close to our Airbnb was a vegan ice cream parlor serving paletas and soft serve—I went in with pretty low expectations and was pleasantly surprised.  My vanilla rose pistachio paleta had a satisfying, creamy texture, and I wouldn't have guessed that it was dairy-free.  The flavors were bold but not overdone, and the bits of chopped pistachio embedded throughout the paleta were a nice touch.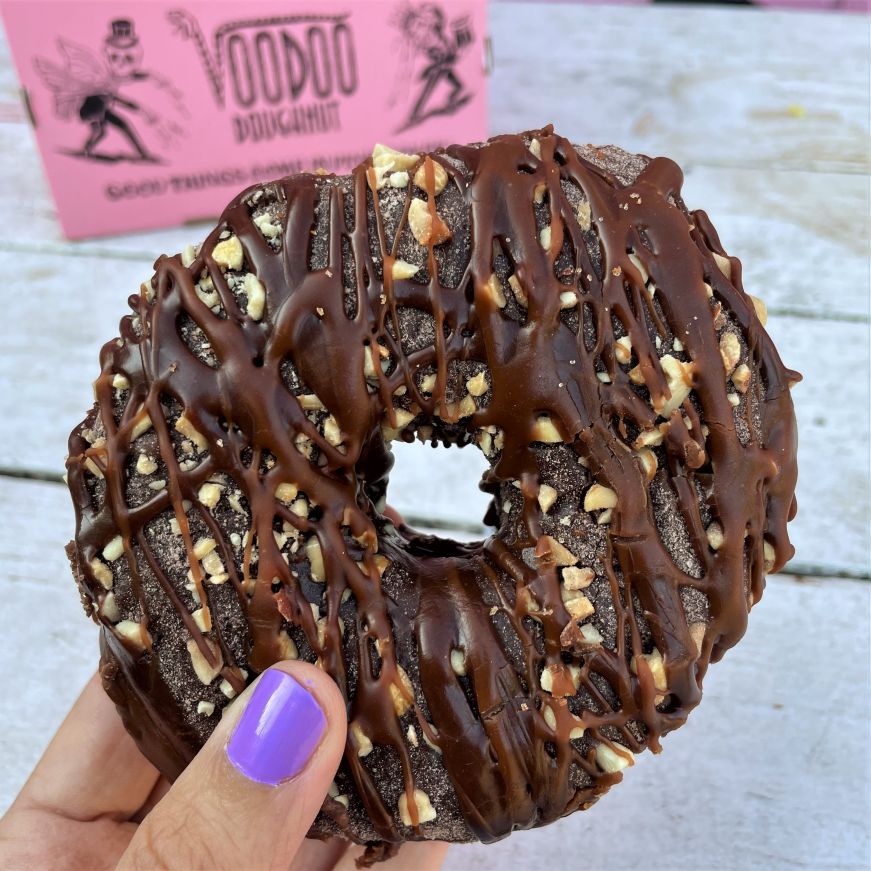 6. Chuckles, Voodoo Doughnut
Doughnuts are to Josh what smoothie bowls are to me, so our trip to Portland had to include a stop at Voodoo Doughnut—the chain was founded in Portland in 2003 and is known for their over-the-top flavors.  As a chocolate aficionado, the Chuckles was squarely in my wheelhouse: a raised doughnut topped with chocolate frosting, hot chocolate powder, peanuts, and caramel and chocolate drizzle.  It was very sweet, absolutely delicious, and the perfect way to start a day of vacation.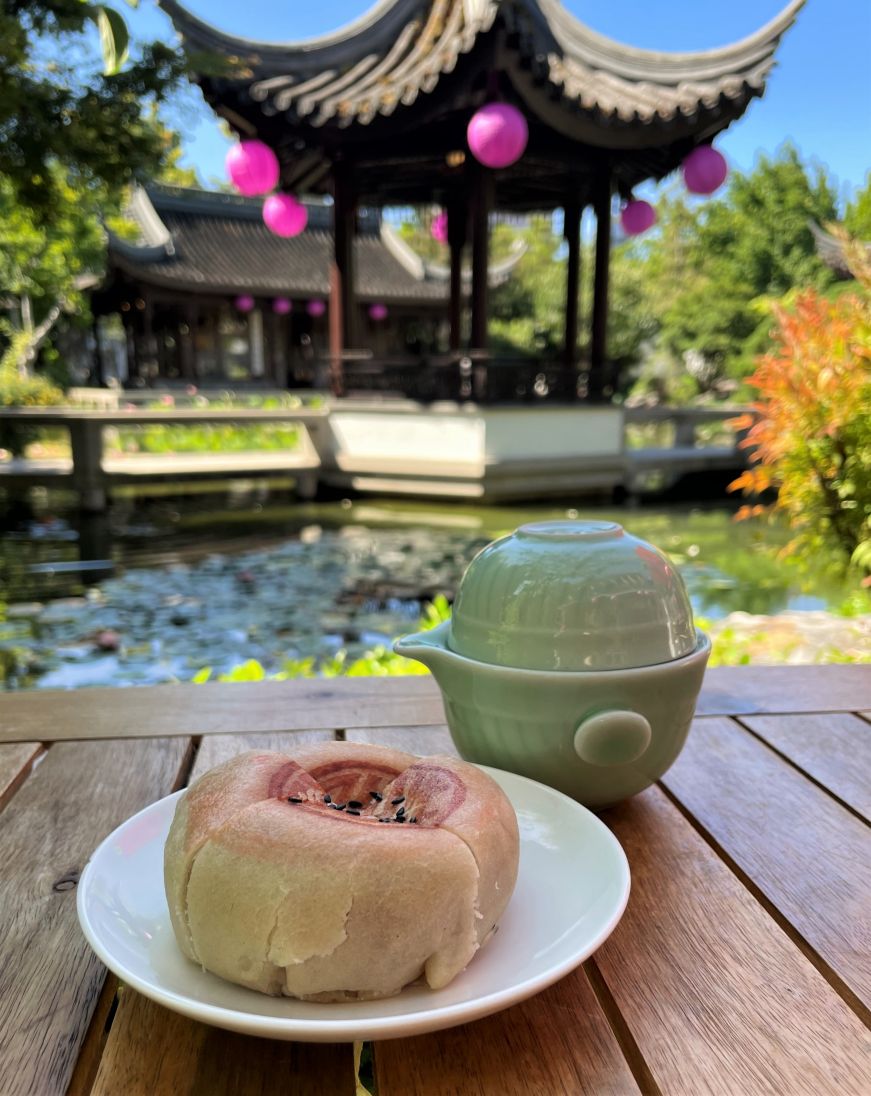 7. Moon cake, Teahouse at Lan Su Chinese Garden
We continued out mini-tour of garden teahouses with the Teahouse at Lan Su Chinese Garden, which has a lovely patio beside a pond filled with koi and lily pads.  The menu offers a wide range of teas and light snacks, including several varieties of mooncake, a Chinese pastry with a pastry crust and dense, rich filling.  I ordered the taro-filled version, which had a delicate flavor with vanilla and nutty notes and a wonderfully tender crust.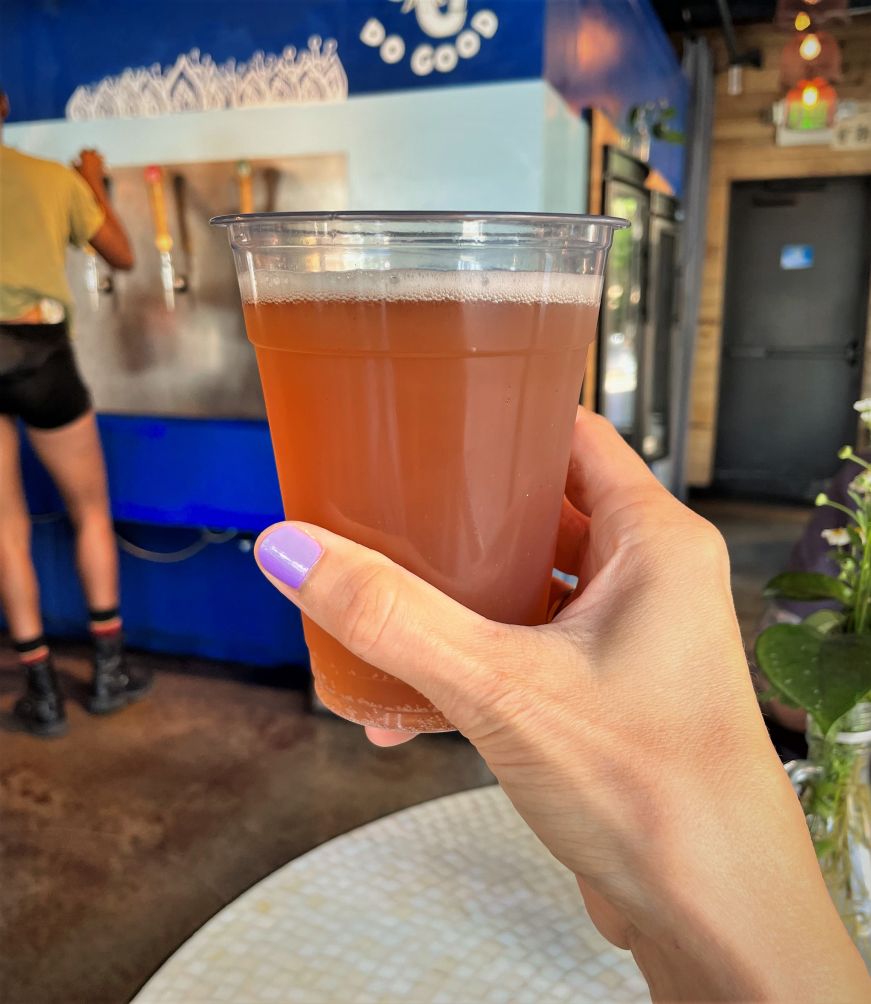 8. Pear fennel kombucha, SOMA Kombucha
I was on a kombucha kick this summer, and every time I visited a taproom in the Twin Cities, I thought to myself, "Why isn't there a kombucha taproom around here?"  In Portland, there is!  SOMA Kombucha offers several different flavors on tap.  It's self-serve, and you can sample before you commit to a pint or mix a couple of flavors to create a custom drink.  The pear fennel kombucha was my favorite because of its complexity: bright, fruity, herbaceous, and a little bit of licorice.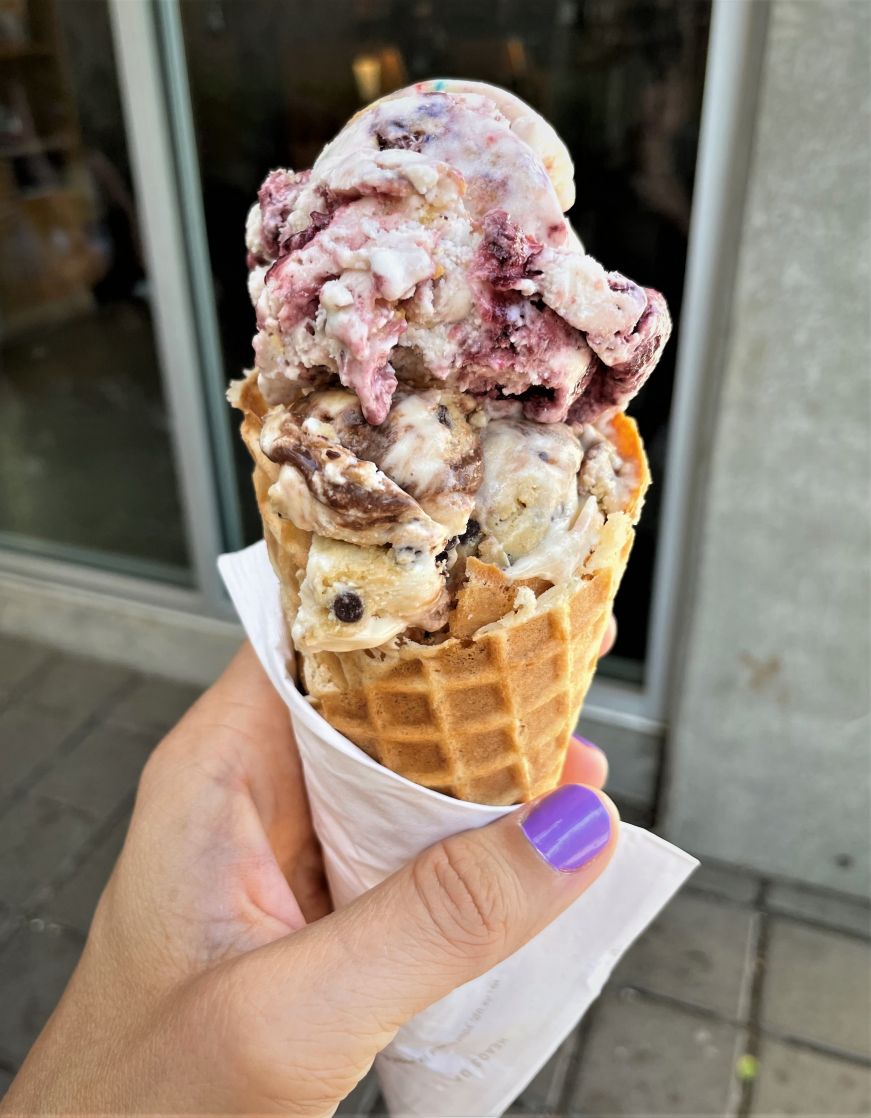 9. Birthday cakes and blackberries + salted malted cookie dough ice cream, Salt and Straw
The two flavors I ordered at Salt and Straw were each so good, in very different ways, that I can't pick a favorite.  When we visited in late July their monthly flavors were berry-centric, and the birthday cakes and blackberries flavor combined double vanilla ice cream, crumbled confetti cake, and blackberry jam.  It seems weird but the confetti cake went really well with the slight tartness of the blackberries.  I also loved the caramelized notes and salty-sweet balance of the salted malted cookie dough (one of their regular flavors), which had chunks of housemade cookie dough and a thick ribbon of fudge.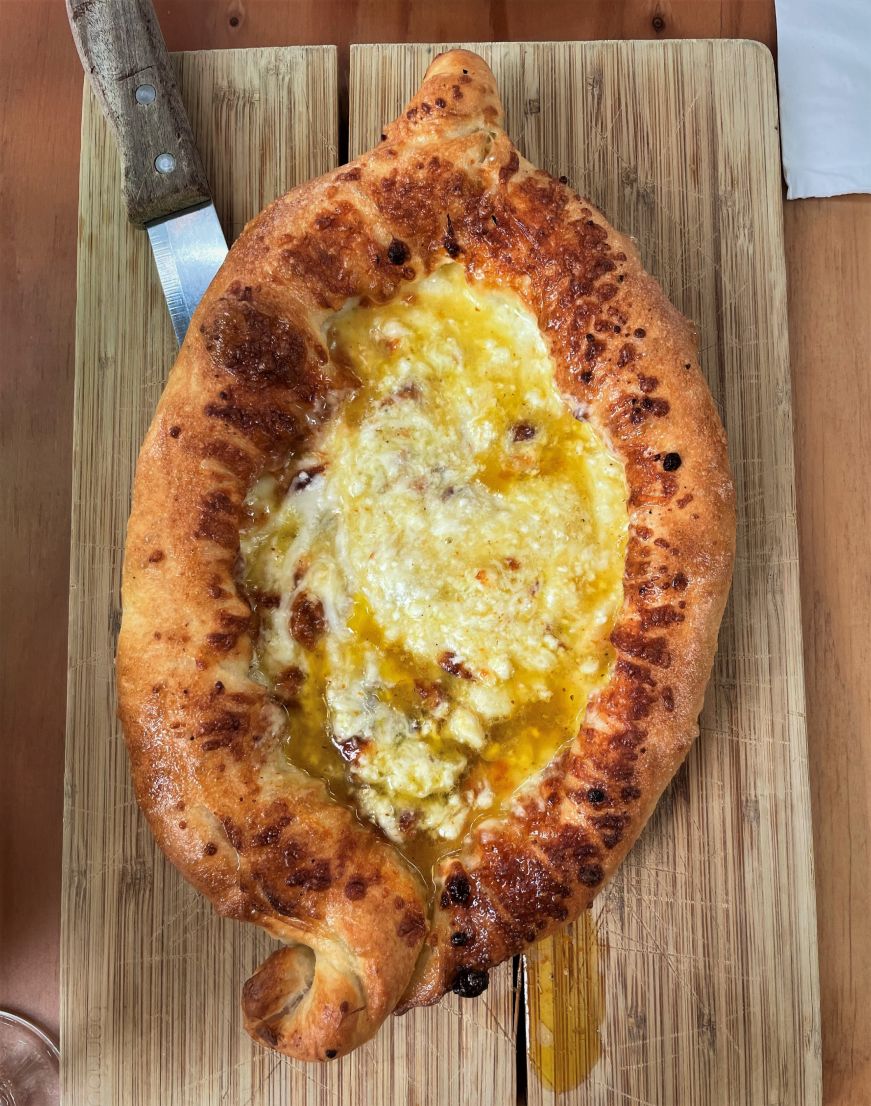 10. Adjaruli kachapuri, Kachka
We ate nearly all of our meals at food carts and cafes, but I wanted to do something special for our last evening in Portland and made a reservation at Kachka, a nationally-recognized restaurant with a menu based on the cuisine of the former Soviet Union.  Their kachapuri, an eye-shaped, sulguni cheese-stuffed bread, is inspired by the version served in the Adjara region of Georgia.  It's topped with a raw egg yolk and melted butter, which our server mixed into the cheese filling tableside—the egg yolk cooks as it combines with the molten cheese and melted butter.  The result was the most best combination of melted cheese and bread that you can imagine.
11. Chocolate bergamot old fashioned, Blue Star Donuts
The last meal we ate in Portland (not counting a late lunch at the airport) was breakfast from Blue Star Donuts.  Like Voodoo, they're a Portland-based chain, but they have a more refined, flavor-focused approach.  I'm glad we tried both—Blue Star's chocolate bergamot old fashioned is one of the most interesting doughnuts I've eaten.  The floral-tasting bergamot tea glaze paired unexpectedly well with the slightly tangy, rich flavor of the chocolate buttermilk doughnut beneath.