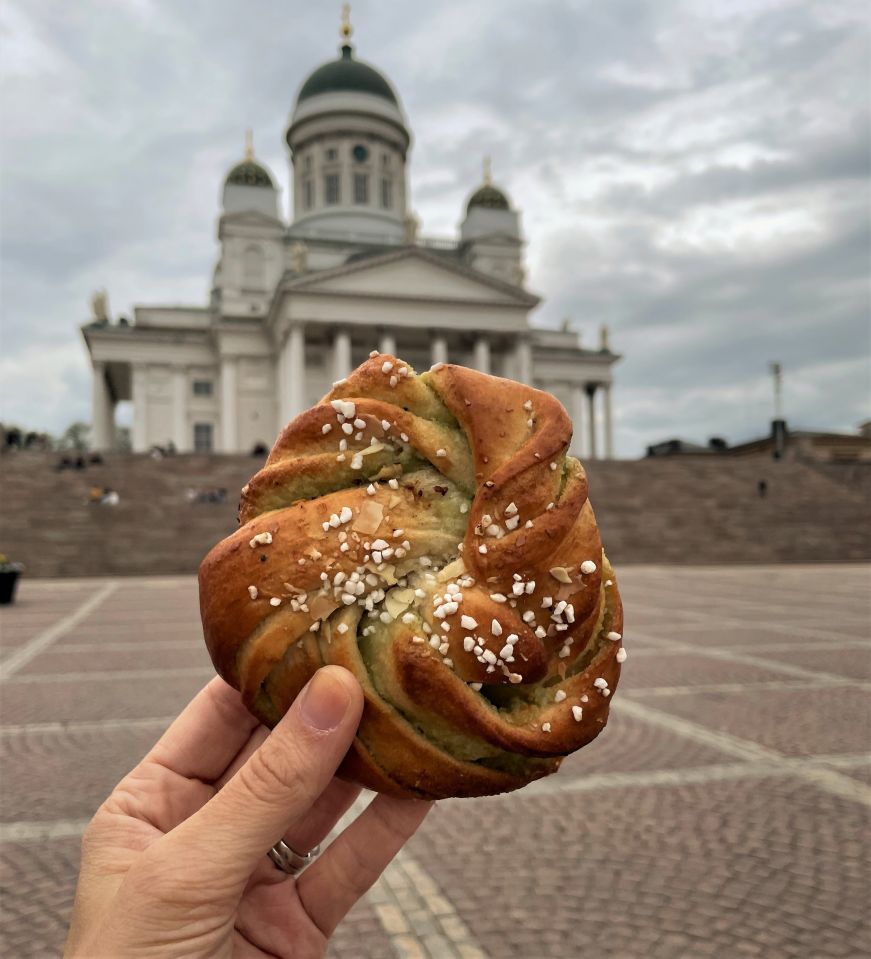 I recently spent nine glorious days in Finland.  It was my first international trip since 2018, and I picked Finland for several reasons: to connect with my Finnish heritage; to have a wide range of experiences in a relatively short period of time; and because it seemed approachable logistically (English is widely spoken and they drive on the right side of the road).  Finland delivered on all of those aspects, plus an unexpected bonus: how much I enjoyed the food.  From pastries to cheese, a 13-course New Nordic tasting menu to McDonald's, here are my favorite things I ate in Finland.
1. Pistachio pulla, Kanniston Leipomo (Helsinki)
Pulla is a very common food in Finland, on the menu at nearly every bakery and cafe we visited—it's a cardamom bread available both as a loaf and a single-serving pastry.  Pistaasipulla (pistachio pulla) is variation that includes a pistachio nut filling.  One of the very first things I ate in Finland was a pistachio pulla I snagged during pastry happy hour from Kanniston Leipomo, a chain of Helsinki bakeries founded in 1914.  The pistachio and cardamom was a delightful flavor combination, and the swirled layers provided a nice ratio of crust to bready interior.  It was the perfect introduction to Finland's top-notch baked goods.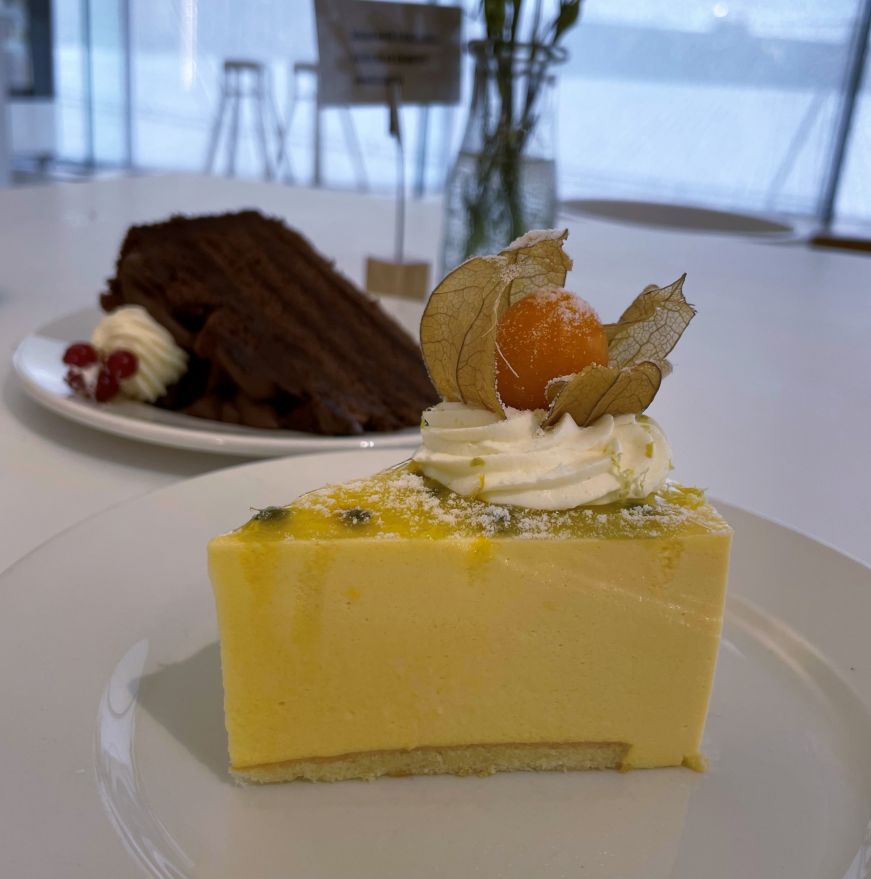 2. Passion fruit cake, Oodi Cafe (Helsinki)
Oodi, Helsinki's Central Library, is much more than a place to check out books—it was envisioned as a community resource and gathering space, with recording studios, sewing machines, 3D printers, cozy rooms with gaming consoles, individual offices and group meeting rooms, an expansive kids' play area, and two cafes.  I was expecting the food to be functional, along the lines of packaged chips and cookies.  Instead, we were treated to elegant desserts and made-to-order espresso drinks.  The passion fruit cake was light and creamy, with a whipped filling bursting with bright fruit flavor and a tart passion fruit curd topping.
3. Rhubarb cream cheese pastry, Hallikahvila (Helsinki)
Our Helsinki Airbnb was located near Hakaniemen Market Hall, which has 40 vendors selling produce, cheese, meat, fish, baked goods, and handicrafts.  Hallikahvila has a gorgeous array of Nordic, French, and American pastries, plus sandwiches.  We ate there a few times during our time in Helsinki and enjoyed everything we tried, but the rhubarb cream cheese pastry was my favorite.  The dollop of cream cheese gave it a substantial quality and paired well with the lightly cooked rhurbarb.  A dusting of powdered sugar added just enough sweetness, and the pastry was delectably flaky.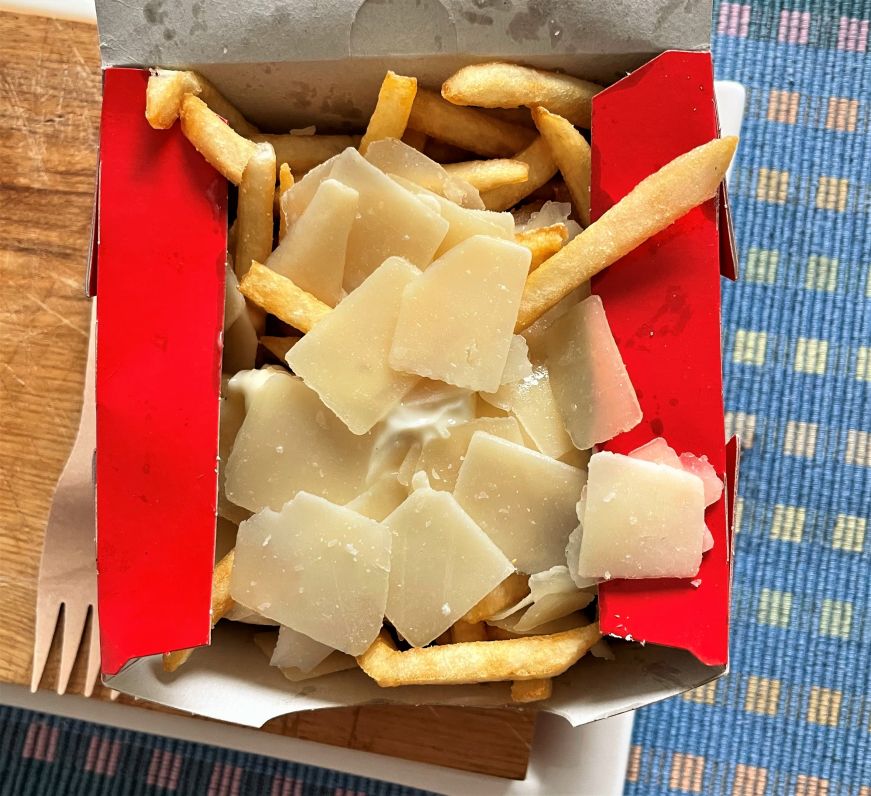 4. McFlavor Fries, McDonald's (Helsinki)
Sure, there are McNuggets, Big Macs, and McFlurries, but the Finnish McDonald's menu also features many items you won't find in the United States, like McFlavor Fries.  Topped with mayonnaise and a generous heap of shaved Parmesan, it's the sort of thing I would expect to find at a gastropub, not a fast food joint.  
Unfortunately, we could only get McFlavor Fries at the McDonald's we visited in Helsinki—I'm not sure if it's a regional item or it varies by franchisee, but if you're lucky enough find them, give them a try.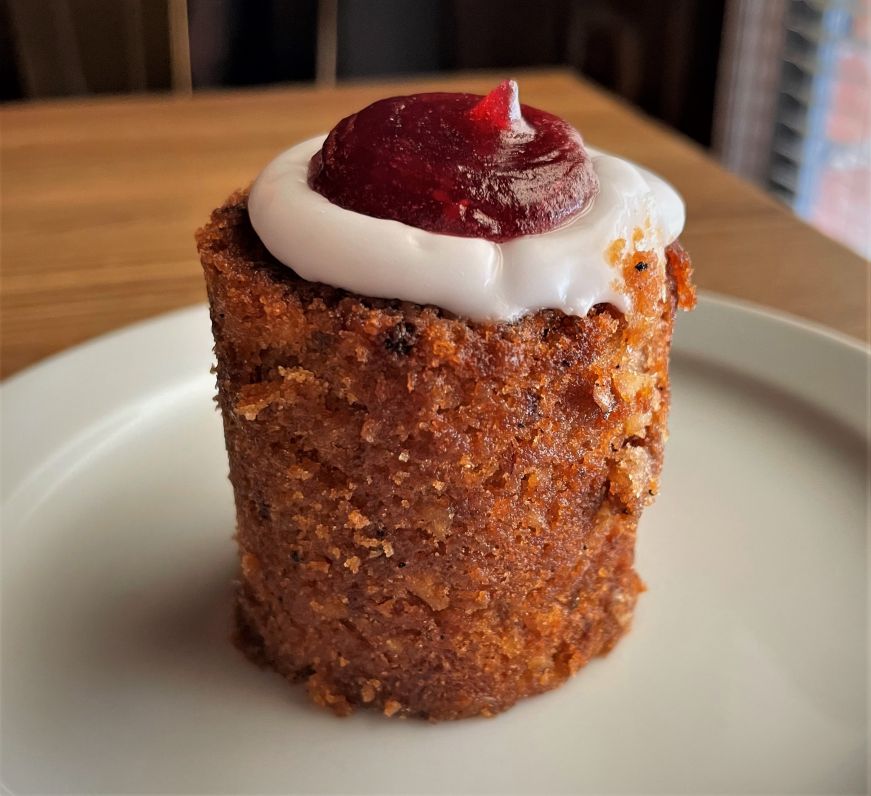 5. Runeberg cake, Porvoon Paahtimo (Porvoo)
Runeberg cake is a seasonal treat in most of Finland, but it's available year round in Porvoo, where the cake originated in the 1800s.  I enjoyed the version I ordered at Porvoon Paahtimo, a lovely coffee shop and bar.  There's a lot going on in one little cake: the breadcrumb-based cake is flavored with almonds, rum, and cardamom, and then it's topped with icing and raspberry jam.  It sounds like an odd combination, but it comes together into a unique, cohesive dessert.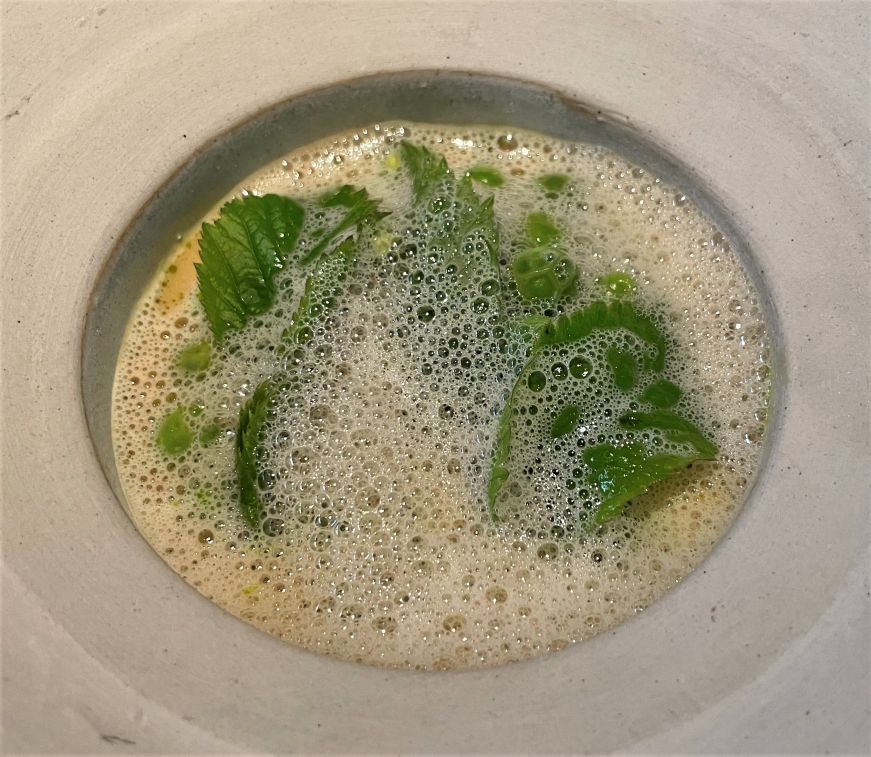 6. Gently cooked green peas, sauce of langoustine, and quince ponzu, Grön (Helsinki)
One of the highlights of our vacation was splurging on the 13-course tasting menu at Grön, an intimate Michelin-starred New Nordic restaurant that highlights seasonal and foraged local ingredients.  It's the culinary equivalent of a Broadway show—each dish is innovative and inspiring, and prepared by people who are at the peak of their profession.  The whole experience was exquisite, but a few dishes were especially notable, including the mashed peas served with a foamy langoustine (crayfish) broth, a quince sauce, and fresh mint leaves.  The layers of flavor were astounding: first you taste the peas, perfectly fresh and spring-like, and then suddenly, you get the mild fishy note of the langoustine, which gently lingers on your palette.  
7. Spruce shoot, creamed pine nuts, local lemon leaf, and wood ants, Grön (Helsinki)
Another standout from our meal at Grön was one of dessert courses, a white chocolate shell filled with a spruce sorbet and topped with tiny spruce shoots, ants, and a miniature pine cone.  My first bite was uncanny—it transported me 25 years back in time, to the woods behind my parents' house where my sister and I would use sharp sticks to poke balsam fir trees and watch the pitch bubble out.  I hadn't thought about it for decades, but the piercing spruce flavor brought it into focus.  That's what I love the most about food: the power it has to evoke memories and emotions.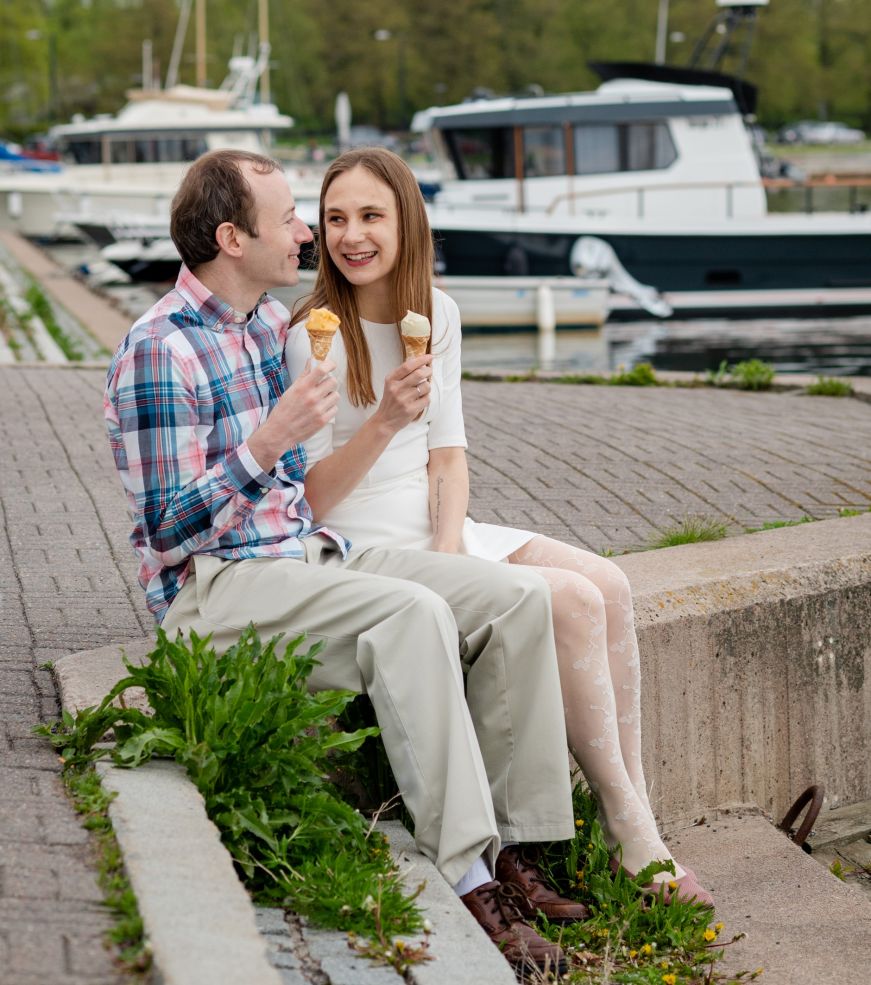 8. Pistachio gelato, Ape Gelato (Helsinki)
Mike and I did a Flytographer photo shoot during our time in Helsinki, and since our photographer also manages Ape Gelato, we stopped by one of the company's bright orange trucks to get cones to use as photo props.  The pistachio gelato was excellent—a natural pastel green instead of a garish hue, the bits of salty nuts contrasting with the sweetness of the gelato base.  The cone itself was tasty, too, fresh and extra crispy.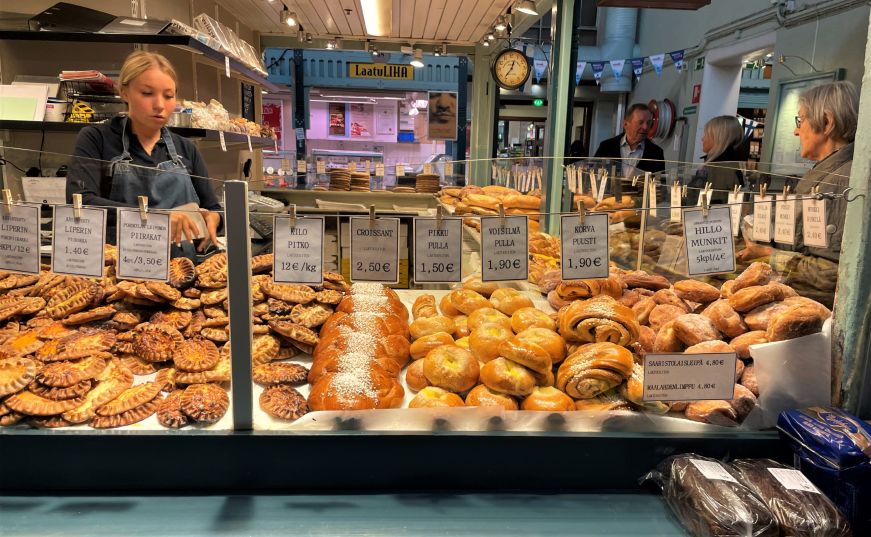 9. Karelian pasty, Pullapuoti Wilenius (Tampere)
Tampere Market Hall is the largest indoor food hall in the Nordic countries, a sprawling building with over thirty vendors.  There are bakeries, fishmongers, butchers, a cheese shop, produce vendors, and several cafes and restaurants, most with their own seating areas (there were once over 100 stalls, but today's business occupy the footprints at of least two and up to a dozen original stalls).  The bakeries were so tantalizing that I opted to carb load for lunch, with a spread that included a Karelian pasty from Pullapuoti Wilenius. 
Karelian pasties are ubiquitous throughout Finland, offered at bakeries, cafes, supermarkets, and convenience stores.  The oblong, savory pastries consist of a thin, chewy rye crust with a rice filling.  I ate several Karelian pasties during my time in Finland, and the Pullpuoti Wilenius version was my favorite—the crust was fresh and chewy without being tough, and the rice filling had a pleasant bouncy quality.  Most of the bakery's patrons were buying Karelian pasties by the half-dozen, and I can see why.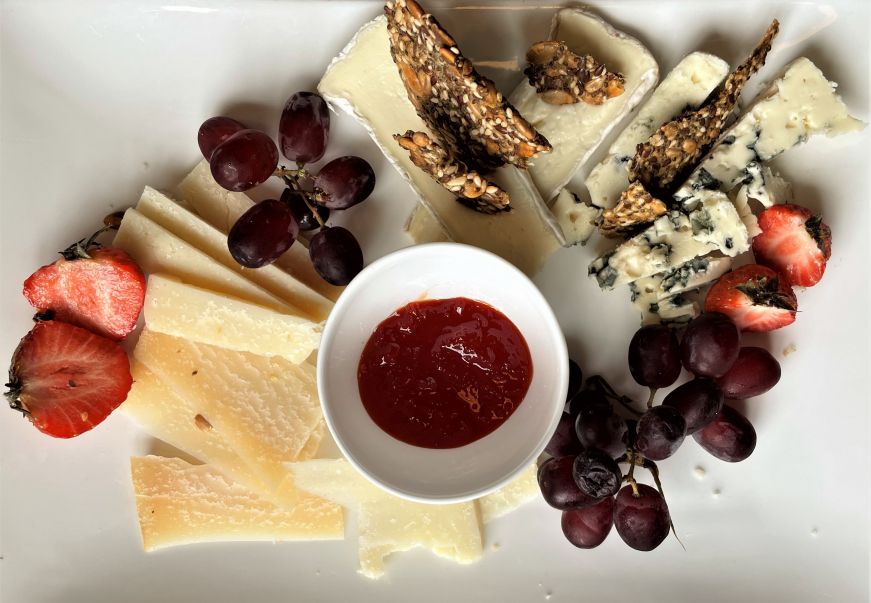 10. Cheese plate, Lillan Hotel (Tampere)
Mike and I were delighted to discover that the lounge menu at Lillan Hotel (our accommodation in Tampere) included a local cheese plate.  It seemed custom-made to our tastes, with two types of hard aged cheese, a pungent blue cheese, and a soft cheese similar in texture but milder than flavor than Brie.  The seedy crackers and chili jam were thoughtful accompaniments, and it was a nice way to sample local products.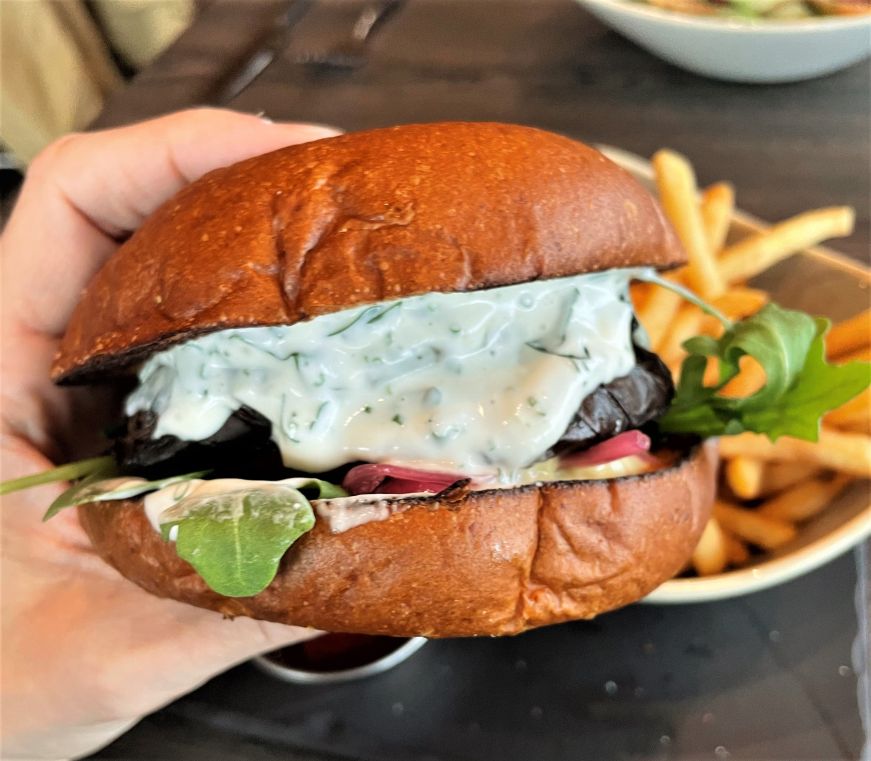 11. Vegetable burger, Sauna Restaurant Kuuma (Tampere)
After a relaxing sauna at Sauna Restaurant Kuuma, we treated ourselves to dinner at the adjacent restaurant.  I didn't have high expectations for the vegetable burger, but it was one of my tastiest meals of the trip.  A fluffy potato brioche bun from a local bakery, a hefty grilled portobello mushroom, tangy Green Goddess dressing, sweet marinated onions, a side of really good fries—each element was high-quality and prepared with care.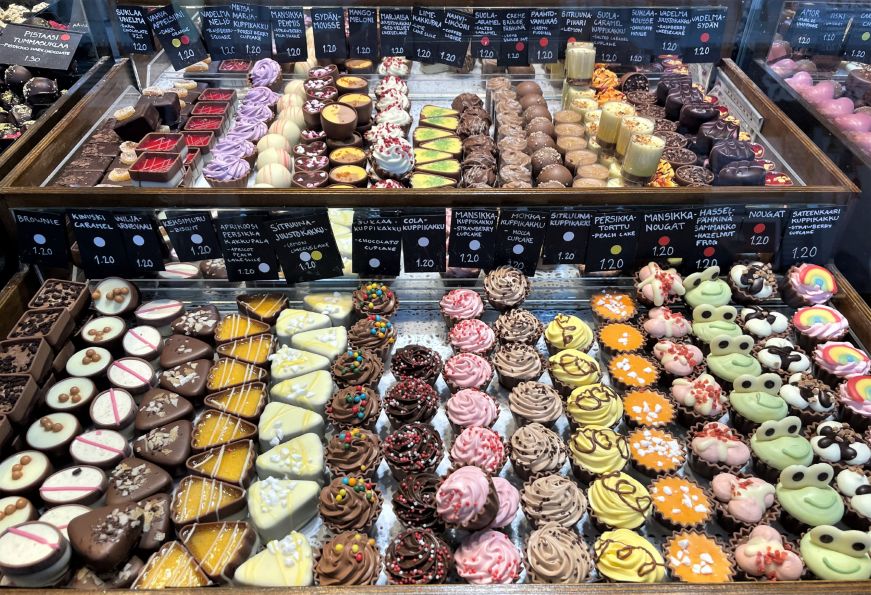 12. Forest berry and dark orange chocolates, Tallipihan Suklaat (Tampere)
One of the prettiest stalls at Tampere Market Hall is Tallipihan Suklaat, a candy shop with a large glass case filled artisan truffles and exquisitely decorated chocolates.  After much deliberation, I settled on a miniature milk chocolate cupcake with a forest berry filling and a dark chocolate with an orange filling.  The chocolate was so smooth that it was like a caress across my tongue, and the fillings were vibrant burst of fruit—the depth of flavor was incredible.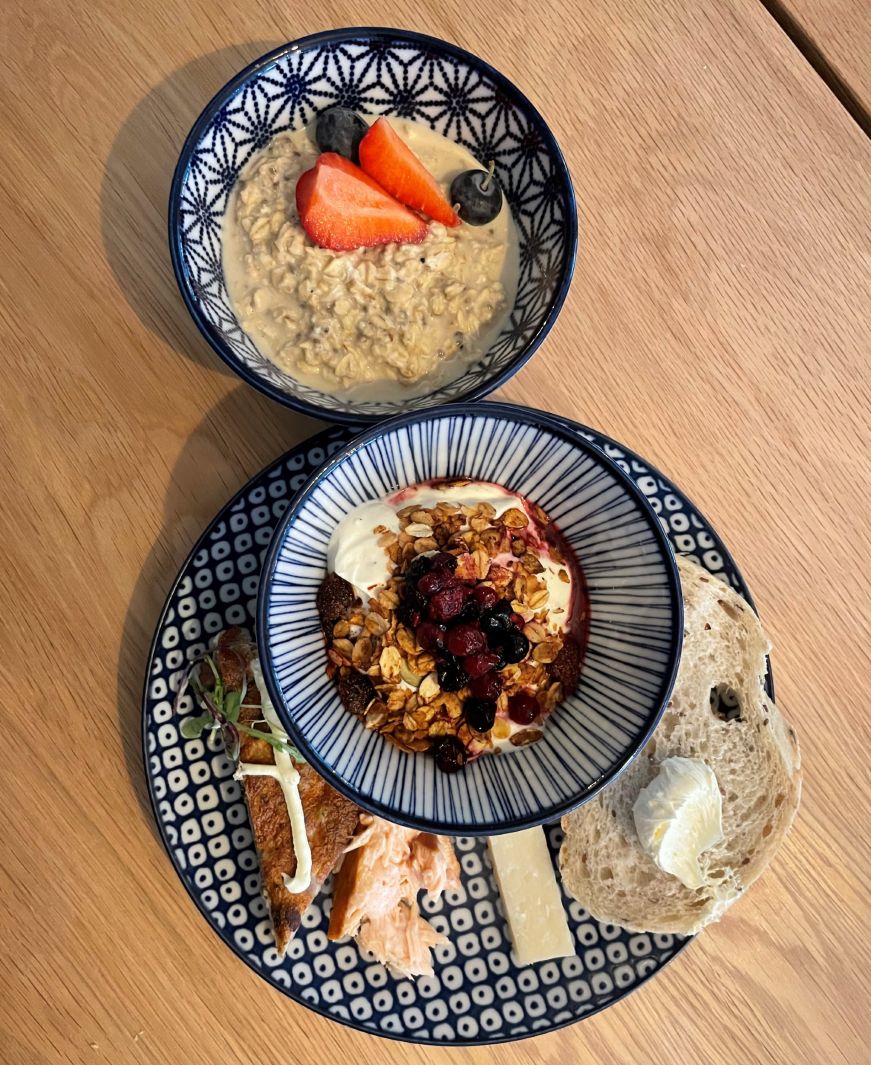 13. Breakfast buffet, Lillan Hotel (Tampere)
Our stay at Lillan Hotel ended on a high note with the breakfast buffet, which is also available to the public by reservation.  When we visited, the spread included white and rye bread, croissants, cheese, cold cuts, smoked salmon, quiche, build-your-own yogurt parfaits, and muesli prepared with milk and fresh fruit.  For dessert, there was fresh melon and small slices of frosted pound cake, and beverages included made-to-order espresso drinks, orange juice, and green smoothies.  Lillan Hotel really shines when it comes the details, from our room decor to service to every single breakfast buffet item.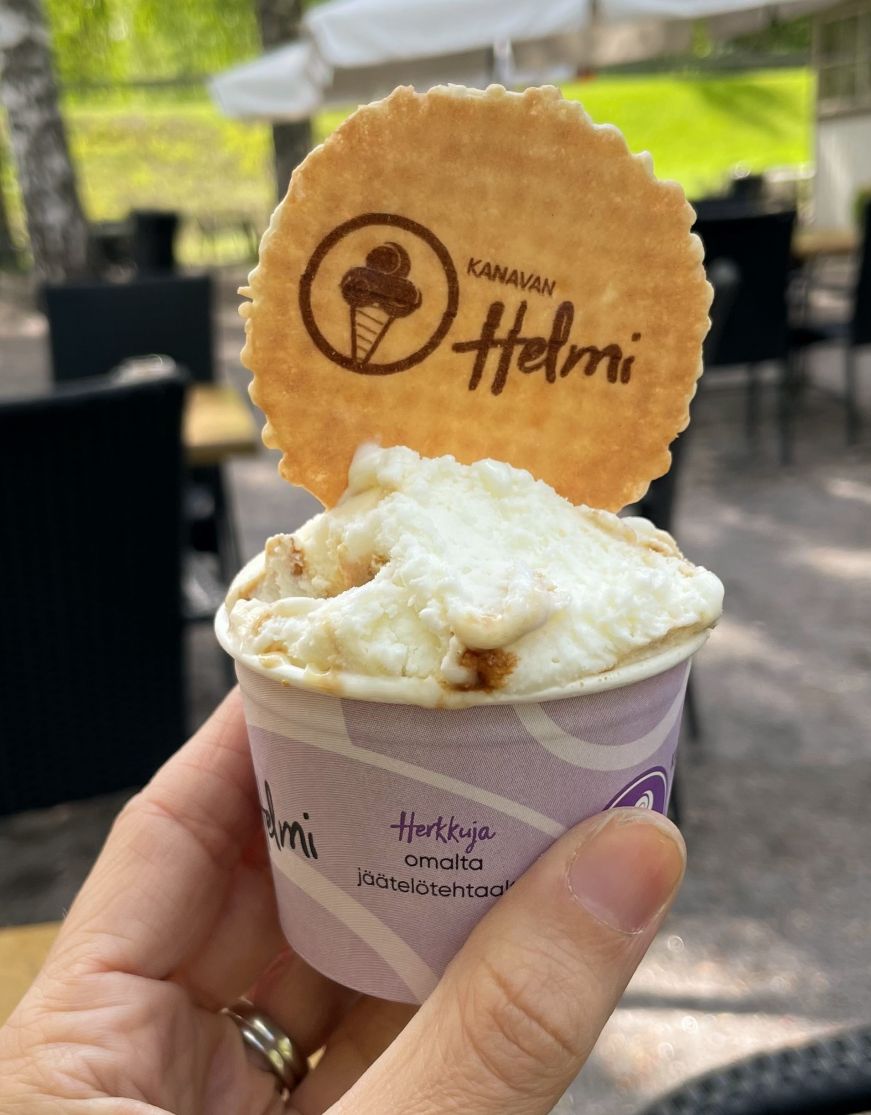 14. Lemon licorice ice cream, Kanavan Helmi (Vääksy)
As in other Nordic countries, licorice is very popular in Finland (especially salmiakki, or salty licorice).  In addition to licorice candy, licorice is a common flavoring for chocolates, liquor, and ice cream.  Lemon licorice ice cream seems like an odd combination, but it really works—the lemon is bright and refreshing, and the licorice adds an unexpected depth.  Kanavan Helmi is a seasonal ice cream stand on the Vääksy Canal that offers a flavorful housemade version, garnished with colorful licorice candies.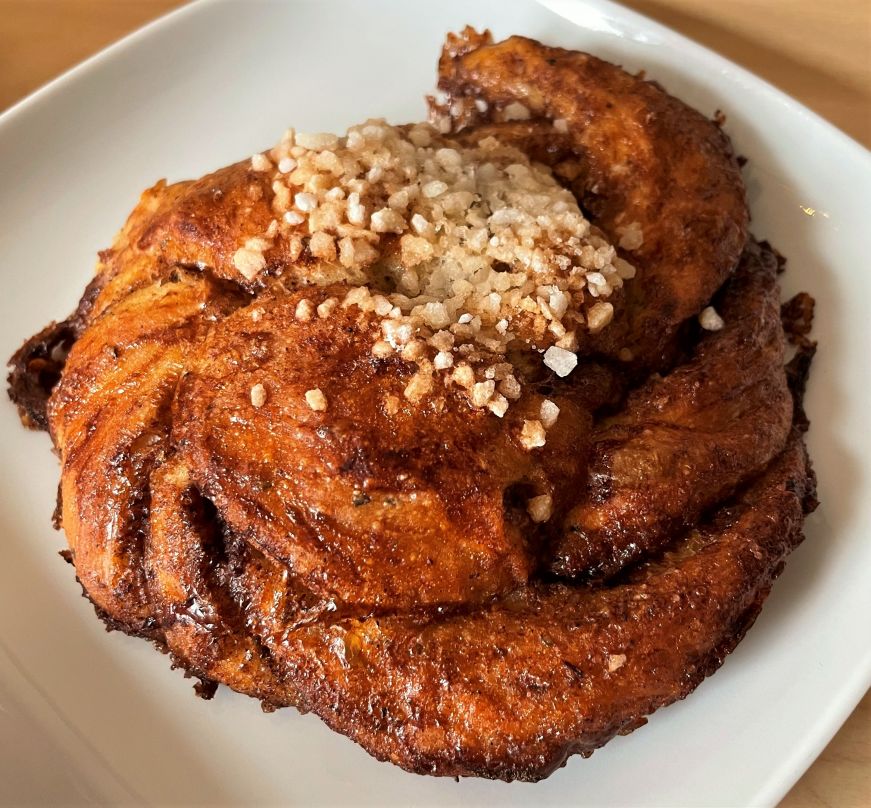 15. Pulla, Kahvila Oskari (Lahti)
As I mentioned above, pulla are ubiquitous in Finland, but the ones at Kahvila Oskari are special.  They're made in-house with a sourdough starter, and are tender and slightly sticky, with a caramelized quality.  The cafe itself is also charming—it's in a historic wooden house surrounded by the shopping centers and office towers of Lahti's very modern downtown.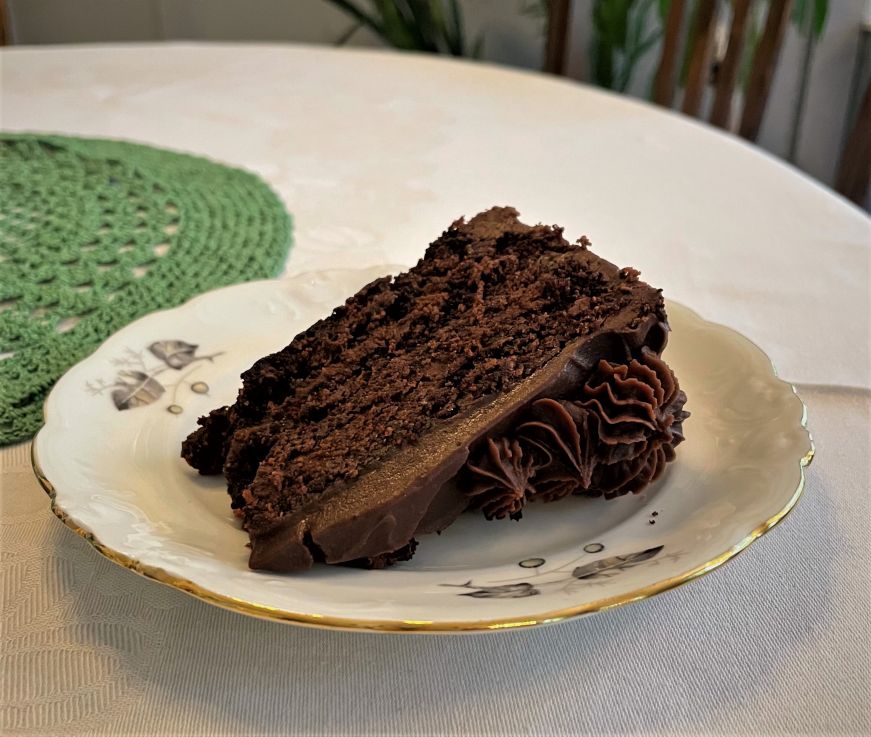 16. Chocolate cake, Kahvila Metsälinna (Vääksy)
I view cake as a vehicle for frosting consumption, which is why I couldn't resist the rosette-topped slice of chocolate cake at Kahvila Metsälinna.  It didn't disappoint—the frosting was buttery, rich with cocoa, and spread with a lavish hand.  But the cake was also delectable, moist and with a delicate crumb.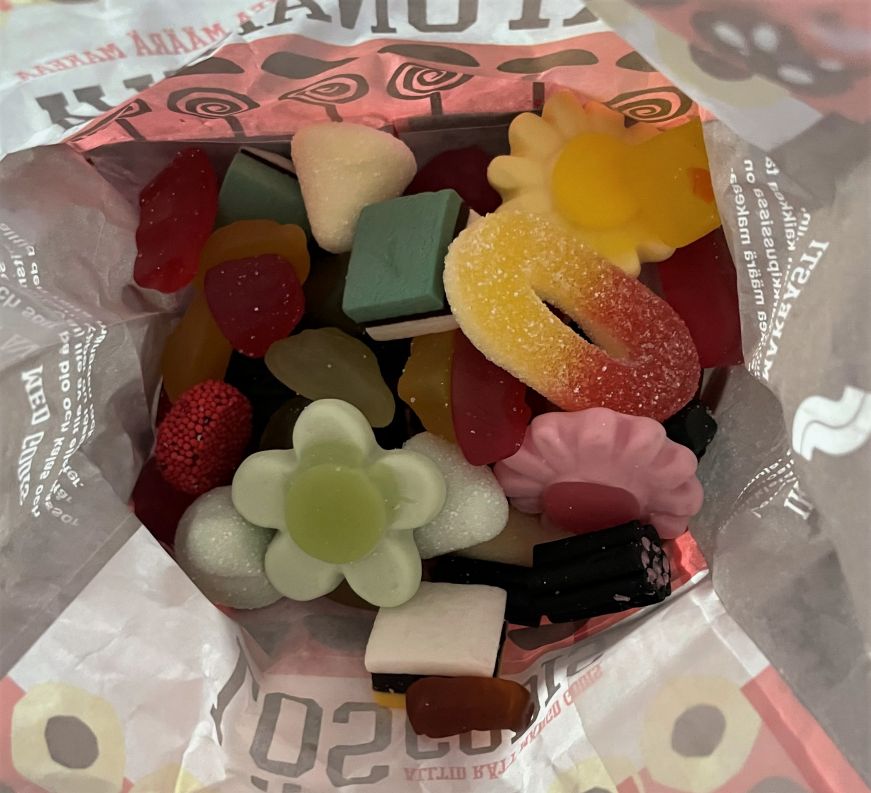 17. Bulk gummies and licorice, Alepa (Helsinki)
The Alepa grocery store at the Helsinki Airport has an impressive assortment of products, including a full produce section, baked goods, and souvenirs.  I only had eyes for the wall of bulk candy: dozens of varieties of licorice, gummies, and chocolates for a budget-friendly price.  European gummies are invariably better than the ones we get in the United States (I suspect because they use natural fruit flavors instead of artificial flavorings), and this was my last chance to sample the plethora of licorice candies available in Finland.  Yes, I ate nearly a pound of candy for dinner 35,000 feet above Greenland, and I have no regrets.
If you enjoyed this post, pin it!