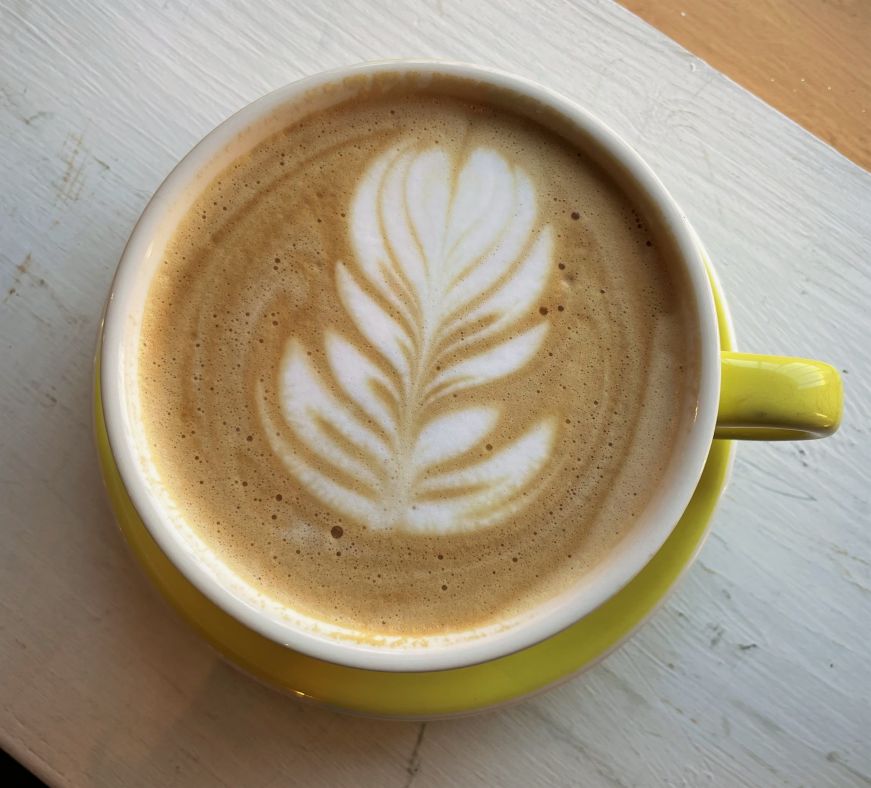 At the end of February, I went to Santa Fe, New Mexico for an early spring break getaway—after a couple of years spent mostly in Minnesota, I was eager to experience a place that's very different geographically, culturally, and culinarily from the Midwest. 
New Mexican cuisine is known for its distinctive combination of indigenous, Spanish, Mexican, and Latin influences.  It emphasizes New Mexican ingredients, especially red and green New Mexico chile peppers and piñon (also known as pine nuts).  Dishes are typically served with sopapillas, a pillow-shaped fried dough similar to Native American fry bread, and your choice of red or green chile.  (Red chile is made from ripened, dried peppers and tends to be sweeter; green chile is made from roasted green peppers and has a more herbal flavor.  If you can't decide, you can get your dish "Christmas-style" and try both.)
In addition to New Mexican cuisine, I enjoyed some excellent coffee, cocktails, and other foods during my time in Santa Fe—here are my favorites.
1. Latte, Iconik Coffee Roasters
We stayed at an Airbnb in that was only a few blocks away from Iconik Coffee Roasters' Guadalupe district location, and my near-daily latte there became one of the highlights of the vacation.  I fell in love with their espresso, which is roasted in-house—it has a smooth, mild quality, but it still with a warm, rich flavor.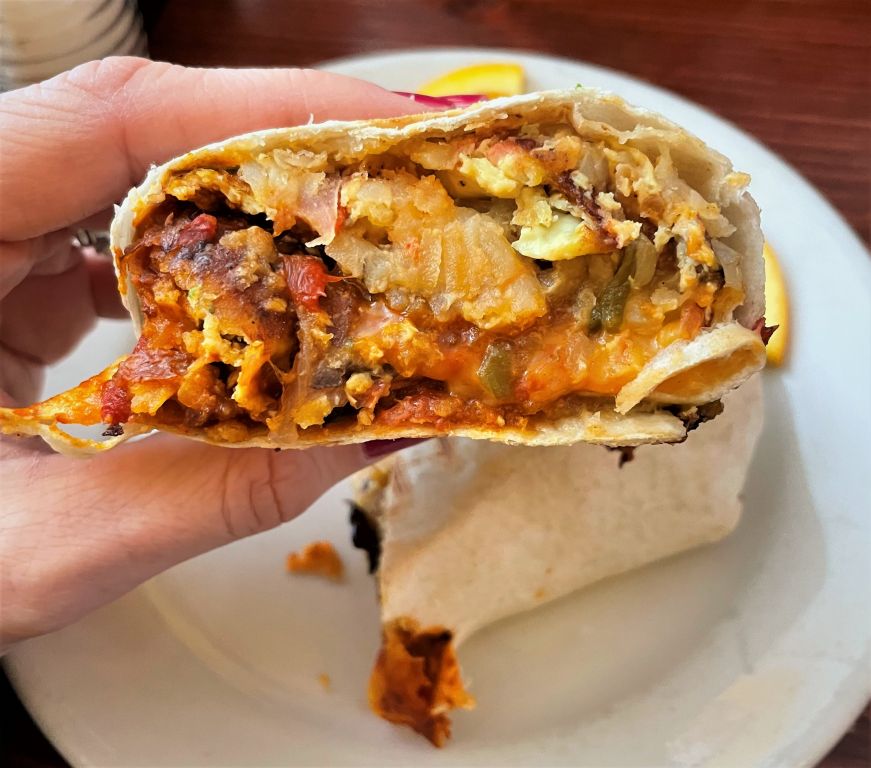 2. Veggie breakfast burrito, Palacio Cafe
The breakfast burrito was invented in New Mexico, so it's fitting that my first taste of New Mexican cuisine was a veggie breakfast burrito at Palacio Cafe, an cozy spot at the edge of the historic downtown.  I always want to try a little bit of everything, so I ordered it Christmas-style and was treated to the vibrant flavors of both sweet red and savory green chile.  The thick flour tortilla was very fresh and satisfying, and I appreciated that the portion of eggs, potatoes, and vegetables was hearty but not overwhelming.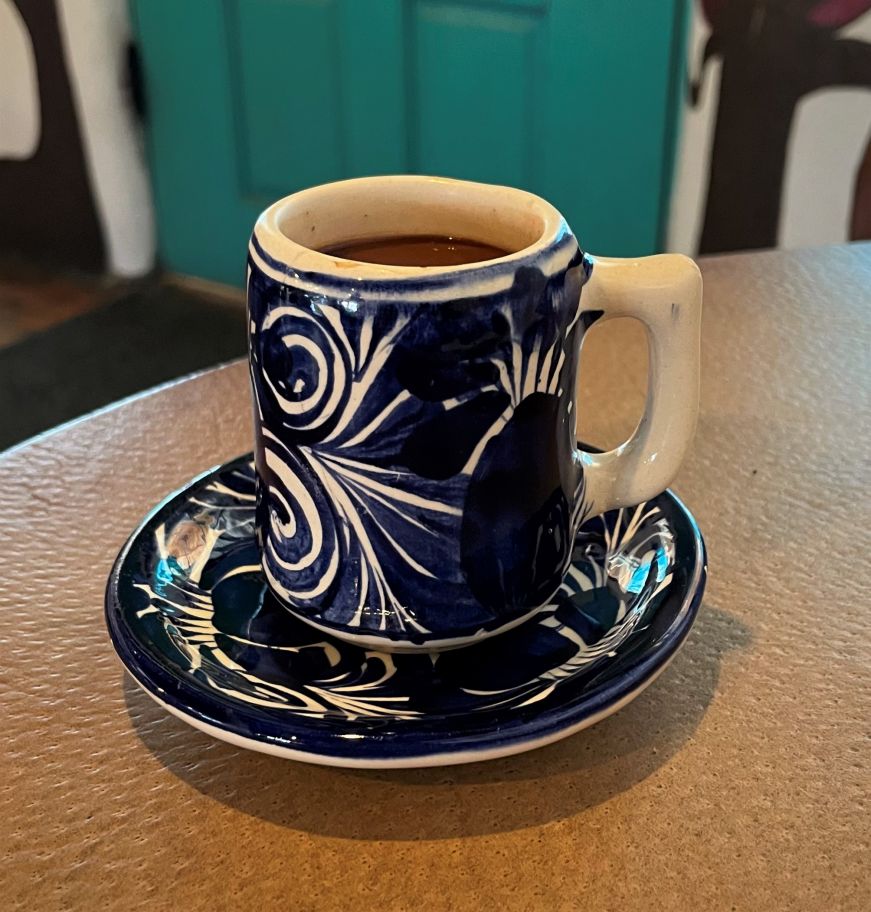 3. Mayan elixir, Kakawa Chocolate House
Kakawa Chocolate House serves sipping chocolate inspired by traditional Mesoamerican beverages, as well as historically-based European and contemporary beverages.  When I ordered the Mayan elixir, the barista asked, "Do you want a sample of that first?  It's our most intense chocolate."
She wasn't kidding—I have no idea how they packed that much flavor into three ounces.  Melted chocolate, herbs, nuts, flowers, chile, a touch of coconut sugar: there were so many different layers that was I was intrigued and surprised with each tiny, gritty sip.  It was a truly unique way to experience chocolate.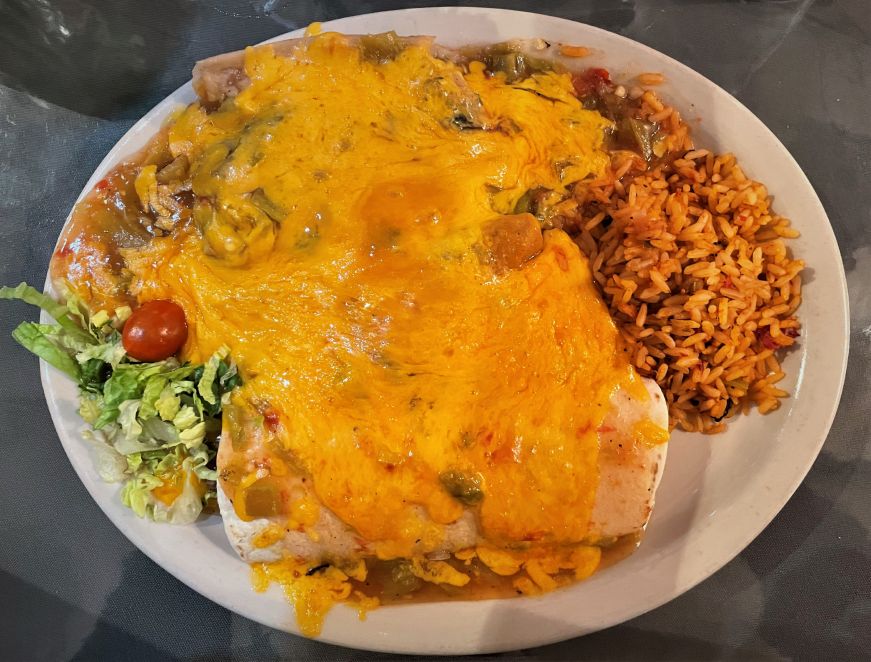 4. Combinación Vegetariano, Rancho de Chimayo
Hands-down, our favorite meal of the trip was at Rancho de Chimayo.  Located about a 30 minute drive north of Santa Fe, Rancho de Chimayo was founded in 1965 and has played an important role in bringing New Mexican cuisine to national and international prominence.
This isn't fancy food—originally, the menu was based on family recipes, and it still retains that quality.  The cuisine is straightforward but well-flavored, and every component is spot on.  I ordered the Combinación Vegetariano, which included a refried bean burrito, cheese enchilada, zucchini and green chile tamale, and rice, with a topping of melted cheese and choice of chile (I went with green).  The tamale was particularly good, and the sopapillas were delightfully light and puffy.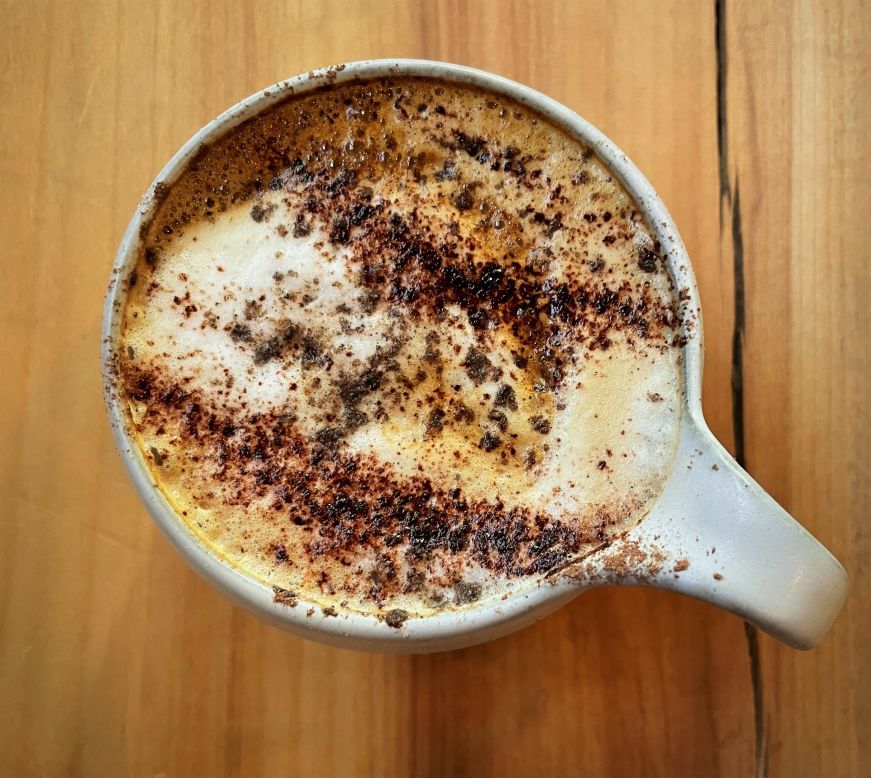 5. Streak of Tigers, CrashMurderBusiness Coffee
CrashMurderBusiness Coffee specializes in eclectic drinks named after groupings of animals (the business name refers to a crash of rhinoceroses, a murder of crows, and a business of ferrets).  The Streak of Tigers combines espresso, milk, curry, black pepper, cacao, and maple syrup for a surprisingly cohesive beverage.  It was perfectly balanced, without any one flavor dominating, and the presentation was fun too, with tiger-like stripes of ground cacao on top of the foamed milk.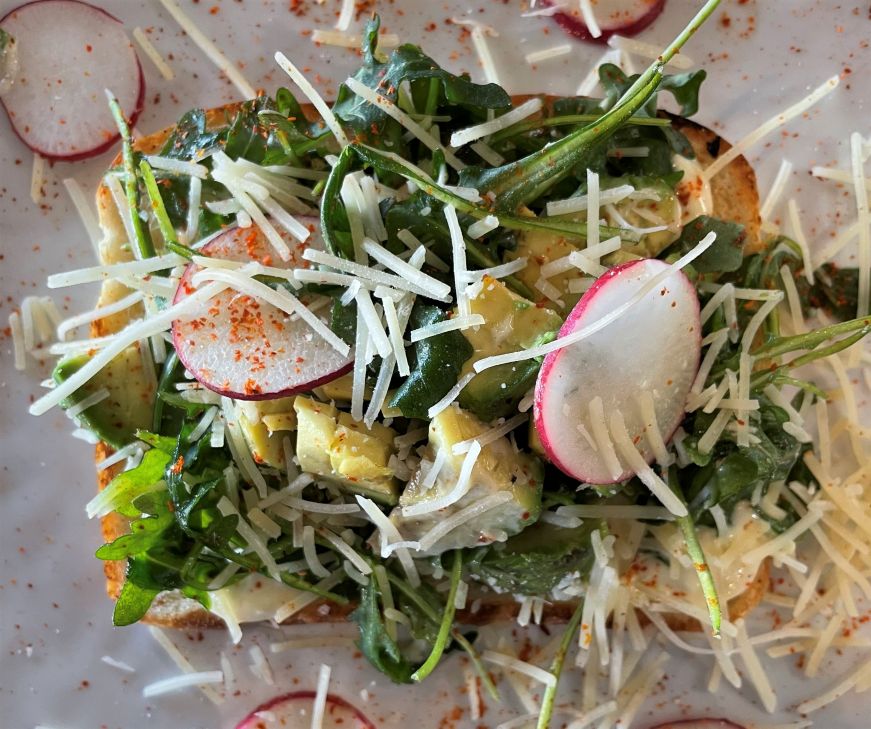 6. Avocado toast, Opuntia Cafe
After our walking tour of the Railyard District, we followed our guide's recommendation and stopped by Opuntia Cafe for lunch.  To be honest, my first thought when I walked in the door is that it was a parody of a millennial hipster restaurant, with potted plants everywhere and mid-century modern furniture. 
I almost didn't order the avocado toast because it felt too on the nose.  But I did (I am, after all, a millennial).  I was treated to a slice of house-made multigrain sourdough lavished with a bright lemon aioli and heaped with well-dressed arugula, thinly sliced radishes, chunks of avocado, and shredded Reggiano.  After a few days of melted cheese and deep-fried sopapillas, the freshness really hit the spot.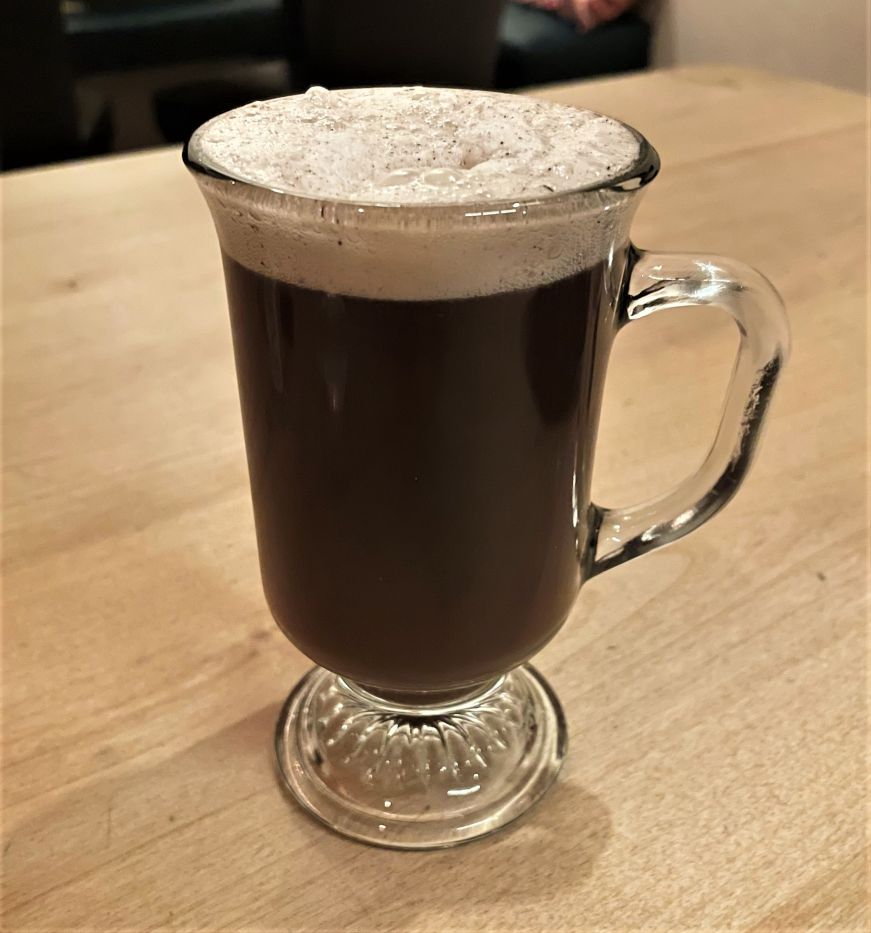 7. Piñon Café, Sante Fe Spirits Distillery
I'm not really a dessert cocktail person (my first drink at Sante Fe Spirits Distillery was very strong and whiskey forward), but I enjoyed my sip of Josh's Piñon Café so much that I ordered my own.  Yes, it was sweet, but the nutty piñon liqueur, locally-roasted coffee, and whipped horchata creme added a nice depth.
If you enjoyed this post, pin it!