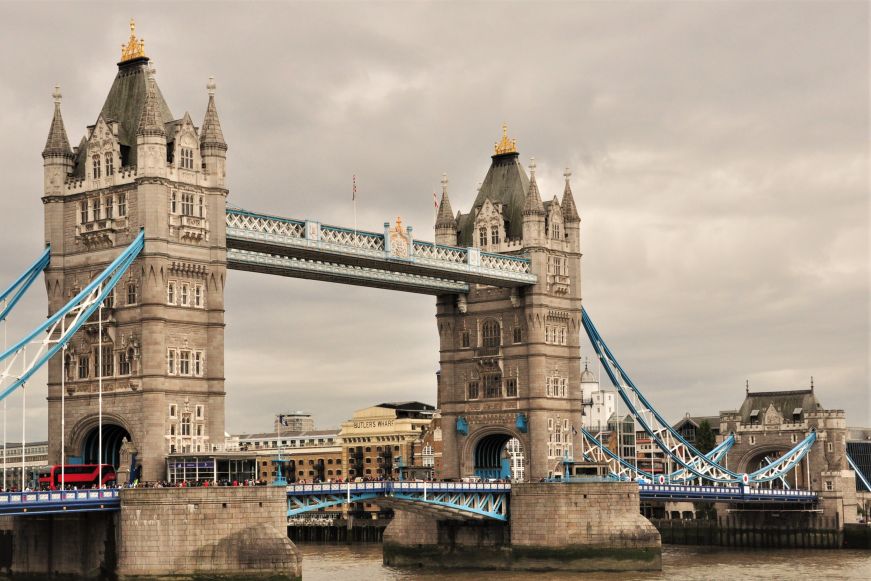 London is the biggest city I've visited: 8.8 million people, spread over 607 square miles.  I spent four days there, barely enough time to scratch the surface—even at my standard jam-packed touring pace.  So instead of posting a very incomplete city guide, this post focuses on my personal London highlights.  From dinner in a crypt to afternoon tea, from skyline views to underground transit, here are seven things I loved about London.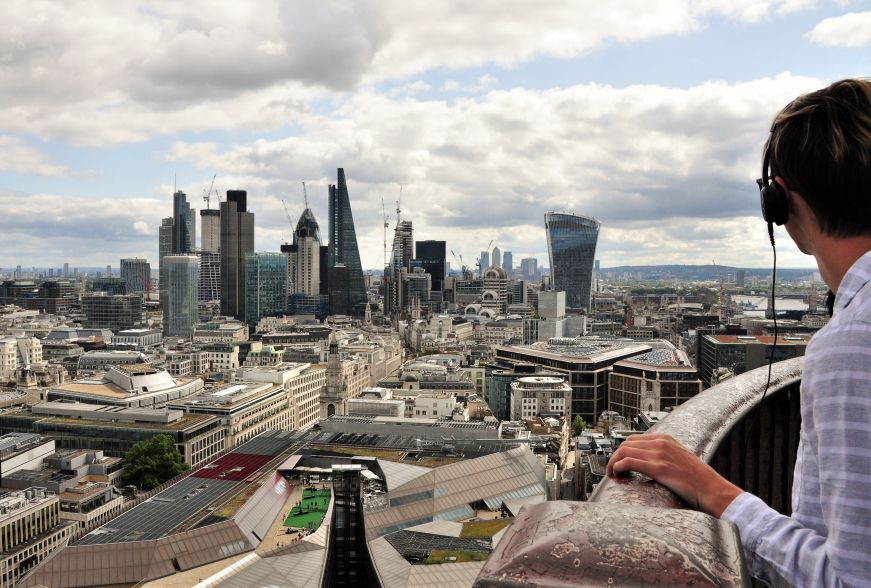 7. The view from the top of St. Paul's Cathedral
Yes, you have to climb 528 steps, and yes, the admission fee is a bit steep.  But the 360 degree view of London's skyline from the top of St. Paul's Cathedral is worth it.  I loved that the view was unencumbered by a screen or grate, unlike New York City's Empire State Building or Seattle's Space Needle.  While the city has certainly changed dramatically since 1710, the experience of looking down from a 278 foot-high perch is just as exhilarating now as it must have been then.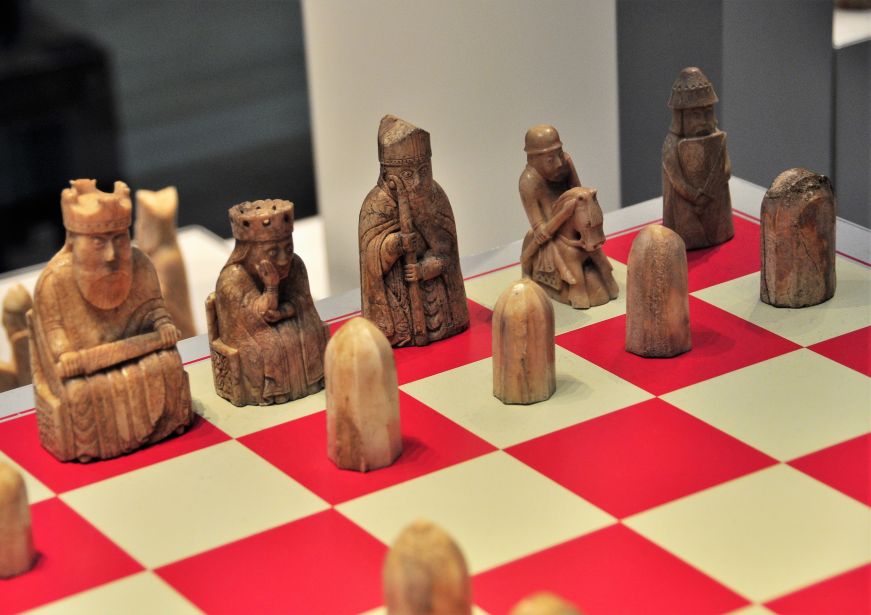 6. The Lewis chessmen at the British Museum
It would take a week to do justice to the vast collection at the British Museum, so I focused on the highlights: famous antiquities like the Rosetta Stone and Elgin marbles, as well as the "Top 10"  objects highlighted on my museum map.  My favorite find?  The Lewis chessmen, a surprising contemporary-looking group of ivory chess pieces dating to the 12th century.  The queen is supposed to be striking a meditative pose evocative of the Virgin Mary; I think she looks bored out of her mind.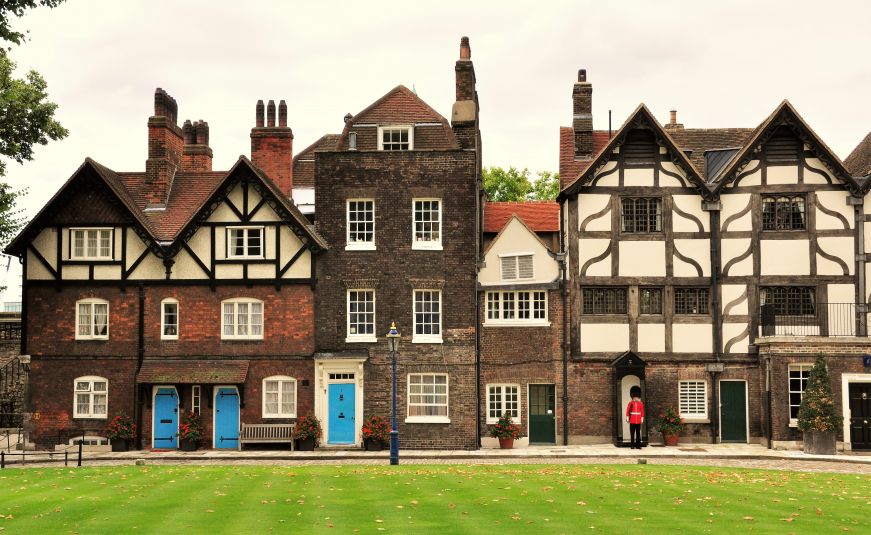 5. Exploring the Tower of London
The Tower of London was on my itinerary for the same reason I went to the Statue of Liberty in New York—it's what you do.  But I wasn't terribly excited about visiting the Tower, mostly because I'm not that interested in British royalty.  I figured we would take a quick peek at the crown jewels, do the Yeoman Warder guided tour, and head on our way. 
We ended up spending several hours at the Tower and could have easily spent the whole day there if we had the time.  The crown jewels exhibit does an excellent job providing historical context, and there are some scale replicas that you can touch to get a sense of how truly massive the jewels are.  The Yeoman Warder tour was highly entertaining in a macabre sort of way (it reminded me of Monty Python or Rothenburg's Night Watchman tour).  I got choked up at the grave of Anne Boleyn, I marveled at the meticulously restored interior of the medieval palace, and the exhibit about the Royal Menagerie was fascinating (if a bit depressing...animal care at zoos has thankfully come a long way).  
A few tips for making the most of your visit to the Tower: buy tickets online for a small discount.  Arrive at the Tower as soon as it opens and head straight for the crown jewels—otherwise you'll face a daunting queue.  And most importantly, give yourself enough time to experience as much of the complex as possible.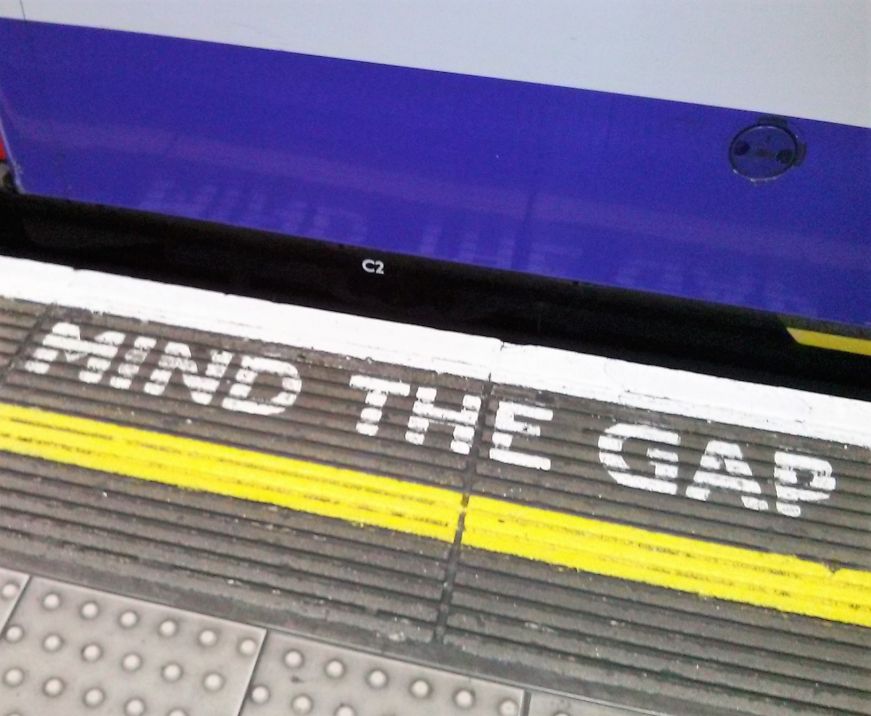 4. Riding the Tube
Granted, I'm a fan of mass transit.  But London's Tube is the most user-friendly system that I've come across in my travels.  Signage is abundant and easy to understand, stations are clean and easy to navigate, and conductors and station personnel make helpful announcements about closures and delays, even recommending which alternate routes to take. 
I read quite a bit of British fiction (see item #2) so I also loved recognizing the familiar station names in central London, like Picadilly Circus, Blackfriars, and Charing Cross.  Pay attention at the Baker Street station to catch a glimpse of a famous silhouette.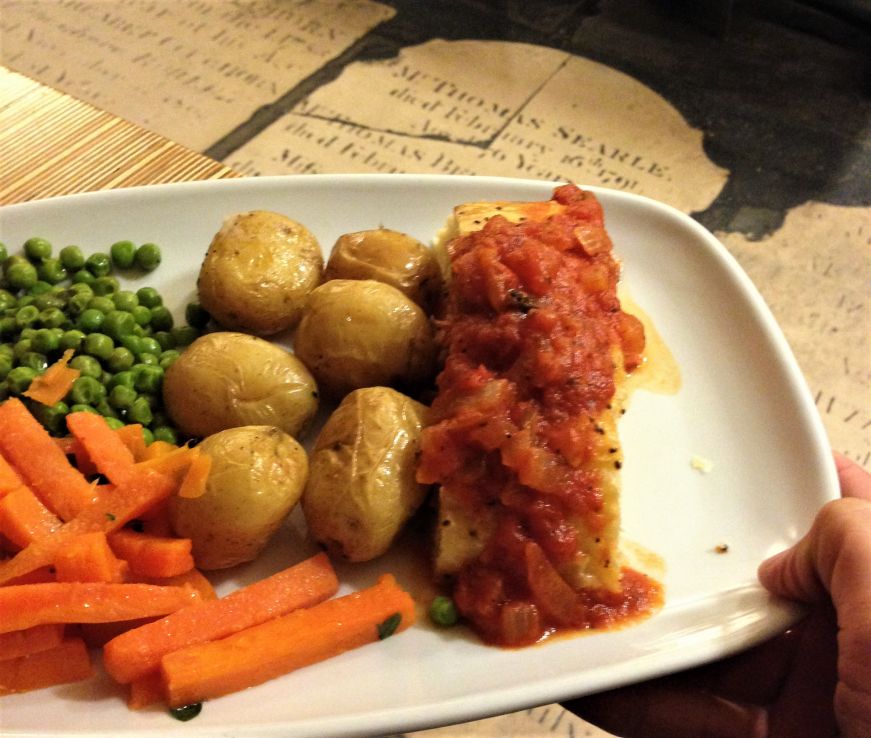 3. Eating dinner at St. Martins Café in the Crypt
I first learned about St. Martins Café in the Crypt when I was thirteen, reading Rick Steves guidebooks from the library and dreaming of the day when I would travel to Europe.  Since then, dinner at St. Martin's has been on my travel bucket list, probably because it appeals to the same macabre part of my personality as the Yeoman Warder tour at the Tower of London.
Besides the novelty of eating atop historic tombstones, I found my dinner to be quite tasty and a good value.  I especially appreciated the creative vegetarian main dishes, which rotate daily (on the day we visited it was a root vegetable Wellington served with new potatoes, peas, and carrots).  The meat main dishes are also above and beyond standard cafeteria fare; Mike enjoyed a hefty pork cutlet with colcannon, broccoli, and carrots.  The café also serves breakfast, soups, salads, sandwiches, and dessert, and we stopped by on our last day in London for a satisfying and budget-friendly afternoon tea.
All proceeds from St. Martin's Café in the Crypt support the work of the church, which is a "welcoming and open" congregation fully accepting to all, regardless of gender, sexuality, ethnicity or background.  The church also operates a homeless outreach program that provides relief and long-term support to over 4,500 people each year.
2. Seeing The Mousetrap
For a lifelong Agatha Christie fan, seeing The Mousetrap at St. Martin's Theatre (where it's been running continuously since 1952) was a dream come true.  I've read the play several times and seen it performed at a local theater, but it was an absolute delight to experience the world's longest-running play in its original setting.  The production was excellent, and since the theater isn't all that large, our mid-priced dress circle tickets ended up being decent seats.  Of course, I had to buy a souvenir tote bag and get my picture taken by the sign in the lobby.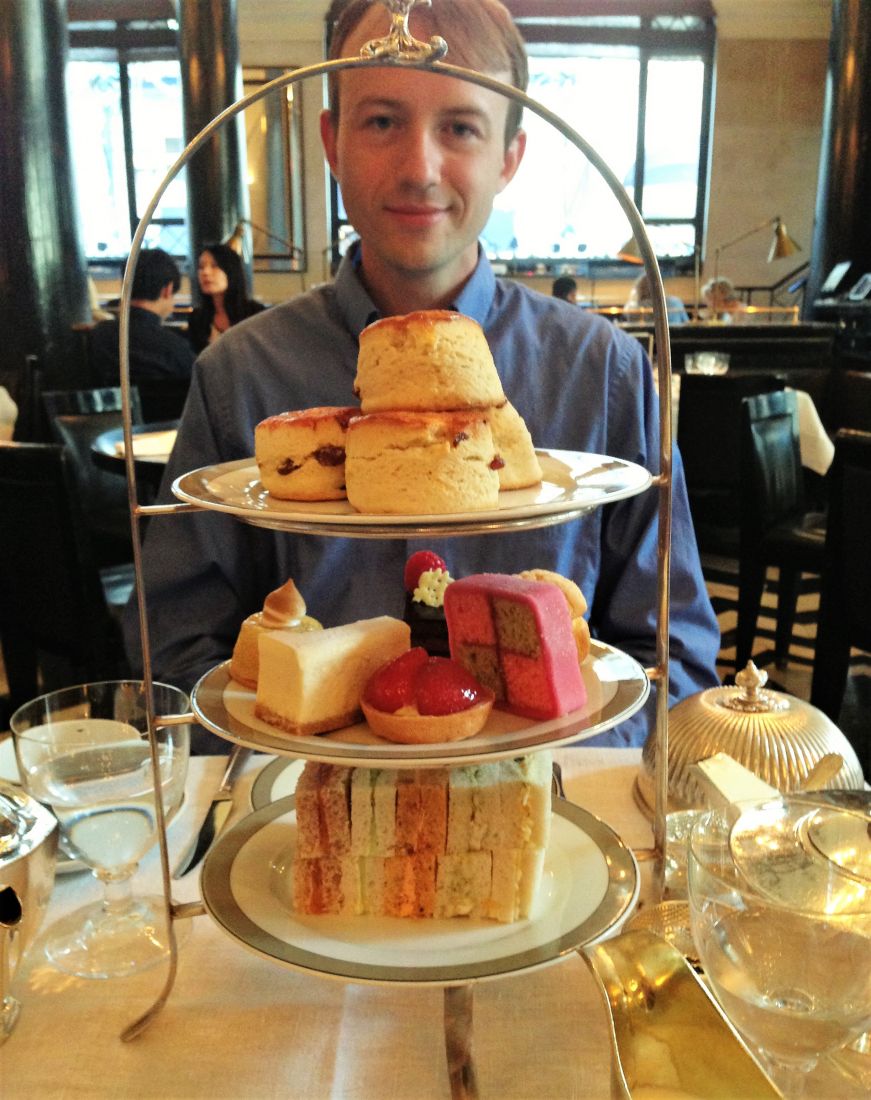 1. Afternoon tea at The Wolseley
Treating ourselves to a pre-theater afternoon tea at The Wolseley was our biggest splurge in London, but it was most definitely worth the expense.  The surroundings are exquisite—the building originally housed a luxury car showroom and was converted to a fine-dining restaurant in 2003.  We each ordered the afternoon tea service, which includes a pot of tea and a delicious spread of finger sandwiches, miniature desserts, and scones served with jam and clotted cream.   
Reservations are recommended for afternoon tea, which you can book online.  Allow yourself 1 1/2 to 2 hours, so you can savor your tea at a leisurely pace. 
What do you love about London?  Tell me in the comments.
If you enjoyed this post, pin it!