I approach my weekly grocery shopping trip with the seriousness of a competitive sport.  I start at Aldi because it's the cheapest and try to purchase as much of my list there as possible.  Next, I go to Target to buy whatever I still need.  Occasionally, I'll have to hit up Cub Foods for international groceries like soba noodles or hominy.  I stock up on my favorite items at Trader Joe's once a month (usually frozen edamame, dark chocolate, orzo, Cowboy Quinoa burgers, sun dried tomatoes, and Indian Fare pouches).  One of my favorite date night activities is a trip to United Noodles for pan-Asian groceries.  I don't really need to add another store to my rotation, but when I realized that I live reasonably close to the Anoka location of Mike's Discount Foods, I couldn't help myself.
Mike's Discount Foods is a Minnesota chain with five locations, three of which are in the Twin Cities metro.  They offer deep discounts on brand-name products by purchasing closeouts and short dated items (groceries that are close to or past their best-by dates).  The Anoka location has a small produce section as well as meat, dairy items, frozen foods, packaged items, and baked goods.  The selection is ever-changing, and there are often additional savings if you purchase items by the case.  There is usually a good (but esoteric) selection of vegan, gluten-free, organic, and other specialty items—I've spotted things like oat milk, soy-free tofu, and pasture-raised eggs.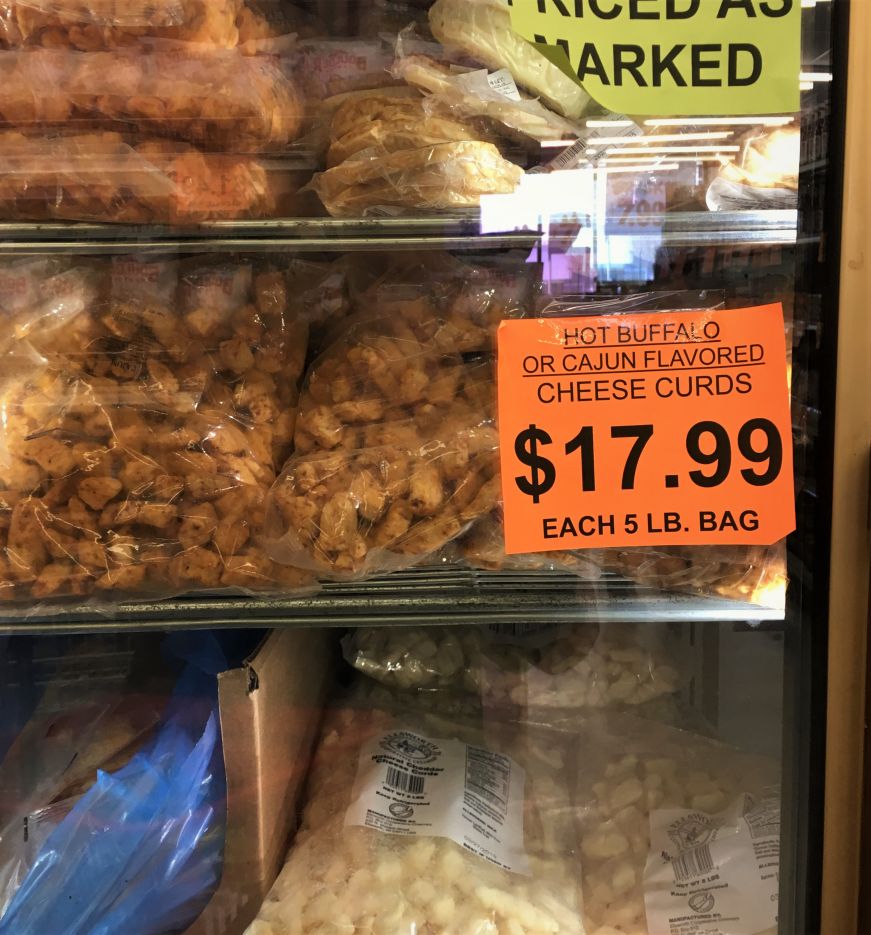 Mike's Discount Foods is not for you if you're looking for a one-stop shop or if you're squeamish about best-by dates.  If you like your grocery shopping to be quick and straightforward, the random selection of merchandise will probably be frustrating.
But if you are the sort of person who likes digging through thrift shop racks in search of bargains, Mike's Discount Foods is the place for you.  Sure, the products might be past their best-by dates, but keep in mind that except in the case of infant formula, best-by dates indicate quality, not safety.  Best-by dates are determined by the manufacturer, and food products are safe to consume past the date on the label.
I love a good deal, so I wanted to see if Mike's Discount Foods was worth adding to my grocery shopping rotation.  Over a three week period, I made three trips to the Mike's Discount Foods in Anoka.  Here's what I found.
Trip #1: April 26, 2019
The haul: Two 3-pound bags of Granny Smith apples ($4); Vanilla Mint Chocolate & Cream Jonny Pops ($1.99); Tone It Up Salted Caramel Protein Bars ($1); and Kodiak Cakes Chocolate Chip Power Flapjacks ($1.99). Total: $8.98
The savings: At Aldi, 3-pound bags of Granny Smith apples were $3.99 each.  At Target, Jonny Pops are regularly $4.49 but were on sale for $3.50; Tone It Up protein bars are $7.99; and Kodiak Cakes are $4.99.  Total savings: $15.48
The only thing that was actually on my grocery list for the week were the apples.  They were half the price of Aldi, and while they were on the small side, they were crisp and held up well for the week and a half it took to eat them all.  The Jonny Pops had a best-by date of 5/4/19 (we ate most of them prior to that date) and featured a great herbal mint flavor and the creamy texture Jonny Pops are known for.  The protein bars had a best-by date of 12/8/18, but tasted fine and had a nice granola bar-like texture.  The Kodiak Cakes had a best-by date of 5/11/19.  They made for an easy and relatively decent protein-rich snack, but frozen pancakes reheated in a toaster can't really compare to freshly made ones.
While I technically saved $15.48, I wouldn't have bought the protein bars or Kodiak Cakes at full price.  That said, they did stretch out my grocery budget since they filled in for some of my usual snacks.  Since Jonny Pops are a bit pricey, we don't typically buy them, so they were a fun treat.
Trip #2: May 3, 2019
The haul: Two 3-pound bags of Granny Smith apples ($4) and Orange Maple Splash Superior Switchel ($1).  Total: $5
The savings: At Aldi, 3-pound bags of Granny Smith apples were $3.99 each.  A 3-pack of Superior Switchel is $12 online, which comes out to $4 per bottle.  Total savings: $6.98
Once again, the only thing I actually needed were the apples.  I've sampled Superior Switchel at farmers markets, and since it's a tasty local product that's usually out of my price range, I was happy to find a bottle at a steep discount.
The sneaky thing about Mike's Discount Foods is that the low prices can tempt you into buying food that you wouldn't otherwise consider.  For example, on this trip I seriously considered stocking up on chocolate Toaster Strudel, a couple pints of Yasso Frozen Greek Yogurt (they were two for $1!), and Nutter Butter cereal (also two for $1).  Did I need Toaster Strudel and Nutter Butter cereal?  No, I did not.  Do I even particularly like frozen yogurt?  Nope. 
(For the record, I don't think there's anything wrong with eating Toaster Strudel, frozen yogurt, or whatever else you want—I passed on them because I try to mindfully eat foods I truly enjoy and save money on my grocery bill when I can.)
Trip #3: May 14, 2019
The haul: Two 3-pound bags of Granny Smith apples ($4); 12-ounce container cherry tomatoes ($1); six limes ($1); two packages Tone It Up Salted Caramel Protein Bars ($2); and Alvarado Street Bakery Sprouted Wheat Bagels ($1.99).  Total: $9.99
The savings: At Aldi, 3-pound bags of Granny Smith apples were $3.99 each; a 12-ounce package of cherry tomatoes was $2.89; and a bag of 8-9 limes was $1.89 (about $0.22 per lime).  At Target, Tone It Up protein bars are regularly $7.99 but were on sale for $6.99; the only whole wheat bagels available were Thomas 100% Whole Wheat bagels for $3.29.  Total savings: $12.49
I needed to stock up apples and bagels.  While I wouldn't typically buy organic sprouted wheat bagels, they were $1.30 cheaper than the whole wheat bagels I usually buy at Target and actually had a better texture and flavor.  I liked the Tone It Up protein bars I purchased on a previous visit, so I bought a couple more boxes—my usual protein bars purchased online from Costco come out to about $1 each, so these were a bargain at $0.25 apiece. 
The limes and cherry tomatoes were an impulse buy since they were cheap, but I incorporated them into my meal plan for the week.  I was much more successful at passing on the random food I didn't particularly need or want, although I was briefly tempted by a bag of M&Ms for 29 cents.  (Again, there's nothing wrong with M&Ms or any other candy, but they weren't the right choice for me on this shopping trip.)
The verdict:
I've added Mike's Discount Foods to my grocery store rotation!  I love poking through the random, ever-changing selection, and I'm able to save some money on staples and treat myself to specialty items I wouldn't otherwise purchase.  Since I don't eat meat and I only eat a couple of very specific dairy items, it isn't worth making a trip to Mike's Discount Foods every week.  However, I am planning to swing by twice a month for apples and to browse the shelf-stable items and frozen foods to see what catches my eye.
The details:
Mike's Discount Foods-Anoka
516 East River Rd
Anoka, MN 55303
763-422-8615
mikesdiscountfoods.com
Additional locations in Fridley, Hilltop, Braham, and Comfrey
This post isn't sponsored by Mike's Discount Foods—I paid for my food out-of-pocket in the name of investigative grocery shopping.
If you enjoyed this post, pin it!