On our recent trip to New York City we stayed in the Prospect Heights neighborhood in Brooklyn.  Every day, we walked down Vanderbilt Avenue to the 7th Avenue subway station, a route that took us past the original location of Ample Hills Creamery.
Ample Hills Creamery was founded in 2011 and specializes in inventive flavors—one of their signature creations is The Munchies, pretzel-infused ice cream with Ritz crackers, potato chips, pretzels, and mini M&Ms.  Pasteurization is done on-site, so that they can create specific bases like the pretzel-infused ice cream for The Munchies and the marshmallow-infused ice cream for Snap Crackle Pop.  Almost all of the mix-ins, including the peppermint patties, honeycomb candy, pistachio brittle, and brownies, are made in-house.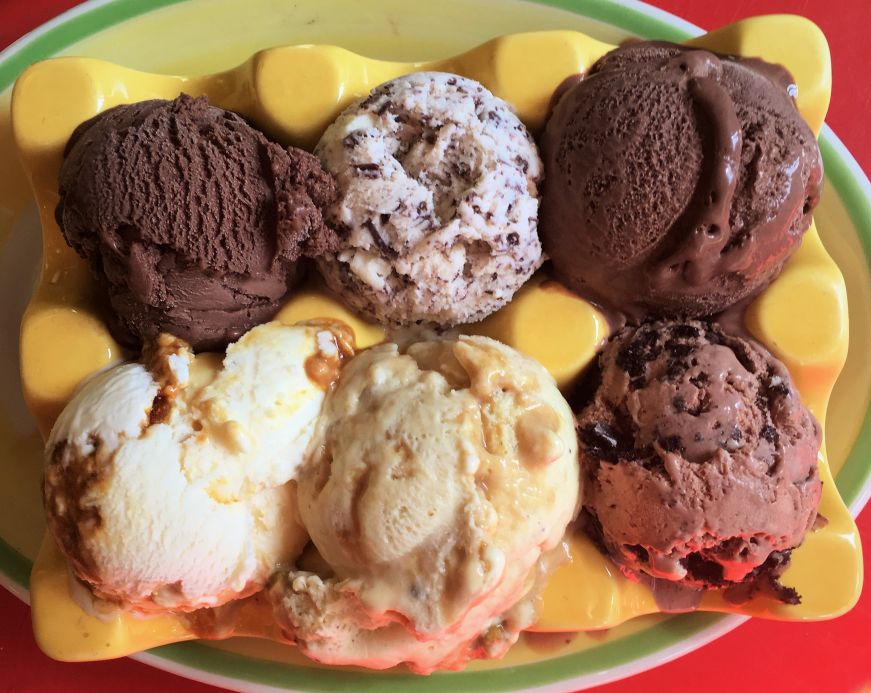 There are about 24 flavors available daily.  Between our ice cream flight, samples, and a couple dishes I ended up sampling 12.  Standouts included Pistachio Squared, pistachio ice cream with pieces of pistachio brittle; The Raw Deal, vanilla ice cream with chocolate flakes and brown butter cookie dough; and Salted Crack Caramel, a salted butter caramel ice cream with saltines coated in butter, sugar, and chocolate.  Mike was partial to Peppermint Pattie, a peppermint ice cream with dark chocolate flakes and peppermint patties.  As I mentioned in my New York food roundup, our hands-down favorite was Sweet As Honey, a sweet cream ice cream with honeycomb.
Dishes and cones come in kid, small, and large sizes; I appreciated that you can split any size between two flavors.  In addition to sugar cones and cake, there are pretzel and birthday cake-flavored cones.  While they looked intriguing, I couldn't justify the $1.50 surcharge.  
You can also enjoy ice cream as a flight of six mini scoops, sundae, or shake—Mike ordered a deliciously and incredibly thick shake made with Sweet As Honey on our final visit.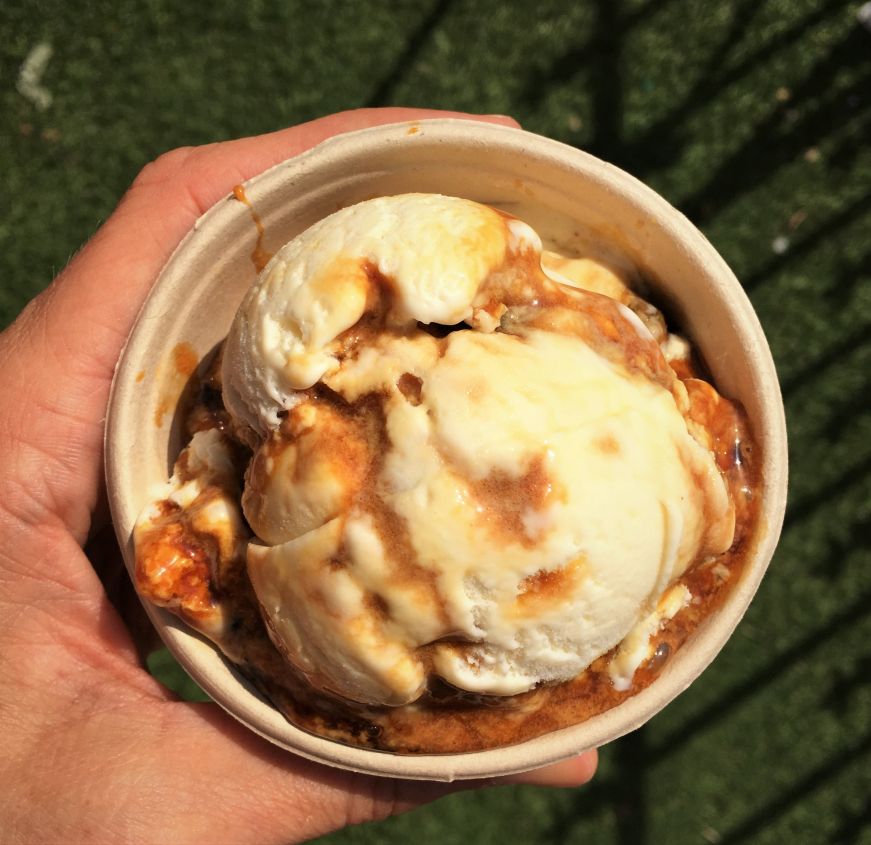 If I lived in Prospect Heights, Ample Hills Creamery would definitely be my ice cream shop of choice thanks to the fun flavors and friendly neighborhood vibe.  Although they ship nationwide, not all of the flavors are available—I'll have to go back to Brooklyn to savor some Sweet As Honey.
The details:
Ample Hills Creamery
623 Vanderbilt Ave
Brooklyn, NY 11238
347-240-3926
amplehills.com
Additional locations in Brooklyn, Manhattan, Queens, New Jersey, and Disney's Boardwalk Inn at Walt Disney World.
This post isn't sponsored by Ample Hills Creamery—I paid for all of my ice cream out-of-pocket.
If you enjoyed this post, pin it!