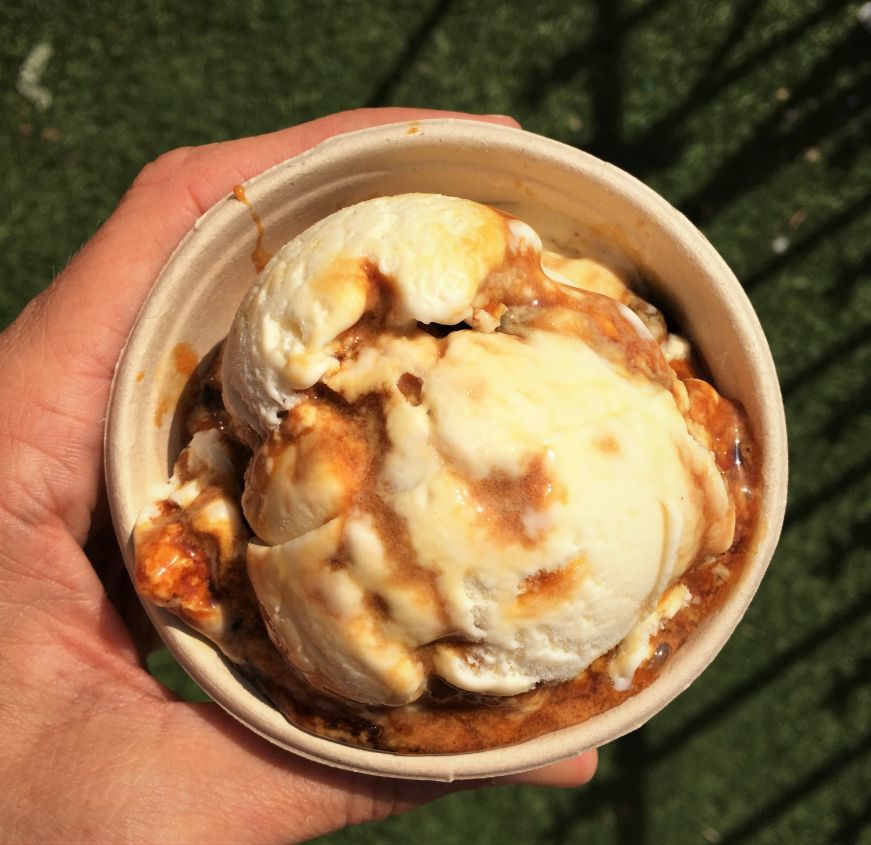 New York City: 8.3 million people, 305 square miles, over 26,000 restaurants.  It would take a lifetime to do justice to New York's culinary scene—we had eight days. 
So I've decided to take the same approach I did with my post about London.  Instead of creating a very incomplete dining guide, I'm compiled the personal culinary highlights of my recent trip to New York.  Here are the meals that hit the spot, the foods that made me happy, my visits to iconic eateries, and experiences that I could've only had in New York City.
1) Vegetable kabob platter, Zaytoons
Our time in New York City didn't get off to the greatest start: we were worn out from traveling, I messed up our subway transfer, and then we had to drag our luggage half a mile through a downpour.  Venturing far afield for dinner was not something either of us were looking forward to, so we decided to try a nearby Middle Eastern restaurant I had spotted on our soggy journey.
Zaytoons is a cozy neighborhood restaurant with a menu of Middle Eastern specialties like babaghanouj, kabobs, falafel, shawarma, and freshest pitas I've ever eaten (we visited the Prospect Heights location; they have another in Carroll Gardens).  I ordered the vegetable kabob platter and was treated to a heaping portion of rice; a rich, smokey babaghanouj; a skewer of grilled zucchini, onions, peppers, and mushrooms drizzled with tahini; a tossed salad; and the aforementioned amazing pita.  The pita was thinner than I'm used to and actually fresh from the oven instead of being reheated.
The combination of delicious food and the intimate atmosphere, with warm colors, beautiful tiling, and candles on each table, was exactly what we needed after long day.
2) Sweet as Honey ice cream, Ample Hills Creamery
I spent my dinner at Zaytoons staring across the street at the original Ample Hills Creamery, an artisan ice cream shop specializing in whimsical flavors (besides to the shop we visited on Vanderbilt Avenue, they have additional locations in Brooklyn, Manhattan, Queens, Jersey City, and Disney's Boardwalk Inn at Walt Disney World).  The weather wasn't quite right for ice cream, but luckily it warmed up and Ample Hills Creamery became a frequent stop on our vacation itinerary.
I ended up trying 12 different flavors (for research, obviously) and my favorite was Sweet As Honey, a sweet cream ice cream loaded with housemade honeycomb.  I ordered it on every visit (the nice thing about Ample Hills Creamery is that you can order any size as a split between two flavors).  Mike capped off our vacation by ordering a ridiculously thick Sweet As Honey milkshake on our last afternoon—after one sip, I kind of wished I had ordered one too.  (You can read more about Ample Hills Creamery in this post).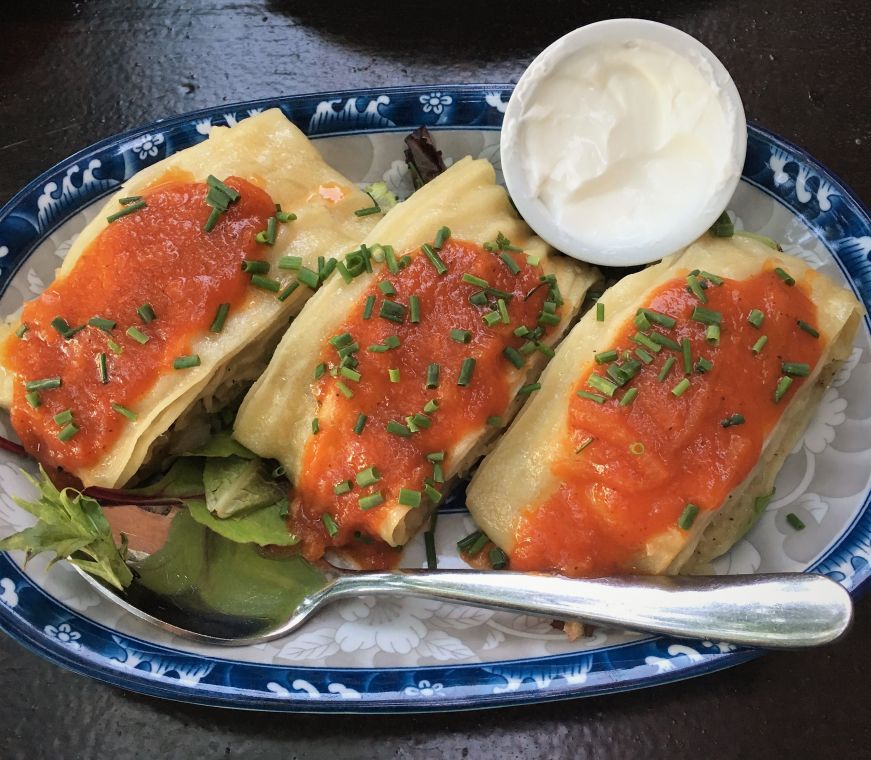 3) Hanum with potato, Kaifuem
On our previous trip to New York City, I was intrigued by Brooklyn's Brighton Beach neighborhood, often referred to as Little Odessa due to large number of Ukrainian immigrants who settled there.  Today, the population hails from all across the former U.S.S.R.  Storefront signs have Cyrillic lettering, shops sell imported Russian groceries, and delis stock dumplings and rye bread.  After wandering around for awhile, we settled on dinner at Kaifuem since it had a leafy patio and English signage.
It wasn't clear from the menu what cuisine the restaurant served; subsequent Internet research revealed that the particular menu items we ordered were Uzbek.  My entree, hanum, is actually the national dish of Uzbekistan.  My vegetarian version was made of thin layers of dumpling dough layered with shredded potatoes, topped with tomato sauce, and served with a side of sour cream.  It was sort of a lighter version of lasagna and not really like anything I've eaten before.
What I love most about New York City is that it feels like tasting the world is only a subway ride away.
4) Egg bagel with lox cream cheese, Russ & Daughters
My last trip to New York City also included a visit to Russ & Daughters, an iconic appetizing shop on the Lower East Side (appetizing shops arise from Jewish dietary laws and sell dairy as well as non-dairy/non-meat items).  I think Russ & Daughters bagels are among the best in New York: not too big and chewy instead of puffy.  Their cream cheeses are also excellent—the lox is my favorite (it's fresh-tasting instead of overly fishy, and no matter how thickly they schmear it on, it isn't overwhelming), but the horseradish is a close runner up.
After sampling several bagel/cream cheese combinations (again, research) I settled on an egg bagel with lox cream cheese as the perfect combination: the egg bagel has more flavor than a plain, but not too much going on so as to overwhelm the delicately balanced flavor of the lox cream cheese.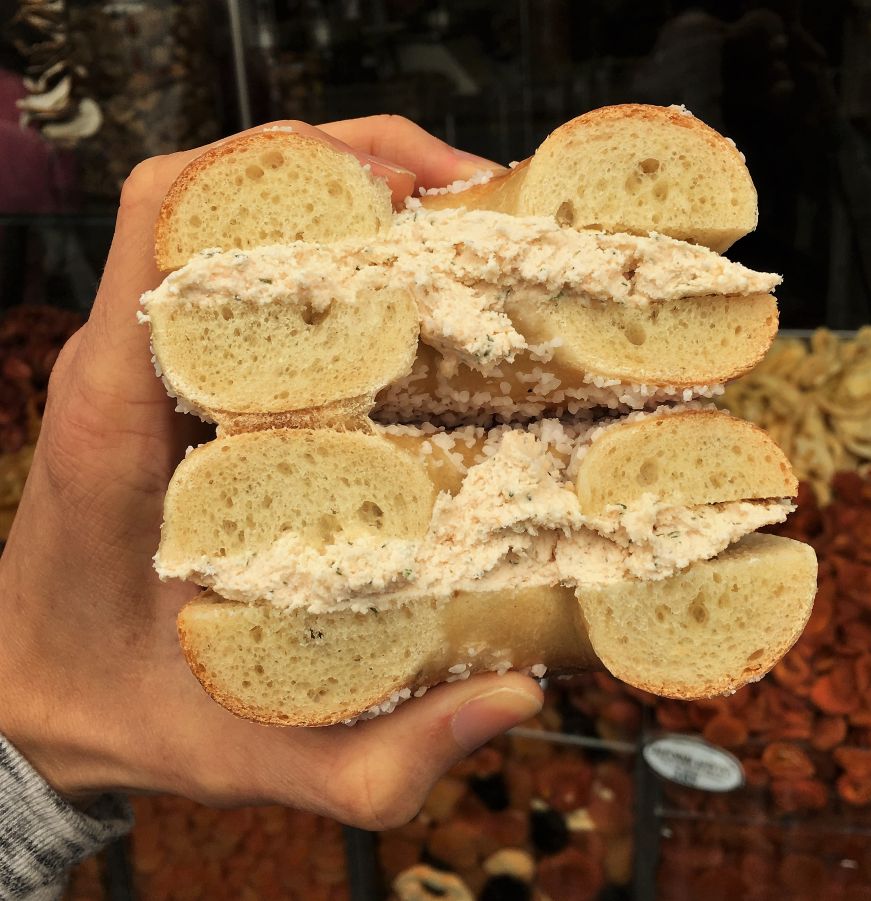 5) Cannoli filled to order, Madonia Brothers Bakery
I was quite underwhelmed with Manhattan's Little Italy—it's very touristy and feels more like a theme park than an actual neighborhood.  So when I heard about the "other" Little Italy in the Bronx, my interest was piqued.  Getting from our Airbnb in Brooklyn to the heart of the Bronx was a one-and-half hour journey, but it was worth it.  While there certainly are tourists (we kept running into a group of high schoolers on a food tour), most of the area's businesses seem to cater to locals.  Grandmas were buying pork chops at the Arthur Avenue Market, a group of firefighters was taking a lunch break at the slice joint, and the corner store was doing a brisk business in pallets of canned tomatoes. 
We were both enamored with the gorgeous loaves on display at Madonia Brothers Bakery, but since we were planning to dine out for the next few days it made more sense to stick with dessert.  There was a little sign proclaiming that cannolis were filled to order: you pick your size (small for $1.25 or large for $2.00) and they pipe in a rich mixture of cream cheese, whipped cream, and chocolate shavings.  Then, the whole thing is finished with a generous dusting of powdered sugar.
It was the richest and best cannoli I've ever eaten, and the fact that I ended up covered in powdered sugar in no way diminished the experience.
6) Pumpernickel bagel with salmon and dill cream cheese, Olde Brooklyn Bagel Shoppe
The bagels at Olde Brooklyn Bagel Shoppe aren't particularly noteworthy (too bread-like and too large) but their cream cheese?  It's fabulous.  They have a huge lineup of unexpected flavors like maple bacon, cannoli, and za'tar, plus all the classics and vegan tofu spreads.  I fell in love with the salmon and dill: it's loaded with large pieces of lox and heaps of fresh dill.  In my opinion, a pumpernickel bagel was the perfect pairing, but the everything bagel is also a solid option.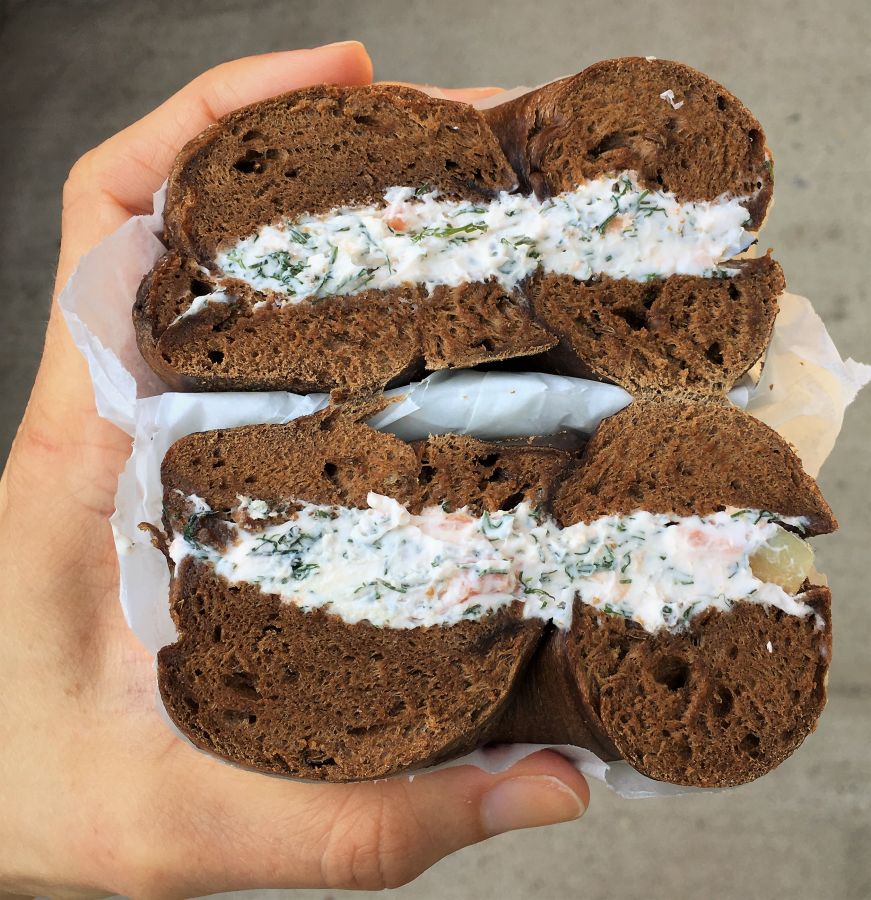 7) Dosa, Ganesh Temple Canteen
For whatever reason, dosas have been popping up in my Instagram feed lately—they're South Indian pancakes similar to a crepe, made from a fermented batter of rice and mungo beans.  They looked delicious, but I haven't been able to track them down in the Twin Cities. 
Luckily, our trip to Queens brought us into the vicinity of Ganesh Temple Canteen, which frequently shows up on roundups of the best dosas in New York City.  It's a cafeteria located in the basement of a Hindu temple; the atmosphere reminds me of the church basements of my youth, with fluorescent lights, folding chairs, and no-nonsense, supremely efficient women running the show.  I tried the plain dosa, which is served with a bowl of sambar (a lentil vegetable stew) and a coconut chutney.
My dosa was everything I hoped it would be (it reminded me a bit of Ethiopian injera, but crisp on one side), but what I appreciated the most was the surroundings—although we were clearly tourists who were just stopping by for the food, I felt welcomed with a warmth that I found hard to come by in New York City.  
8) Chocolate swirl cheesecake, Junior's
One of my most memorable dishes on my last trip to New York was a giant slice of devil's food cheesecake at Junior's; on this trip, I scheduled a stop at Junior's before our Broadway show (Yes, we totally ate dessert for dinner.  That's one of the consolations of adulthood.)  I ordered the chocolate mousse cheesecake, and while it was tasty, it was a disappointment for a cheesecake lover.  Contrary to the photos, my slice was about 80% chocolate mousse and 20% cheesecake.
So Mike, who deserves an award for his never-ending patience while vacationing with a food blogger, agreed to a dessert-for-dinner do-over.  This time, I went for the chocolate swirl cheesecake: cheesecake filling mixed with chocolate and then swirled with more cheesecake filling for a marbled effect.  It was decadent, it was satisfying, it was worth the return visit.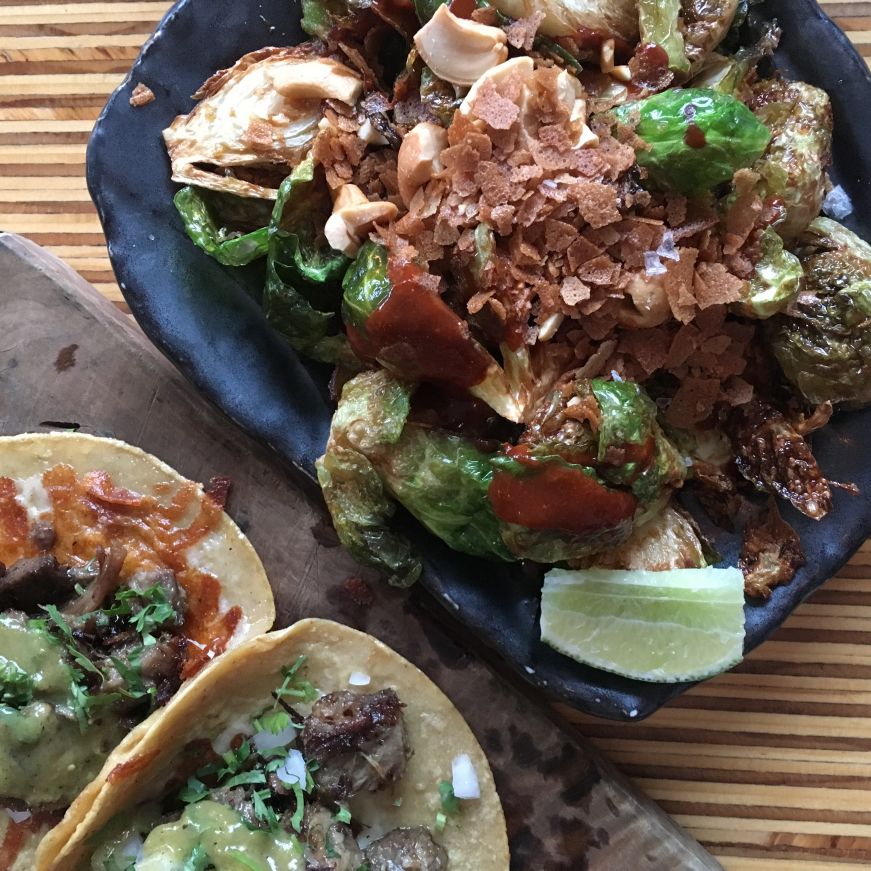 9) Crispy Brussels sprouts with cashews and a tamarind vinaigrette with a side of corn tortillas, Alta Calidad
Mike and I didn't do much fancy dining on this trip (apparently we were too busy eating cheesecake for dinner) but one night we decided to treat ourselves to a date night in Prospect Heights, the Brooklyn neighborhood we were staying in.  Our original scheme was to wander around and be spontaneous, but we fell down the New York Eater rabbit hole and eventually settled on Alta Calidad, which specializes in "innovative Mexican cuisine" served small plates-style. 
Confession: I am not really into the small plates concept.  While I'm all about sampling different foods, it usually seems like an excuse to overcharge.  But we were on vacation, so I gave it a shot—and I'm so glad we did.  Yes, our meal was on the pricey side for how much food we got.  But the flavors really were innovative, the service was excellent, and the atmosphere was a sort of sleek urban farmhouse concept that felt hipster Brooklyn in the best possible way.  
My Brussels sprouts were cooked to an almost potato chip crispness, with a lovely crunch from the cashews and a complex tamarind vinaigrette.  I also ordered a side of housemade corn tortillas that opened my eyes to what corn tortillas could be—delectably fresh and flavorful, worth eating in their own right instead of merely serving as a backdrop for fillings.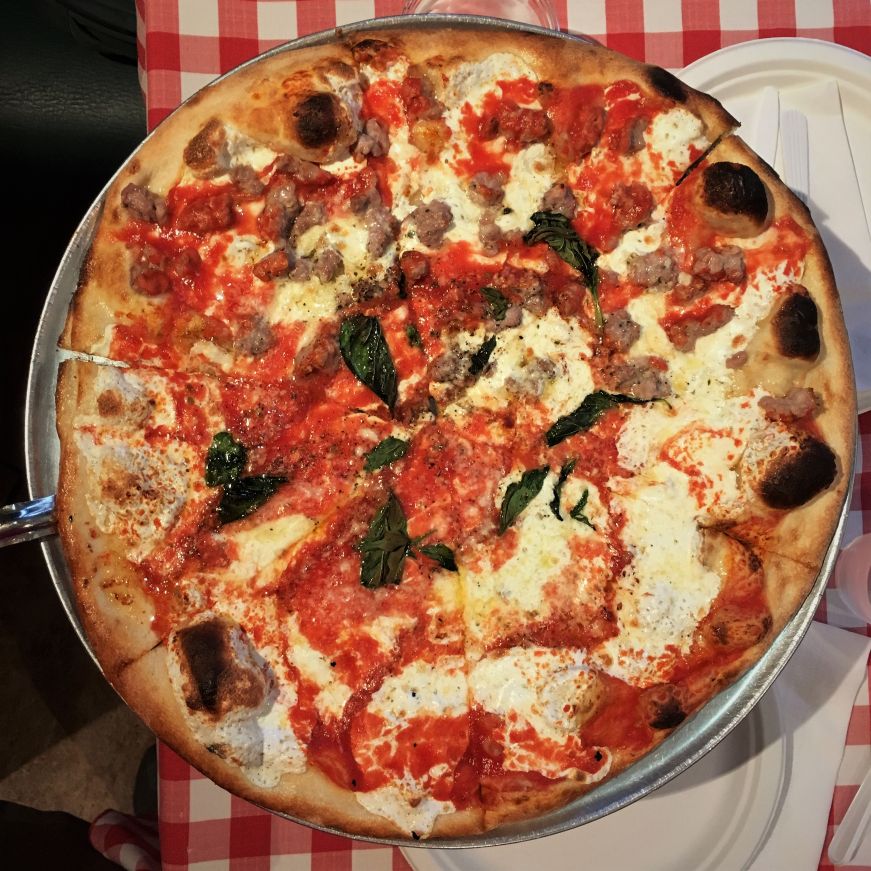 10) Pizza, Grimaldi's
With a menu that declares, "No slices, no reservations, no delivery, no credit cards", Grimaldi's is the restaurant version of a stereotypical brusque New Yorker.  Their coal-fired pizza is considered to be among the best in New York, and the  lines at the location under the Brooklyn Bridge often extend far down the street (I recommend going early on a weeknight—we arrived at 6pm on a Tuesday and were seated immediately).
I was concerned the pizza wouldn't live up to the hype; Mike was annoyed that they charge a flat rate for toppings whether you get them on the whole pizza or just half.  But as I watched the cooks prepare the pizzas with a well-practiced grace—a disk of dough tossed from hand to hand to flatten it, the swoop of a ladle of crushed tomatoes, the deft arrangement of bits of fresh mozzarella, a final garnish with fresh basil leaves—I realized that this was going to be good.
"Yeah," Mike confirmed, as he chewed his way through his first bite. "This is the real deal."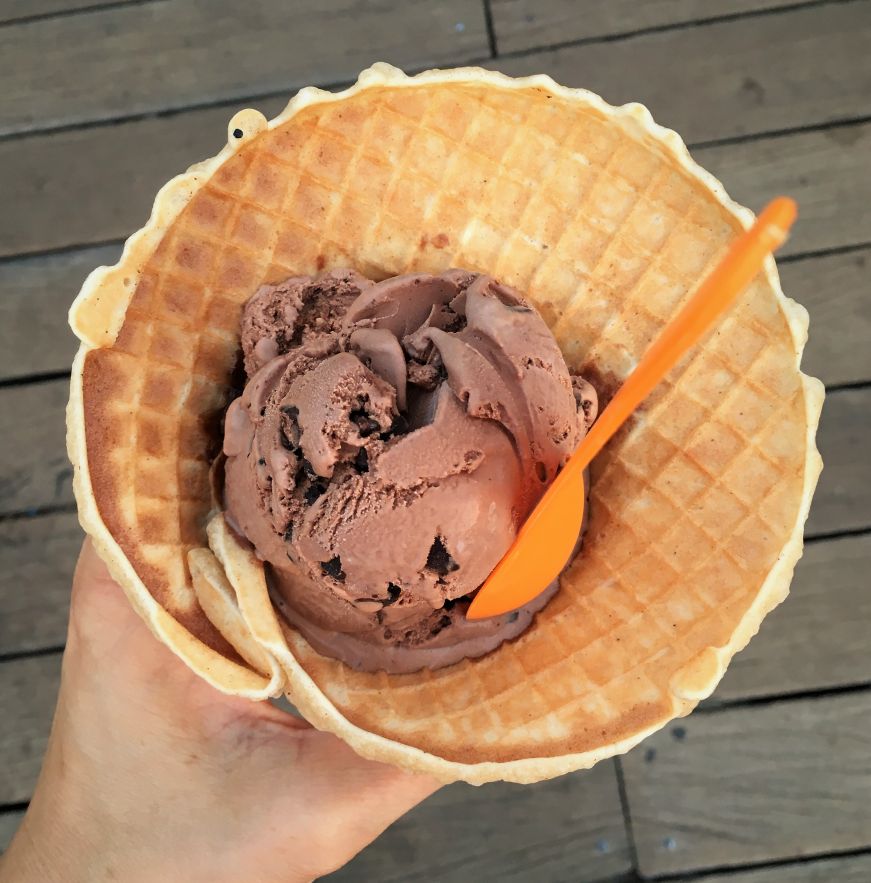 11) Chocolate chocolate chunk ice cream in a waffle bowl, Brooklyn Ice Cream Factory
Brooklyn Ice Cream Factory takes a different approach than Ample Hills Creamery: instead of creating dozens of offbeat flavors, they do a handful of classics really, really well.  Their chocolate chocolate chunk is very creamy, with a rich cocoa flavor and satisfyingly large chunks of chocolate.  Since it was our last night in New York, I decided to spring for the waffle bowl—it was so fresh that I actually saw them take it off the waffle iron. 
The fact that I got to enjoy my ice cream in Brooklyn Bridge Park, my favorite place in New York City, made the moment even sweeter.
If you enjoyed this post, pin it!