When travelling, what I want to eat is almost as important as what I want to see.  Happily, New York City offers the best of both worlds, with markets, shops, and neighborhoods that serve up feasts for the eyes and stomach.  The city's diversity and our well-worn Metro cards allowed us to sample cuisine from Italy, China, and Russia, plus Eastern European Jewish specialties and fresh local produce.  Here are some favorite New York City food destinations and what we found there: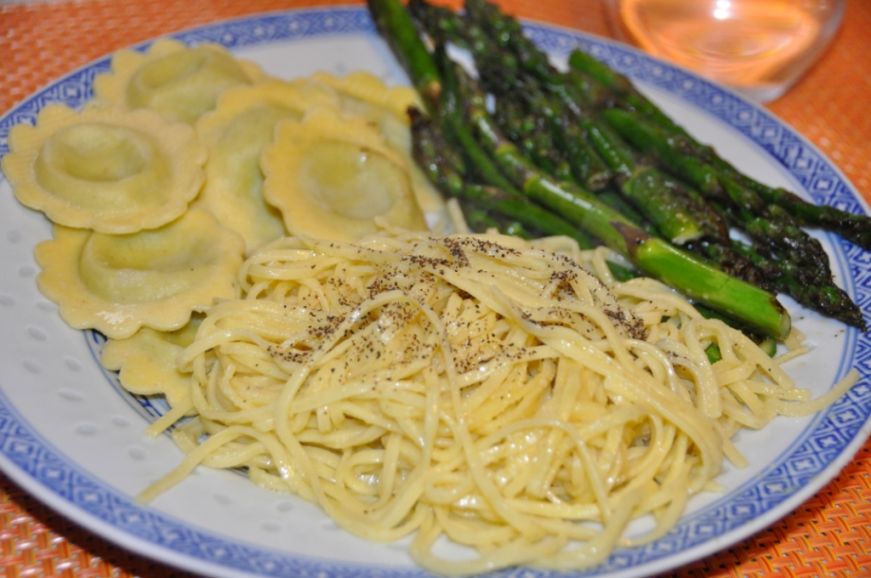 At 50,000 square feet, this Italian food destination is like my beloved Cossetta on steroids.  Eataly contains a tangle of aisles of pasta, olive oil, sauce, pesto, and jams; cases of fresh pasta, meat, and cheese; and counters serving every Italian specialty imaginable, from elegant samplers of mozzarella and salumi to gelato and paninis.  Honestly, after a hectic morning of sightseeing it was all a bit overwhelming, and I was bummed that the Nutella Bar was closed for renovations.  Instead of fighting the crowds for an afternoon snack, we picked up some fresh pasta for dinner: spring pea ravioli with ricotta, Pecorino Romano, and mint; cacio e pepe, a pasta stuffed with Pecorino Romano, ricotta, and black pepper; and tagiolini, a long, thin pasta.  Our pasta dinner back at our rented apartment was one of the best meals of the trip--the fresh pasta was springy to the bite and made with the best ingredients, and we could linger over our dinner in relative peace and quiet.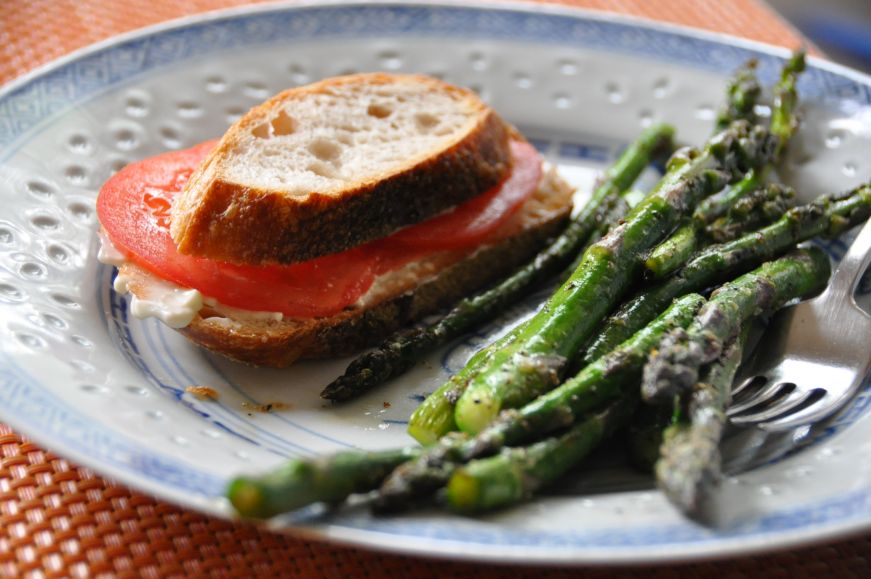 My favorite NYC shopping destination isn't Macy's or Saks; it's the Greenmarket at Union Square.  Open on Mondays, Wednesdays, Fridays, and Saturdays, there's a different selection of vendors each day (check the market's website for a helpful map and index).  Since we visited in late May, the produce was limited to lettuce, somewhat tired-looking apples from last fall, new potatoes, hothouse tomatoes, fiddleheads, herbs, radishes, and lots of asparagus.  There were also producers selling sustainable meats and eggs, honey, maple syrup, jam, and pickles.  Best of all, there were several bakeries with loaves of rustic breads, sweet and savory pastries, and cookies.  We got a fabulous loaf of sourdough from Hawthorne Valley Farms, as well as a hearty zucchini turnover (a pyramid-shaped whole-wheat pastry, with a savory zucchini filling) and a delicious Reuben roll (basically a savory strudel, filled with sauerkraut and sprinkled with caraway seeds).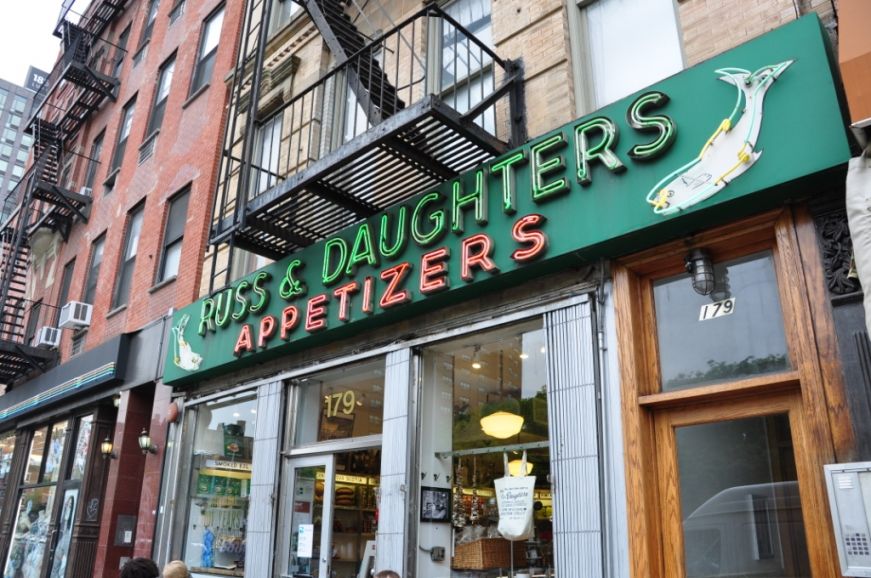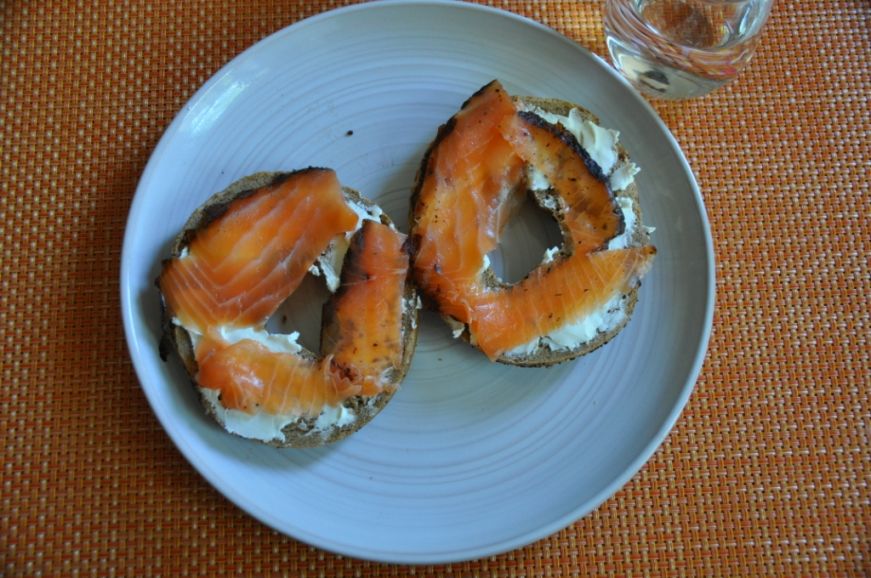 The food destination that merited a return trip was Russ & Daughters, a small appetizing shop on the historically Jewish Lower East Side.  Glass cases run down each side of the narrow shop, one with chocolates and sweets and the other with slabs of smoked fish and tubs of cream cheese and caviar.  I mentioned the bagels, lox cream cheese, and black-and-white cookies in a previous post, but my favorite find was the pastrami-cured salmon.  Expertly cut into translucent slices, the salmon has a silky texture thanks to the cold-smoking process, and the pastrami rub of 14 herbs and spices provided a pescatarian-friendly way to enjoy a New York specialty (for reference, I bought a quarter of a pound of salmon, which came out to five slices and enough for three bagels).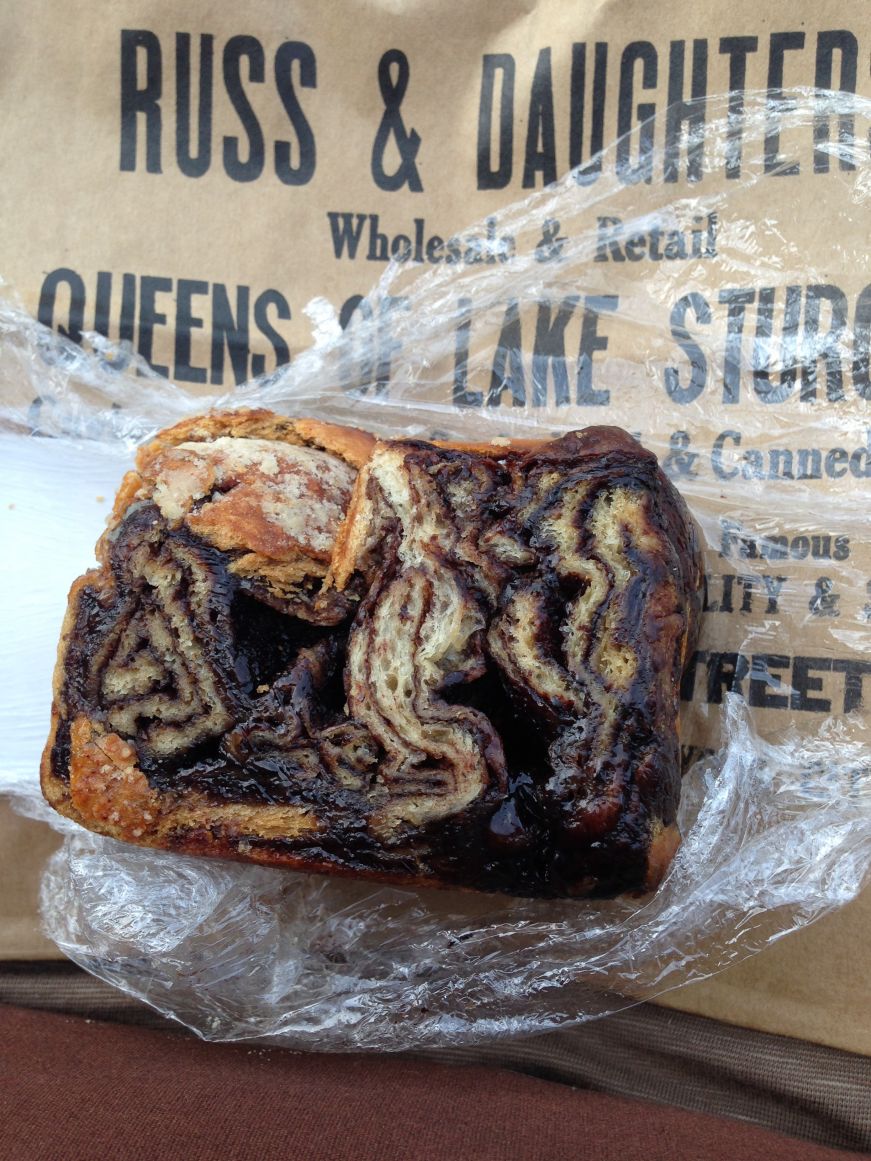 Although fish is the store's specialty, don't neglect the bakery case.  I thoroughly enjoyed a piece of chocolate babka, a complex swirl of bread and bittersweet chocolate.  It's sweet without being cloying, and the layers of bread are just hefty enough to convince yourself that you're eating a snack and not dessert.
Once you get off Canal Street, away from the women trying to sell you fake Rolexes, the rickety racks of curling postcards, and the crowds of fellow map-toting tourists, Manhattan's Chinatown makes you feel like you've crossed the street into another continent.  Most of the signs and menus posted in restaurant windows are in Chinese, and even the official street signs are bilingual.  You can eat well and cheaply at one of over 300 restaurants (I even spotted a few that were exclusively vegetarian or vegan).  Or you can buy everything you might need to prepare a feast at home from the many Chinese grocery stores and specialty shops stocking fresh fish, jerky, dried mushrooms, candy, or a dizzying assortment of rice cookers.  There are produce vendors on the sidewalk, selling everything from grapes and squash to lychee and durian.  We only spent one afternoon in Chinatown, so it's high on my list of places to explore further on my next trip.
After a morning of intense walking, we carb loaded at the Mott Street Fay Da Bakery, a local chain that has a couple other locations in Manhattan and several in Queens.  Most of the bakery case is devoted to filled baked and steamed buns, but you can also get individual tarts and cakes at bargain prices.  The store is cash only, but even the large, meat-filled buns ring in at $1.70 each--we stuffed ourselves for under $10.  Just grab a tray and a pair of tongs and pick out your selections from the bakery case, which helpfully lists English names for each of the buns.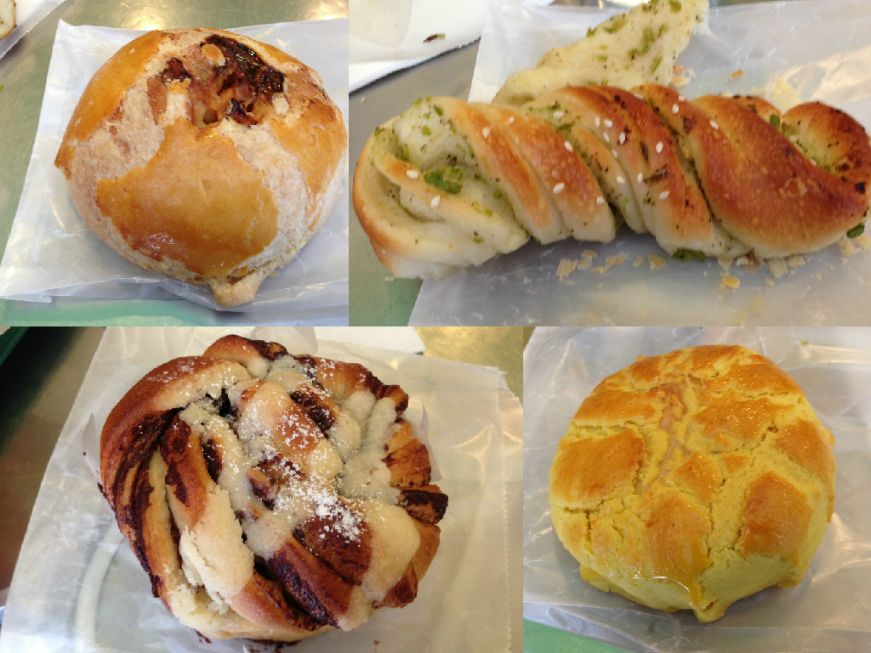 Showing a distinct lack of culinary adventurousness, Mike selected a hot dog bun (exactly what it sounds like, dough wrapped in a spiral around your standard American wiener); a dry pork wrap (pork, lettuce, mayo, and egg rolled up in a flatbread); and a scallion and green pea twist, which I also tried for myself.  The scallion and green pea twist was made of a wonderfully flaky pastry, which I was able to enjoy without guilt thanks to the token vegetable content.  The sweet potato puff, a substantial, slightly crusty roll filled with sweet potato puree, is another tasty way to ingest some vegetables.  For dessert, Mike got a chocolate walnut bun--basically a cinnamon roll, but with chocolate and whole walnuts in lieu of cinnamon.  I suspect an American version would have been overly sweetened, and I preferred this version with its understated bittersweet chocolate.  I opted for a sweet topping coconut bun, which contained a hefty amount of lightly sweetened coconut on the inside and a crackly topping with a hint of sugar.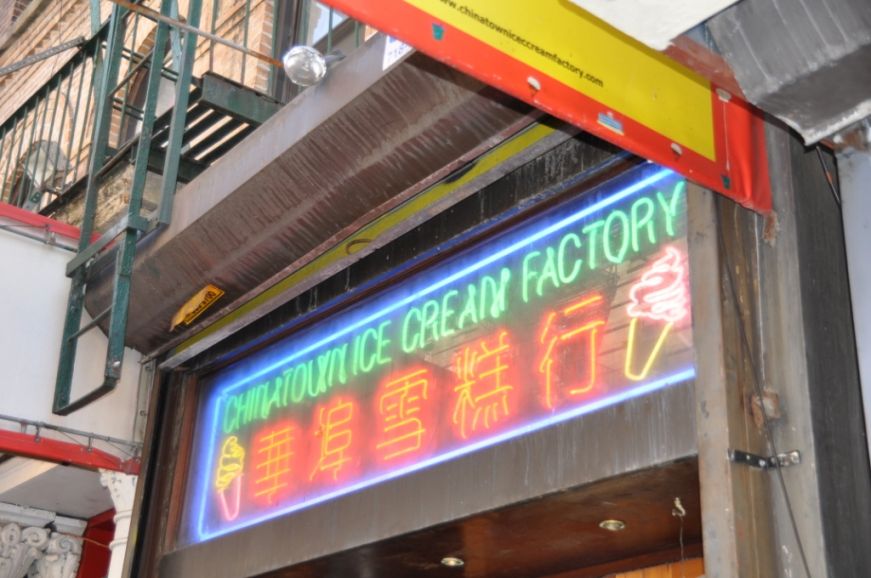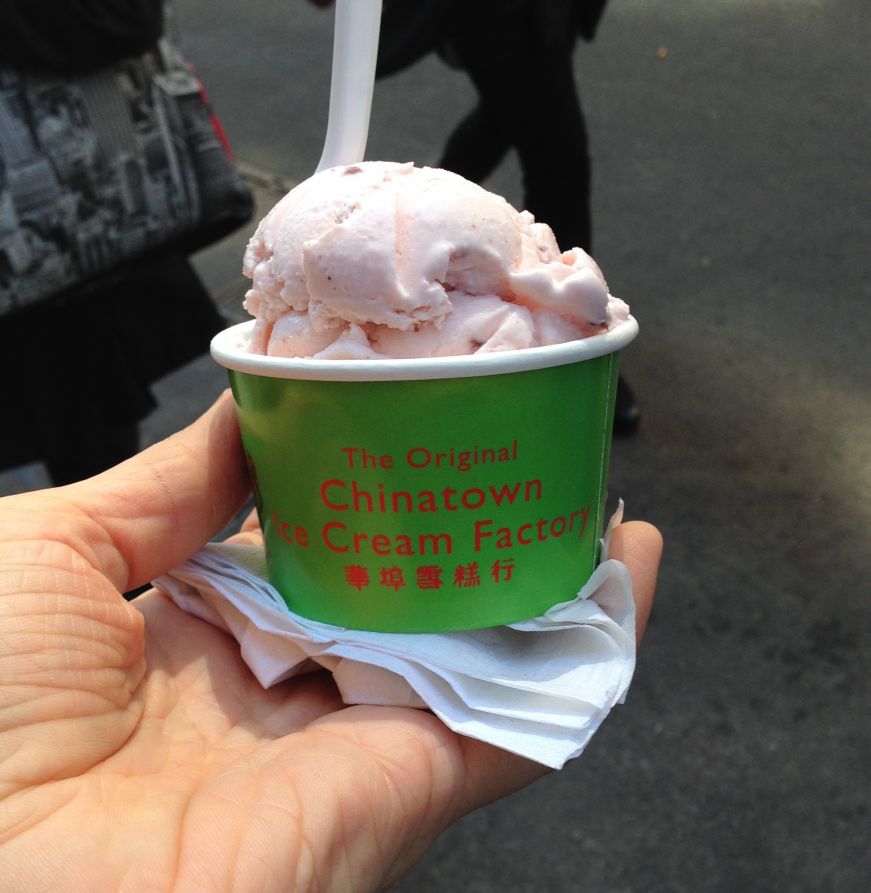 Round two of dessert came from the Chinatown Ice Cream Factory.  Their house-made ice cream comes in familiar American flavors like Oreo and Rocky Road, or you can branch out to black sesame, lychee, or green tea.  My scoop of red bean ice cream was a refreshing afternoon pick-me-up.  Since there isn't any seating in the store, walk a couple blocks west on Bayard Street to enjoy your ice cream in Columbus Park.  On the Saturday we visited, the park was a venue for several informal performances of traditional Chinese music.
Brooklyn's Brighton Beach neighborhood is sometimes known as Little Odessa, for the Russian-speaking Jewish immigrants who arrived from Odessa, Ukraine in the 1940s and 1950s; another wave of Russian immigrants arrived after the collapse of the Soviet Union.  Brighton Avenue, which is lined with shops, restaurants, and other businesses catering to the Russian community, is easily accessible via subway--just get off at the Brighton Beach station and walk down Brighton Avenue until you get to the Ocean Parkway station (or vice versa if you're heading in the other direction).
We visited Brighton Beach on a Sunday evening just as most of the shops were closing, but Vintage Gourmet Specialty Food was still open.  The front of the store is devoted to bulk bins of nuts, dried fruit, and candy, all reasonably priced (although often not labeled in English).  We got a giant chocolate covered marshmallow, a couple mini chocolate bars with a cherry filling, a handful of wrapped chocolates, a couple of chocolate-covered wafer cookies, a handful of Turkish delight, and a small gift box of Turkish delight for a grand total of $6.50.  Definitely one of the best deals of our trip, and I'm looking forward to making a return visit and exploring more of the neighborhood on our next trip to New York.