Going to New York City was Mike's idea: he took a memorable trip there as a child, and now he wanted to see the city from an adult perspective.  He was eager to take in a Broadway show, walk around SoHo, and see the new One World Trade Center Building.  I was less enthusiastic.  As a lifelong Minnesotan, my conception of New York was that it was an expensive, overwhelming metropolis, filled with people who would viciously elbow me on the subway and sneer openly at my small-town ways.  But Mike brought me around to the New York vacation scheme using the thing that can bring me around to just about anything.  Yes, he bribed me with food.
New York City is one of the best food cities in the world.  You could publish tomes about the restaurant scene, and specialty food stores and markets abound.  In the unlikely event that we ever move there, Mike's plan is to affix a map of the city to the living room wall and throw a dart at it every Saturday night to decide where to eat, because you can probably find great food everywhere.  In a city that you could spend several lifetimes eating your way through, I had a week.
I decided to focus on sampling iconic New York foods and exploring notable food destinations.  We ate memorable restaurant and home-cooked meals, while seeing as many museums, landmarks, parks, and historic neighborhoods as possible.  I'm starting my series of New York City posts with the iconic foods that were on my must-eat list: pizza, bagels, and cheesecake, plus the black-and-white cookies that I discovered along the way.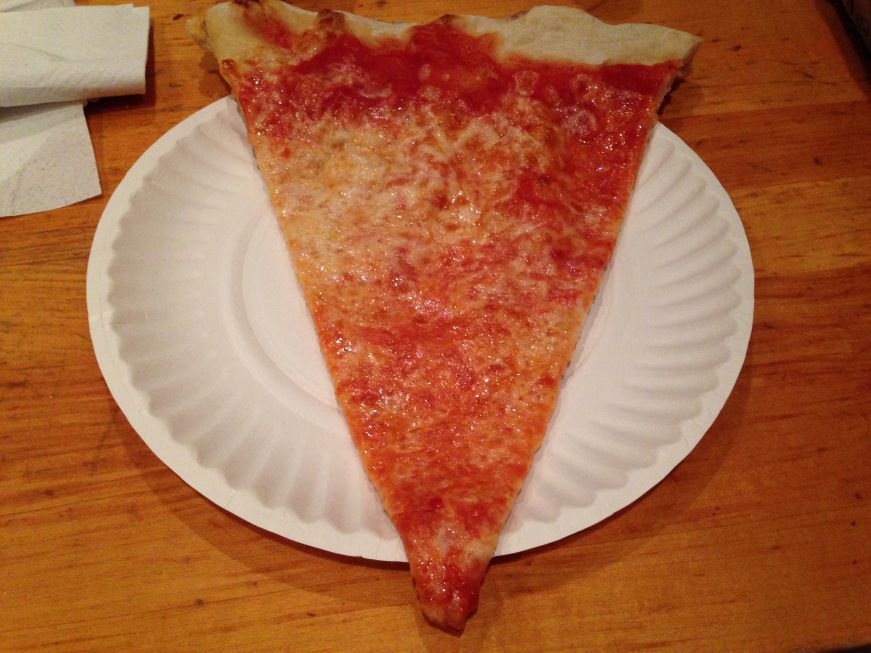 Pizza
First up on the list was a slice of authentic New York pizza.  According to Wikipedia, New York style-pizza is a large, hand tossed pie, light on the sauce, crispy around the edge but pliable enough to fold in half lengthwise to eat (in the Twin Cities, you can get New York-style pizza at Andrea Pizza).  I did some web-based research on the best slices in New York and settled on Sal & Carmine's on the Upper West Side.  At first glance, the simple storefront with a few well-worn tables at the back didn't seem like anything special, and I wondered if it had really been worth the subway ride.  But then I took a bite of my massive cheese slice, and all was right with the world.  Sal & Carmine's pizza is chewy on the edges, like most slices, but it maintains that chewiness all the way through to the center of the pie, robustly holding up the toppings.  The sauce has a flavorful helping of salt, and the cheese isn't too greasy.  The only drawback was that we went to Sal & Carmine's early in our trip, and all the other slices we ate were a disappointment by comparison.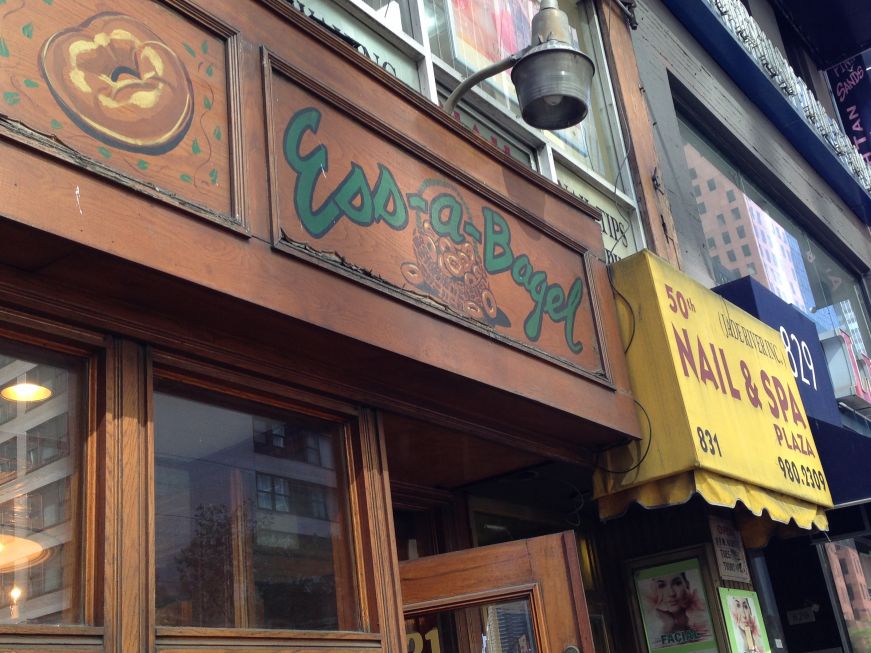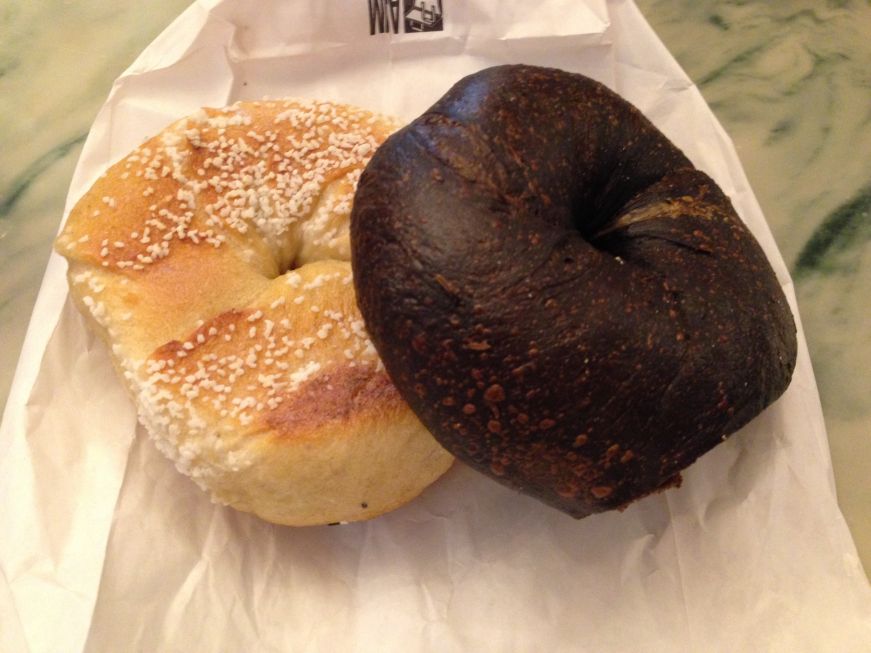 Bagels
If our trip had a culinary motif, it would be bagels.  We tried puffy mass-produced bagels from the convenience store across the street, trekked across the neighborhood to Holesome Bagels, and even ate an overpriced bagel at the airport before the flight home.  There were everything bagels, plain bagels, toasted bagels, bagels with cream cheese, and bagels with lox.  And then there was the best bagel of them all, a Rubenesque pumpernickel from Ess-a-Bagel in Midtown (recommended by Daryl and Mindi at 2foodtrippers).  The bagels are giant, with a thin, almost crispy exterior and an impossibly soft, dense interior.  The pumpernickel version was richly flavored with caraway, and Mike's salt bagel had the perfect salt-to-bagel ratio.  Tip: when we arrived at 9:30 on a Sunday, the slow-moving line was already out the door.  However, if you just want bagels (no toppings or toasting), there's a separate counter at the back of the shop where the line is minimal to non-existent.  Since I actually prefer fresh bagels sans cream cheese, it was worth skipping the line.
I found the runner-up for best bagel at Russ & Daughters on the Lower East Side.  You can get bagels with cream cheese at the shop or bagel sandwiches at the nearby cafe.  The average-sized, extra-chewy bagels (sourced from Brooklyn's Bagel Hole) are best when spread with a thick layer of lox cream cheese.
Cheesecake
Embarrassingly, I forgot that New York-style cheesecake was a thing until I saw it in the dessert case at Katz's Delicatessen.  Obviously, I had to rectify the situation by trying a slice of the blackberry cheesecake.  Katz's cheesecake means business, dense and solid (none of that whipped nonsense), with a tartness that serves as a satisfying foil to the jam-like blackberry topping.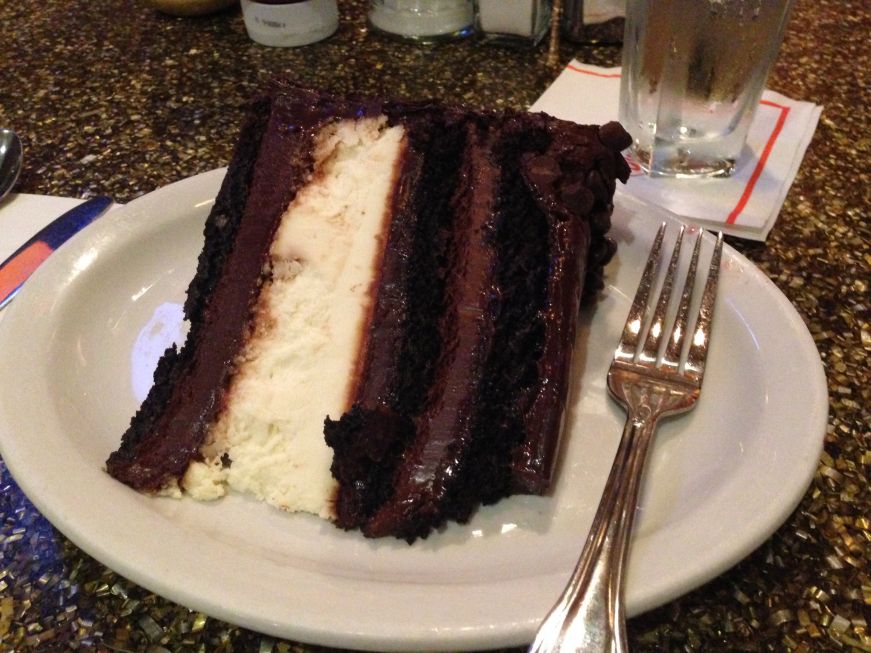 However, my ultimate cheesecake experience was a slab of devil's food cheesecake at Junior's, big enough to feed at least two people (which makes it not a bad deal for $7.50).  Ganache a couple of levels past rich is layered with a strip of cheesecake, which somewhat balances the sweetness of the chocolate, and then there's devil's food cake, more ganache, and chocolate chips.  Is it overwhelming and over-the-top?  Yes.  But that's New York City on a dessert plate, and I ate almost the entire thing.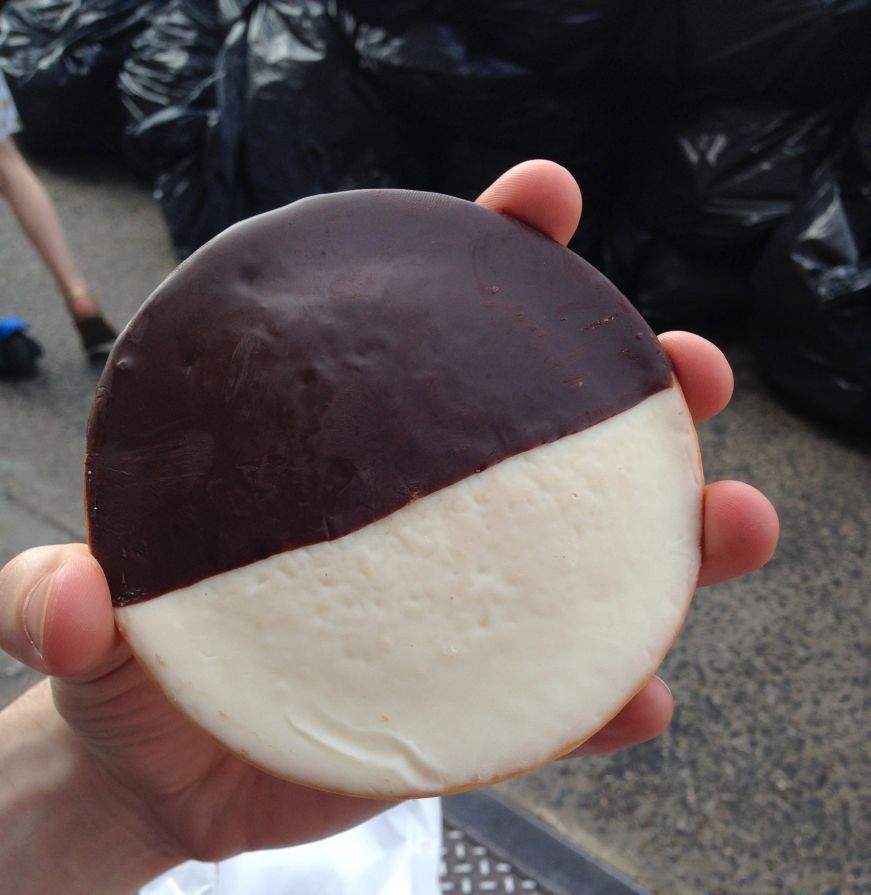 Black-and-White Cookies
Black-and-white cookies are a New York specialty that I found by happenstance.  They're a thick, cake-like cookie with a hint of lemon, dramatically iced with half chocolate and half vanilla.  I found a very tasty (albeit overpriced) example in the Metropolitan Museum of Art's cafeteria, and the more reasonably priced version pictured above at Russ & Daughters.  Most Jewish delis (including Katz's Delicatessen) and many bakeries seem to have them on hand, so you should stumble across them too if you want to try one yourself.
What iconic New York foods should I sample on my next visit?  Any bagel recommendations?