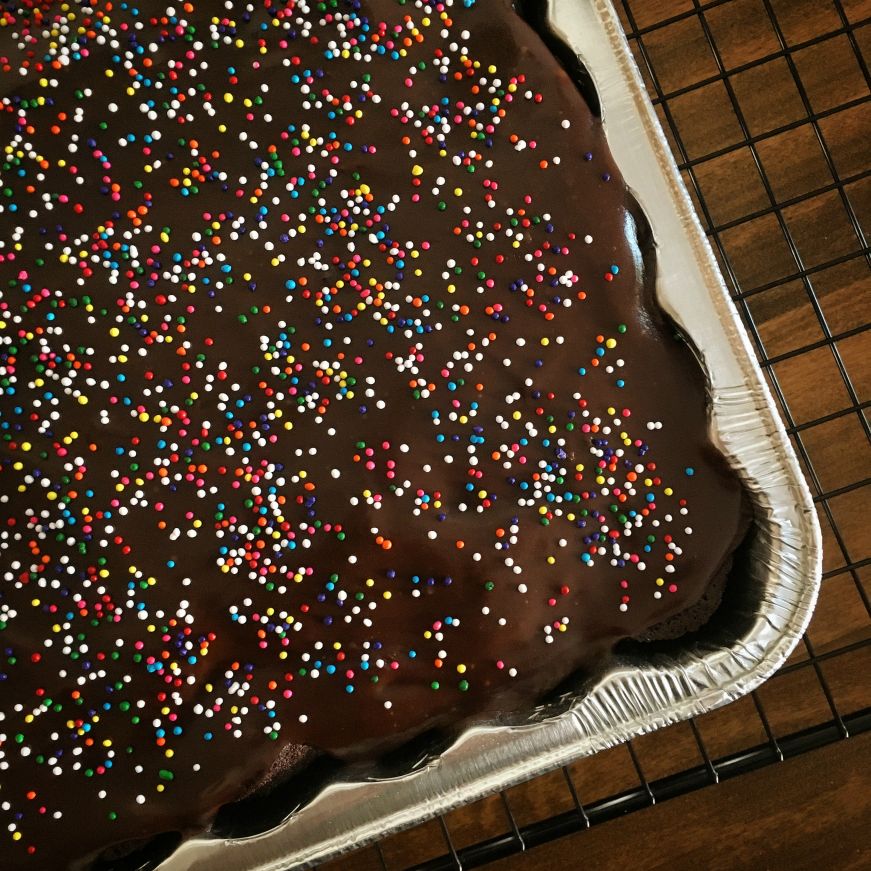 As I wrote about in this post, I started a home-based bakery called Tangled Up In Food Bakes at the end of May.  I had absolutely no idea where it would lead—maybe it would become an important part of my life, maybe no one would order anything and I'd have enough muffin liners for the next eight years. 
Three months in, growth has been slow but steady.  My bakery income is a small part of Stacy Inc. (how I refer to my mishmash of work as a freelance journalist/blogger/copywriter/paralegal/baker), but my bakery is a very rewarding part of self-employment.  Here are some updates about what's changed over my first few months in business, and what I'm planning for the future.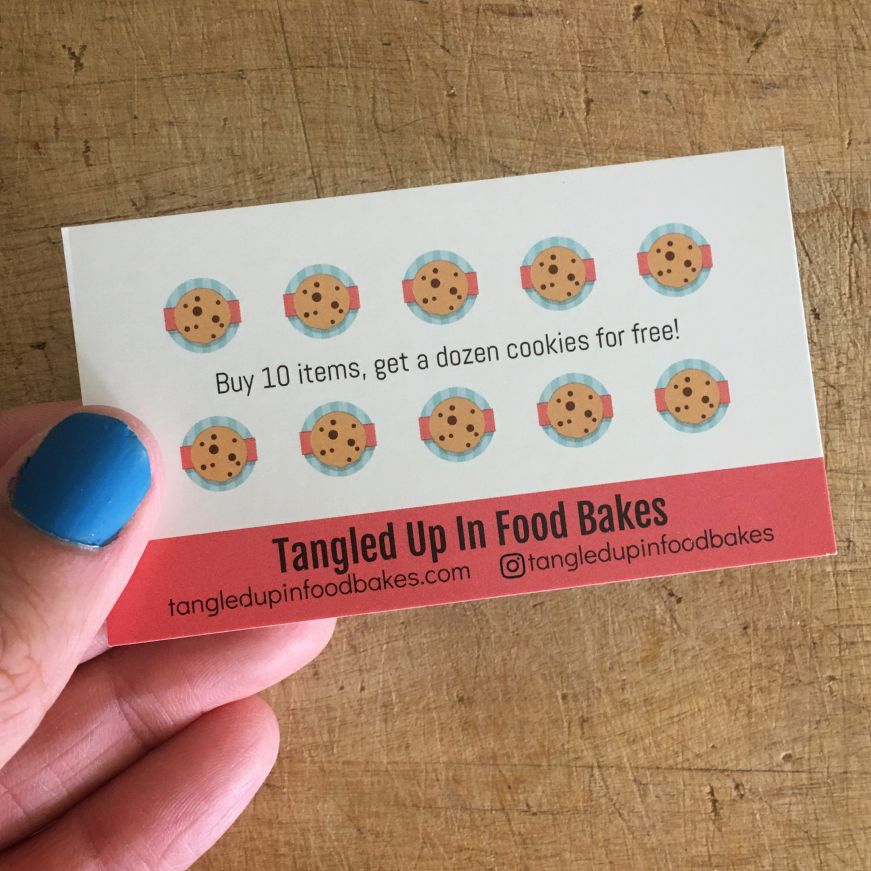 1. I've started a customer loyalty program.
I've been pleasantly surprised and humbled by how many repeat customers I've had in only three months of business.  Repeat customers (and word of mouth) are key to my business model, since I don't have a storefront or a farmers market presence.  In order to show my appreciation, I've started a customer loyalty program—earn a free dozen cookies when you order 10 items. 
Each item you order (a dozen cookies, a batch of muffins, or a cake) earns you a punch on a Tangled Up In Food Bakes business card.  Once you've filled up your card, you can redeem it for a dozen cookies from my regular menu: chocolate chunk, Nutella, or oatmeal cornflake.  If you've already ordered from me, you'll get a loyalty card with your next purchase that gives you credit for everything you've ordered to date.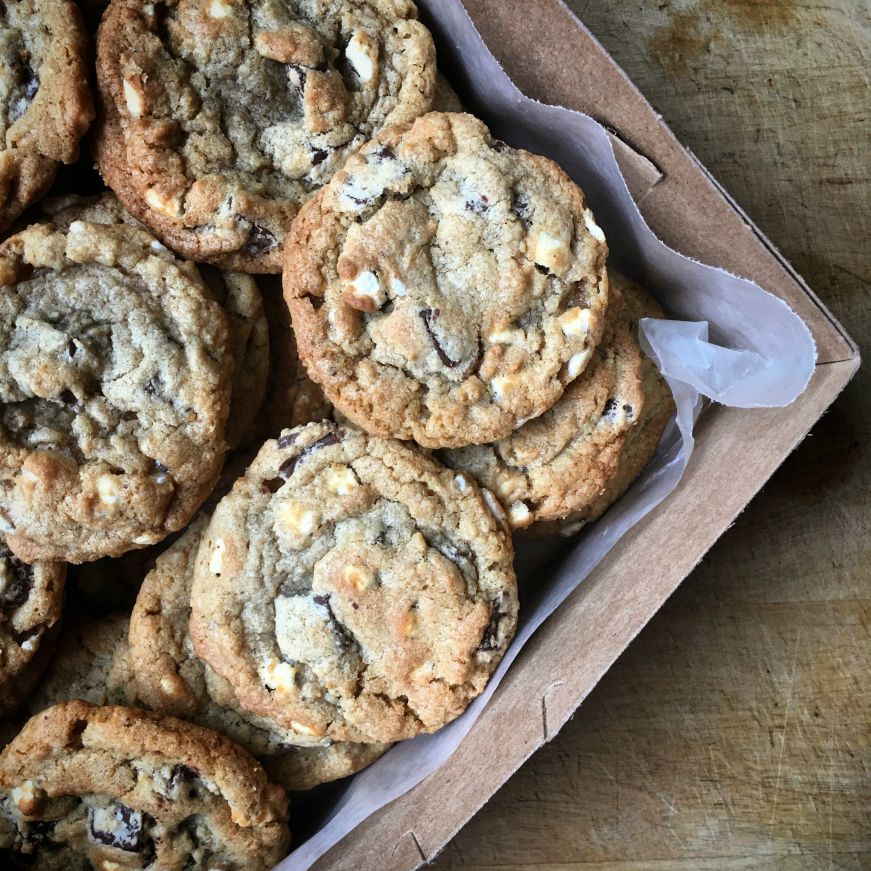 2. I'm running monthly specials.
At first, I wanted to keep things very simple, with three types of cookies, three types of muffins, and a chocolate cake.  Now that I've gotten some experience, I've started running monthly special so that I can highlight seasonal flavors and keep things interesting for repeat customers.  For example, I offered rhubarb walnut muffins in July and s'mores chocolate chunk cookies in August.  Going forward, I'll have some Halloween and Thanksgiving-themed treats, as well as a Christmas cookie sale.
I post my monthly specials on my bakery Instagram account—follow me there to stay in the loop.  Pumpkin spice season is coming up!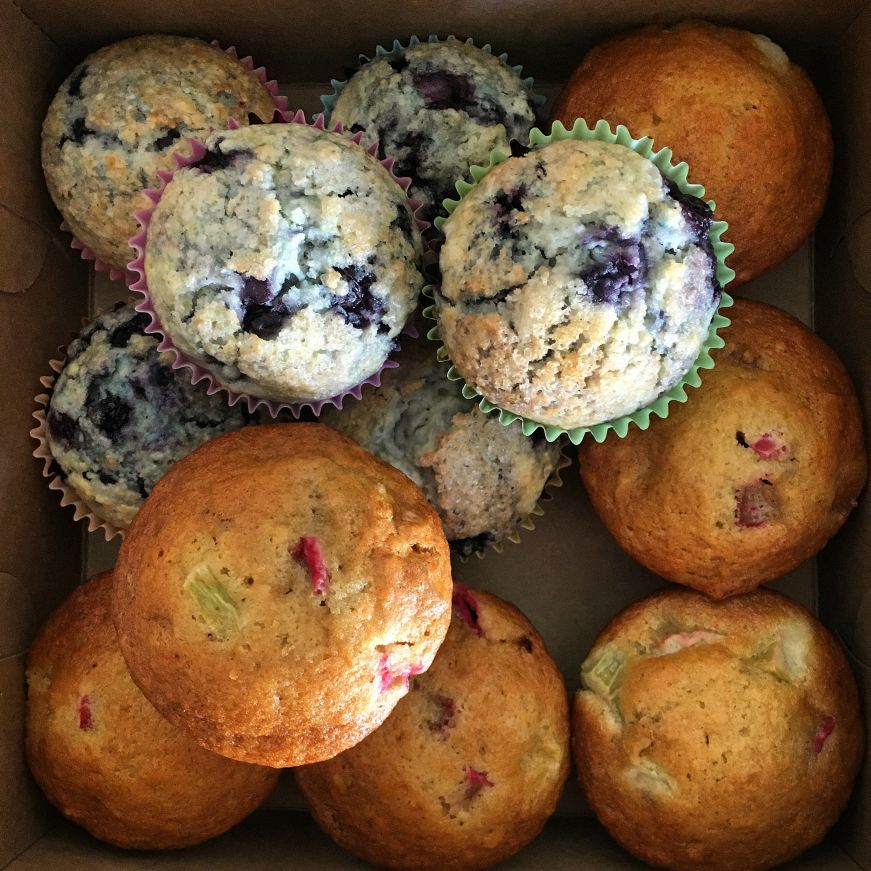 3. I'm able to invest in my business.
I started my bakery on a shoestring budget with ingredients from my local grocery store and a bundle of 25 bakery boxes.  As my business has grown, I've been able to buy ingredients and supplies in bulk.  Buying in larger quantities costs more up front, but the lower per unit cost makes my bakery sustainable in the long term.
If you'd like to learn more, you can check out my menu and the ordering process at my Tangled Up In Food Bakes website or my bakery Instagram account.  In accordance with Minnesota's cottage food law, I'm only able to offer orders for pick up at my home in the Twin Cities (I can't ship my products).
Thanks for your support, and I'm looking forward to baking for you!