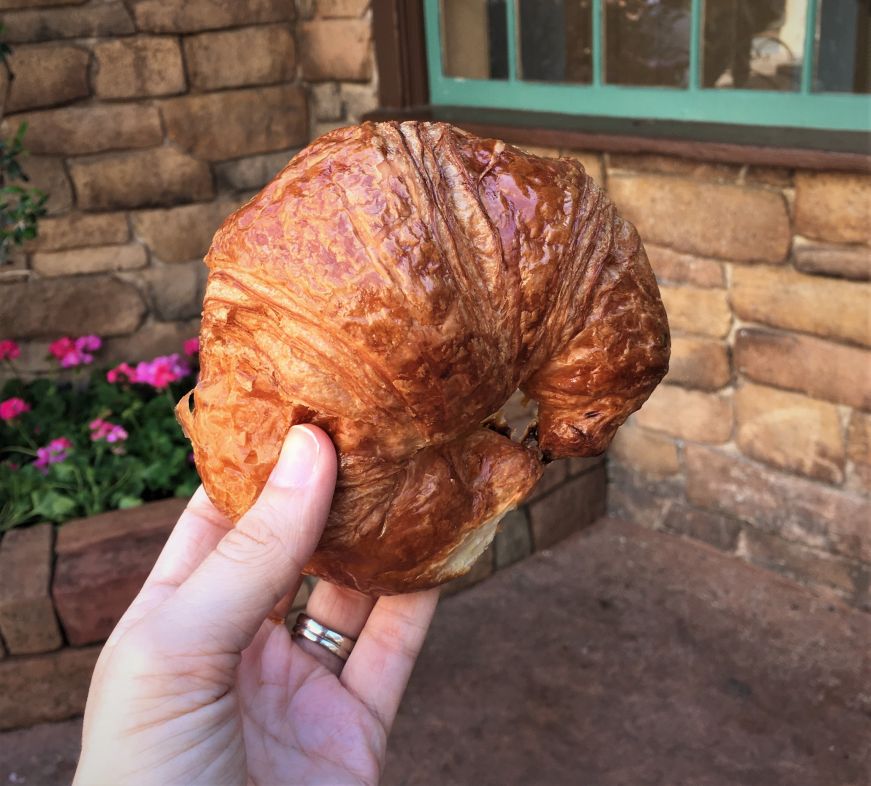 The photos in this post were taken pre-pandemic and may not reflect Disney World's current health and safety measures.
Disney World is much more than an assortment of rides—each section (or "land") of the theme parks is intended to transport you somewhere magical, whether that's a Parisian streetscape or a galaxy far, far away.  From the buildings and landscaping to the cast members' uniforms and garbage cans, everything in sight reflects the intended setting. 
The theming also carries over to the decor and menus of Disney World's restaurants.  For example, you can enjoy a meal fit for a princess at Cinderella's Royal Table, with a price tag to match.  But you can also have a fun themed dining experience on a budget. 
From Moroccan cuisine to alien desserts, here are my picks for the best budget-friendly themed dining at Epcot, Disney's Hollywood Studios, and Animal Kingdom, plus a few honorable mentions at the Magic Kingdom.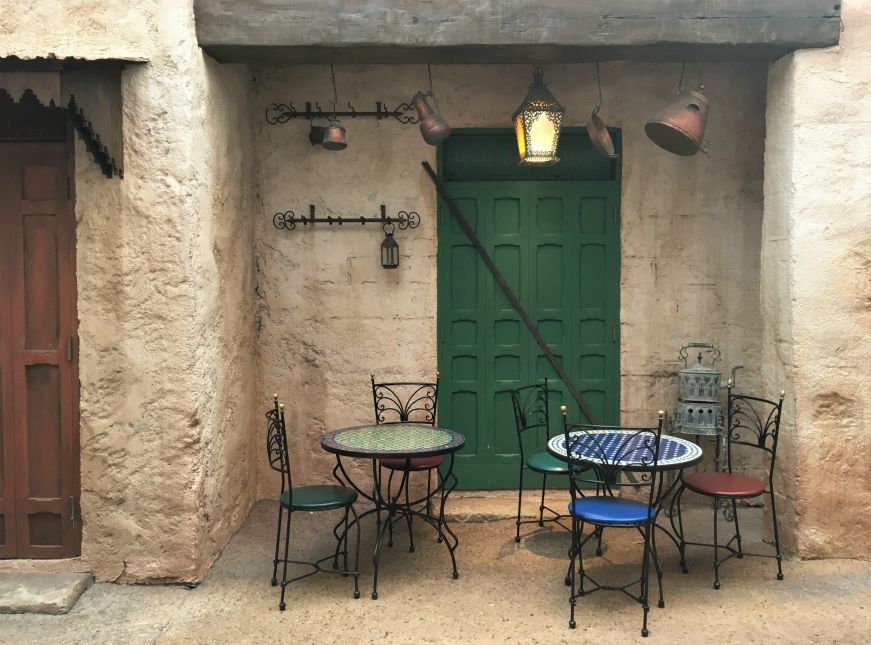 Epcot: Tangierine Cafe, Morocco
The whole point of Epcot's World Showcase is the theming of the various country pavilions, from the Bavarian-inspired Germany Pavilion to the pyramid at the Mexican Pavilion.  However, I think the Morocco Pavilion is on its own level: the craftsmanship of the buildings is awe-inspiring, and because it seems to draw fewer people than the other countries, it feels more immersive.
Pre-pandemic, the counter-service Tangierine Cafe offered some of the best vegetarian fare at Disney World—the vegetarian platter was a delightful combination of hummus, four different salads, falafel, marinated olives, and fresh flatbread.  The current limited menu includes two entrees: grilled meat kebabs and Moroccan bread with a trio of dips.  Hopefully a more expansive menu will return in the future.
The exit at the back of the restaurant will take you to the tiny alley seating area pictured above—it's my favorite place to eat at Disney World.  There's also ample seating inside the restaurant as well as a large outdoor patio.
Runner up: Les Halles Boulangerie-Patisserie in the World Showcase's France Pavilion serves a delicious selection of sandwiches, pastries, and desserts.  The cafeteria-style setup and gift shop detract from the ambiance, so we like to eat outside at one of the bistro tables that line the picturesque street.  My favorite picks are the croissant and the half baguette (at $2.25, the best culinary bargain at Disney World).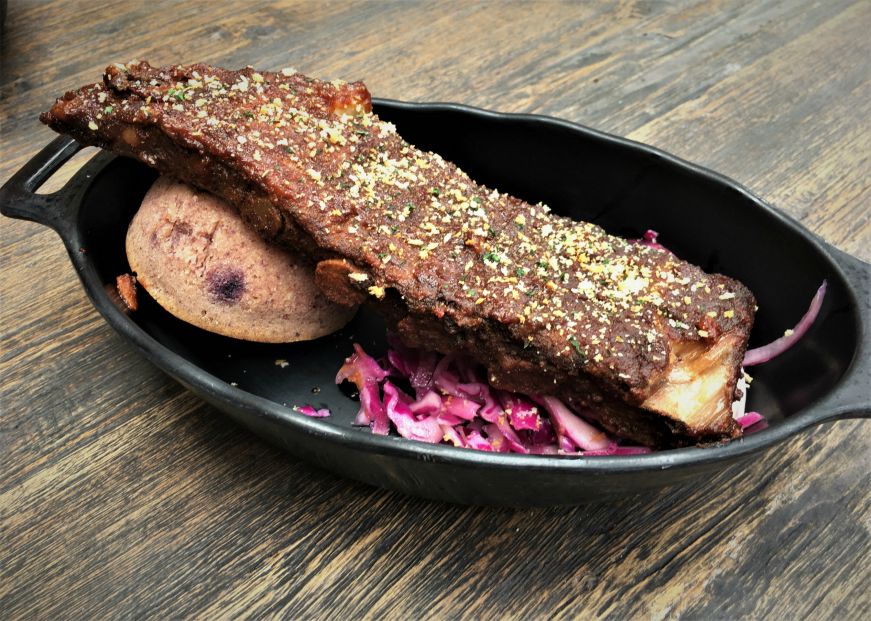 Disney's Hollywood Studios: Docking Bay 7 Food and Cargo, Galaxy's Edge
From patrolling Storm Troopers to spherical Coke bottles with alien lettering, the Star Wars-themed Galaxy's Edge at Hollywood Studios is Disney World's most meticulously themed land.  Docking Bay 7 Food and Cargo, a counter-service eatery, is no exception—it feels like you've stepped into a spaceship hangar from a Star Wars movie. 
The entrees have otherworldly names and looks to match, like the Smoked Kaadu Pork Ribs served with a blue-tinged corn muffin.  Other menu items include a beef stir fry, tuna poke, and fried chicken.  I opted for the Felucian Kefta and Hummus Garden Spread, which included some well-seasoned planted based meatballs with a hearty texture (there was definitely some quinoa involved) and a pita.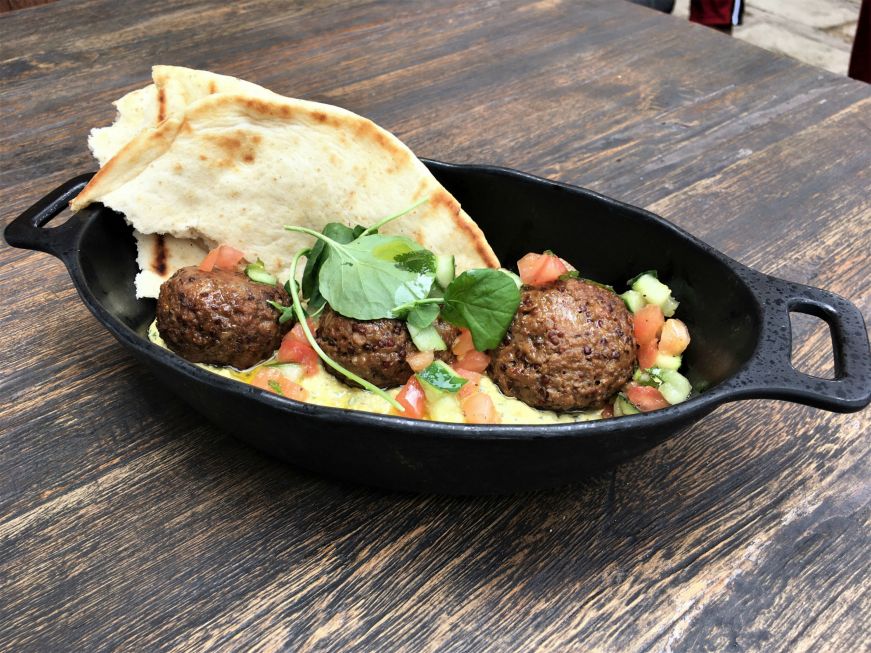 Runner up: Ronto Roasters, another restaurant in Galaxy's Edge, has a similarly immersive feel, including a pitmaster droid turning a chunk of meat on a spit.  However, there isn't as much seating as Docking Bay 7 and the lunch/dinner menu is more limited.  It's still worth a peek inside even if you decide to dine elsewhere.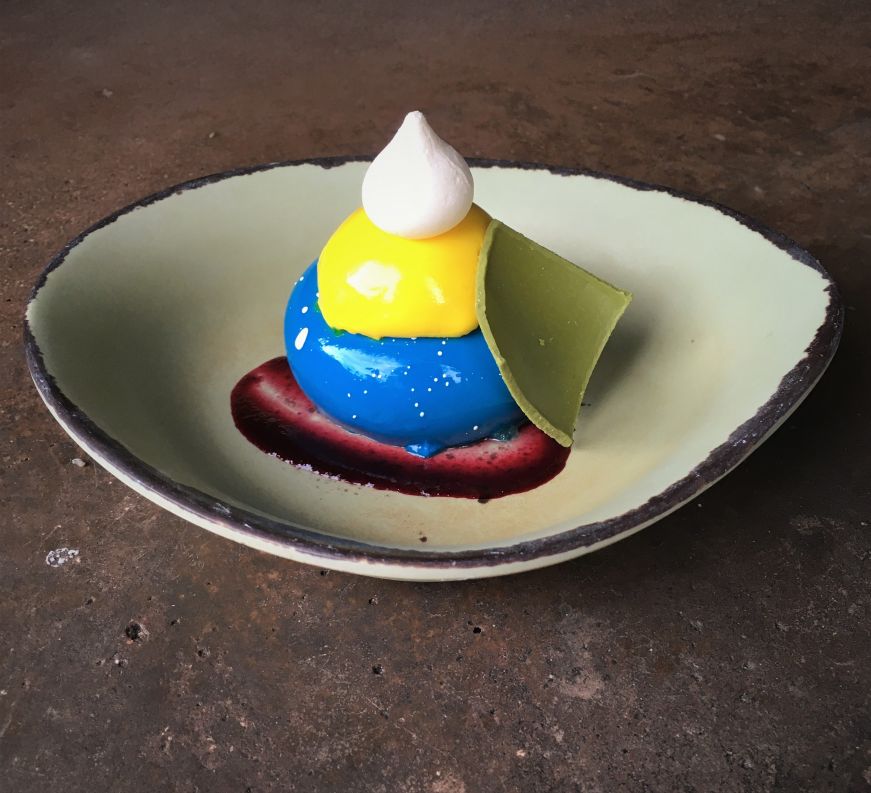 Animal Kingdom: Satu'li Canteen, Pandora
Animal Kingdom's Pandora land is truly awe-inspiring.  Modeled after the planet from the 2009 movie Avatar, it's a lush space complete with gravity-defying floating islands.  After dark, the pathways and plants glow, bioluminescent-style.  Satu'li Canteen is meant to look like a former RDA mess hall that has been transformed by the Na'vi into a nature-inspired eatery with otherworldly food (I recommend watching or rewatching Avatar before your visit—everything will make so much more sense.)
The menu consists of build-your-own bowls: pick a base, a protein (beef, chicken, shrimp, or tofu), and a sauce.  This format makes Satu'li Canteen an especially good option for those with special dietary needs or allergies.  I enjoyed my vegetable-packed tofu bowl (I opted for the "hearty salad" base), and the boba pearl garnish is a fun touch.
For dessert, I ordered the brightly-hued blueberry cream cheese mousse.  The vibrant flavors matched its colorful appearance—it's topped with a tart passionfruit curd, tiny meringue dollop, and matcha white chocolate garnish.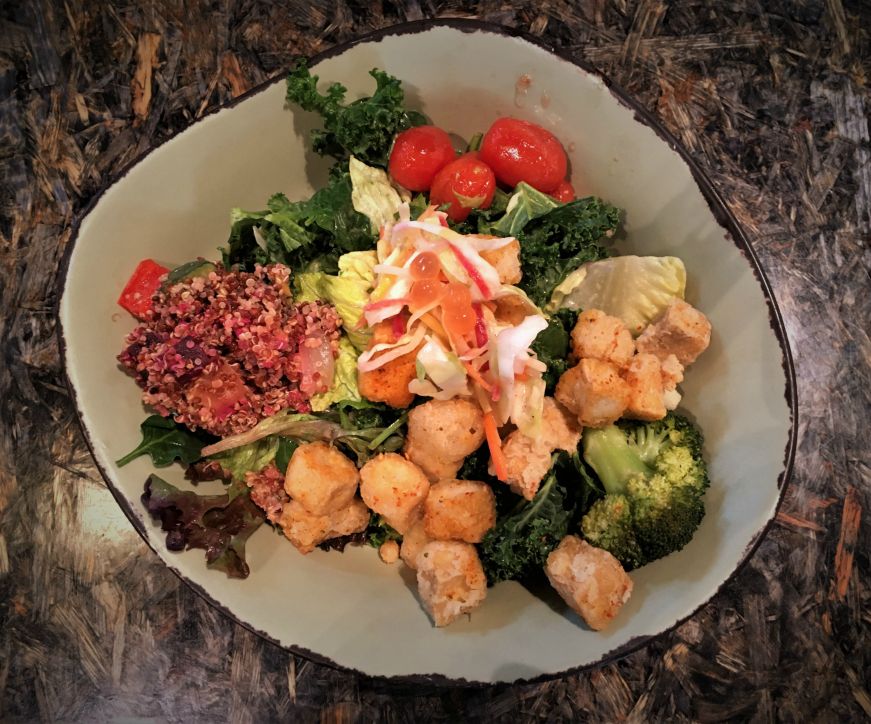 Runner up: I think that the Africa land at Animal Kingdom doesn't get enough credit for its theming—evoking an east African port town, the attention to detail is incredible, from the faded posters on the buildings to the line of laundry drying on a rooftop.  The best place to slow down and appreciate the setting is at Harambe Market, an open-air plaza with vendors selling salads, rice bowls, and beverages.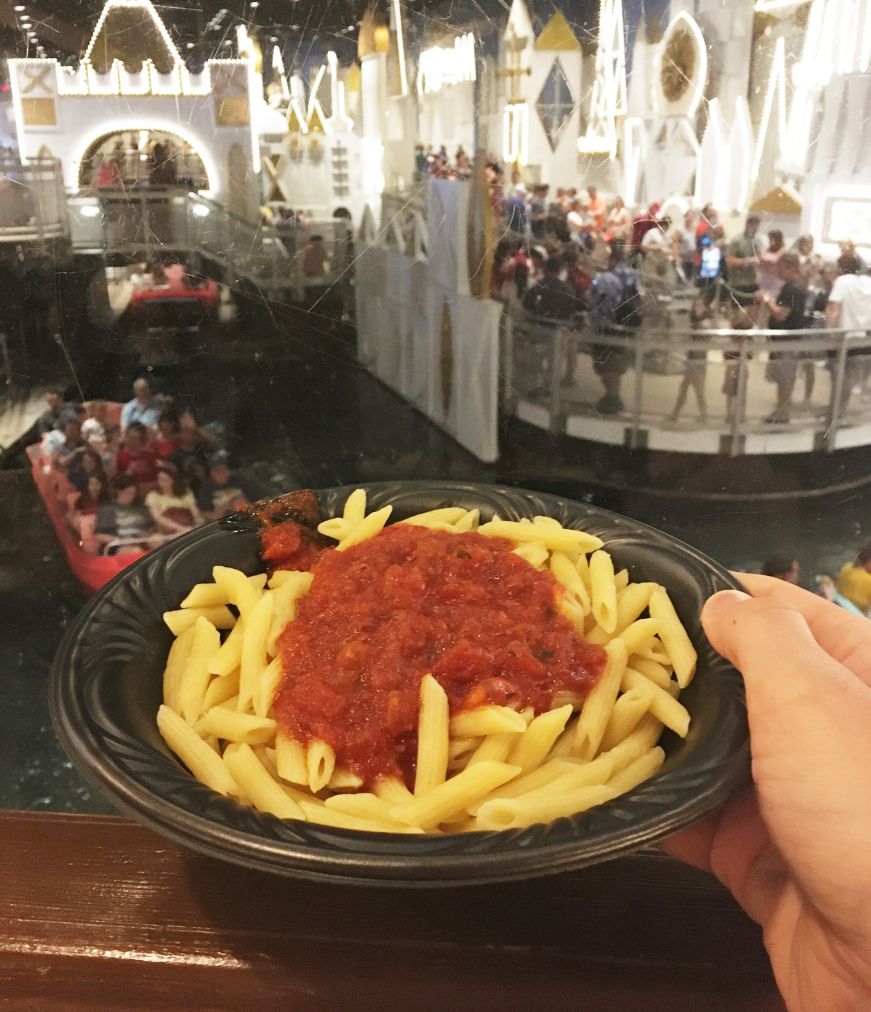 Magic Kingdom
While the Magic Kingdom is one of my favorite parks to visit, it's my least favorite place to eat—the lineup of budget-friendly cuisine skews classically American, with pretty uninspiring plant-based options (think veggie burgers and cheese pizza).  However, if you do need a meal in the Magic Kingdom, here are my favorite themed picks.
Mike and I have a soft spot for Cosmic Ray's Starlight Cafe in Tomorrowland.  While the menu isn't anything special—a standard lineup of burgers, hot dogs, and chicken strips—it has a retro-space vibe that we enjoy, including an Animatronic alien that plays the piano and cracks jokes.  They have some vegetarian and vegan options, like a Greek salad and plant-based burger.
Pinocchio Village Haus in Fantasyland serves flatbreads, salads, and chicken strips in a vaguely tavern-style space inspired by the classic film.  For me, it's worth visiting for the seating area off to the side, which overlooks the boarding area for my favorite (albeit deeply problematic) ride, It's A Small World.
If you enjoyed this post, pin it!