The photos in this post were taken pre-pandemic and may not reflect Disney World's current health and safety measures.
A leafy courtyard, complete with Timon and Pumba crossing a giant log.  Giant seagulls perched atop a building, chanting "Mine! Mine! Mine!" at passersby.  A kiddie pool decked out with huge coral structures and a swooping stingray.  Disney's Art of Animation Resort is like stepping into a Disney or Pixar animated movie—obviously, it's a great base for your Disney World vacation if you're a kid.
However, on a visit to Disney World in early 2020, Mike and I discovered that the Art of Animation is an excellent resort for grownups, too.  Here's why.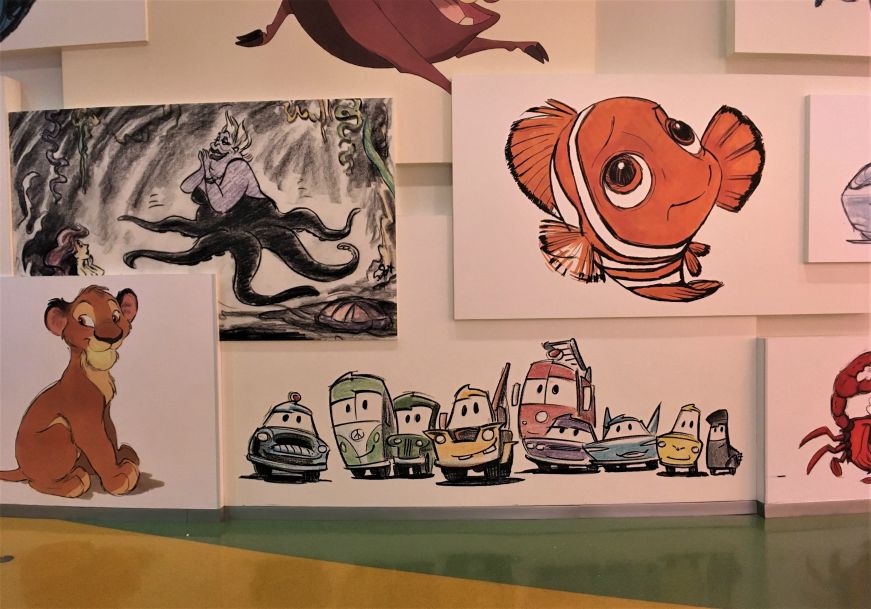 1. The theming is fun for all ages.
I'm going to assume that if you're at Disney World, you have some affinity for Disney movies (even Mike, noted Disney curmudgeon, likes The Lion King).  The Art of Animation Resort has buildings and pools with theming based on The Little Mermaid, The Lion King, Finding Nemo, and Cars—expect buildings decorated with giant black-and-white animation cells and larger-than-life statues of animated characters like Ariel and Simba.
The Finding Nemo-themed Big Blue Pool is geared towards kids, but the colorful reef-inspired decor made it a fun hangout for these two thirty-somethings.  It's worth spending some time in the hotel lobby, which features floor-to-ceiling artwork.  The animation theme even carries over to the cafeteria offerings, with items like mermaid tail cupcakes.
In my opinion, the highlight of the resort is the Cars area, which is the most immersive—there's a "Welcome to Radiator Springs" billboard at the entrance and the various buildings feature facades from the movie, like the Wheel Well Motel.  All of the characters are represented with life-sized statues (the blue-eyed Doc Hudson/Paul Newman car made me smile every time I walked by).  The pool area is inspired by the Cozy Cone Motel, complete with a neon sign and cone-shaped pool cabanas.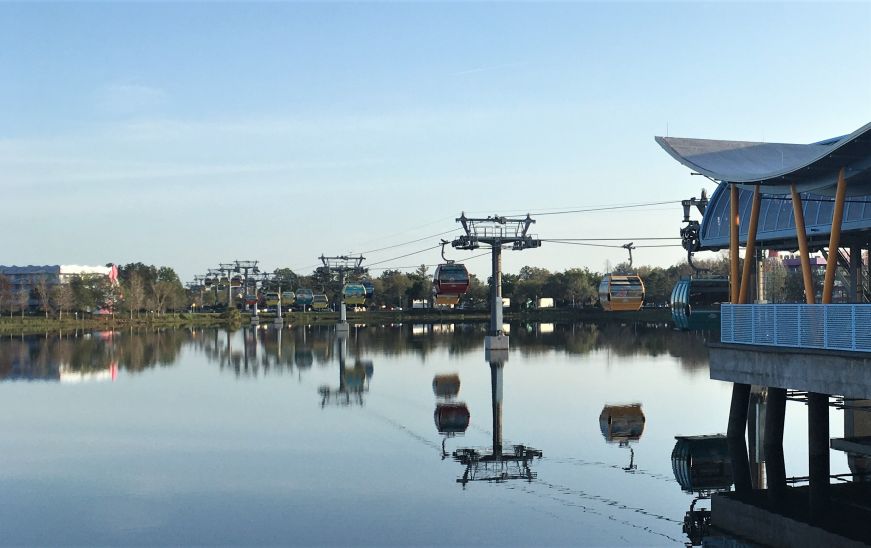 2. It's connected to the Skyliner—Disney World's best transportation option.
The main benefit of staying on-property at Disney World is the mass transit system, which connects the resorts to the theme parks and Disney Springs (a shopping and entertainment area).  Depending on your resort, you have access to buses, a monorail, boats, and the Skyliner, a gondola with enclosed cabins. 
Hands-down, the Skyliner is Disney's most efficient transportation option—it runs continuously, so you rarely have to wait to board, and you don't have to deal with traffic.  Many of the cabins are decorated with characters from Disney movies or park attractions, and spotting the various themes was constant source of entertainment for me.
Only a handful of resorts are connected to the Skyliner: the Art of Animation, Pop Century, Caribbean Beach, and Riviera.  From those resorts, you can use the Skyliner to get to Hollywood Studios and Epcot.  Usually, it took us about 15 minutes to get to Hollywood Studios and about 20 minutes to get to Epcot—considering that Disney buses run about every 20 minutes, this was a huge time savings. (Mike whenever we had to ride a bus: "They really need to put a Skyliner here!")
3. There's a decent pool bar.
This is how Mike and I do Disney: we wake up early to hit park open and spend the next several hours getting in as many rides and shows as possible.  By about 2:00 or 3:00 p.m., we're tired, cranky, and drained from being bombarded by visual stimulation, noise, crowds, and Disney magic.  At this point, we head back to our hotel, lay by the pool and drink for an hour or two, and then head to another theme park until park close.  (This does not make for a relaxing vacation, but that's not the point of Disney World.)
Key to this scheme is good pool bar.  We're not expecting bargain prices or craft cocktails, but we do like to have a variety of beverages to choose from, with an alcohol content that will make us feel like our $15 per drink was sort of well spent.
The Drop Off Pool Bar at the Art of Animation fits the bill.  There's a long list of cocktails, ranging from boozy slushies to a stiff "Poolside Iced Tea".  The menu also includes wine, beer, hard seltzer, and non-alcoholic beverages like smoothies and lemonade.  The Drop Off is adjacent to the Finding Nemo Big Blue Pool, but if you want a quieter, Cars-themed atmosphere, you're welcome to take your drinks to the Cozy Cone pool area—that's what we did a couple of times.
4. The rooms are budget-friendly (for Disney).
Disney World is expensive, and the on-property resorts are no exception.  They're grouped into three categories: value resorts feature simple rooms that run $150-$250 per night; moderate resorts have larger, more upscale rooms for about $275-$350 per night; and deluxe resorts cost $500-$850 per night, featuring large rooms on elaborately-themed grounds.  The Art of Animation is a classified as a value resort, with standard Little Mermaid rooms that cost about $250 per night.
Personally, I don't see the appeal of spending more than that on my Disney accommodations.  My main motivation for staying on property is to cut down on my transit time to the parks and take advantage of the free transportation options, which are available at all of the resorts.  Disney has high standards for all of their properties—including value resorts—so the rooms at the Art of Animation are sparkling clean, the service is excellent, and ongoing refurbishment efforts mean that everything always looks brand-new.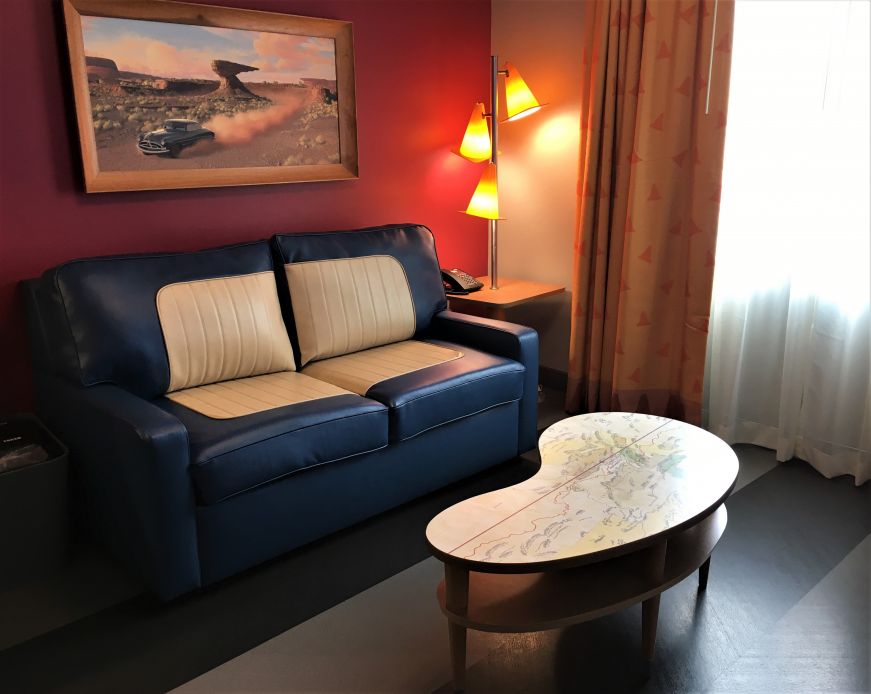 5. The family suites work well for couples, too.
In one of the best breaks of our travel career, Mike and I got a free upgrade to a Cars family suite, which typically ring up at over $500 (double the cost of the Little Mermaid standard room we paid for).  As a dedicated Cars fan, I loved the retro-inspired decor.  However, we both appreciated the extra space—two full bathrooms made getting ready in the morning even easier than at home, and there was a comfortable couch with a coffee table.  Most importantly, the two-room layout meant that I could sleep on the double-size table bed (it pulled out from the wall, Murphy bed-style) when I was dealing with insomnia and needed to listen to a podcast to fall back asleep. 
Art of Animation family suites come with a hefty price tag, but if you have the money, they might fit your needs better than an equivalently-priced room at a deluxe hotel.
If you enjoyed this post, pin it!