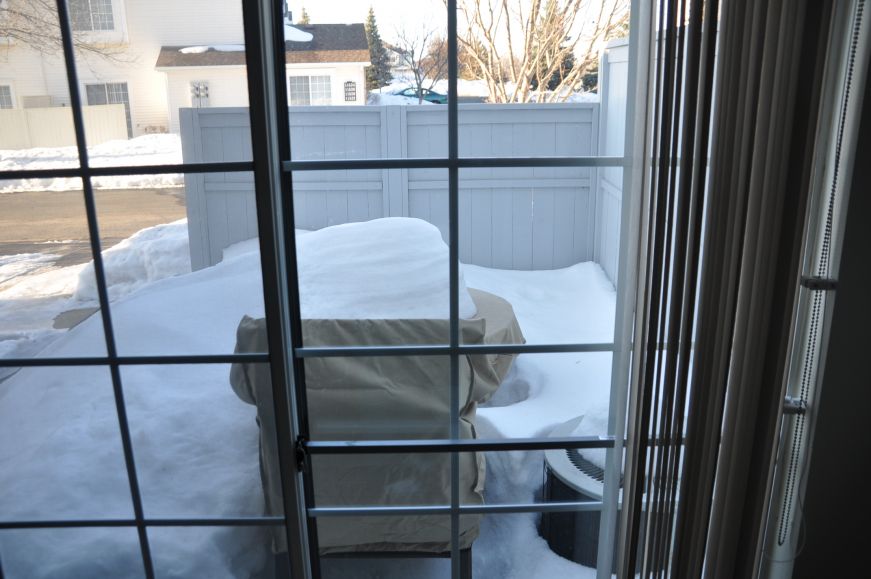 As promised, I have been coping with the (hopefully) waning days of winter by gleefully watching the snow melt and eating lots of soup.  In fact, the last three recipes I've posted were for soups: Black Bean Soup with Cilantro and Lime, Lablabi, and Hot-Sweet-Sour Soup with Tofu and Pineapple.  We actually made soup yet again for dinner last night, but since I've already given you my recipe Slow Cooker Minestrone, I'm writing about the cauliflower we had as a side dish.
Admittedly, cauliflower is one of my least favorite vegetables.  Prior to last night's dinner, I had cooked it exactly twice.  Cauliflower attempt #1 was a mash that was supposed to be a delicious and more healthful alternative to garlic mashed potatoes, but in reality ended up being a mess of vaguely garlicky cauliflower with a strange, soggy texture.  Cauliflower attempt #2 was a curried cauliflower soup that made me violently ill.  Although the cauliflower wasn't to blame (I subsequently discovered that I have a highly unpleasant reaction to fenugreek), the experience didn't really give me fond feelings towards the vegetable.
But something about this recipe for Cheese Crusted Roasted Cauliflower, from Mollie Katzen's The Heart of the Plate, made me want to give cauliflower another try.  I think it was the photograph, of cauliflower encrusted with browned, crispy Parmesan cheese.  The crispy cheese reminded me of flatbreads, which reminded me of patio happy hours, which reminded me of summer, and I found myself wheedling Mike into trying a new cauliflower recipe.  "Well," he said, looking at the photograph and failing to find nearly as captivating as I did, "it probably won't taste very good, but it will be good for me."
Despite Mike's prediction, cauliflower attempt #3 was a smashing success (direct quote from Mike accompanied by a high-five: "Props for taking another nasty vegetable and making it taste good").  The browned cheese was nice, but the real star of the dish was the roasted cauliflower, with an intriguing textural combination of softened stems and dry, almost crispy florets, and more flavor than I thought it was possible to extract from cauliflower.  The onions were roasted to sweet, juicy perfection, complementing the saltiness of the cheese and the crispness of the cauliflower florets.  Theoretically, this should serve four as a side dish, but I found that it only served two (I ate three-quarters of the batch).
Adapted from The Heart of the Plate by Mollie Katzen
Ingredients:
1 tablespoon olive oil
1 head of cauliflower, cored and cut into bite sized florets
2 cups minced onions
1/4 cup shredded Parmesan cheese
1/4 teaspoon salt
pepper, to taste
Preheat oven to 400 degrees Fahrenheit.
Line a baking sheet with parchment paper.  Drizzle the olive oil over the parchment paper and spread it evenly with a cauliflower floret.  Place the cauliflower on the baking sheet and sprinkle with onions.
Roast for 10 minutes, or until cauliflower florets on the edges are beginning to turn golden.  Remove from oven and gently shake pan to loosen cauliflower.  Return to oven and roast for an additional 10 minutes, or until all of the cauliflower has turned golden.
Remove from oven and push the cauliflower and onions as close together as possible in a single layer.  Sprinkle with cheese.  Return to oven and roast for 15 minutes, or until the cheese has turned light brown.  Toss with salt and pepper.