Even though I've had this recipe set up for blogging for a couple weeks now, I've hesitated to post it.  Slow cooker chili seems like more of a winter recipe, something hearty for a January day, something to warm your stomach while your feet are tucked into shearling slippers and you watch snow gently fall on your patio.  But the snow finally disappeared from  our patio early this month, after Mike shoveled the last clump onto our sunny yard so that it could melt more efficiently.  I washed our heavy winter coats and put them away for the season (in Minnesota, you need at least two winter coats, a regular one and then an industrial strength one for days with a -30 degree windchill).  We spent April 9th--our first 70 degree day!--at Target Field, getting ever-so-subtle suntans through our SPF 55.  I switched from running on my treadmill to running in the park.  Spring had finally arrived, and I couldn't be happier.
I should have known better.  April in Minnesota can always be relied upon for at least one major snow event (last year, we had three).  It doesn't matter if all the snow has melted, or the birds are singing, or it's Easter.  Mother Nature will wallop you every time.  "The snow is gone for good," I gleefully thought to myself as I gazed at the snow-free patio last week, with I what imagine is the same sort of delusional optimism that Cubs fans use to tell themselves that this will be the year their team wins the World Series.  Instead, I woke up on April 17 to a patio that looked like this.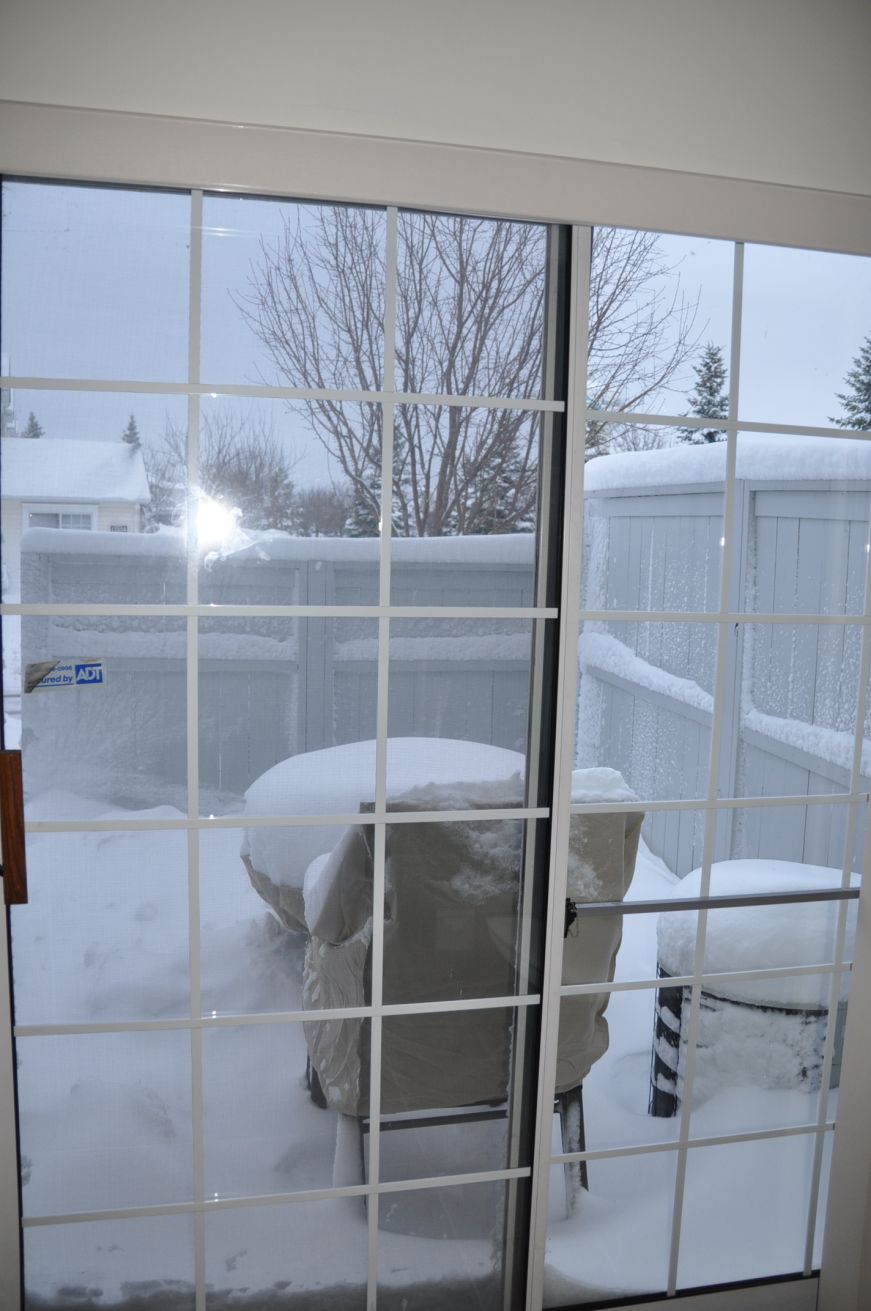 On the bright side, we came home from a weekend trip yesterday to find that six inches of snow is no match for a sunny 77 degree Easter Sunday.  Since the rest of week will feature rain and more typical April temperatures, I think a chipotle chili with chocolate blog post would be appropriate.  But I've checked the long range forecast and I'm pretty sure that this round of optimism is non-delusional: this time the snow is gone for good.
I've spent this past winter testing out different vegetarian slow cooker chilis, since it seemed like a good idea to have one in my recipe arsenal.  This is the one I came back to as the winner.  Although you can't taste the chocolate itself in the finished dish, it does accentuate the spiciness of the chili powder.  Be sure to include the chipotle chili powder--the half teaspoon adds a flavorful spiciness that made this the winning vegetarian chili recipe.
Adapted from Crock-Pot Vegetarian Recipes
Serves 4-5
Ingredients:
2 tablespoons olive oil
1 cup chopped onion
1 green bell pepper, chopped
1 red bell pepper, chopped
1 cup frozen corn
28-ounce can diced tomatoes
15-ounce can black beans, rinsed and drained
15-ounce can pinto beans, rinsed and drained
1 tablespoon chili powder
1 teaspoon cumin
1/2 teaspoon chipotle chili powder
1 ounce semi-sweet chocolate, finely chopped
sour cream to garnish, if desired
Heat large skillet over medium-high heat.  Add oil and tilt to coat.  Add onion and bell peppers and cook until onion has started to soften, about 4 minutes.  Add corn and cook until corn is cooked and onion is completely softened, about 3 minutes.  Add mixture to slow cooker.
Add tomatoes, beans, chili powder, cumin, and chipotle chili powder to slow cooker and mix well.  Cover and cook on low for 6 to 7 hours.  Add chocolate to slow cooker and stir until melted.  Serve garnished with sour cream, if desired.