Thank you to the Amana Colonies Convention & Visitors Bureau for hosting my stay in the Amana Colonies.  As always, all content and opinions are my own.
A street lined with small shops, each decorated with fresh pine boughs and Christmas wreaths.  Dozens of Christmas trees.  Twinkling luminaries along the sidewalks.  It sounds like an illustration from the front of a Christmas card, or maybe the opening scene of a Hallmark Channel holiday movie.  But actually, I'm in Iowa's Amana Colonies.
The Amana Colonies are seven villages located in eastern Iowa, about a four and half hour drive from Minneapolis.  Many of the brick, stone, and clapboard buildings date to the 1800s, and the area has been declared a National Historic Landmark.  While the main tourist season is April through October, the Amana Colonies are also a perfect destination during the holiday season—and I recently got the chance to check out the idyllic Christmas setting.
First things first: the Amana Colonies have nothing to do with the Amish.  Instead, the Amana Colonies were founded in 1855 by the Inspirationists, a Protestant religious community that originated in the early 1700s in Germany.  Until 1932, the inhabitants of the Amana Colonies lived a communal lifestyle.  Shops, mills, houses, and farmland were owned by the community as a whole instead of individually, and meals were served in over 50 communal kitchens. 
The communal way of life was abandoned in 1932 due to economic pressures and societal changes, and the Amana Society, a profit-sharing corporation, was established.  Today, the Amana Society farms the surrounding land and operates several local businesses, including the Amana Woolen Mill, Amana General Store, and the Amana Meat Shop and Smokehouse.
Wondering what the Christmas season is like in the Amana Colonies?  Here's my handy guide with tips for sightseeing, dining, shopping, and more.  All of the attractions and businesses mentioned are located in the main village of Amana unless otherwise noted.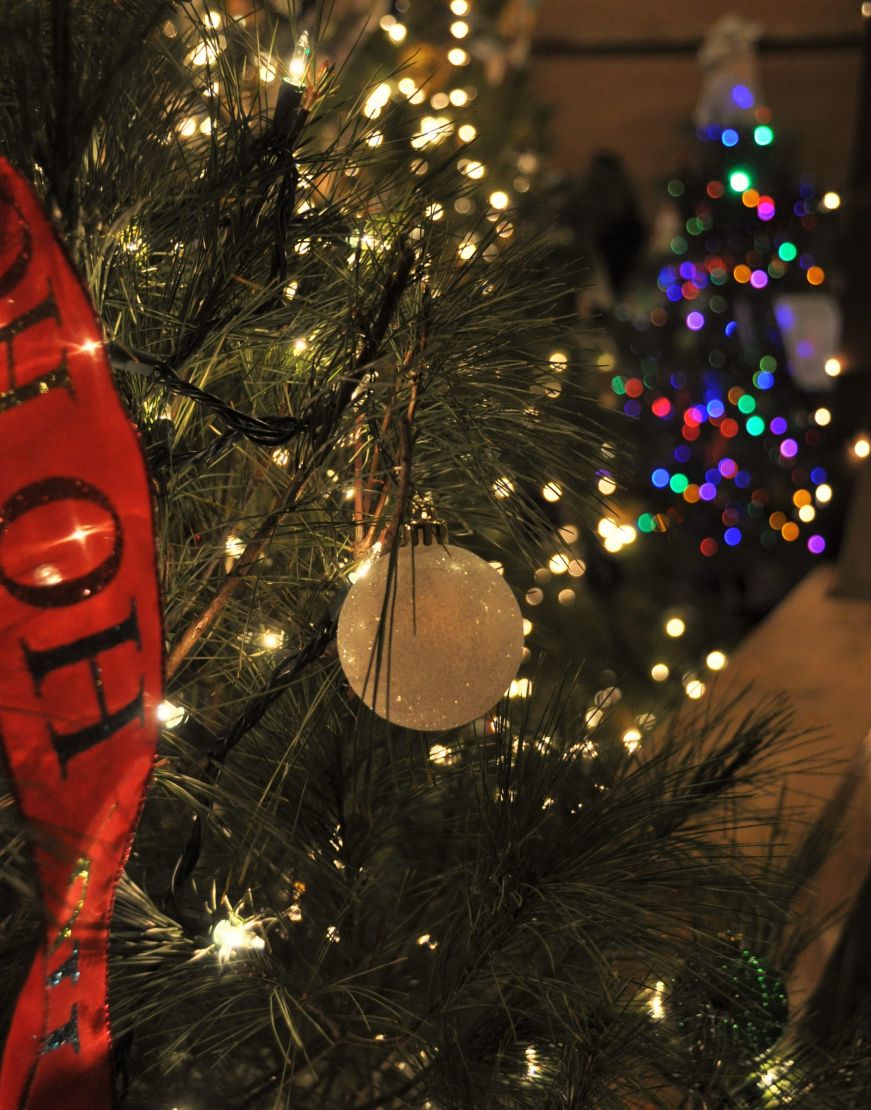 Tannenbaum Forest is the headliner attraction during the holiday season: the Festhalle Barn (a former dairy barn) is decorated with nearly 50 real Christmas trees and a three-story German Christmas pyramid.  Each tree is decorated by a local business or organization, and many of them are quite clever (the Amana Meat Shop and Smokehouse used a chain of sausages as a garland).  Santa and reindeer make scheduled appearances, and there's hot cocoa and coffee for sale to sip as you admire the decorations.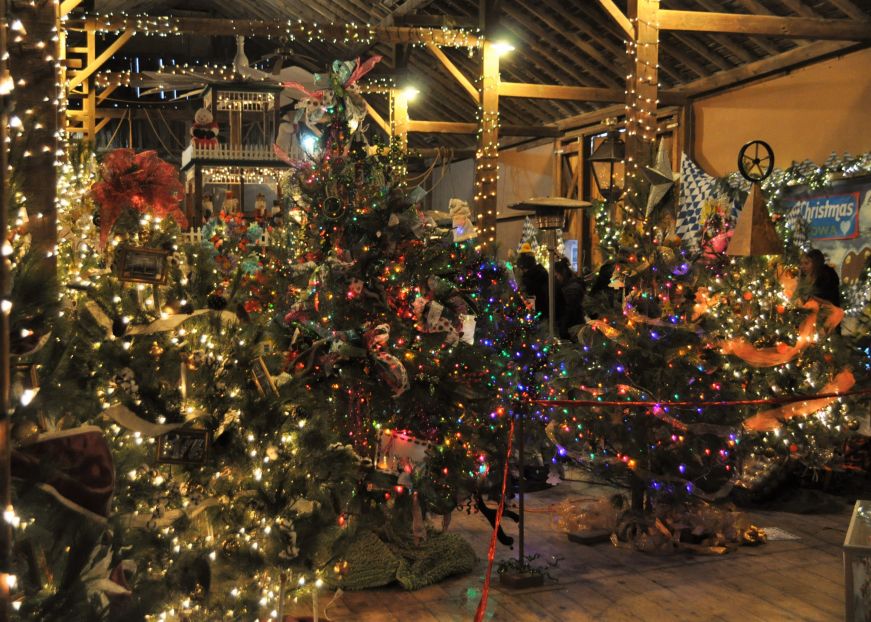 Admission to Tannenbaum Forest is free of charge, with a recommended $3 donation to support the University of Iowa Stead Children's Hospital.  Lines were long on the day I visited due to Santa and the reindeer—if you're not interested in those aspects, try stopping by before they arrive.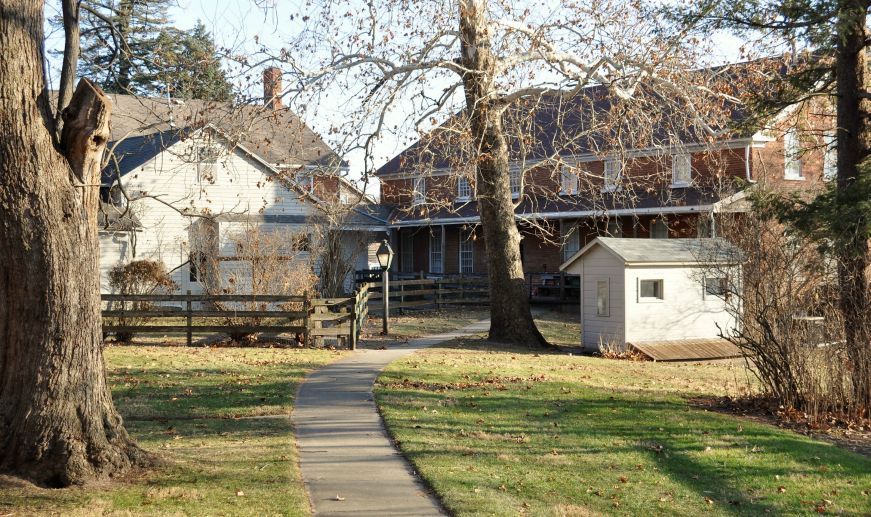 During the Christmas seasons, the Amana Heritage Museum offers a holiday-themed exhibit—when I visited it was about classic toys and included a truly incredible collection of vintage Barbies.  The regular exhibits cover the Inspirationists' origins in Germany, settlement in Iowa, daily life in the communal era, worship, and the Amana Society.
Admission to the Amana Heritage Museum is $7 for adults and free for children under 18.  I highly recommend visiting early in your stay; having some background information will make your experience in the Amana Colonies so much richer.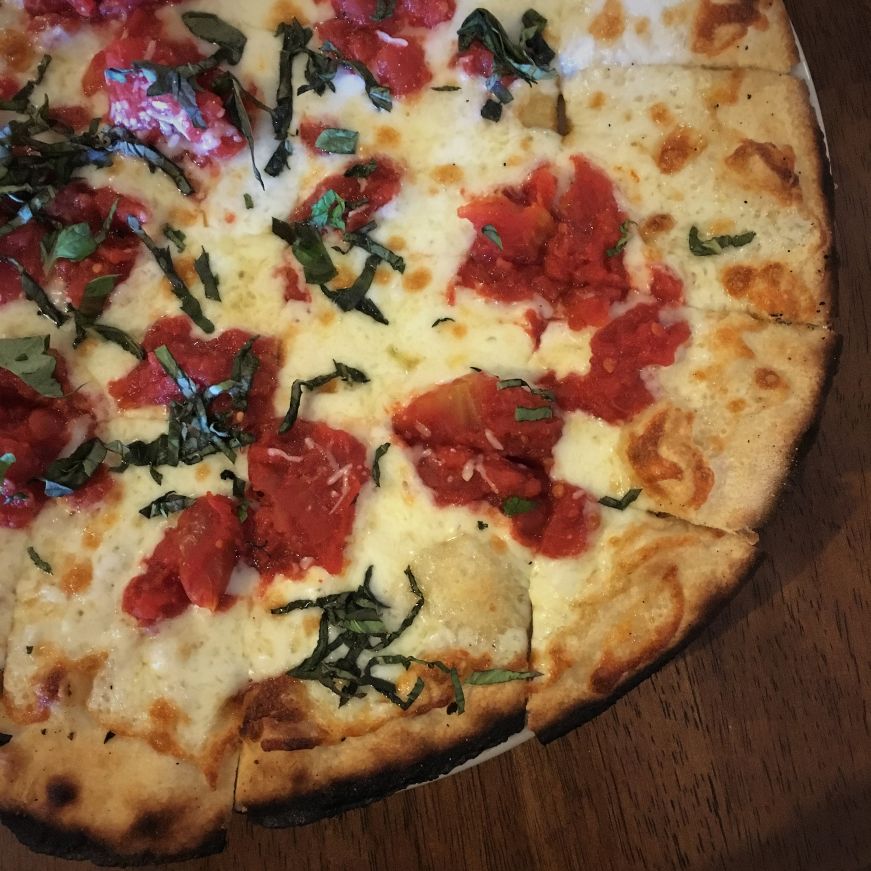 Dining
There are four restaurants in Amana, and I tried each of them during my weekend visit.
P.H.A.T. Daddy's is a counter-service cafe that serves wood-fired pizza, sandwiches, and soups.  There's also a small salad bar.  I enjoyed a margherita pizza topped with lots of mozzarella, canned tomatoes, and fresh basil.  The crust was very thin and nicely charred, and pizzas are big enough to make a light meal for two.  Of all of the restaurants, P.H.A.T. Daddy's has the most variety for vegetarians: meatless pizzas, grilled cheese sandwiches, tomato soup, and macaroni and cheese.
Ox Yoke Inn has been in business since 1940 and is located in a historic building that dates to 1856.  The menu includes homestyle American fare and several German dishes: think fried chicken, roast beef, ham, and chicken schnitzel.  There are a handful of fish options for pescatarians, and one vegetarian pasta dish.  You can either order entrees family-style, which includes several bowls of refillable sides to be shared by the table, or plated, where the sides are served individually on your plate and aren't refillable.
I ordered the plated whole fresh catfish, which is breaded with the same seasoning as the restaurant's signature fried chicken.  I'm honestly not a fan of catfish, but I really enjoyed this preparation—the fish was moist on the inside, the batter was crisped to perfection, and the seasoning complimented the fish very well.  My favorite side was the pan-fried potatoes with gravy, and the housemade strawberry jam was a nice touch.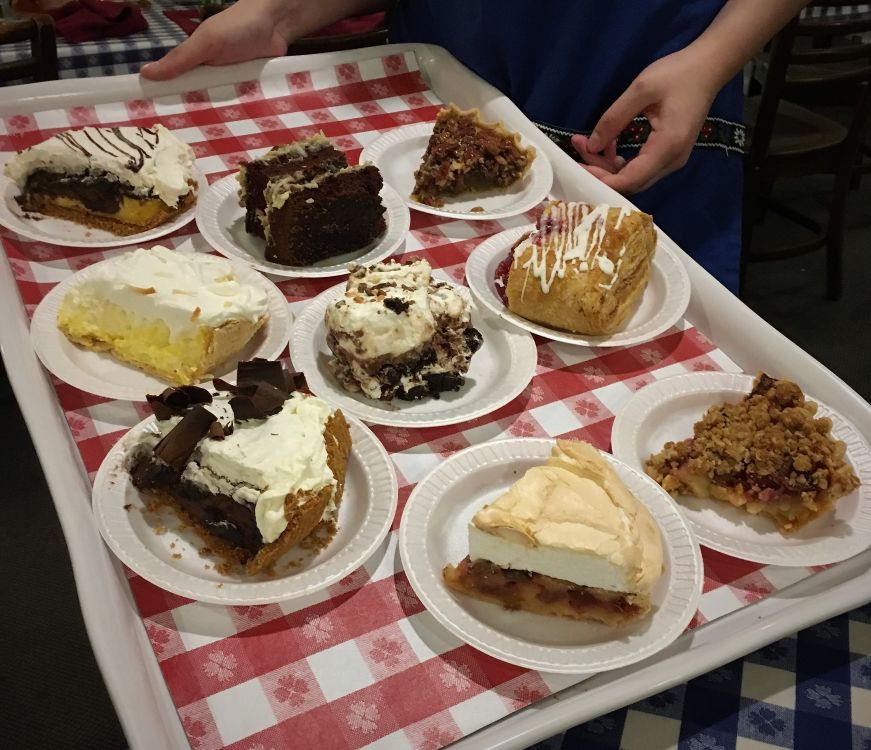 Save room for dessert—the dessert tray includes several varieties of pie, German chocolate cake, strudel, and a chocolate ice cream dessert.  I recommend the chocolate cream pie: rich but not too sweet, with a thick graham cracker crust.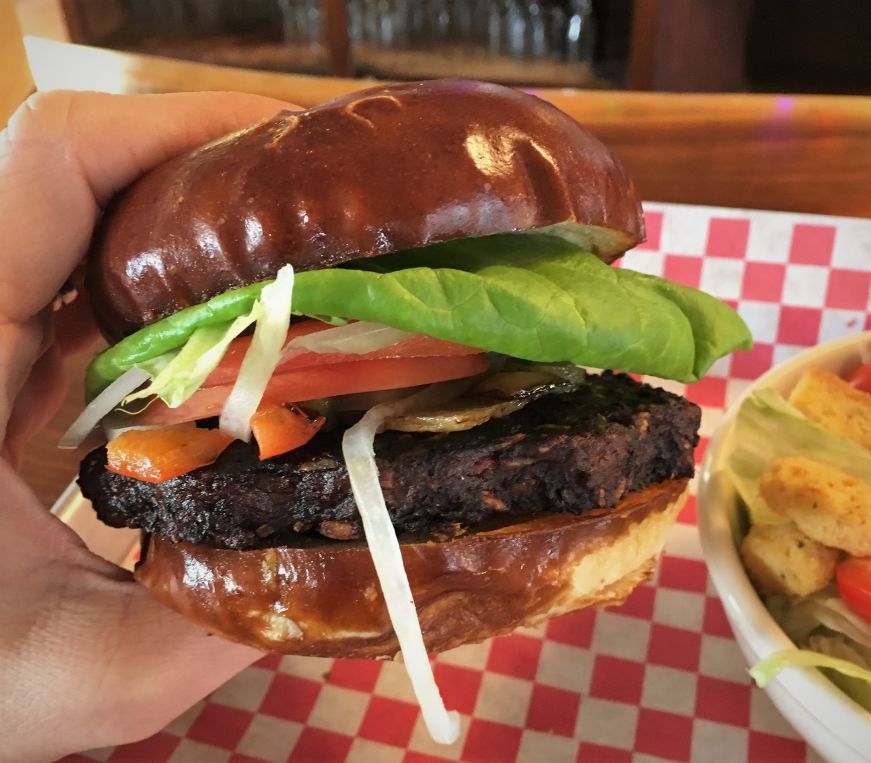 Millstream Brau House has a beer hall-style atmosphere, with locally made Millstream Brewing Company beers on tap and a menu of burgers, sandwiches, and a handful of German-inspired items.  I ordered the black bean chipotle veggie burger, which was served on a toasted pretzel bun and came with a choice of side.  The burger was a good vegetarian option—it was well-seared and the chipotle seasoning gave it a nice kick.  I was too full for dessert, but I did enjoy a sample of a root beer float cookie made with the brewery's draft root beer.
The Ronneburg Restaurant has been serving visitors to the Amana Colonies since 1950, and the building was once a communal kitchen.  There are traditional German and American entrees like jäger schnitzel, sauerbraten, and smoked pork chops, plus sandwiches, soups, and salads.  There aren't any vegetarian entrees, but the menu does include walleye and tilapia for pescatarians.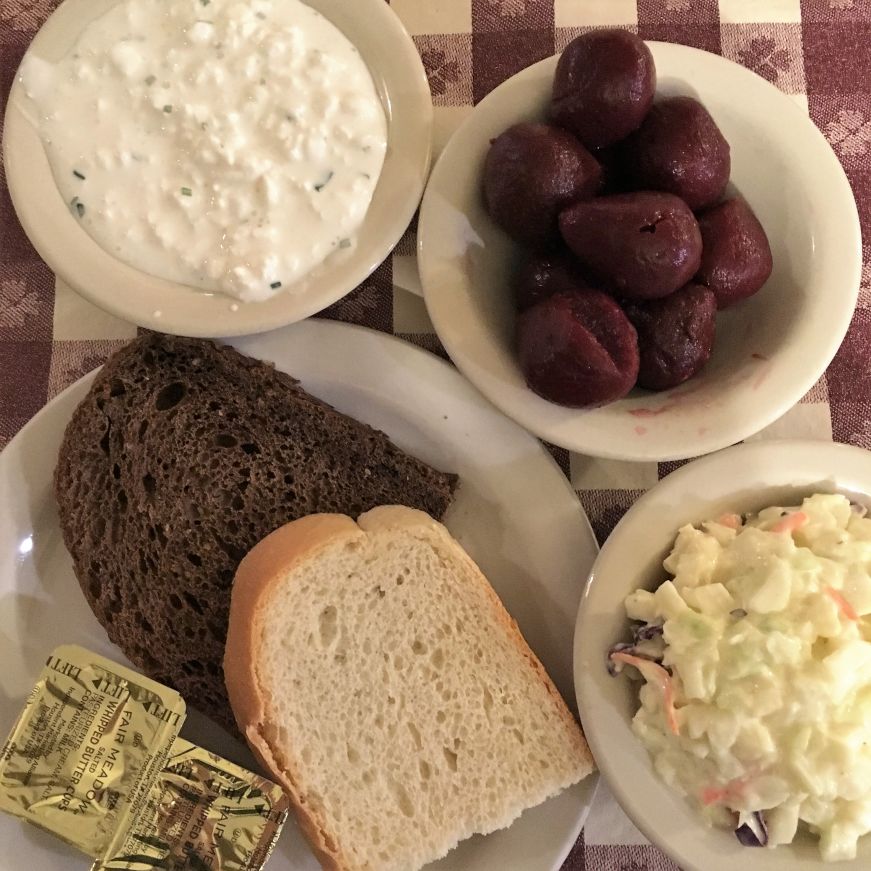 Since family-style dining is a hallmark of the Amana Colonies, I wanted to try it out—but I didn't have a big enough appetite to handle an entree and several bowls of sides.  Luckily, the Ronneburg has a "no entree family-style" option where you can just order the sides.  I appreciated that they were served in small bowls so that there wasn't too much food waste.  First, there were the cold sides: housemade bread, cottage cheese with chives, coleslaw, and pickled beets.  Then came the hot sides: steamed vegetables, sauerkraut, mashed potatoes and gravy, and stuffing. (Mashed potatoes and stuffing are served only on Sundays.  On other days, you get fried potatoes and an extra vegetable dish.)  Everything was well-prepared; I especially liked the beets, which are pickled in-house, and the mashed potatoes and gravy.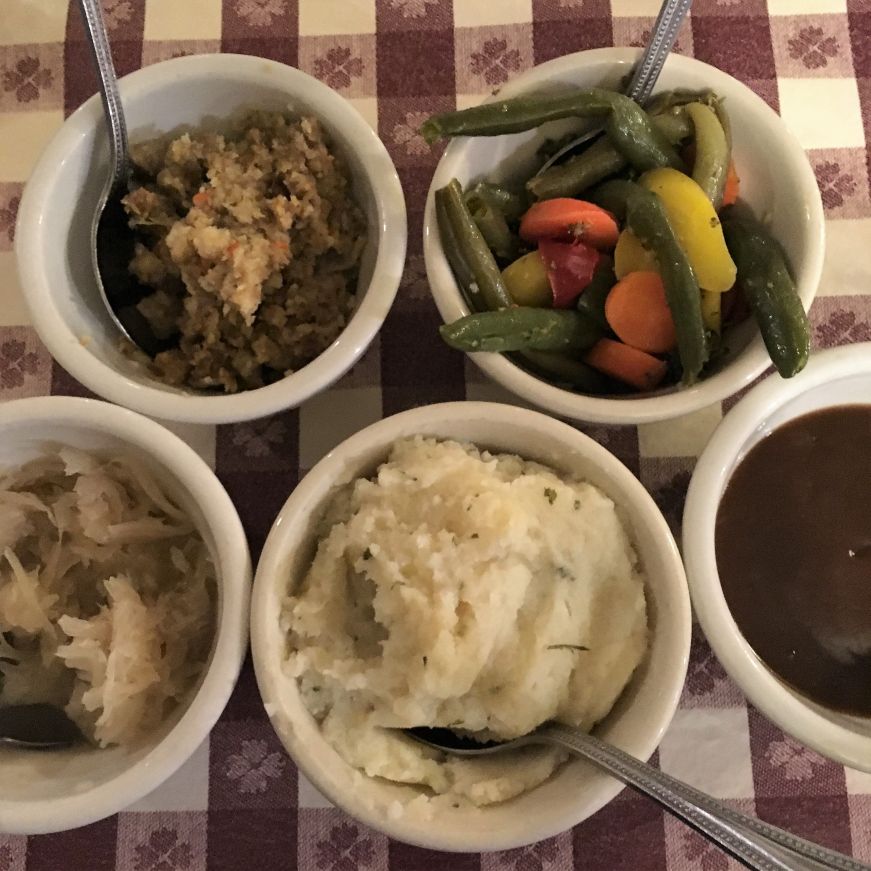 Desserts include various pies, cheesecake with caramel or chocolate sauce, and caramel pecan fudge cake.  As a chocolate lover, I opted for the caramel pecan fudge cake: a dense chocolate cake spread with a layer of caramel and then topped with pecans and pieces of toffee.  Yes, it was just as rich as it sounds and yes, it was delicious—it was like diving into a box of chocolates.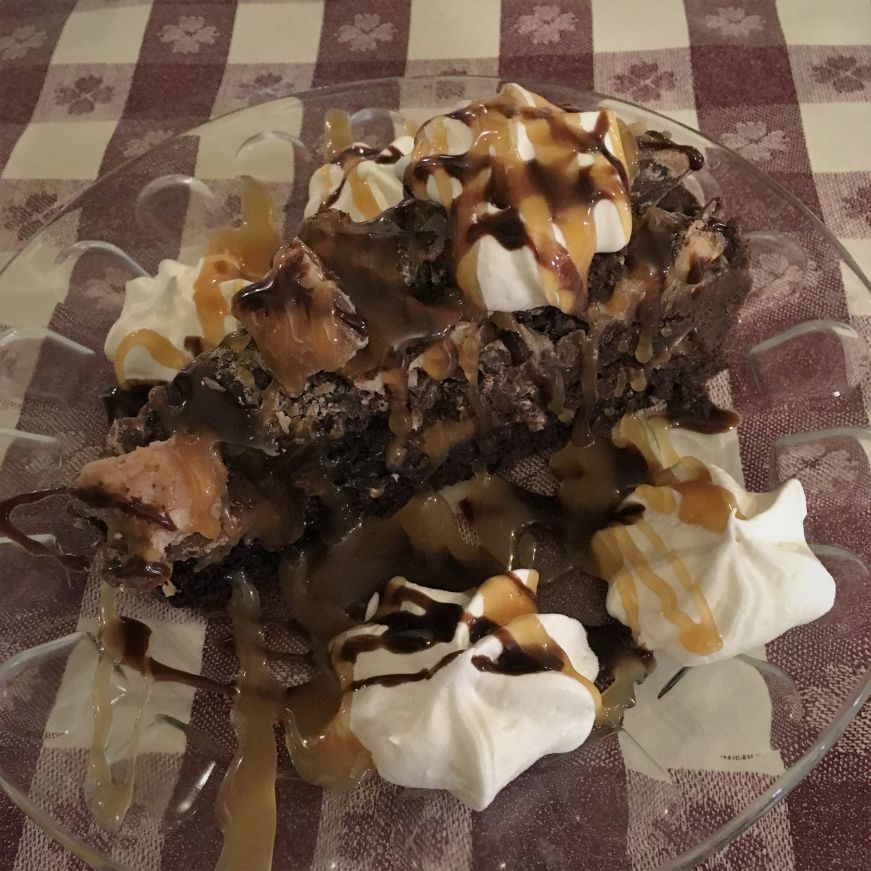 Wineries & Brewery
The Amana Colonies and the surrounding area are home to several wineries that offer tastings.  While the Colonies are best known for fruit wines, I enjoyed sampling at White Cross Cellars, whose wines combine traditional and Iowa-grown grapes—my favorite was the Ebenezer Lieblich, a crisp semi-sweet white wine.  I also sampled wines at Ackerman Winery, which specializes in fruity dessert wines (the Red Raspberry was tasty), and Fireside Winery in the Village, which produces some wines made with locally grown grapes.
Wine tastings are free—you get a sip of whichever wines you'd like to try in a tiny plastic cup.  The wineries I visited also sold cheeses, specialty food items, and gift items.
In addition to the Brau Haus mentioned above, Millstream Brewing Company operates a small taproom adjacent to their brewery.  You can get two generously-sized complimentary samples (I especially enjoyed the seasonal Schokolade Bock), and you can purchase beer by the glass to enjoy onsite or by the bottle for later.  Millstream Brewing Company also brews draft root beer and cream soda, and the taproom and Brau Haus are very kid-friendly.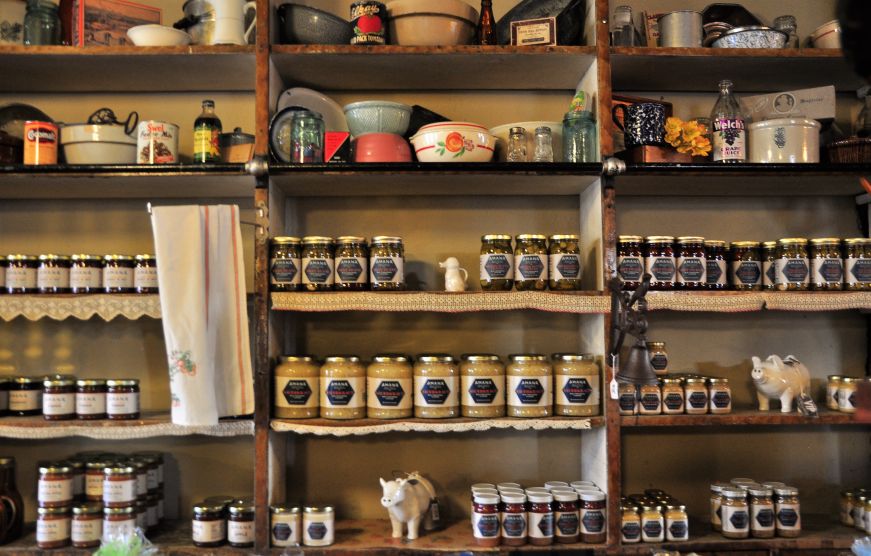 Shopping
Besides Tannenbaum Forest and the festive atmosphere, the holiday season is a great time to visit the Amana Colonies because there are so many unique holiday gifts.  The Amana Colonies are known for their handcrafted items, including furniture and woolen goods.  Keep in mind that these are heirloom-quality items that are made in the United States, so they'll be priced accordingly.
My favorite shop was the High Amana General Store, which is a five-minute drive from Amana in the village of High Amana.  It feels like stepping back in time, thanks to the original wood floors, tin ceiling, glass display cases, and vintage products lining some of the shelves.  There's a nice range of handcrafted gifts, jewelry, and decor from local makers (I picked up some Christmas ornaments, a felt pumpkin for next fall, and pretzel earrings).  The store also offers imported  German Christmas ornaments, kitchen gadgets, toys, and retro products.  
Another highlight was the Amana Meat Shop and Smokehouse—they have so much more than meat!  There's a great selection of imported German foods, preserves, bread, cheese, mustard, and even a kitchenware section. 
The Chocolate Haus makes fudge, chocolates, truffles, caramels, and other treats, and there's also a small coffee bar with espresso drinks and hot chocolate.  If you like eggnog, try one of the generously-sized eggnog truffles—they're a great combination of chocolate and nutmeg.
Catiri's Art Oasis has an eclectic assortment of paintings, prints, jewelry, and pottery by Midwestern artists. 
The Amana General Store is stocked with a huge selection of made-in-Amana items, plus gifts, decor, coffee, and tea.  The year-round Christmas section has ornaments for every style, from elegant and traditional to cute and kitschy.
I loved admiring the blankets, scarves, and this amazing purse at the Amana Woolen Mill.  There's also a nice range of smaller items, like cup cozies, makeup bags, and a remnants bin full of blanket ends that would make great scarves, place mats, or table runners.
While those shops were my personal favorites, there are plenty of others as well—here's a complete list of Amana Colonies shops.  Also, I'm not an antiques person, but if you are, the Amana Colonies would be a great destination, since there are over a dozen antique shops.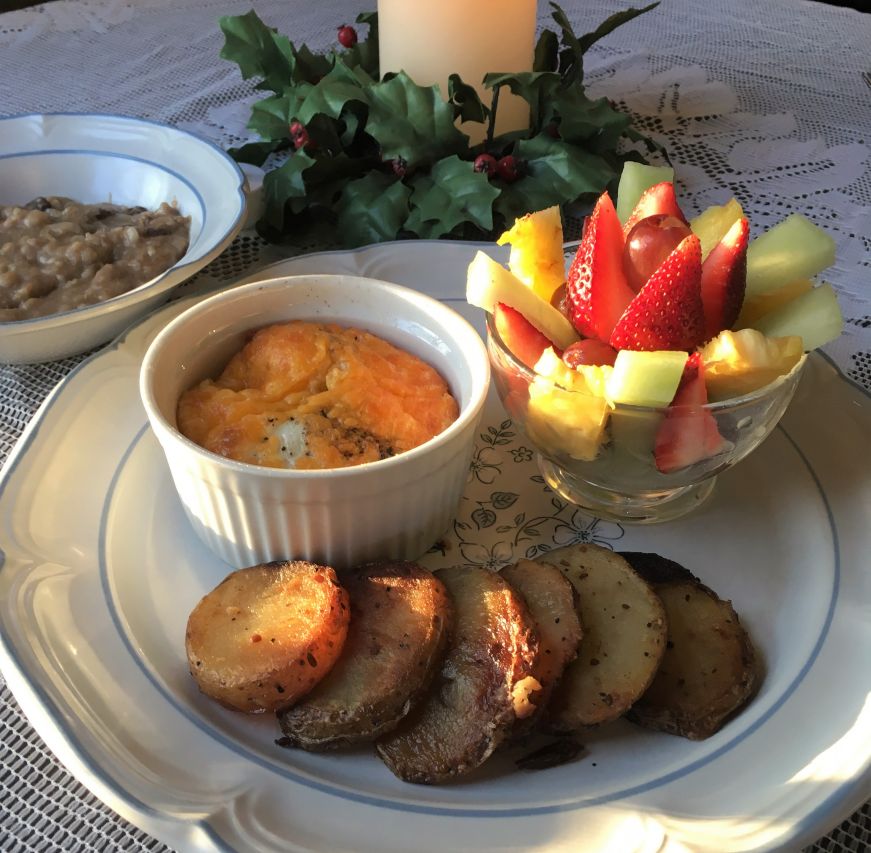 I was hosted at Die Heimat Country Inn in Homestead, a 5-minute drive from Amana.  While there are 18 rooms, it has the feel of a cozy bed and breakfast.
My room had a very comfortable queen-sized bed; there are also rooms with king-sized beds or two queens.  Marc and June were friendly and gracious hosts—at check-in, June went over a map of the Colonies and gave me some helpful recommendations, and I enjoyed chatting with Marc at breakfast about his travels.  And there were chocolates on the nightstand (it's the little touches!)
Hands down, the highlight of my stay was breakfast: on my first morning, there was a delicious spread of quiche (one was vegetarian since I mentioned that I don't eat meat), ham, hash browns, oatmeal, and fruit.  Then there was the dessert table: homemade pecan caramel rolls, bread pudding, and since a fellow guest was celebrating a milestone birthday, pecan pie.  I was the only guest on the second morning of my stay, so that breakfast was a plated meal with baked eggs, fried potatoes, fruit, oatmeal, and a cinnamon roll.
Seriously, if you stay at Die Heimat Country Inn you will not need to eat lunch.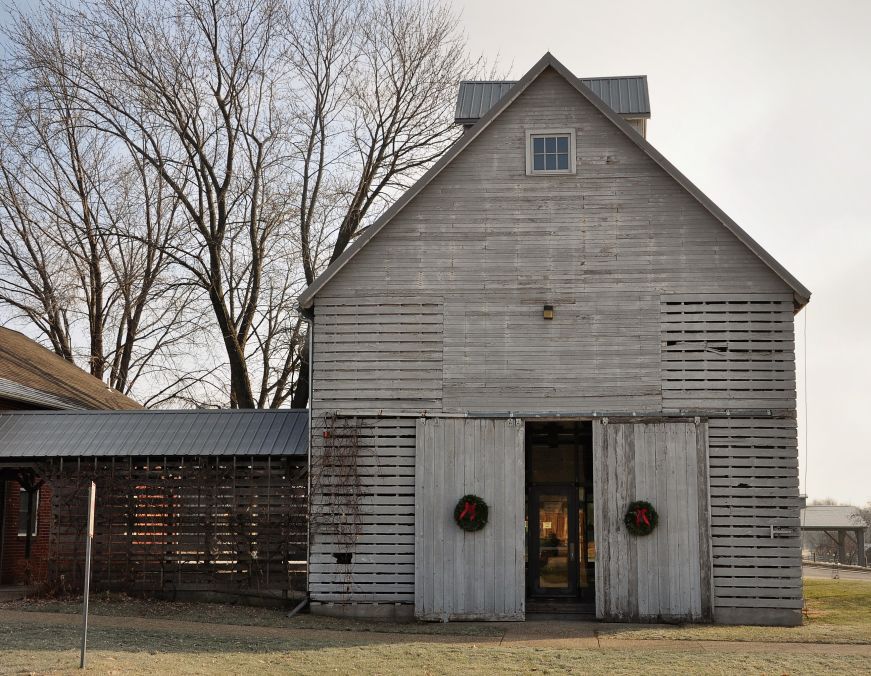 Tips for visiting the Amana Colonies during the Christmas season:
Dress warmly.  Since Amana is so small, you'll be walking everywhere.  Also keep in mind that Tannenbaum Forest is in a drafty historic barn, and temperatures inside are just as cold as outside.
Double check the hours of businesses and attractions. Some may have different hours than during the main tourist season, a few may only be open on Saturdays, and some things may be closed.  Do your research beforehand so that you won't be disappointed.  For example, I made sure to visit the Amana Heritage Museum and High Amana General Store on the first day of my stay since they were only open on Saturdays.  Unfortunately I missed out on the giant rocking chair at the Broom & Basket Shop because I didn't realize it was closed on Sunday.
Expect crowds.  As mentioned above, the Amana Colonies are small, and since some attractions and businesses are closed, people tend to cluster in the things that are open.  It's very manageable—for instance, I never had a problem finding parking—but waits at restaurants can be long if you don't have a reservation.  On Saturday evening I waited almost an hour for a table at Ox Yoke Inn.
Stop by the Amana Colonies Visitor Center.  The staff is well-versed in what's open, there's a wealth of brochures and information, and you can also learn about special events that might not otherwise be on your radar.  The Saturday I visited was the "Sweet Treat Trot", with several businesses serving complimentary treats and samples—it was fun to go around and sample the various candies, cookies, and more.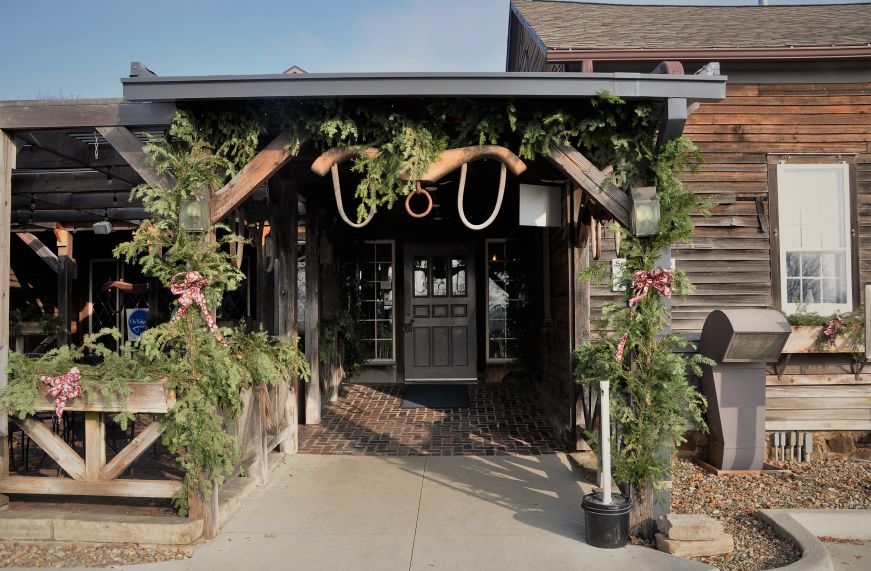 Want to plan your own trip to the Amana Colonies?  Start with the Amana Colonies Convention & Visitors Bureau for information about accommodations, dining, and attractions.
Many thanks to the Amana Colonies Convention & Visitors Bureau for providing my stay at Die Heimat Country Inn and meals at Ox Yoke Inn, Millstream Brauhaus, and The Ronneburg Restaurant .  I paid for all other expenses out-of-pocket.
If you enjoyed this post, pin it!