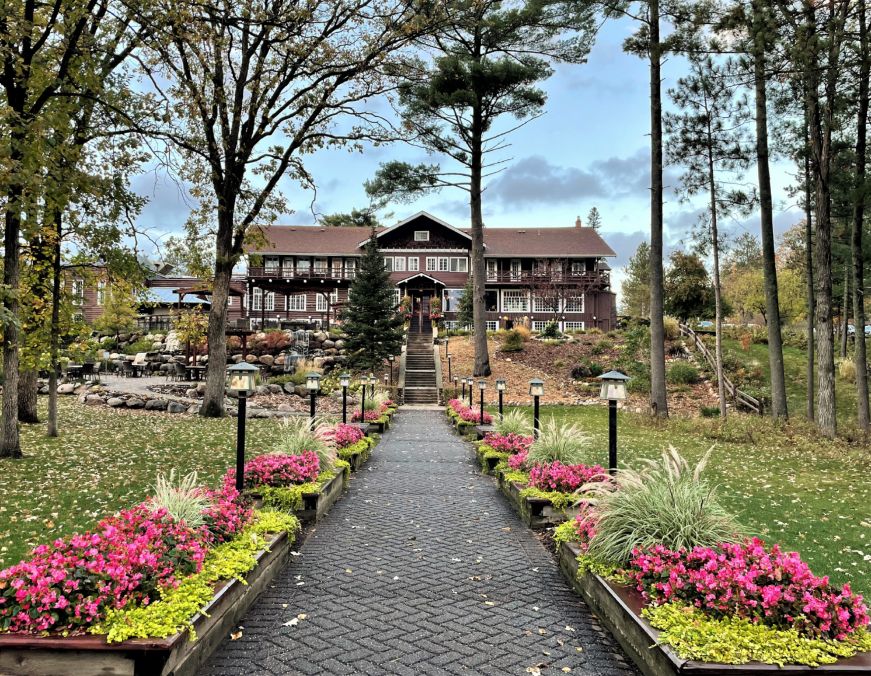 Pine forests, lake views, and a historic lodge straight out of central casting: Grand View Lodge is the quintessential Minnesota resort.  It's located in Nisswa, a small town in the Brainerd Lakes area in central Minnesota.  (People from the Twin Cities metro refer to this region as "Up North".  I was born and raised in Duluth and consider "Up North" to be the Canadian border.)  Over the past century—the resort was founded in 1916, and the lodge was built in 1921—Grand View Lodge has expanded into an upscale vacation destination, with a 27-hole golf course, dozens of luxury cabins, a boutique hotel, and a steakhouse.
Unsurprisingly, summer is peak season at Grand View Lodge—that's when guests can go kayaking and paddle boarding on Gull Lake, enjoy sand volleyball and lawn games, play a round of golf, and sip a drink on the exquisitely landscaped patio.  Winter also has its charms, with activities like ice skating, ice fishing, snowshoeing, and horse-drawn sleigh rides, and the rustic decor of the Main Lodge provides a cozy vibe.
However, we recently visited Grand View Lodge in the off-season: a mid-week stay in mid-October 2021, in honor of Mike's birthday.  With limited activities and dining options, and less-than-ideal weather, was Grand View Lodge still worth visiting in the fall?  Here's what we discovered.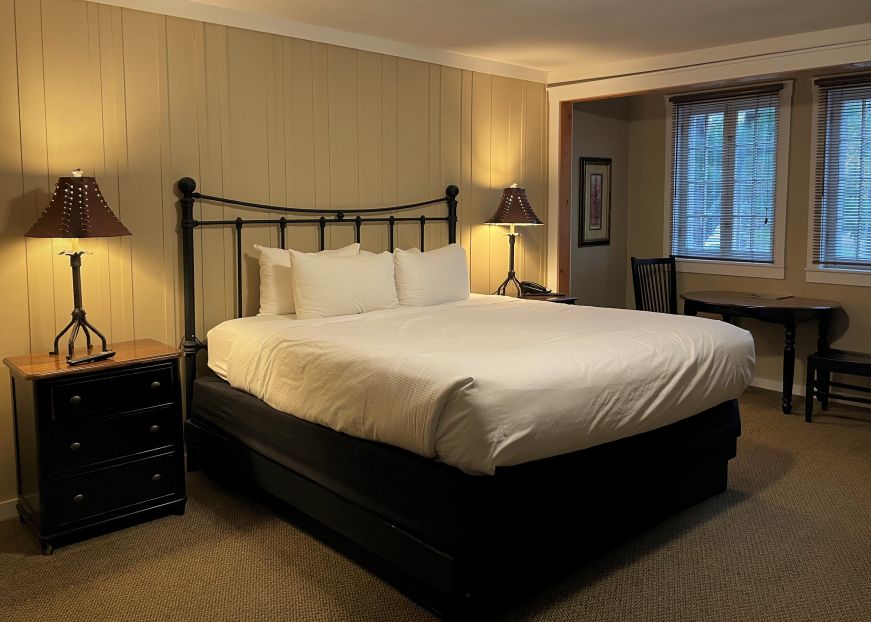 Accommodations
As I mentioned above, Grand View Lodge has a dizzying array of accommodations, including rooms and suites in the Main Lodge; North, a 60-room boutique hotel; and cabins, duplexes, cottages, and villas scattered across the property.  We stayed in a king room at the Main Lodge—at about $240 (including breakfast) it was a much more budget-friendly option than renting a cabin, with more historic character than the boutique hotel. 
Our room was spacious, with a comfortable bed, leather armchair, alcove with a table and chairs, mini fridge, microwave, and coffee maker.  The decor was simple and classic, with some rustic touches.  If you have mobility issues, note that the rooms in the Main Lodge are on the second floor and are only accessible via an outdoor staircase.
A major perk of our mid-week, off-season stay is that the two-night minimum was waived, so we were able to book a one-night stay.
Dining
We kicked off our stay at Grand View Lodge with lunch at Northwoods Pub, which is located on the lower level of the Main Lodge.  It has a small-town bar feel, with several Minnesota craft brews on tap and lots of neon  signage.  The menu skews towards elevated bar food: a bison burger with bacon jam, a prime rib sandwich, and walleye tacos.  I found the veggie-packed falafel wrap to be a tasty vegetarian option, and Mike enjoyed the bison burger.
Over the course of our stay, we also checked out the resort's two coffee options: a counter in the Grand Outfitters gift shop that serves Caribou Coffee, and Brew, a coffee counter in the North hotel lobby.  Grand Outfitters is next door to the Main Lodge, so it's a convenient spot to grab coffee if you want to enjoy it by the beach or in the Main Lodge lobby.  If you want a more upscale experience, it's definitely worth walking over to Brew—the North hotel lobby is a beautiful space, with a modern interpretation of lodge design and plenty of comfortable seating.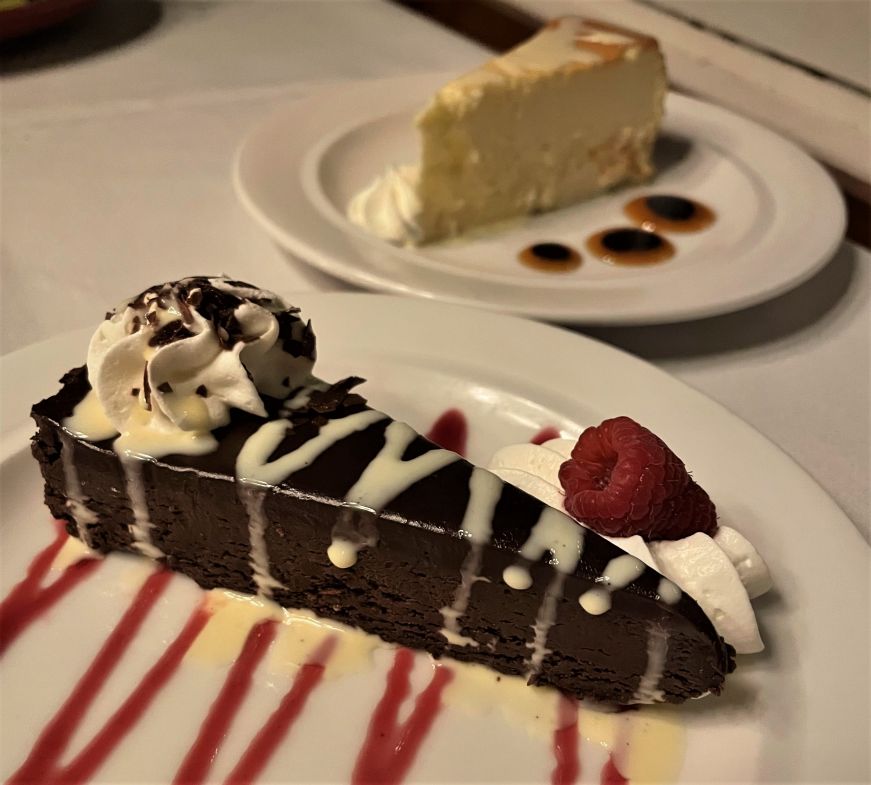 For Mike's birthday dinner, we splurged on a meal at Char, the steakhouse in the Main Lodge.  From the rustic decor to the traditional American cuisine, it has a very classic vibe—other than hanging out in the Main Lodge lobby, it feels like the property's most historic space. 
Obviously, the menu is very meat-focused, but there are several fish dishes (the smoked salmon cream cheese crostini appetizer was delicious), a vegetarian pasta dish, and several vegetarian sides that you could combine to make a meal.  Mike enjoyed the prime rib, and I opted for a satisfying order of charred leek gnocchi.  Save room for dessert—the chocolate torte and vanilla cheesecake were a lovely end to a special occasion meal.
Our last meal at Grand View Lodge was the breakfast buffet—you can include it with your room rate or purchase breakfast separately.  There's an impressive variety of food, including a hot bar with potatoes, scrambled eggs, sausage, caramel rolls, and Swedish pancakes; make-your-own waffles and toppings; an oatmeal bar with toppings; and a continental breakfast spread with yogurt, fruit, bread, and pastries.  I loved the caramel rolls and the Swedish pancakes (thin pancakes rolled around a cream cheese filling and topped with jam).
Note that due to the season, the weather, and the timing of our mid-week stay, our dining options were more limited.  Tanque Verde Cantina was closed for the season, and dining outdoors at On the Rocks wasn't possible due to rain.  Preserve Pub was only open Friday and Saturday, and although Freddy's Sports Grill was open, it wasn't a great option for us since it's more conveniently located to the golf course than the Main Lodge.  In addition, Char and Brew have shorter hours during the off-season—Char is only open for dinner Wednesday through Saturday and Brew is only open Tuesday through Saturday until 10:00 a.m.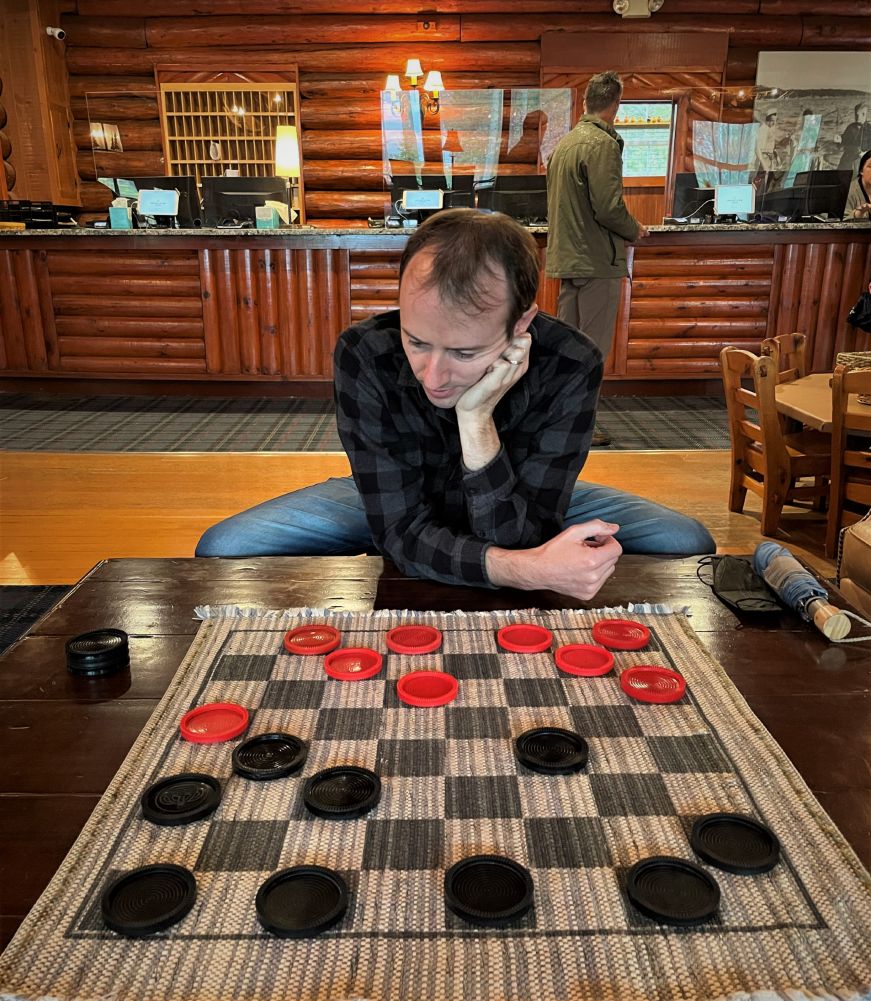 Activities
Since we visited in the fall, warm weather activities like paddle boarding as well as cold weather activities like ice skating were off the table.  Plus, it rained for much of our stay, so lawn games and sitting by the lake weren't very appealing.
But we still found plenty of ways to stay occupied.  We played games in the Main Lodge lobby and lingered over coffee in the North lobby.  When the rain stopped, we walked around the property and enjoyed the lake views.   
We also checked out NorthPark, the resort's recreation center.  There are indoor and outdoor pools, a waterslide, fitness center, lawn games, bike rentals, and my favorite resort amenity: the largest outdoor hot tub in Minnesota.  And we had it to ourselves!
Grand View Lodge's other fall-friendly amenities include a 27-hole golf course, and Glacial Waters Spa, which offers massages, body treatments, facials, and nail services.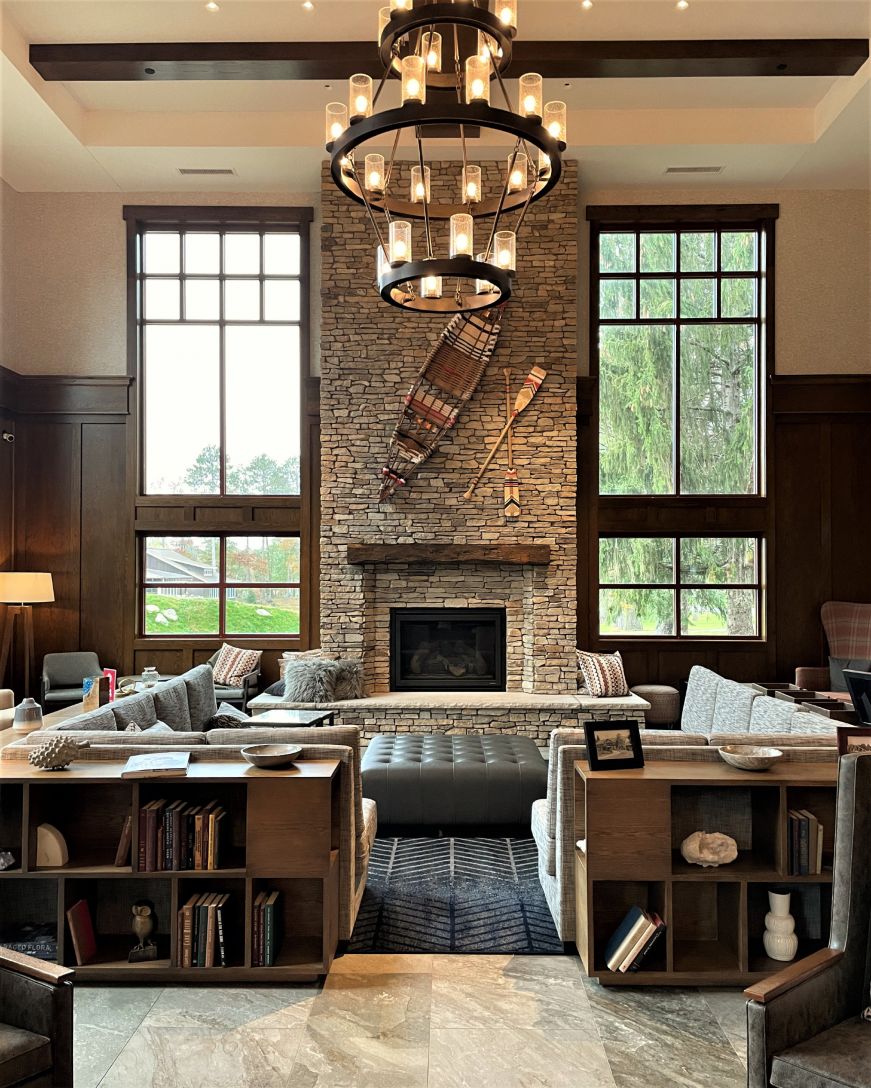 COVID-19 safety measures
A flyer I was provided at check-in urged guests to stay home if they felt sick and to stay 6 feet apart from other guests.  It also indicated that there were enhanced cleaning and sanitizing procedures.  Daily housekeeping services are currently suspended (you can call the front desk to request additional linens or towels), and check out is contact-free, by text or phone.
However, Grand View Lodge does not require or encourage face masks.  During our visit, none of the staff were wearing masks, and very few guests were wearing masks (literally me, Mike, and a group of four elderly people we spotted walking into the lodge). 
Because there were so few people at the resort, it was relatively easy to keep our distance.  However, given the current COVID-19 surge, I would feel uncomfortable visiting Grand View Lodge during the weekend or peak times.
Is an off-season, fall getaway to Grand View Lodge right for you?
If you're looking for a romantic, relaxing getaway and want to experience Grand View Lodge without committing to a multiple nights, fall is a great time to book a mid-week stay.  There were enough dining options and activities to keep us occupied for 24 hours, and the lack of crowds gave the resort an exclusive feel that we really appreciated.
However, if you want a wide variety of activities and dining options, I would recommend visiting during the summer (or the winter, if you like cold weather outdoor activities). 
Grand View Lodge
23521 Nokomis Avenue
Nisswa, MN 56468
1-866-801-2951
grandviewlodge.com
This isn't a sponsored post—we paid for our stay out-of-pocket.
If you enjoyed this post, pin it!