Grand Marais is my kind of small town: beautiful views of Lake Superior, lots to do, and great food.  You can breakfast on the World's Best Donuts, drive to Canada and back, try a slice of Uff Da pizza, hike to a waterfall, shop at a five-and-dime, and enjoy the fresh fish at a dockside restaurant--all in one day.
Where to Eat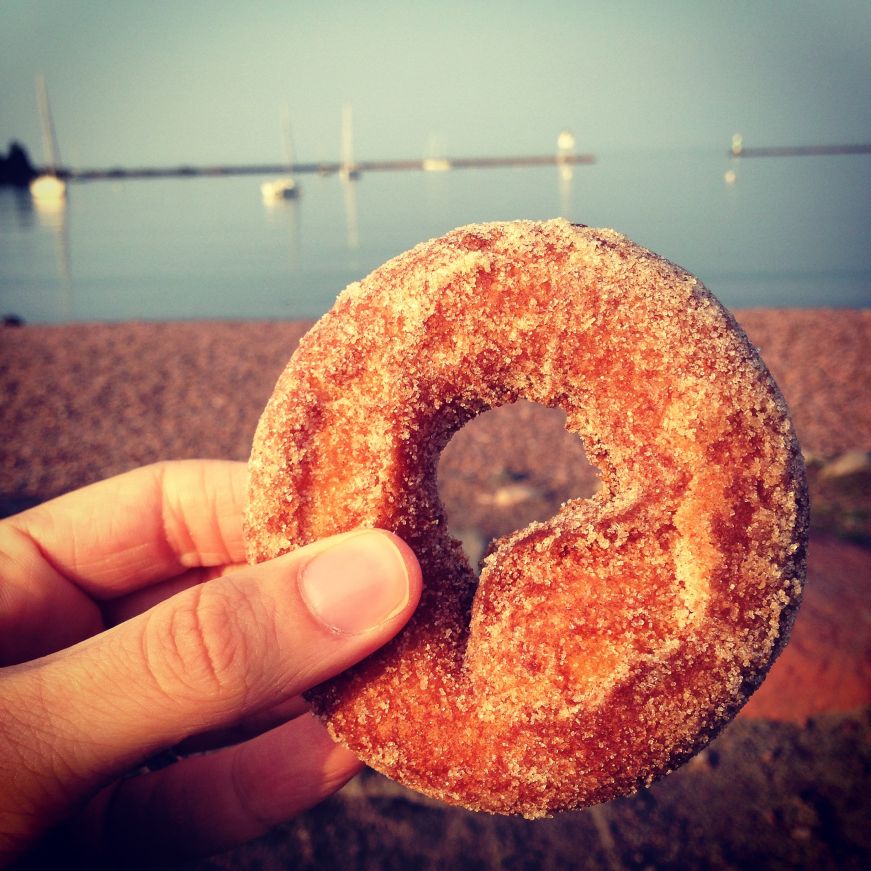 The cake donuts alone make the World's Best Donuts worthy of its moniker: lighter in texture than a traditional cake donut, superb when coated with a thick dusting of cinnamon sugar.  There are also raised donuts, twists (try the chocolate covered one), cream or jam-filled bismarks, long johns, apple and blueberry turnovers, jam-filled croissants, caramel pull-aparts, and cream cheese and maple swirls.  A small selection of gluten-free items is also available, baked off-site at a gluten-free facility.  Besides the cake donuts, my favorite item was the skizzle, a flat piece of fried dough coated with sugar--basically a thin version of American Indian fry bread.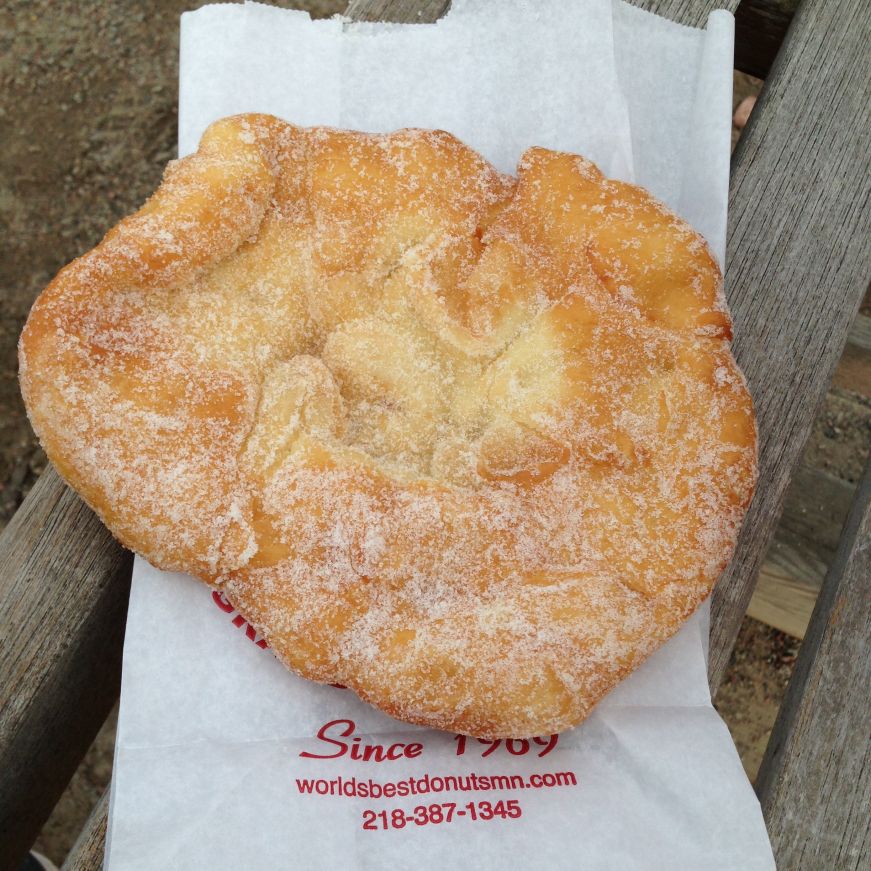 The World's Best Donuts is cash-only, but there's a 24-hour ATM at the bank across the street.  There is a small café-style seating area inside, a few outdoor picnic tables, or you can enjoy your donuts on a harbor side bench overlooking Lake Superior.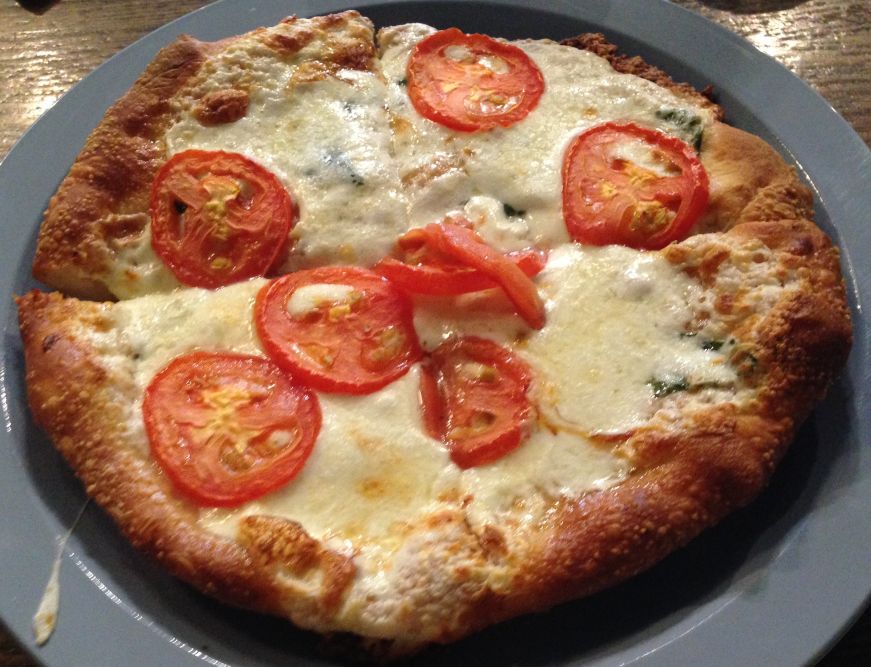 Most Minnesotans will recognize the iconic yellow stickers: Sven & Ole's has been a Grand Marais institution since 1981.  Order your pizza at the counter and take a seat in the adjacent dining room, eclectically decorated with antique snowshoes, a taxidermied elk head, a go-kart, and a 1960s board game called "Hurry Waiter."  The pizza itself is straightforward but delicious, available in thin, thick, or deep-dish crust (my favorite is the chewy thick crust.)  I opted for an individually-sized Margherita pizza and was pleasantly surprised by the quality of the fresh mozzarella, tomatoes, and basil.  Mike chose the "Uff Da", Sven & Ole's signature pie (named for an upper Midwestern expression of Scandinavian origin, which I would translate loosely as "oh boy").  It's basically a supreme pizza, with olives, mushrooms, peppers, onions, and lots of sausage.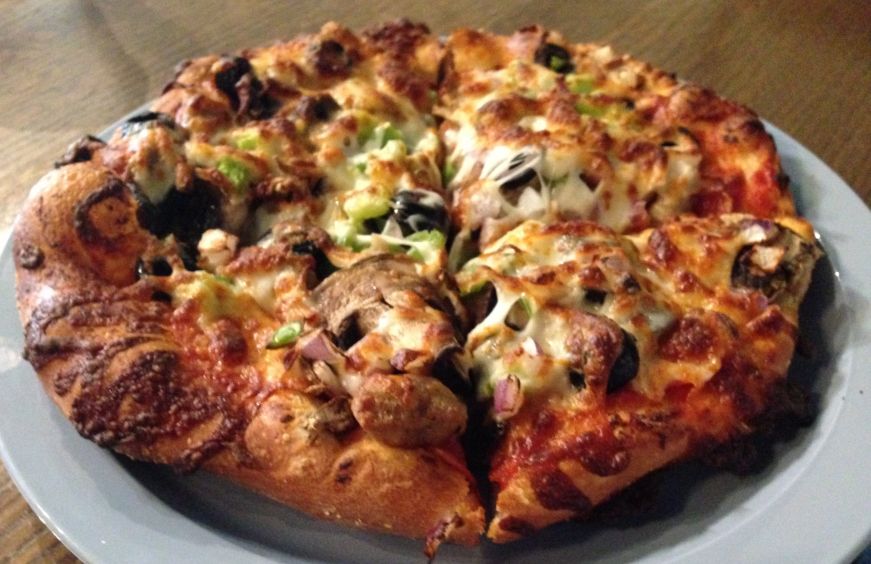 Sven & Ole's also offers thick-crust cheese, pepperoni, sausage, and Uff Da pizza by the slice.  If you want a beverage stronger than soda, the Pickled Herring, located at the back of the dining room, features a full bar, table service, and free popcorn.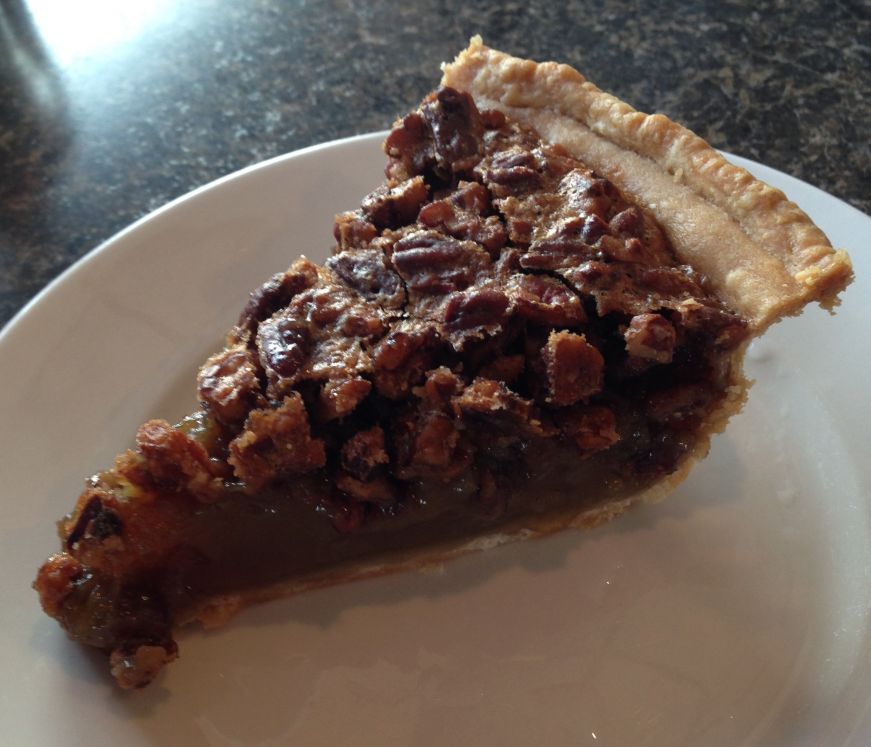 The Pie Place Café (permanently closed November 2015) serves full breakfast, lunch, and dinner menus, but there's no shame if you're just in it for the pie.  The selection of pies changes frequently, with seasonal fruit pies, cream pies, and "specialty" pies with ingredients like nuts or chocolate.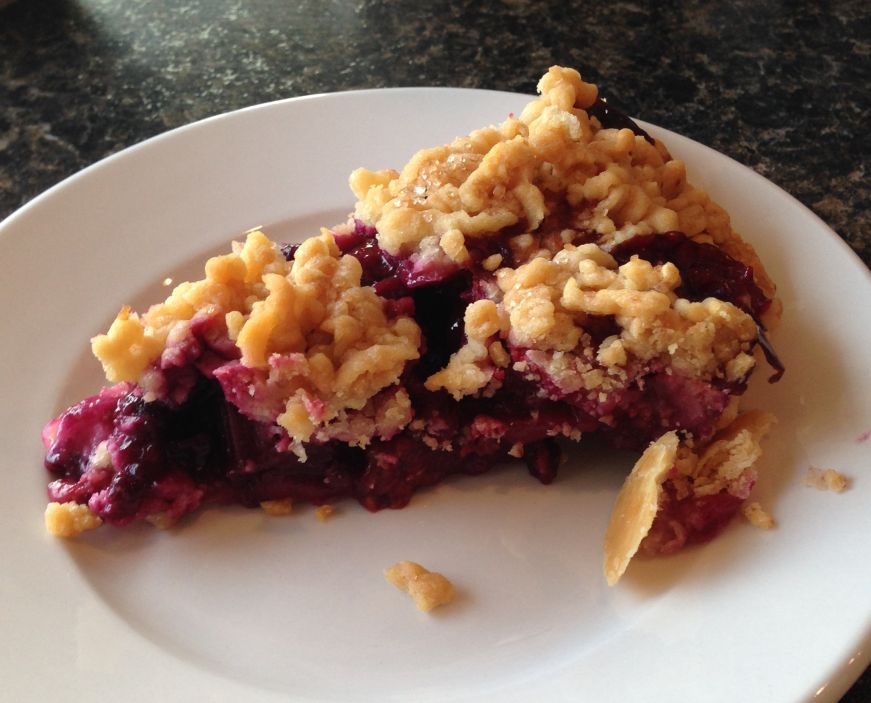 The maple pecan pie, with a subtly sweet maple custard and toasted, slightly salty pecans, didn't fall victim to the tooth aching sweetness of so many of its lesser peers.  The bumbleberry--a combination of strawberry, blueberry, raspberry, and rhubarb--had an intriguing flaked pastry upper crust and a nice balance of tart rhubarb and sweet berries.  A slice of pie will set you back $5.25, but it's well-worth the price (and it may be heresy, but I prefer the Pie Place Café to the more famous and slightly cheaper Betty's Pies in Two Harbors).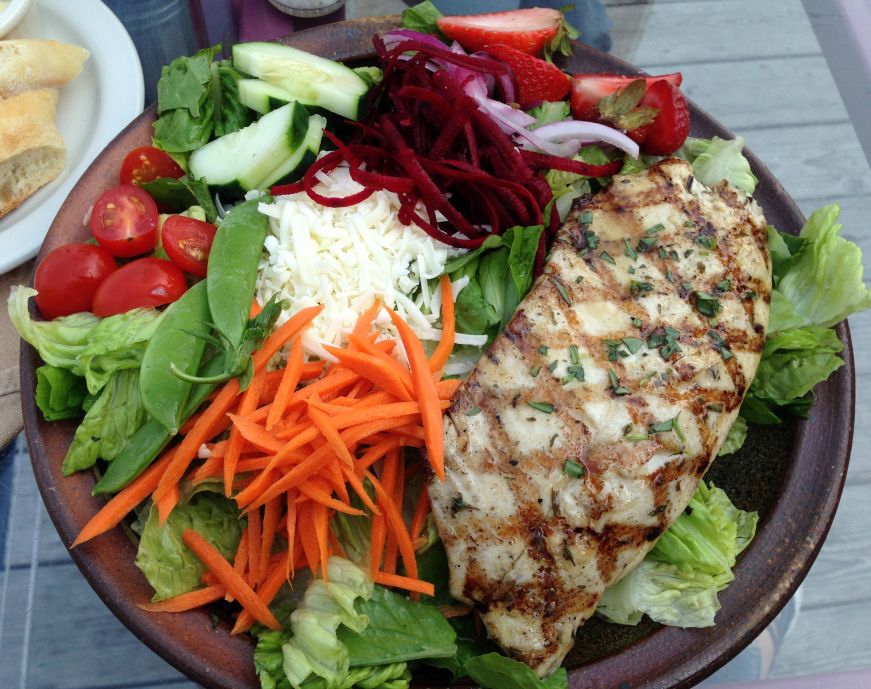 If you're looking for freshly-caught fish, try the dockside Angry Trout Café, which offers the fresh fish of the day in sandwich, entrée, salad, or fish and chips form.  For vegetarians, there are options like regionally-sourced shiitake mushroom skewers or a seasonal vegetable sandwich.  If you order off the lunch menu (available all day) the Angry Trout can be a fairly budget-friendly dinner option, particularly considering the focus on local, sustainable ingredients.  See my full review for further information--I enjoyed the grilled fish of the day salad, with whitefish prepared with a combination of olive oil, lime juice, and tarragon that set off the delicate freshness of the fish without overwhelming it.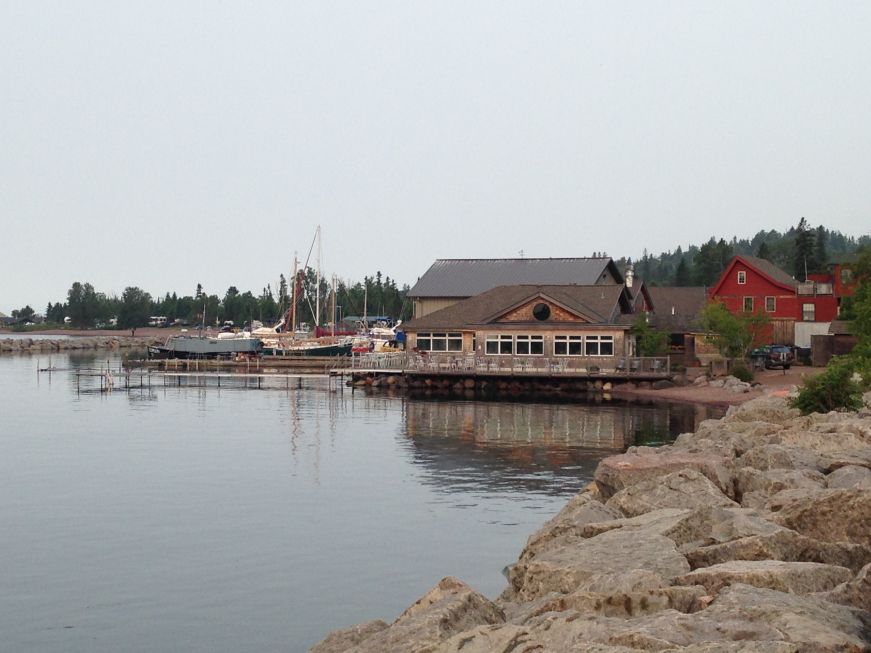 Things to Do
Hang out by Lake Superior!  There's a rocky beach by the harbor, with benches or space to bring your own lawn chair.  Get some donuts from the World's Best Donuts or pizza from Sven & Ole's for cheap lakeside dining.  You can also walk out onto Artist's Point and the breakwater (on your left as you're facing the harbor).
My goal for my next Grand Marais trip is to take a class at the picturesque North House Folk School--during the summer, they have 2 hour mini-courses on crafts like bread baking or timber raising, and there are also some free craft demonstrations.  For a more immersive experience, you can take half-day to several day courses on everything from making soap to forging a Scandinavian forest axe.
As a tourist town surrounded by the great outdoors, the shopping in Grand Marais skews toward tourist kitsch, woodsy home décor, and camping gear.  Joynes Ben Franklin combines all of the above and then some.  The variety of products crammed into one storefront is mindboggling: lampshades and wool yarn, $300 Dale of Norway ski sweaters and bleach, Minnetonka moccasins and lampshades, hot pink Carhartt overalls in size 3T and cast iron cookware.  It's worth a visit, even if all you need is some postcards and a moose Christmas ornament--they stock those too.
See my post on the MN 61 North Shore Scenic Drive for more things to do near Grand Marais.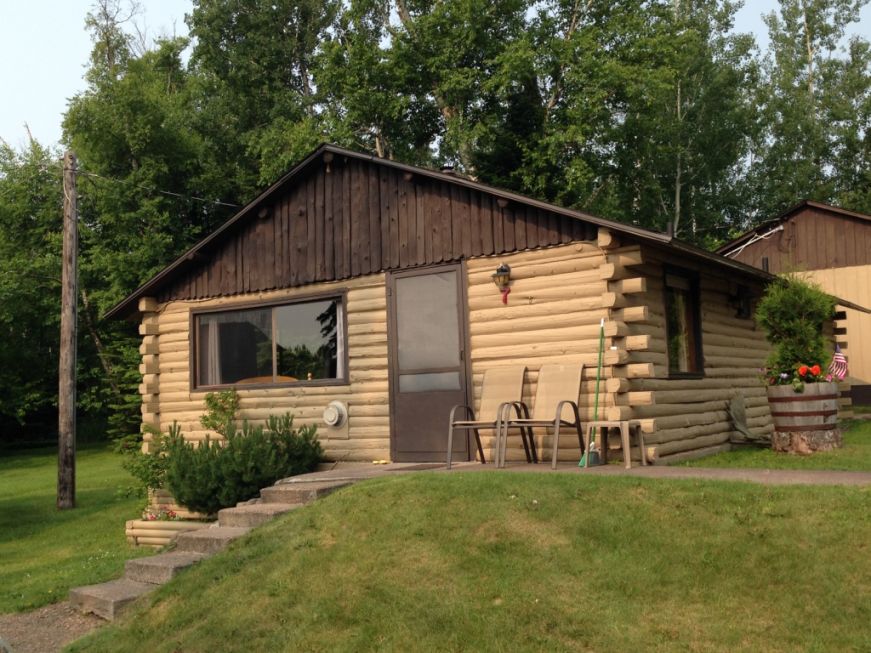 Where to Stay
I highly recommend Nelson's Travelers Rest, a small resort only a 10 minute walk from downtown Grand Marais.  We stayed in Cabin #7, which has a queen bed, woodstove, and full kitchen, reasonably priced at $80 per night.  Nelson's also offers two-bedroom cabins that sleep four starting at $90 per night, and smaller cabins and hotel rooms starting at $60 per night for a double.  Our cabin was well-maintained, scrupulously clean, and firewood was included (summertime evenings in Grand Marais can be cool when the wind is blowing off the lake--we ended up building a roaring fire on the 4th of July).
What are your favorite things to do in Grand Marais?  Any restaurants I should try on my next visit?