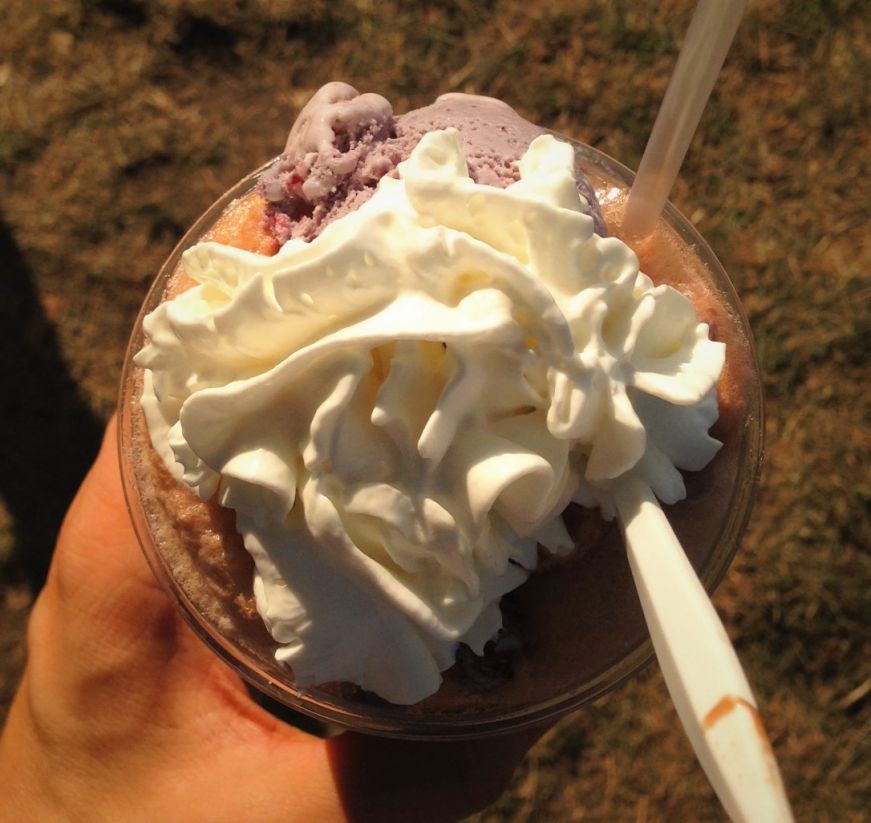 The Minnesota State Fair: an annual celebration of the state's agriculture, industry, creative endeavors, educational institutions, and deep-fried food on a stick.  Here's my annual round up of my 2015 food finds, classic food favorites, and some non-edible fair highlights.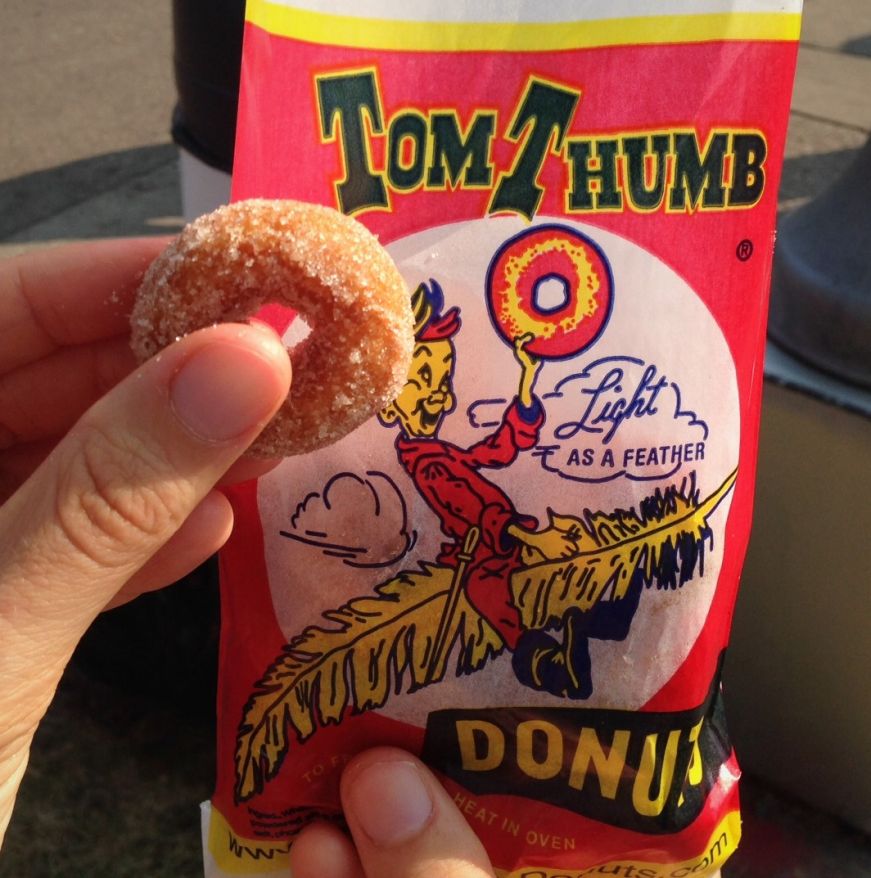 New Food Discoveries
Our morning started at the Blue Moon Dine-In Theater (Carnes Ave. and Chambers St.), the rare food vendor that not only has a seating area, but a seating area where you can settle into a repurposed car backseat and watch campy sci-fi movies.  The giant breakfast sandwiches are served on hearty ciabatta and loaded with eggs, cheese, and your choice of andouille, bacon, sausage, or "hangover vegibake"--the sausage version features thick slabs of locally beloved Kramarczuk's sausage.  Later in the day, return for the refreshing "snow ribbons"--icy shards of ice cream, offered in two eclectic daily flavors.  If it's available, try the horchata churro, a base of vanilla rice snow topped with rum caramel bananas, milk sauce, and a churro cookie.
There are several mini donut purveyors at the fair, and after years of research I can definitively say that the ethereally light Tom Thumb Donuts are the best (there are two locations, one on the west side of Cooper St. between Wright Ave. and Dan Patch Ave., the other at Carnes Ave. and Underwood St.).  The donuts are made right before your eyes in little machines, one per cash register, and then shaken with a generous dusting of cinnamon sugar.
Don't let the seven-year-olds ordering alarmingly red snow cones fool you--the namesake product at Lingonberry Ice Cream (Carnes Ave. and Underwood St.) is the real deal.  Creamy, a reassuringly natural pale lilac, and studded with tart lingonberries, it can be ordered as a cone or float.  Pay the extra fifty cents and treat yourself to a float: three scoops of lingonberry ice cream served in a refreshing lingonberry soda with a dollop of whipped cream.
Established in 1897, the Hamline Church Dining Hall (north side of Dan Patch Ave. between Underwood St. and Cooper St.) is the oldest concession at the fair.  If a meat-and-potatoes dinner isn't your thing, try the ice cream, made by St. Paul-based Izzy's in state-fair themed flavors.  Each scoop comes with a mini "Izzy scoop" so you can try two flavors: I enjoyed the Butter Queen Coffee, a browned-butter and coffee ice cream studded with chocolate espresso flakes, and the Church Elder Berry, a blend of raspberries, blackberries, blueberries, and strawberries with a dash of elderberry extract.
Classic Food Favorites
The apple rollover from Minnesota Apples (Agriculture Horticulture Building) is my state fair breakfast pick.  Layers of flaky puff pastry are folded around a spiced apple filling and topped with an apple cider glaze, making for a delicious but not too heavy start to your day of intensive eating.
The Mouth Trap's cheese curds (Food Building) are a leading candidate for best deep-fried food at the fair: coated in a crispy batter and served in a perfectly-sized $5 portion that leaves you satisfied yet with enough stomach room to indulge in further fair offerings.
Usually I order a chocolate soft-serve cone from the Dairy Goodness Bar (Dairy Building), but it's always a battle to finish the ice cream before it melts all over my hand.  The solution?  A chocolate malt, thick enough to require a spoon and contained in a handy cup.
The Holy Land's Mediterranean lemonade smoothie (International Bazaar) is tart, dense with fresh chopped mint, and always reinvigorating.
"Healthy state fair eating" sounds like an oxymoron, but the giant Sweet Dream peaches from the Produce Exchange hold their own against the deep fried Oreos.  The knowledgeable staff at the two locations (one at the West End Market and one at Carnes Ave. and Underwood St.) will pick out the perfect peach for you, whether you want something ripe and juicy to eat immediately or a firmer specimen to take home for later.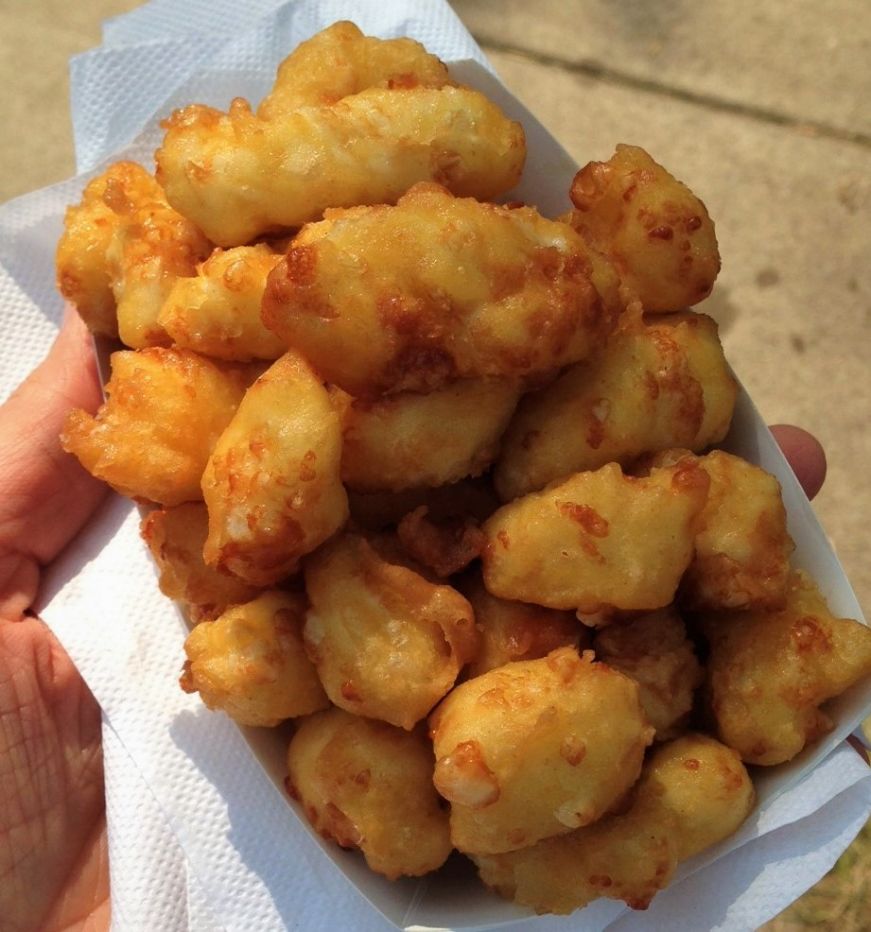 Other Fun Stuff
The Minnesota State Fair History Walking Tour is a fun way to learn about some of the fair's landmarks and how the fair has changed over the years.  Pick up a brochure at one of the twelve stops scattered throughout the fairgrounds, punch your brochure at each stop you visit, and if you complete at least 8 stops, you can redeem your brochure for a prize.
My favorite freebies were the official Minnesota highway map from MnDOT (Education Building), the Pope-Francis-on-a-stick fan from the University of St. Thomas (Education Building), Minnesota Public Radio buttons and window clings (north side of Judson Ave. between Underwood St. and Nelson St.), and the Twin Cities Public Television magnet (east side of Cosgrove St. at the 4-H Building).
At the age of 28, I finally rode down the Giant Slide (east side of Nelson St. between Dan Patch Ave. and Carnes Ave.)  It gave me a great deal of simple delight, captured by Mike in the slightly-embarrassing cell phone video below (I'm wearing a gray shirt, capris, and a dorky smile).
At the end of the day, simple delight--from mini donuts, from a free magnet, from a giant slide--that's what the Minnesota State Fair is all about.