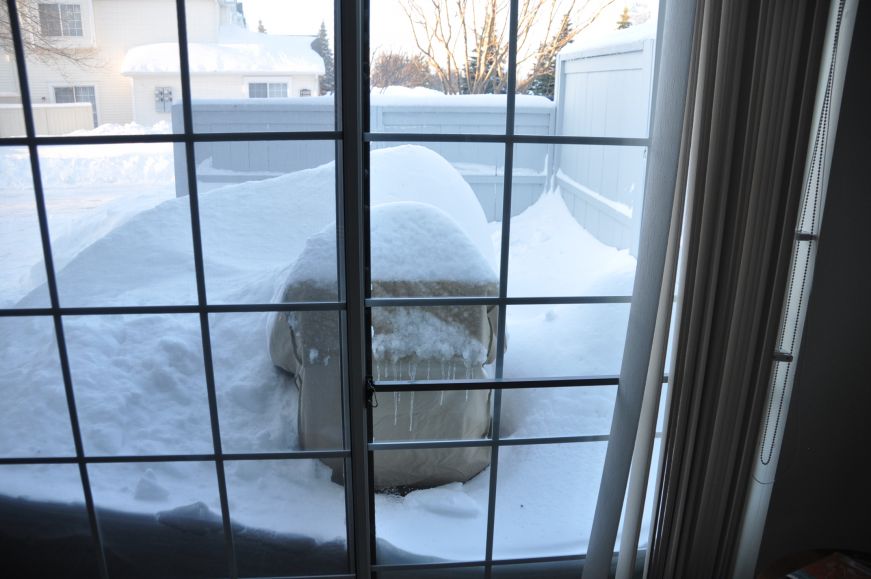 As Minnesota has been buffeted with snowstorm after snowstorm, subzero temperatures, and polar vortexes, I have been making an effort not to complain too much.  Mostly this is due to the fact that wallowing in negativity doesn't change the situation, but it's also because I made a conscious choice to live in Minnesota, winter, mosquitoes, road construction and all.  The rest of the country may be shaking its head at the upper Midwest and comparing us to Siberia, but I'm not going to join the fray.
Instead, I am going to bundle up and go for walks through the snow whenever the temperature hits double digits, take the bus when snowstorms slow the highways to a standstill (I may not get to work much faster, but it beats the stress of driving), and make soup.  My latest favorite soup recipe is a slow cooker black bean soup garnished with fresh cilantro and lime juice.  The fresh garnishes take the soup from a decent, but rather ho-hum, recipe to something vibrant and special, the sort of soup that momentarily transports you to warmer climes.
Note that the canned beans in this recipe are not drained; just dump the whole can, liquid and all, into your slow cooker.
Adapted from Crock-Pot Vegetarian Recipes
Serves 4
Ingredients:
1 1/2 cups diced onions
2 15-ounce cans black beans, undrained
2 cups vegetable broth
1 1/2 teaspoons chili powder
3/4 teaspoon cumin
1/4 teaspoon garlic powder
1/4 teaspoon red pepper flakes
lime, quartered
1/2 cup sour cream
1 cup chopped cilantro
crushed tortilla chips (optional)
If desired, thoroughly spray slow cooker crock with canola oil cooking spray to make clean up easier.  Place the onions, beans and their canning liquid, broth, chili powder, cumin, garlic powder, and red pepper flakes in the slow cooker and stir.  Cover and cook on low for 7-13* hours.
In batches, puree soup in blender until smooth and pour into a medium saucepan over medium-low heat to keep warm.
Squeeze a lime wedge over each portion of soup before serving, and garnish with sour cream, cilantro, and tortilla chips.
*13 hours is the longest I've cooked this soup, due to a work project that unexpectedly kept me three hours late.  The flavor and texture of the finished soup was unaffected, so if you end up getting home much, much later than intended, no worries.  And dinner will be mostly ready!