This past Christmas, Mike gave me quite possibly the best present ever: a grow-your-own-mushrooms kit.  I love the taste of mushrooms--in recipes like Mushroom Barley Risotto or on their own--but I am also weirdly fascinated by spotting them in the wild.  I get a little thrill when I see a clump of mushrooms growing in a shady spot or when they pop up all over our lawn after a few days of rain.  Mike, on the other hand, is happy enough to eat mushrooms but reacts with disgust when he comes across them in their natural habitat.  I'm crushed when our crop of lawn mushrooms is sliced off by the lawn mower, while he's been known to say, "About time.  Too bad they missed that little one over there."
So in light of his mushroom Grinchiness, the grow-your-own-mushrooms kit was a very thoughtful present, not only for the several days of childish delight it gave me as I checked on the mushrooms' progress every few hours, but also because he didn't complain about the miniature mushroom farm on our spare bedroom windowsill.  As an added bonus, the harvested mushrooms were delicious, with a deep, almost meaty flavor.  This stir-fry recipe allowed the oyster mushrooms to shine, complemented by crisp, mild broccolini and the pleasantly squishy texture of glass noodles.  We've added it to our regular recipe rotation, although buying oyster mushrooms at the grocery store isn't nearly as fun as growing your own.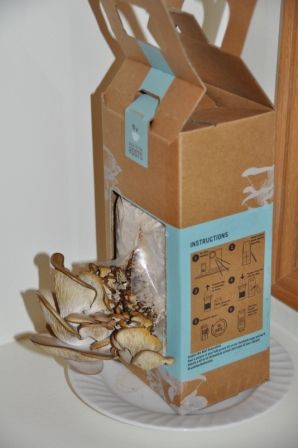 Adapted from Vegetarian Times April/May 2012
Serves 2
Ingredients:
150 gram package glass noodles (also called bean threads)
1 tablespoon soy sauce
2 tablespoons oyster-flavored sauce
1 tablespoon canola oil
2 cloves garlic, minced
3.5 ounces oyster mushrooms, stems removed, cut into bite-sized pieces
8 ounces broccolini, trimmed and cut into bite-sized pieces
2 green onions, chopped
Soak glass noodles one minute less than package directions, drain, and rinse with cool water.
Combine soy sauce, oyster-flavored sauce, and one tablespoon of water in a small bowl.
Once you have prepared the noodles and soy sauce mixture, heat a large skillet over medium-high heat until a drop of water wriggles about and evaporates when it hits the surface.  Add oil and swirl to coat the whole surface of the pan.  Add garlic and cook, stirring constantly, until golden, about 30 seconds.  Add mushrooms and cook, stirring constantly, until slightly browned, about one minute.  Reduce heat to medium, add broccolini and soy sauce mixture, stir, cover, and cook for one minute.  Stir, replace cover, and cook for another minute, or until broccolini is tender.  Remove pan from heat and add prepared glass noodles.  Toss until noodles are coated with sauce.  Serve topped with green onions.