Back in my pre-food blog days, I spent a pleasant four years studying mathematics at a liberal arts college in northern Minnesota.  The original plan was to become an actuary, but that scheme died in an unhappy struggle through Probability and Statistics II.  Plan number two was graduate school, but by the end of my junior year I realized that wasn't a good fit either.  The backup backup plan was an accelerated teaching certificate program to become a high school math teacher, which sounded good on paper but was revealed to be a very bad idea after actually observing a high school math class.  Ultimately I graduated with a B.A. in mathematics, minors in Computer Information Systems and German, and joined the legion of people whose jobs have absolutely nothing to do with what they went to school for.
But even though I never pursued a mathematical career, I still have a soft spot for numbers.  And today is basically Christmas for math geeks, a.k.a. Pi Day.  As you hopefully remember from your middle school math class, pi is the ratio of a circle's circumference to its diameter.  No matter what size your circle is--a dime, a hula hoop, a cross section of planet Earth--the ratio will always be approximately 3.14159, or pi.  Pi Day is celebrated on March 14 (3/14), representing the first three digits of the number, and this year is the "Pi Day of the Century" since the date (3/14/15) represents the first five digits.  For extra credit, you can time your celebration for 3/14/15 at 9:26:53, representing the first 10 digits.  (Fun fact: pi is an irrational number, which means that its decimal representation goes on forever without repeating.)  According to Wikipedia, the first Pi Day was observed in 1988 at the San Francisco Exploratorium with a symbolic march around a circular space followed by the consumption of fruit pie.  We're skipping the circular march at our Pi Day of the Century celebration (Mike was markedly unenthusiastic about walking around the kitchen table), but oh, there will be pie.
This recipe is adapted from Betty's Pies Favorite Recipes, by Betty Lessard.  Betty's Pies is a northern Minnesota institution, a must-stop on any drive up Highway 61 on Lake Superior's North Shore.  Mike got me the official cookbook last Christmas, probably in the hope that it would lead to more pie in his life.  This chocolate layer pie is one of the restaurant's best sellers, and it's easy to see why: a baked pie crust is lined with cinnamon meringue, spread with melted chocolate and cinnamon whipped cream, and finally chocolate whipped cream is added for a crowning touch.  The crust recipe below is my mom's, and I've previously shared it in my maple cranberry pie recipe--refer to that post for step-by-step pictures.
Adapted from Betty's Pies Favorite Recipes by Betty Lessard, founder of Betty's Pies
Ingredients:
Crust:
1 cup all-purpose flour, divided
1/2 scant teaspoon salt
1/3 cup shortening
1/4 cup cold water

Filling:
2 eggs, separated
1/2 teaspoon vinegar
3/4 cup granulated sugar, divided
1/4 teaspoon salt
1/2 teaspoon cinnamon, divided
1/4 cup cold water
1 cup semi-sweet chocolate chips
1 cup heavy cream
Prepare the the crust:
Preheat oven to 425 degrees Fahrenheit.  Grease a 9-inch glass pie plate.
In a medium bowl, combine 3/4 cup flour and salt.  Cut in the shortening using a pastry blender or fork until mixture resembles wet sand.  Beat the remaining 1/4 cup flour with cold water in a small bowl.  Pour into shortening mixture and mix until a soft dough forms.  Form dough into a ball.
Using a floured rolling pin, roll out dough on a lightly floured surface into a circle approximately 11 inches in diameter.  Transfer dough to prepared pie plate.  Trim away any excess crust, fold over edges, and flute.
Prick the bottom of the crust in several places with the tip of a sharp knife.  Line bottom of crust with foil, and place pie weights or dried beans on top of foil.  Bake for 8 minutes.  Remove foil and pie weights or beans and bake for an additional minute.  Cool crust on a wire rack.
Prepare the filling layers:
Preheat oven to 325 degrees Fahrenheit.
Beat the egg whites until foamy.  Add the vinegar and continue beating until soft mounds form.  Gradually beat in 1/2 cup sugar, salt, and 1/4 teaspoon cinnamon.  Continue beating until meringue can hold stiff peaks.  Spread the meringue on the bottom and sides of the baked crust, and bake until meringue is lightly browned, about 15 minutes.  Allow to cool on a wire rack (meringue will collapse as it cools).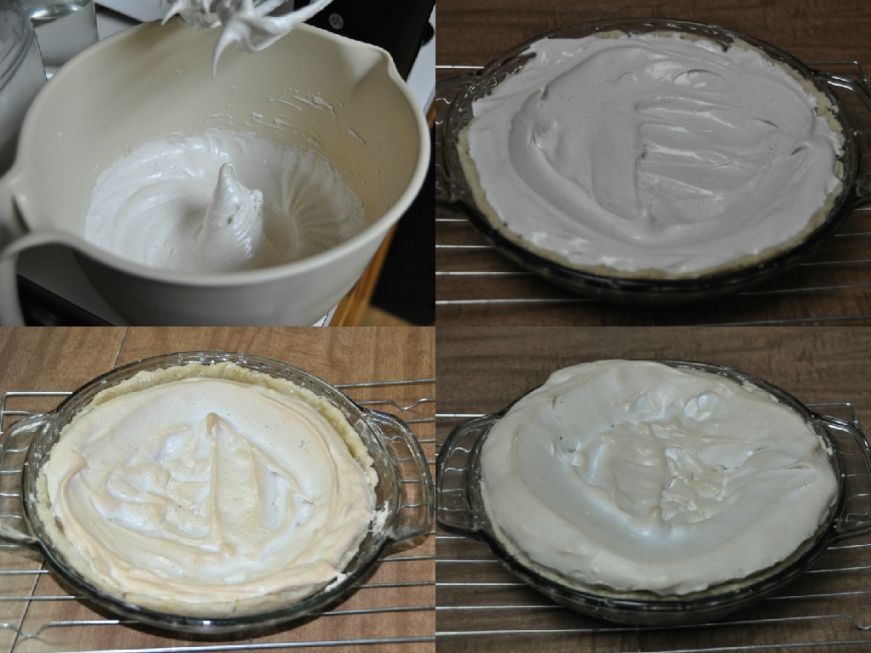 Lightly beat the egg yolks.  In a small saucepan, combine the egg yolks, water, and chocolate chips and cook over low heat, stirring frequently, until chips are melted.  Evenly spread 3 tablespoons of the melted chocolate mixture over the cooled meringue.  Set aside remaining melted chocolate to cool.  Place pie in refrigerator to chill chocolate layer.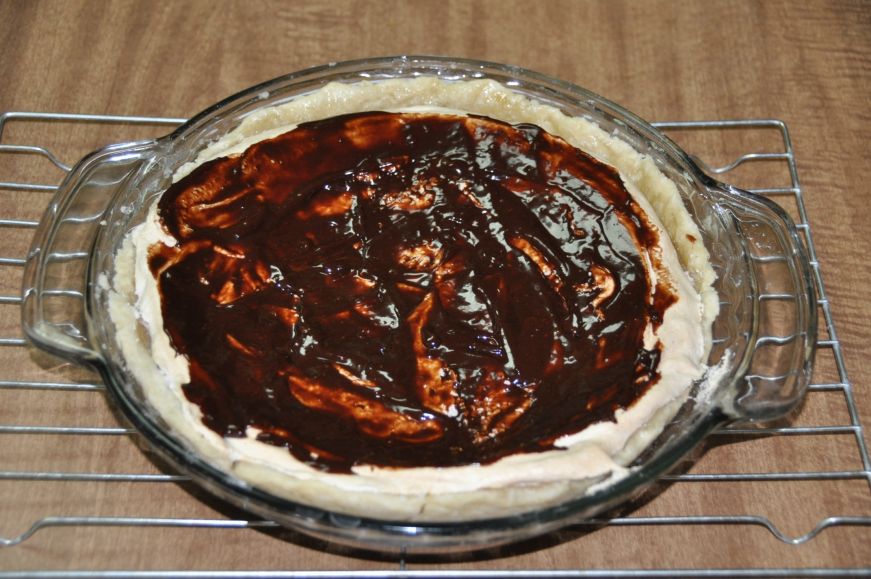 Whip the cream until thick enough to hold soft peaks.  Add the remaining 1/4 cup granulated  sugar and 1/4 teaspoon cinnamon and whip until sugar and cinnamon are evenly dispersed.  Spread half of the whipped cream over the chocolate layer.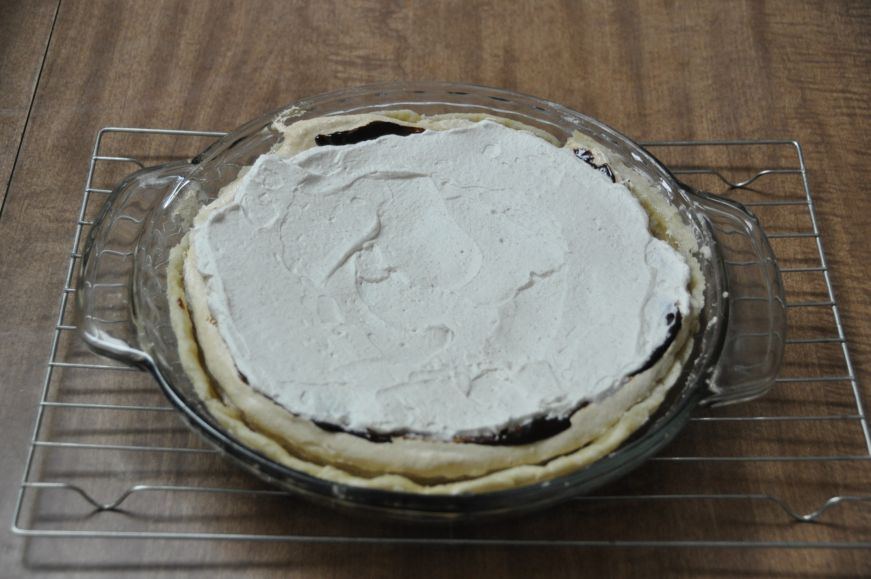 Gently fold the remaining melted chocolate into the remaining whipped cream.  Spread over the pie.  Chill in refrigerator for at least 4 hours before serving.