Mike and I recently visited Colorado for his cousin's wedding.  Since we haven't had the chance to do much traveling recently (thanks, delta variant), we decided to splurge on a stay at the Edwards House, a boutique inn located in Fort Collins, Colorado. 
I'm so glad we did—in addition to seeing family and celebrating a milestone event, our time in Colorado was a lovely opportunity to enjoy time with each other in luxurious surroundings.  Here's everything you need to know to plan your own romantic stay at the Edwards House in Fort Collins.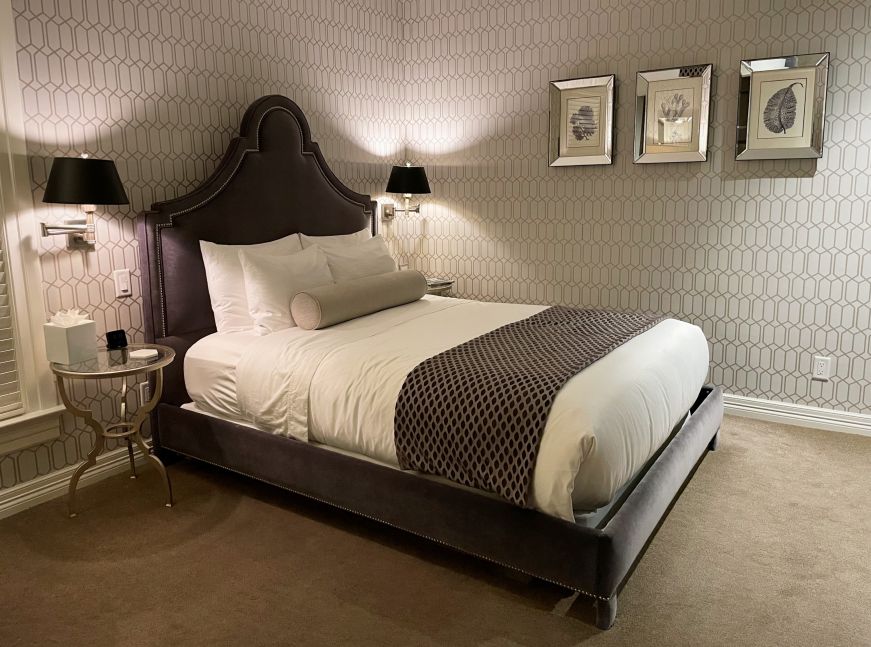 The Edwards House was built in 1904 for Alfred Augustus Edwards, a local businessman and politician.  The house was converted into a bed and breakfast in 1993, and extensive renovations in 2014 transformed it into a modern boutique inn.  
What exactly is a "boutique inn"?  In my opinion, the Edwards House combines the best parts of a bed and breakfast and boutique hotel.  You get the historic setting and intimate feel of a bed and breakfast, with the attention to detail and upscale, modern decor of a boutique hotel.  For example, while many architectural features of the house have been preserved, our room featured a soothing gray color palate with a mix of vintage-inspired and contemporary furnishings.
We stayed in the Lady Moon Room, a second-floor room with a queen-sized bed and a bathroom with a shower.  Each room has a unique design and floor plan—some have king-sized beds, fireplaces, and bathtubs.  Complimentary breakfast is included with your room (more details on that below).
I loved all of the thoughtful touches that made our stay feel special—radiant heat in the bathroom floor, a vase of fresh flowers, high-quality toiletries, and cozy bathrobes.  There were even earplugs on the bedside table with a note about the occasional train noise (it wasn't an issue for us, although we're both sound sleepers).
As a COVID-19 precaution, housekeeping services during your stay are provided only by request.  We didn't need our room serviced since we were only staying two nights, but during breakfast an employee did ask us if we needed additional towels or any other items.
As I mentioned above, a full-service breakfast is included with your stay.  You do need to make a breakfast reservation since only two parties are seated at a time in the dining room as a COVID-19 precaution.  Alternatively, you can opt for outdoor seating on the back porch (that's what we did).  If you have any dietary restrictions, make sure to note that when you're booking your room—the staff was easily able to accommodate my request for a vegetarian breakfast.
Breakfast includes coffee, juice, fresh fruit, and an entree with a side of bacon.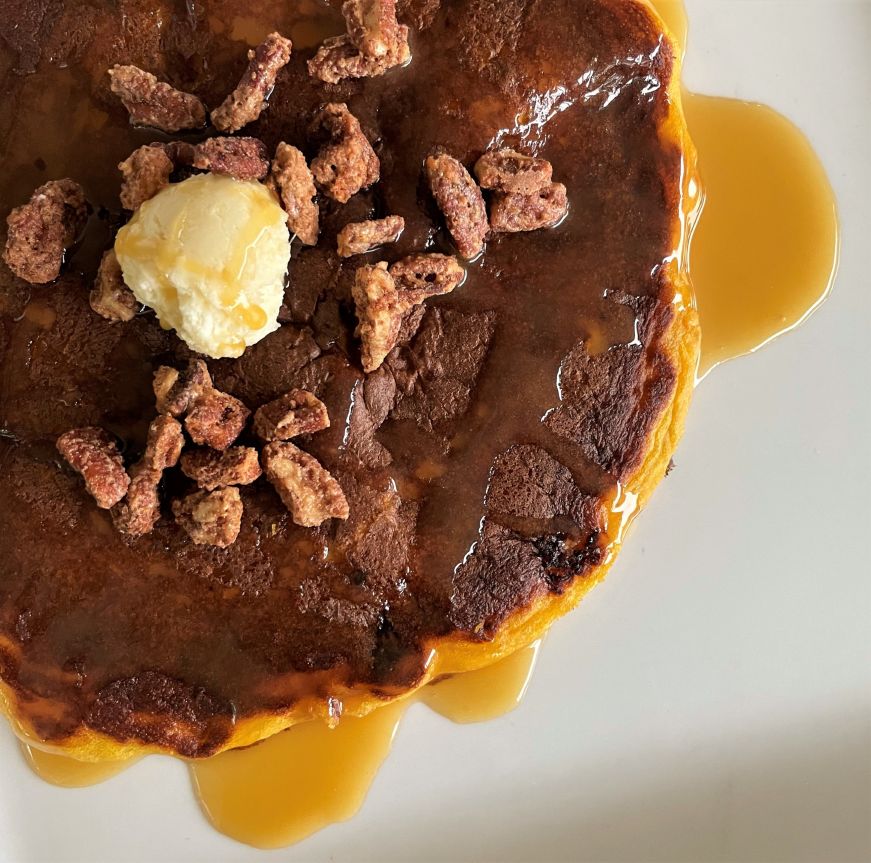 The entrees, which alternate between sweet and savory, were an interesting twist on typical bed and breakfast fare.  On our first morning, we were treated to a sweet potato pancake topped with caramel, candied pecans, and a dollop of ginger-enriched compound butter.  Our second breakfast was avocado toast with pickled onions and sundried tomatoes, plus a side of hash browns and a fried egg.  Everything was well-prepared and tasty, and the portions were satisfying.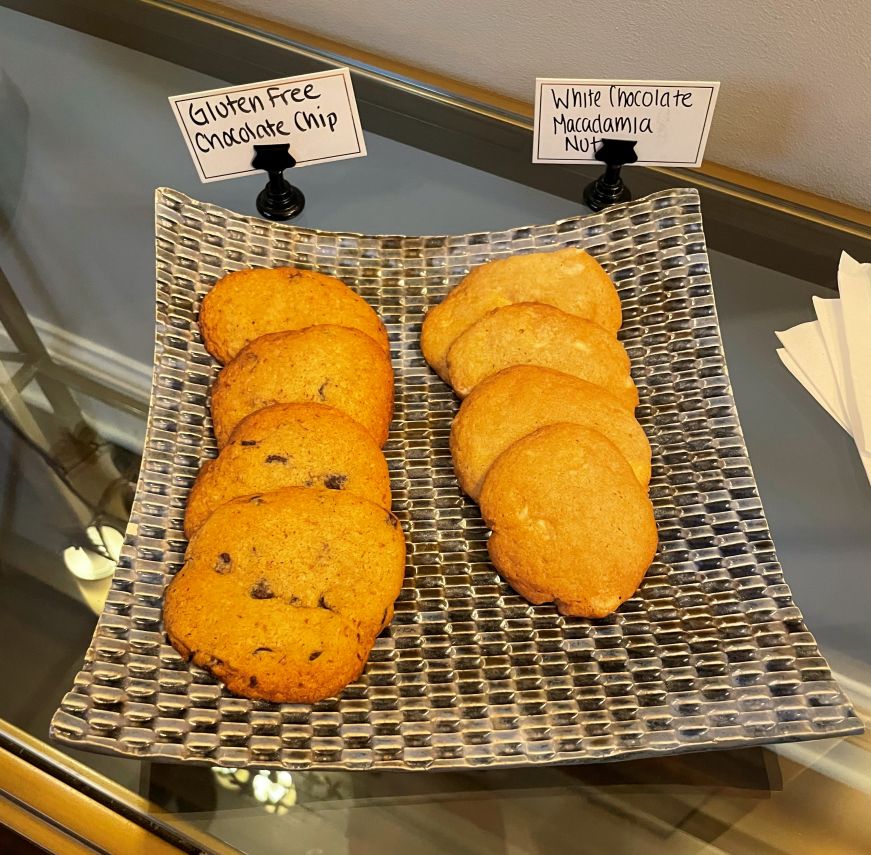 Other Edwards House amenities include a 24-hour, self-serve refreshment bar stocked with sodas, loose leave tea, coffee, and ice, and freshly baked cookies served each afternoon (during our visit there were gluten-free chocolate chip and white chocolate macadamia nut cookies).  There are also complimentary bike rentals and gym passes available by request.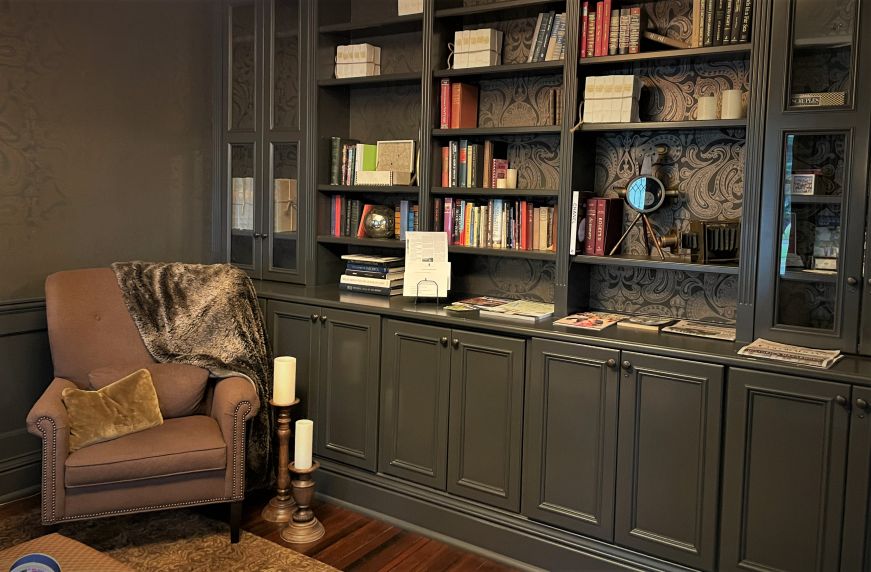 As a travel writer and blogger, I was particularly impressed with quality of tourist information that was provided about the area, both in our room and the inn's library: local travel publications, brochures, city maps, driving directions to nearby attractions, even a bedside copy of 100 Things to Do in Fort Collins Before You Die.  While our time was limited due to our short stay and plans with family, we were able to enjoy an ice cream shop, bakery, and hiking trail that we wouldn't have discovered on our own.
Not only does the Edwards House have a romantic vibe, so does the surrounding neighborhood.  It felt a bit like New Orleans, with brightly painted bungalows and a vintage trolley.  Many of the houses had fairy gardens and inviting-looking porch swings, and we even spotted a sidewalk-side mini golf hole.  Large, leafy trees added to the ambiance. 
The Edwards House is also within a few blocks of downtown (also known as Old Town) Fort Collins, which is home to dozens of restaurants and shops, breweries, distilleries, historic buildings, art-covered pianos, public plazas, and sculptures. 
I'd love to spend more time in downtown Fort Collins on a return trip.  On this visit, we got pizza at Beau Jo's (their mountain pie is my all-time favorite pizza) and a late night meal at the Crown Pub.  For dessert, we enjoyed  Mary's Mountain Cookies and Walrus Ice Cream (both are open late).  Little Bird Bakeshop is perfect for a coffee date, with lovely pastries and plenty of outdoor seating in the adjacent square.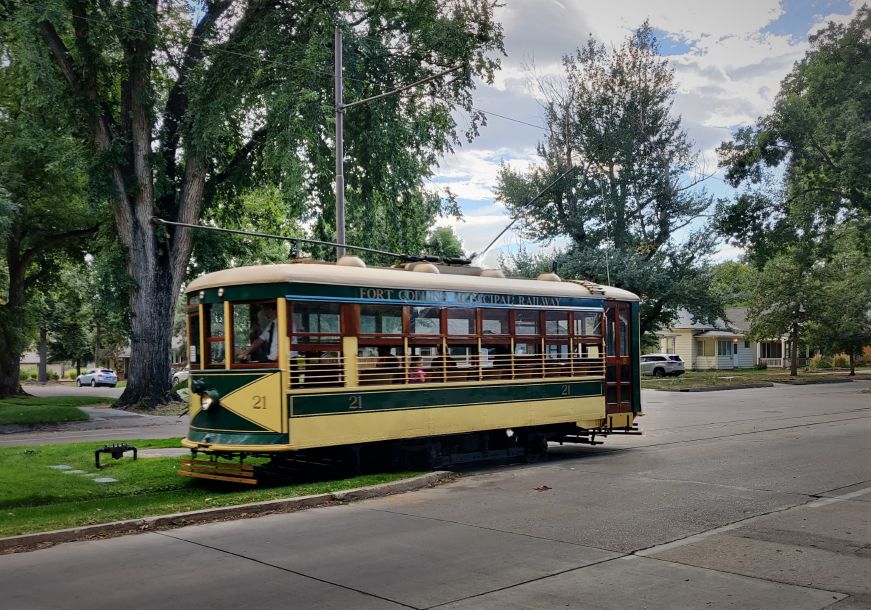 Fort Collins, Colorado might not be the first destination that springs to mind for a romantic couple's getaway, but our stay at the Edwards House made our time there very special.
Edwards House
402 W Mountain Avenue
Fort Collins, CO 80521
970-493-9191
edwardshouse.com
This isn't a sponsored post—we paid for our stay out-of-pocket. 
If you enjoyed this post, pin it!