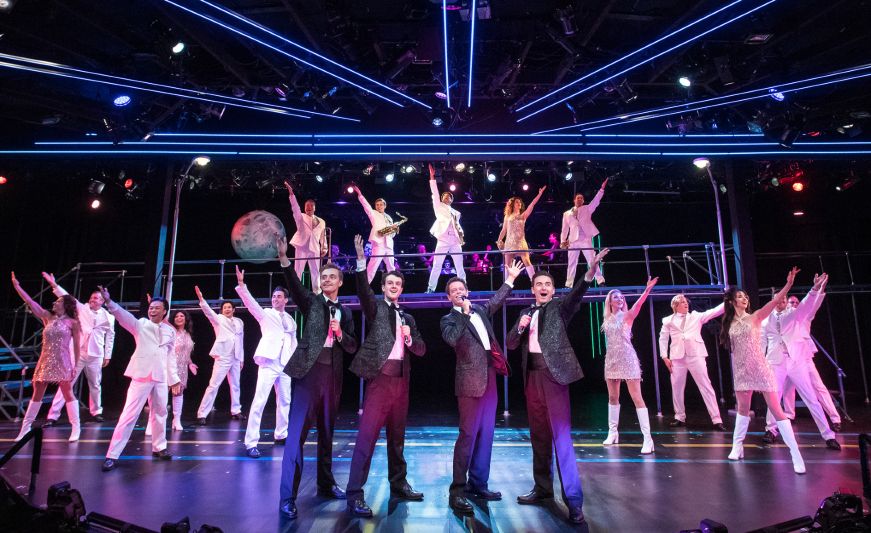 Thank you to Chanhassen Dinner Theatres for providing me with two complimentary press night tickets, drinks, and dessert.  As always, all opinions are my own, and photos are my own unless otherwise credited.
Dinner theater combines dinner and a show in one fell swoop, by eating a full-service meal and then watching a theatrical production from the same seat.  Chanhassen Dinner Theatres is conveniently located to Minneapolis and St. Paul, and the venue offers musicals on the main stage, plus a comedy club and concert series.
Chanhassen Dinner Theatres' current main stage show is Jersey Boys: The story of Frankie Valli & the Four Seasons.  Since I'm a media professional, I received complimentary tickets to the press night show (tickets prices range from $75 for the Wednesday matinee to $105 for Friday or Saturday evening).  Wondering what the food and show are like?  Here's my review.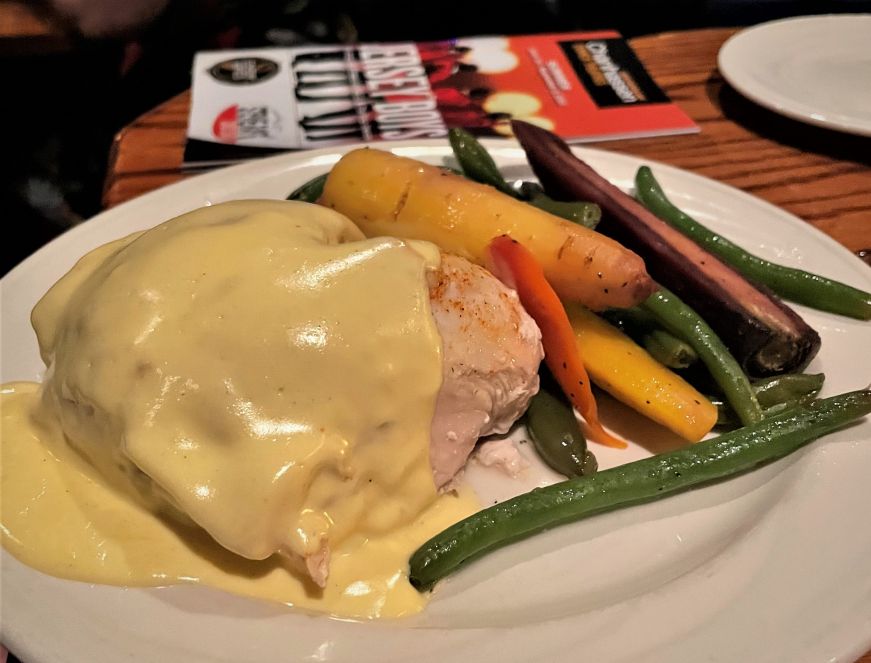 Jersey Boys Dinner Menu
Chanhassen Dinner Theatres tickets include your choice of entree, which is served with bread and butter and during evening performances, a side salad.  The crowd-pleasing menu will look familiar to repeat patrons, with items including Chicken Chanhassen, grilled top sirloin, a vegan Impossi-loaf, lasagna, and pasta primavera.  Some items have a special Italian twist for Jersey Boys in honor of the Four Seasons' Italian-American heritage.  For example, the orange roughy has been transformed into an orange roughy Italiano with marinated tomatoes, herbs, and garlic, and the chopped salad has been gussied up with some Italian-inspired baby mozzarella, pepperoncini, and a zesty vinaigrette.  I appreciated that the relatively brief menu features gluten-free, vegetarian, and vegan options.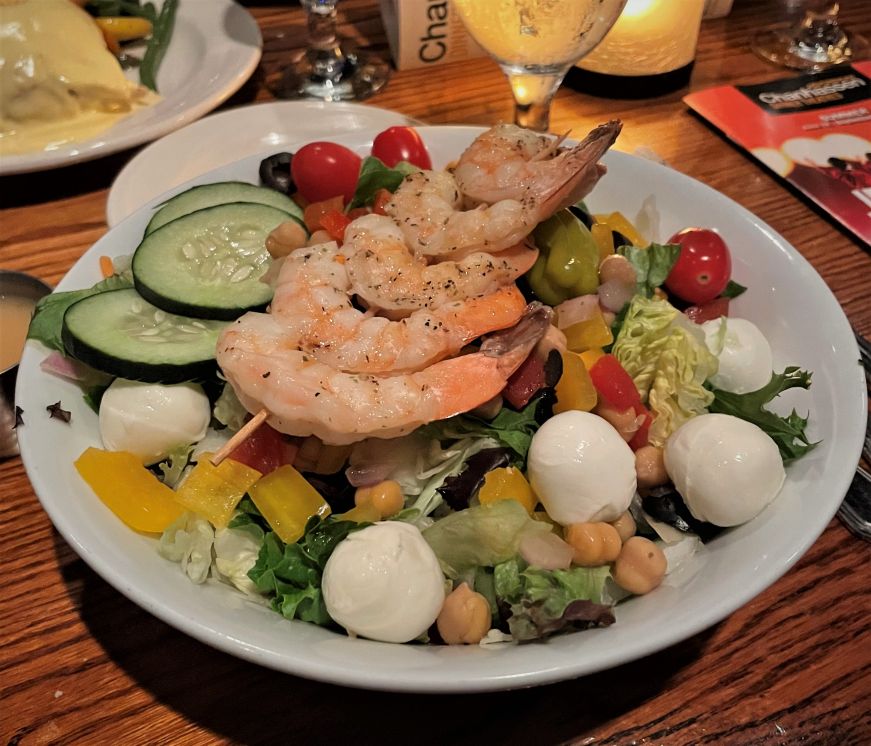 Mike enjoyed the Chicken Chanhassen, Chanhassen Dinner Theatres' most popular entree.  The thick oven-roasted chicken breast is filled with wild rice stuffing and served beneath a rich hollandaise sauce.  It's straightforward but well-executed, and it tastes nostalgic even if you've never had it before.  I opted for the Italian chopped salad with a shrimp skewer ($6 upcharge).  Since I was having an entree salad, our server offered to swap out my side salad for a fruit cup, which was a thoughtful touch.  Like the chicken, the salad is simple but nicely prepared, with fresh ingredients, tender shrimp, and a perfect lettuce-dressing-topping ratio.
We didn't try any appetizers, which are available for an additional surcharge, but there are some special Jersey Boys items like Frankie's Favorite Meatballs.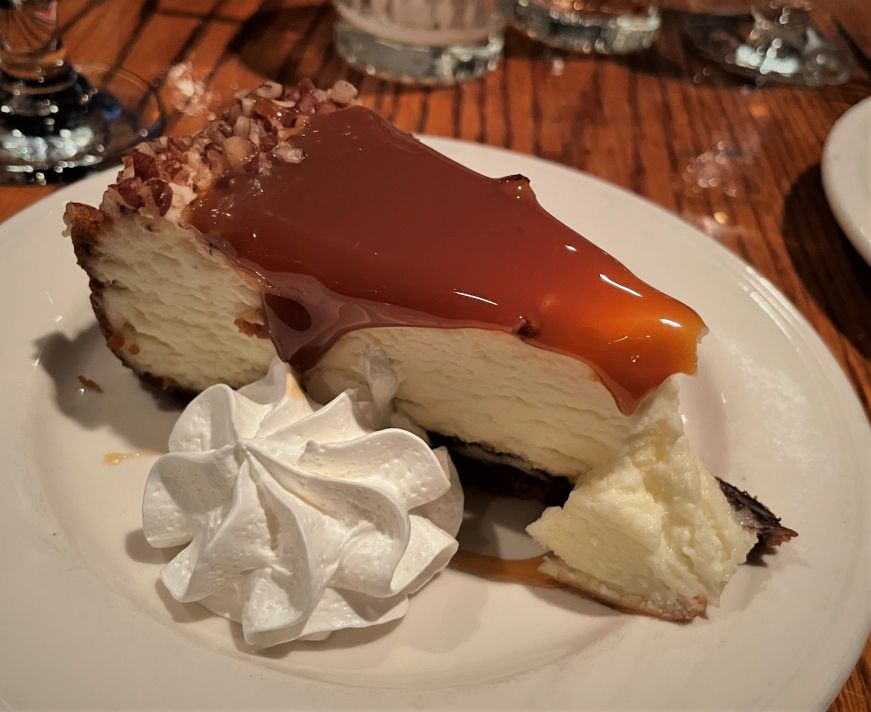 Dessert is also available for an additional surcharge, with several Jersey Boys-themed items including Italian cream cake, cannoli, and a classic tiramisu, as well as sundaes, cheesecake, and Chanhassen's famous chocolate cake for two.  A few of the desserts are gluten-free.
I went with one of the classic desserts, a lovely caramel-forward turtle cheesecake ($8).  If you're not a cheesecake person, the Italian cream cake ($8) has a nice fluffy texture with a bright lemon cream filling and raspberry sauce garnish to add some extra oomph.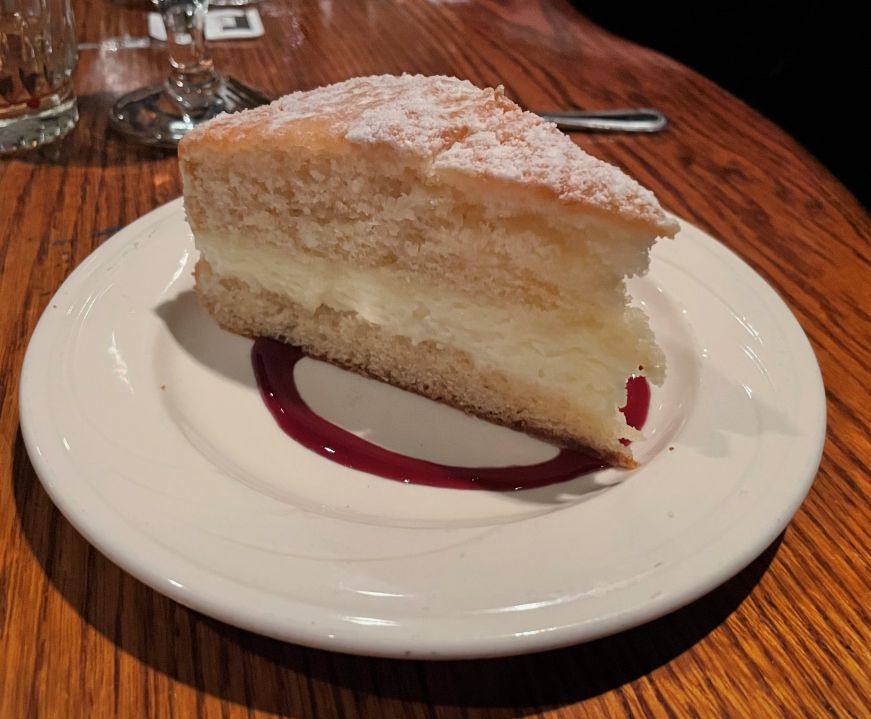 Coffee, tea, and milk are included, and other non-alcoholic beverages (including soda), beer, wine, and cocktails are an additional surcharge.  The specialty cocktails skew sweet, with the exception of the Chanhattan ($10) which I highly recommend if you like whiskey-forward drinks.  I also enjoyed the Violette French 75 ($10), a violet liqueur-spiked riff on a French 75, and if you like dessert cocktails Mike was a fan of the very sweet Peanut Butter Russian ($10).
Dinner is served before the play starts, and dessert, coffee, and any other drinks you'd like are served during intermission.  There isn't any food or beverage service during the show.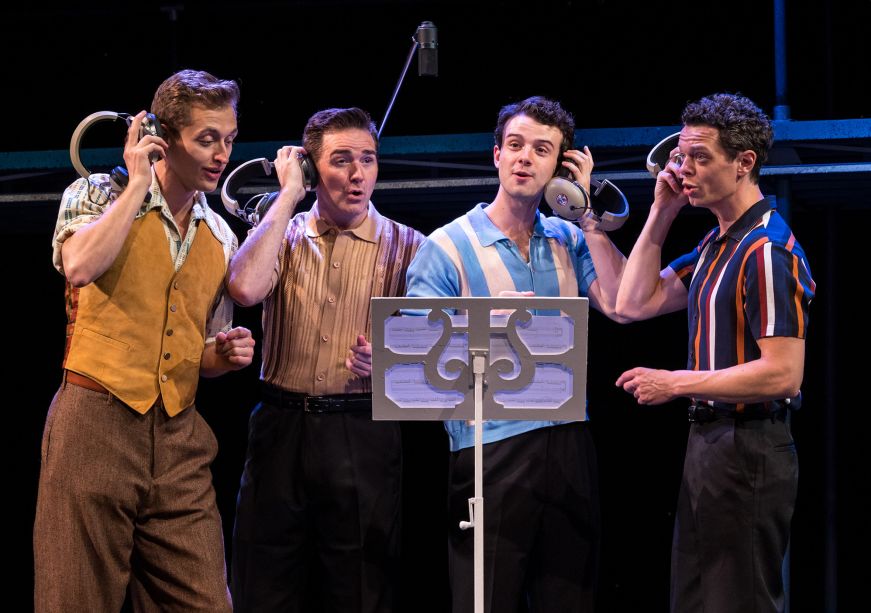 Jersey Boys at Chanhassen Dinner Theatres
Jersey Boys ran on Broadway from 2005 to 2017 and is a jukebox musical featuring the music of the Four Seasons.  Unlike other jukebox musicals like Mamma Mia! or Movin' Out, the story is actually about the group, covering their Italian-American working class origins in 1950s New Jersey, rise to fame, and eventual break up.  The playwrights conducted interviews with the group's original members and the musical is divided into four sections, each from the perspective of a different group member.  Although the music is upbeat and memorable ("Sherry" and "Walk Like a Man" have been stuck in my head for weeks), the story doesn't shy away from difficult subject matter, including interpersonal conflict, substance abuse, and gambling addiction.  Instead of glossing over the dark side of fame, Jersey Boys deftly explores the complexities of identity, relationships, and success.
I went into Jersey Boys as a longtime Four Seasons fan (as a teenager I bought their two-volume greatest hits CD), but I didn't have any knowledge about the group's back story.  The musical weaves narrative between dozens of songs in a way that feels engaging and unforced, and the cast brings an energy to each number that makes decades-old songs feel fresh. 
The four leads (David Darrow as Tommy DeVito, Will Dusek as Frankie Valli, Shad Hanley as Nick Massi, and Sam Stoll as Bob Gaudio) do an excellent job of vocally channeling the group members they're portraying.  However, I was even more captivated by how they conveyed their characters distinct personalities and motivations.  Hanley gets the least stage time, but his depiction of the toll the group's constant touring took on Massi's mental health and family life is one of the most poignant aspects of the show.  Jersey Boys' ending stays true to the musical's overall message: the Four Seasons experienced some very high highs and some very low lows, but the masterful harmonies were a constant.
Jersey Boys is scheduled to run through February 24, 2024.  Learn more and purchase tickets via the Chanhassen Dinner Theatres website.
Chanhassen Dinner Theatres provided me with complimentary press tickets, drinks, and dessert, but I didn't receive any additional compensation for this blog post.
If you enjoyed this post, pin it!