This post was originally published as "Indian Pudding" in November 2014 and was updated and republished as "Cornmeal Molasses Pudding" in January 2020.
In 2011, Mike and I took a fall vacation to New England.  Even though this was pre-food blog, the things that stand out most about that trip are food related. 
Boston's tourist highlights are intertwined with culinary memories of the mysteriously named "Eight Delight" that Mike ordered at a little restaurant in Chinatown (it ended up being rice mixed with a variety of animal proteins, including miniature octopuses).  We shared a bowl of clam chowder at Faneuil Hall during our walk along the Freedom Trail.  We ate pumpkin cake donuts from the Dunkin' Donuts shops that seemed to be located on every street corner (That is, when we weren't eating the infamous Oatmeal to Go.)  
Maine's Acadia National Park has beautiful ocean vistas, but just as memorable was the "tea" of popovers and ice cream we had at the Jordan Pond House.  Fittingly, I experienced my first whole boiled lobster at a restaurant in Bar Harbor, and I had to use my iPhone to look up instructions for how to eat it.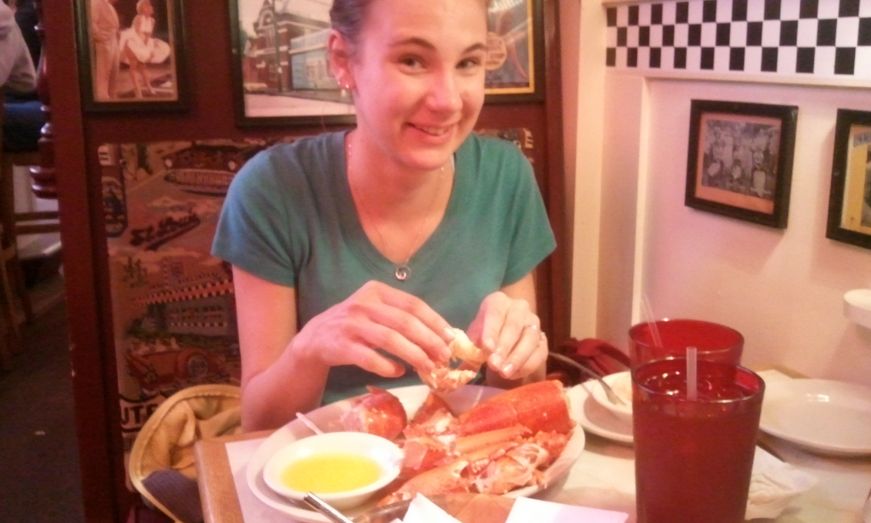 But the highlight of our trip was a dinner at Seafood Ketch in Bass Harbor, a restaurant that Mike remembered from annual childhood trips to Acadia.  Their marvelous lobster roll, heavy on the lobster and light on the mayo, has become the standard against which I compare all other lobster rolls.  Mike opted for a steak, because despite growing up in Maine, he doesn't really like seafood.  As we ate, we watched the sunset from our harborside table.  And then, because nearly all good meals end with dessert, we split an order of Indian pudding.
Indian pudding is a traditional New England dish made with cornmeal seasoned with molasses, cinnamon, and ginger and sometimes topped with whipped or ice cream.  A note about the name: "Indian pudding" doesn't actually have anything to do with the food cultures of North American indigenous peoples or people from the country of India.  Instead, it was developed by English colonists who substituted cornmeal (then known as "Indian meal") for wheat flour in their hasty pudding recipes.  (In recognition of the dish's actual history and to be culturally sensitive, I renamed this recipe "Cornmeal Molasses Pudding" when I republished this post in January 2020.)
Cornmeal molasses pudding has become one of my favorite cold-weather desserts.  It's not terribly sweet, but the molasses gives it a satisfyingly rich flavor (especially if you use blackstrap molasses).  I suspect that you can use whatever type of milk you please—I've had success with whole, skim, and soy milks.  To ensure a smooth texture, it's important to gradually add the cornmeal and continuously stir the pudding while it cooks.  The leftovers reheat well; simply refrigerate the cooled pudding in a tightly covered container.
Although the low-and-slow baking time requires a bit of patience, the ingredients are probably already in your pantry and the preparation is simple (and speaking from experience, there is absolutely nothing wrong with eating dessert at 9:30 p.m. if the urge to make cornmeal molasses pudding hits after dinner).
Adapted from the recipe by Devlin Burke
Ingredients:
shortening, for greasing casserole dish
3 cups soy or dairy milk
1/3 cup cornmeal
1/4 cup molasses (preferably blackstrap)
1/4 cup granulated sugar
1/2 teaspoon salt
1/4 teaspoon cinnamon
1/4 teaspoon ginger
whipped cream or vanilla ice cream, for serving (optional)
Preheat oven to 275 degrees Fahrenheit.
Grease a 2 quart casserole dish.
Heat milk over medium heat in a medium saucepan until bubbles form around the edges and at the surface and the milk starts to steam, about 5 minutes.  Slowly stir in the cornmeal and molasses.  Cook, stirring constantly, until mixture has the consistency of a thick sauce and has just started to boil, about 5 minutes.  Remove from heat and stir in sugar, salt, cinnamon, and ginger.  Pour pudding into prepared casserole dish.
Bake pudding for 30 minutes.  Stir to break up the skin that forms on the top of the pudding and return to the oven.  Bake for additional 15 minutes, stir, and return to oven.  Bake for another 15 minutes (1 hour of total baking time) and stir well before serving.
Serve warm, topped with whipped cream or vanilla ice cream if desired.
If you enjoyed this recipe, pin it!