This post contains affiliate links. If you make a purchase through these links, I will earn a commission at no extra cost to you. Thanks for reading!
Sadly, my job as a paralegal has absolutely nothing to do with food: I fill out forms, draft letters, and spend an inordinate amount of time scanning in documents to electronically file them with the federal government.  However, my workdays do feature the occasional culinary highlight.  My summer and early fall Thursday lunch breaks are spent at the Nicollet Mall farmer's market, admiring squash and determining how many pounds I can lug  back to my office without losing sensation in my arms.  Throughout the year, my firm has a popcorn cart that appears in the lounge on special occasions, producing popcorn for all from 11 am to 4 pm (I am such a popcorn addict that I make twice daily pilgrimages to the popcorn cart.  My sister once told me, "You realize that you can never leave your law firm, right?  Because where else are you going to get a popcorn cart?").  But the best workplace food event happens only once a year, on Valentine's Day: Janine brings in her sugar cookies.
Janine's sugar cookies are uniquely pillowy, somewhat similar in texture to grocery-store variety soft frosted sugar cookies.  But Janine's cookies are infinitely better, fresher and not as sickeningly sweet, an honest indulgence reserved for special occasions.  The dough, prepared in advance and chilled overnight, is much stickier than your average sugar cookie dough--when rolling out the cookies, have at least a cup of extra flour on hand and use it liberally.  Janine notes that this recipe makes excellent large cookies, but due to their richness I prefer a smaller size.  The cookies puff up considerably while baking and don't brown on the top, so check the bottoms for doneness.
Finally, the frosting recipe is adapted from one of my vintage cookbook finds, the 1962 Sugar Spoon Recipes published by Domino Sugar.  It makes just enough to frost the whole batch of cookies.
Cookie recipe slightly adapted from my co-worker and baker extraordinaire Janine; frosting recipe adapted from Sugar Spoon Recipes
Yield: 6 1/2 dozen 2-inch by 3-inch cookies
Ingredients:
Cookies
4 cups all-purpose flour, plus additional for rolling out the cookies
2 teaspoons baking powder
1 teaspoon baking soda
1/2 teaspoon salt
2 cups granulated sugar
1 1/4 cup (2 1/2 sticks) unsalted butter, softened
3 eggs
1 1/2 cup sour cream
1 tablespoon vanilla
Frosting
4 cups confectioner's sugar, divided
1/2 cup (1 stick) unsalted butter, softened
4 tablespoons milk, divided
1 tablespoon vanilla
1/8 teaspoon salt
food coloring, optional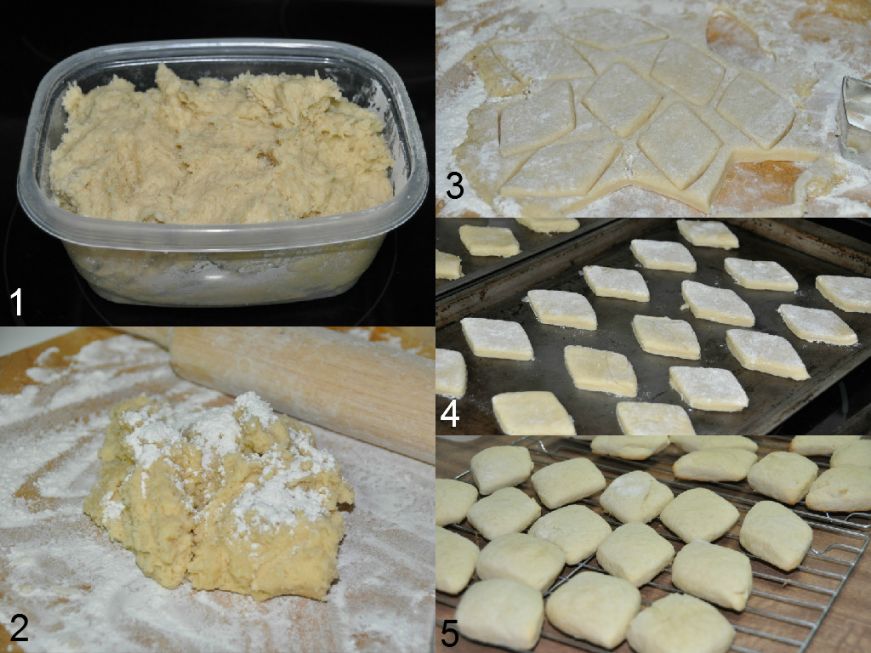 Cookies
The night before, mix the flour, baking powder, baking soda, and salt in a medium bowl and set aside.  In a large bowl, cream together the sugar and butter until light and fluffy.  Stir the eggs, sour cream, and vanilla into the sugar mixture.  Gradually stir in the flour mixture and mix until a loose, sticky dough forms.  Tightly cover and chill in refrigerator overnight.
The next day, preheat oven to 375 degrees Fahrenheit.
Thoroughly flour the working surface.  Working in batches (I rolled out about one-quarter of the dough at a time), place a portion of dough on the floured surface.  Sprinkle the top of the dough with flour.  Using a floured rolling pin, roll the dough out to a 1/4 inch thickness.  Cut out shapes with a floured cookie cutter and place on a non-stick cookie sheet.  Form any scraps into a ball, roll out, and continue to cut out cookies until all the dough has been used.  Frequently re-flour surface and rolling pin to prevent sticking.
Bake cookies until very lightly browned on the bottoms, about 8-9 minutes.  Cool completely on wire racks and frost with buttercream frosting.
Frosting
In a large bowl, cream together two cups of sugar and butter. Mix in two tablespoons milk, vanilla, and salt. Add the remaining 2 cups sugar and 2 tablespoons milk and mix until all the sugar has been incorporated. Using an electric mixer, beat until smooth. If necessary, add additional sugar or milk to achieve desired consistency. Stir in food coloring if desired.
Frost cookies. Allow frosting to set until firm to the touch.  Store cookies tightly covered at room temperature.