This weekend, I found myself in need of a Christmas-themed costume and a potluck contribution for the annual German Christmas party.  Since the last time I dressed up was Halloween 2001, I was quite proud of my costume idea.  I wore a Goodwill-sourced slinky evening gown, borrowed a faux fur scarf from a co-worker, and perched some antlers on my head to go as Vixen.  Mike was Rudolf, with matching antlers and a red face paint nose.  It was kind of adorable.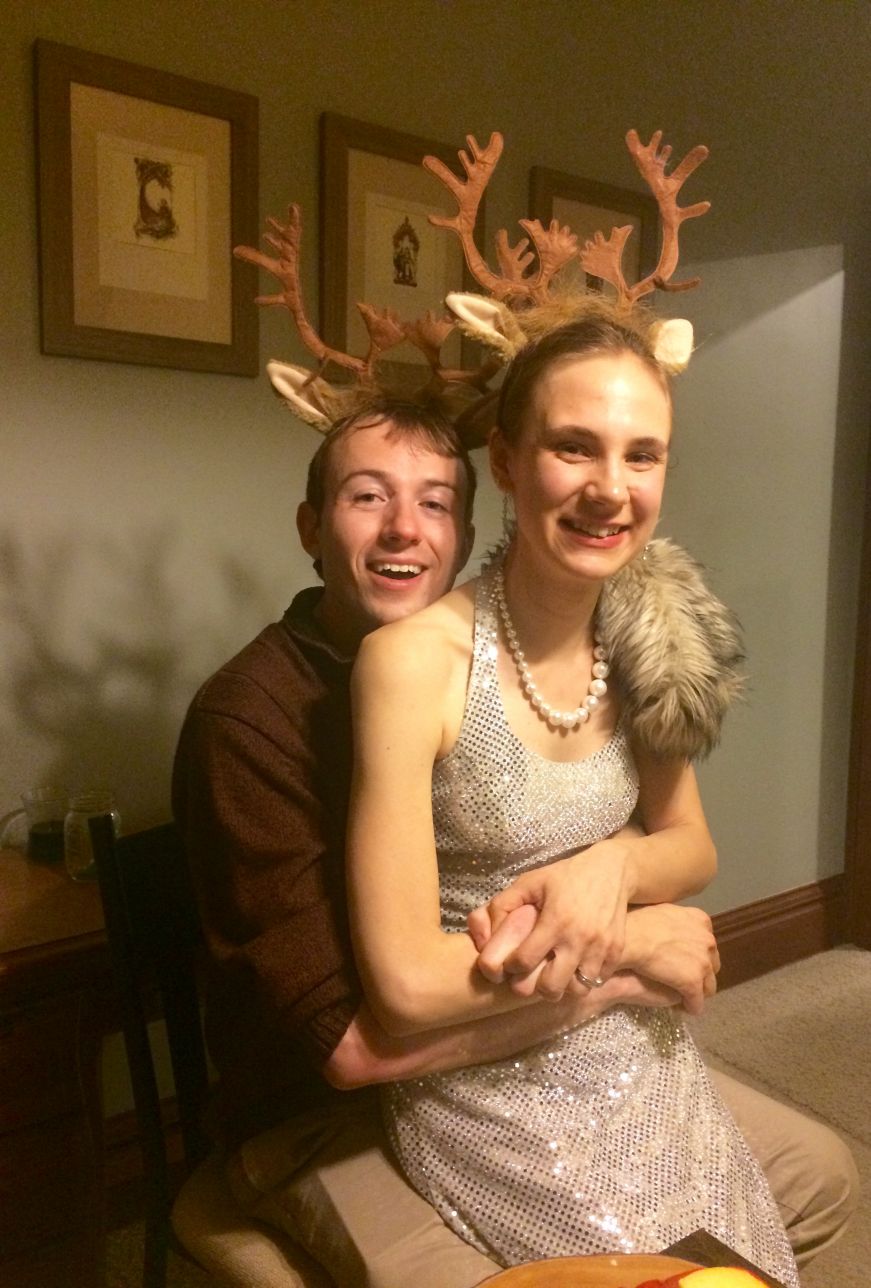 Next up was the food.  I wanted to go with a German theme, and after a bit of Internet research I settled on lebkuchen, a traditional German Christmas cookie that is basically a more complicated version of gingerbread.  It is traditionally baked in rounds and flavored with honey, spices, nuts, and candied fruit.  I adapted a simplified recipe from King Arthur Flour that is baked in bar form and flavored with fresh grated lemon and orange peel and candied ginger in place of the more typical candied citron.  Lebkuchen are a bit of an acquired taste, more the sort of thing that you nibble with a cup of coffee than binge eat while watching Christmas movies (I recommend no-bake cookies for that).  But sometimes, when you've spent the past evening gorging on American-style spätzle, pretzels, M&M cookies, and alcoholic gummy bears, nibbling on a leftover understated Christmas cookie is exactly what you need.
I did find the cloves and nutmeg in this recipe to be somewhat overpowering; next time I make this, I plan to reduce them to 1/2 teaspoon each.  For the glaze, make sure to use apple juice--it mellows out the spices of the cookies, and you can buy a little personal-sized container at a convenience store if apple juice isn't something you typically have on hand.
Adapted from the recipe by King Arthur Flour
Yield: one 9 x 13 pan of bar cookies.  Cut them as large or as small as you want for whatever yield your heart desires.
Ingredients:
Cookies
1/2 cup slivered blanched almonds
heaping 1/4 cup crystallized ginger (I found some in the bulk section at the co-op)
1/2 cup packed brown sugar
3/4 cup honey
1 egg
2 teaspoons grated lemon peel (about one lemon's worth)
2 teaspoons grated orange peel (about one half orange's worth)
2 1/4 cups all-purpose flour
2 teaspoons cinnamon
1 teaspoon ground ginger
1 teaspoon nutmeg
1 teaspoon cloves
1/4 teaspoon baking soda
Glaze
1 cup powdered sugar
1/4 cup apple juice
Place almonds and crystallized ginger in a food processor.
Process until finely ground.
Combine brown sugar and honey in a small saucepan.  Bring to boil, stirring constantly.  Remove from heat and cool until warm.
In a large bowl, combine the cooled sugar mixture, egg, lemon peel, and orange peel.  Add the almond mixture, flour, cinnamon, ground ginger, nutmeg, cloves, and baking soda and mix thoroughly until a stiff dough forms.  Cover tightly and refrigerate overnight.
The next day, preheat oven to 350 degrees Fahrenheit.  Grease a 9 x 13 pan.
Using a rolling pin lightly dusted with flour, roll out the chilled dough on a lightly floured surface into your best approximation of a 9 inch by 13 inch rectangle (it will be about 1/4 inch thick).  Transfer dough rectangle to prepared pan.
With a sharp knife, trim any excess dough and lightly press it into the pan to fill any gaps.
Bake until surface has set and a toothpick or cake tester inserted into the center comes out clean, about 17-20 minutes.
While the lebkuchen are baking, combine the powdered sugar and apple juice in a small bowl and mix until smooth.
Once the lebkuchen are done baking, remove from pan immediately and place on a wire rack for cooling and glazing (you may want to cover the surface below the rack with wax paper to catch the dripping glaze).  Using a pastry brush, thickly coat the lebkuchen with glaze.  Allow the glaze to soak in, about 5 minutes, and then brush with another thick layer of glaze.
When glaze has set and lebkuchen are completely cool, cut into rectangles.  Store in an airtight container at room temperature with a slice of apple to keep the lebkuchen moist.