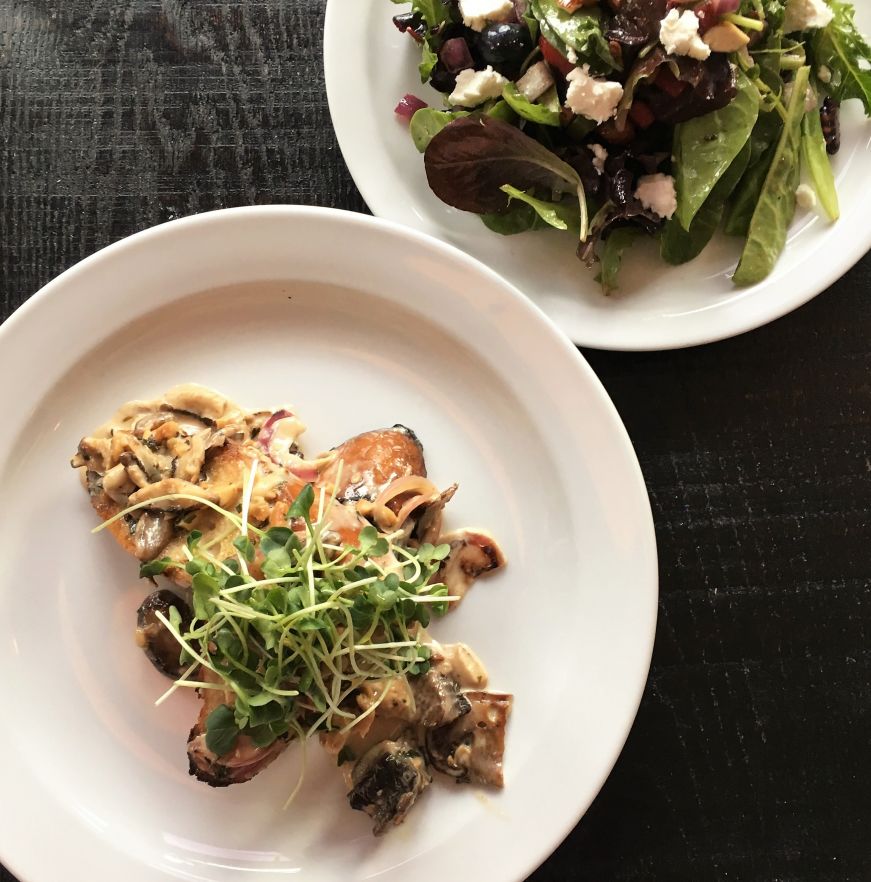 As a freelance writer and blogger, I love going to conferences.  The nature of my work means that I spend most of my days working at home alone, so it's exhilarating to find myself in a room full of people who understand exactly what I do for a living.  Plus, conferences are a great reason to explore places I wouldn't ordinarily visit—a couple weeks ago, I found myself in Clear Lake, Iowa for the 2018 Building Community conference sponsored by Midwest Travel Bloggers.
The one downside of conferences is that you tend to be disconnected from the actual destination.  Sessions are usually held in beige hotel conference rooms.  The food is usually a generic lineup of continental breakfast buffets, bland sandwiches, and chafing dishes of chicken breasts and pasta.
But food is where the Building Community conference truly shined.  Instead of relying on typical catering fare, the organizers did a great job bringing in food from a variety of local restaurants.  From candy-topped donuts to farm-to-table dining, here are the local flavors I sampled in Clear Lake, Iowa—mostly without ever leaving the conference venue.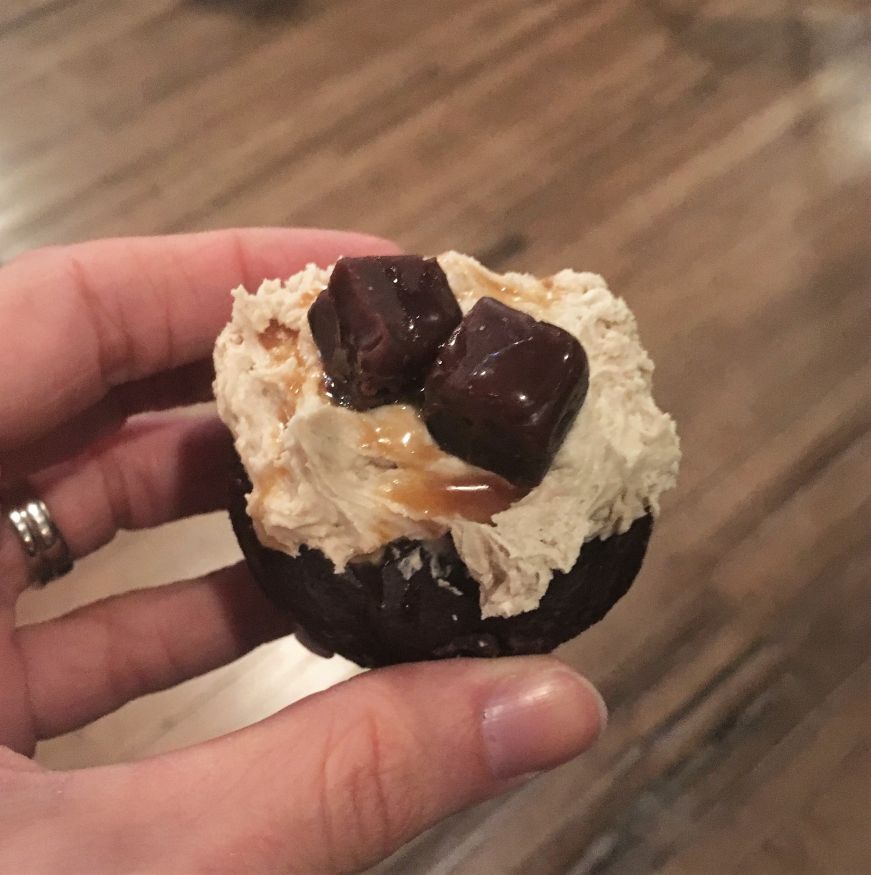 The conference kicked off with mini donuts from South Shore Donut Co.  They specialize in baked cake donuts with unique toppings like Fruity Pebbles, Andes mints, and chocolate chip cookies.  I enjoyed the Brown Eyed Girl, a chocolate donut with caramel buttercream, brownie pieces, caramel drizzle, and sea salt.
Lunch from Pig Skin Barbecue Catering featured pulled pork, smoked turkey breast, broccoli salad, and some stellar mac and cheese.
One of the best things I ate in Clear Lake was a snack box from Simply Nourished, a local specialty organic food market.  With organic fruit, carrots sticks and sundried tomato hummus, gluten-free crackers, and a nut, dried fruit, and chocolate snack mix, it provided a perfect boost of energy (since most of the conference food was meat-heavy, I very much appreciated that it was vegan).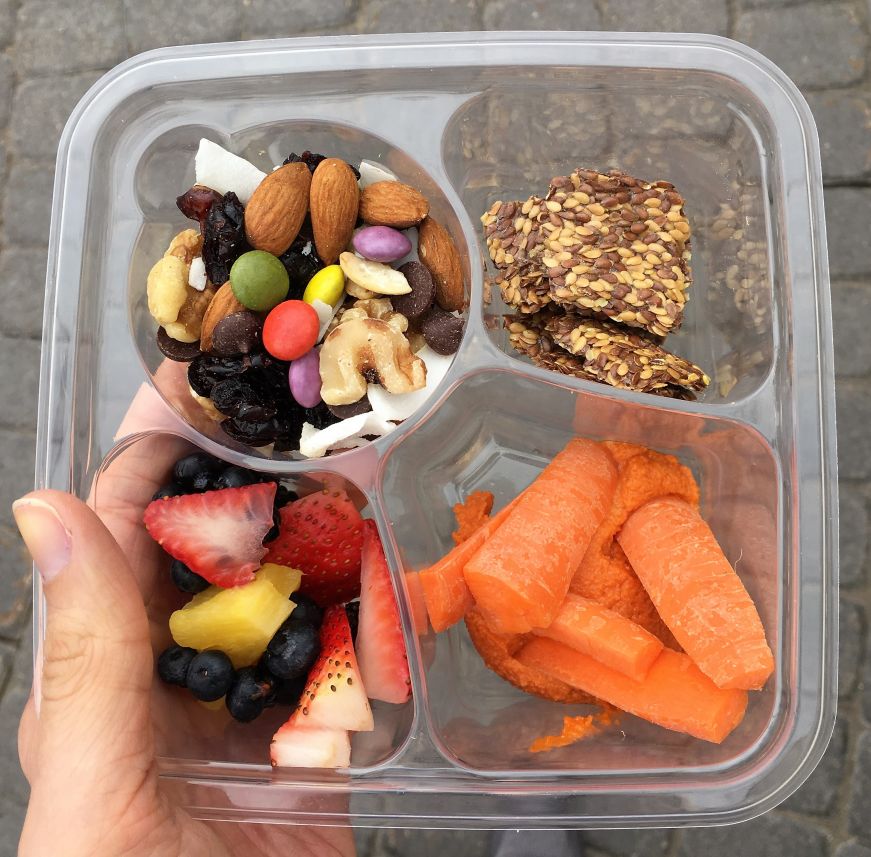 I took advantage of a break before dinner to check out Simply Nourished in person.  They offer a decent selection of packaged foods, plus meat, dairy, gluten-free bread, and produce.  Many of the products are sourced locally or from neighboring states, as shown on the chalkboard map at the front of the store.
Backyard Deli provided a quintessential Midwestern dinner buffet: meatballs, ham balls (an Iowa specialty made with ground ham and graham cracker crumbs), tossed salad, green beans with bacon, cheesy potatoes, and a cheesecake bar. 
As a Minnesotan, I was unaware of the Iowa culinary phenomenon that is breakfast pizza from Casey's General Store.  Pizzas are made from scratch, and the breakfast pizzas are topped with cheese sauce, scrambled eggs, mozzarella and cheddar cheese, and bacon or breakfast sausage.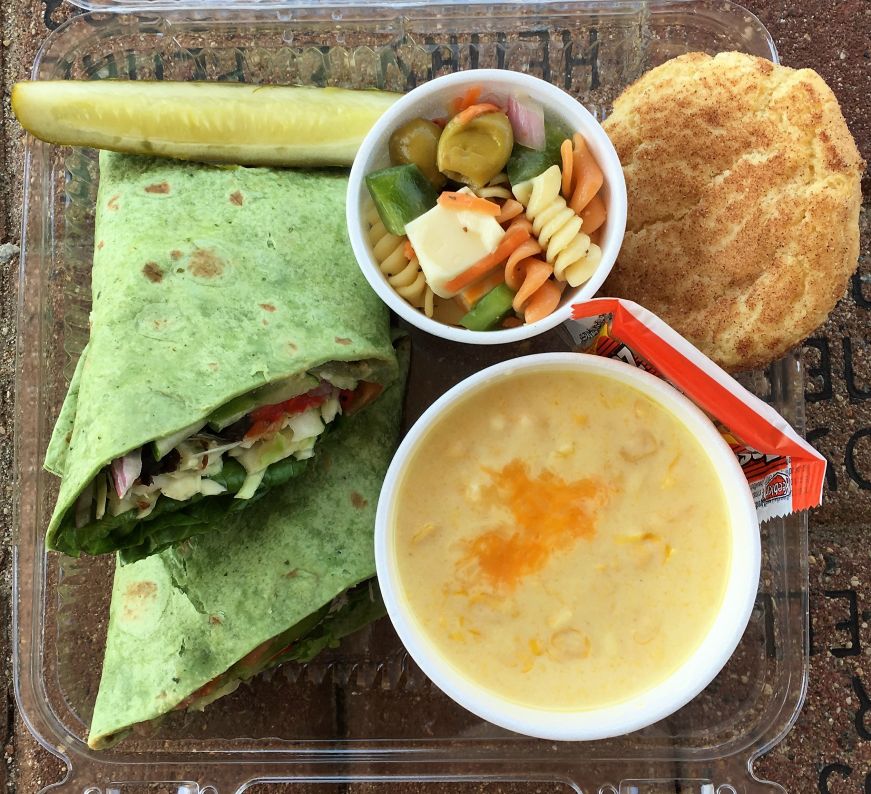 Starboard Market supplied boxed lunches that put the standard sandwich, chips, and cookie combo to shame.  Lunch included a sandwich or wrap, cup of soup, crackers, a small serving of pasta salad, pickle, and cookie.  I went with the vegetarian option, a tasty garden veggie spinach wrap packed with fresh vegetables, sprouts, and Dijon mustard.  The accompanying cheesy cornbread soup, olive-packed pasta salad, and snickerdoodle cookie were also hits (For a full review of Starboard Market, check out this post on Postcard Jar.)
Cookies Etc. supplied a sweet afternoon snack: generously-sized chocolate chip, sugar, oatmeal raisin, pecan chocolate chip, chocolate chocolate chip, and monster cookies.  I had to try two: a brownie-like chocolate chocolate chip and a monster cookie with a nice balance of salty peanut butter and sweet M&Ms and chocolate chips.
For our final dinner in Clear Lake, we hit the town.  I dined at Fieldhouse (closed as of November 2018), a farm-to-table restaurant with a seasonal menu and craft cocktail program in elegantly minimalist surroundings. There was an interesting variety of vegetarian small plates and salads—I ordered the wild mushroom toast and the half portion of the goat cheese and mixed berry salad.  The mushroom toast was amazing: thick slices of chewy housemade sourdough, topped with a variety of wild mushrooms gently cooked in cream.  Cashews and radish shoots added a pleasant crunch.  The salad featured the same careful balance of flavors, with a fresh, clean-tasting goat cheese and a bright balsamic thyme vinaigrette.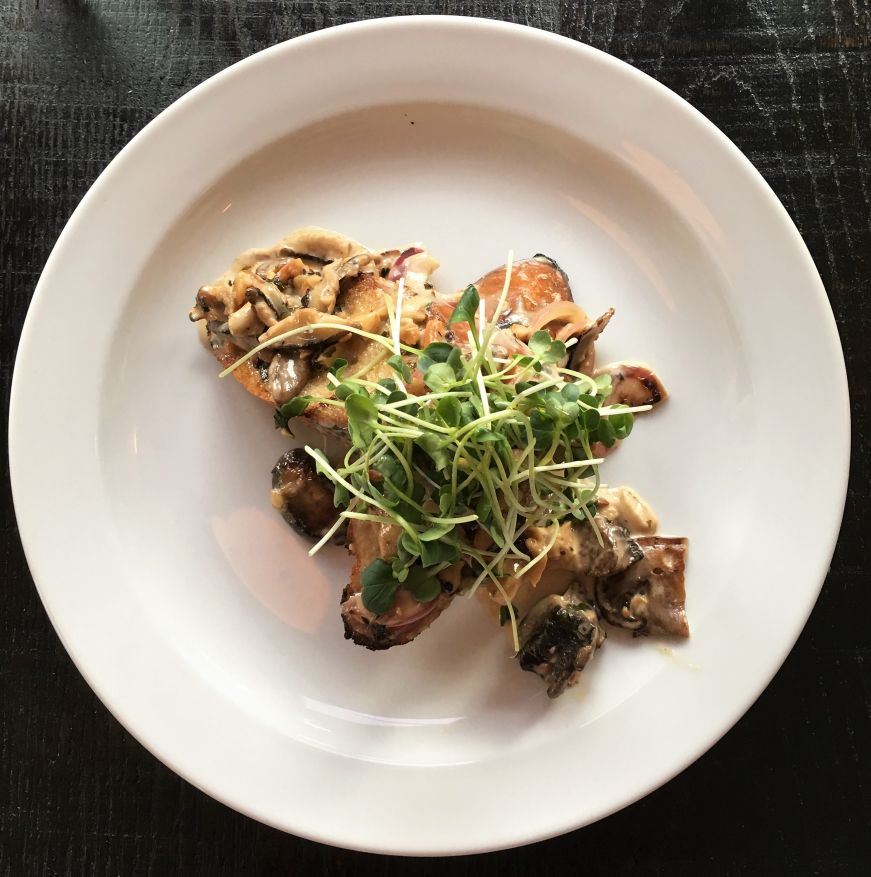 Other Clear Lake restaurants:
As I mentioned above, attendees got to pick from several local restaurants for our final dinner.  In addition to Fieldhouse, here were the other options:
Bread & Buttercreme specializes in elevated comfort food, with tapas, brunch, and desserts.
Ge-Jo's By The Lake is a classic Italian restaurant with a menu featuring pizza, pasta, salads, and sandwiches.
Surf District Rock 'n Roll Grill offers American fare like burgers, salads, and wraps in a music-themed atmosphere.
Although my stay was short, thanks to the all the local food I sampled I feel like I actually experienced Clear Lake, Iowa—kudos to conference organizers Libbey Hohn of the Clear Lake Chamber of Commerce and Sara Broers and Lisa Trudell of Midwest Travel Bloggers.
I wasn't compensated for this post, and I paid for all my conference expenses out-of-pocket.
If you enjoyed this post, pin it!