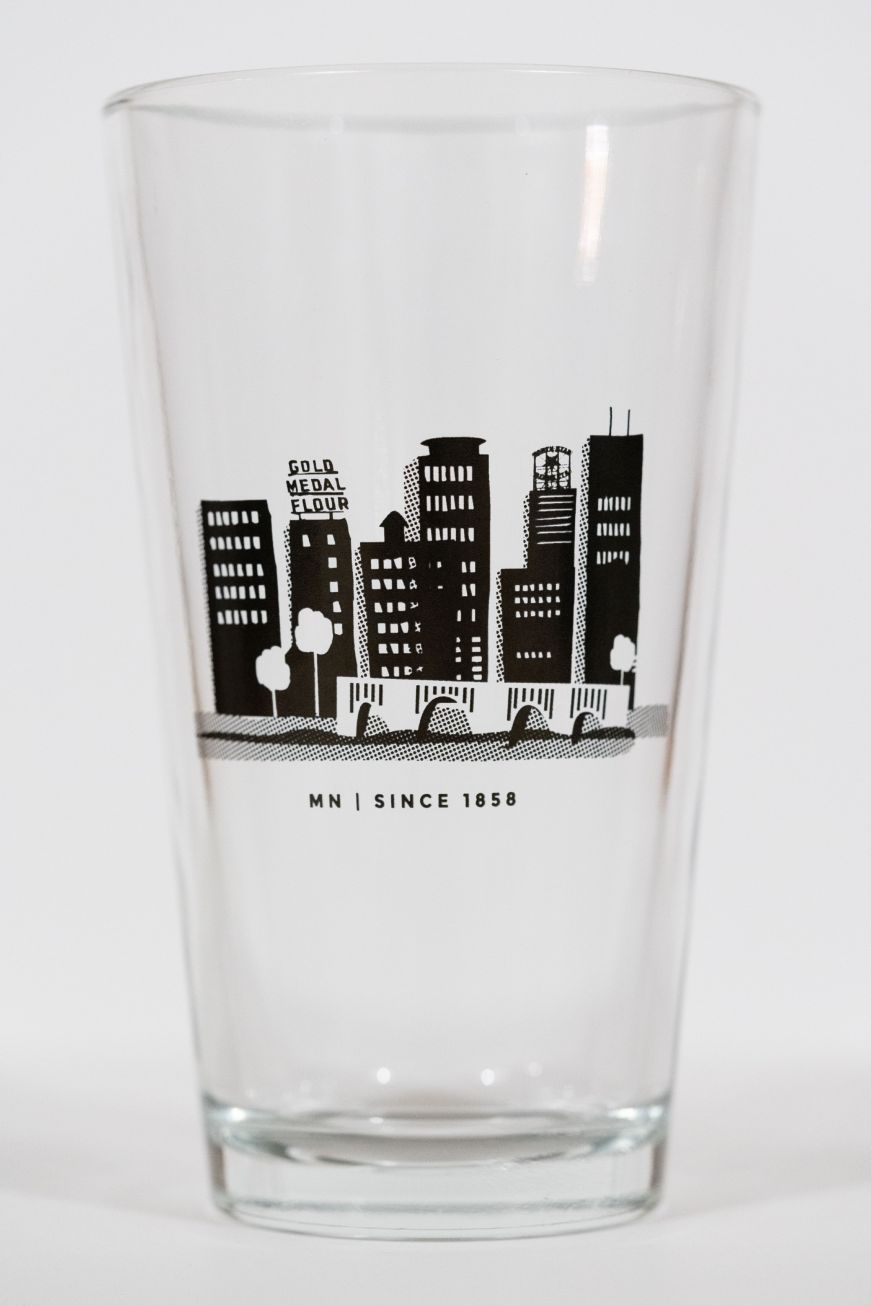 This isn't a sponsored post, and it doesn't contain affiliate links—I've purchased all of these products out-of-pocket and genuinely think they're awesome.
'Tis the season for holiday gift guides—from bloggers, from magazines, from online publications.  I've never done a gift guide before, mostly because this blog is laughably unmonetized (I've done exactly one sponsored blog post in 2021).  However, I do like buying locally made products, and I've found some neat stuff over the years that I wanted to share. 
Accordingly, this made in Minnesota gift guide reflects my personal tastes: my love for earrings, my sweet tooth, my penchant for craft cocktails.  If that's your (or your loved ones') jam too, I hope you find something here to add to your Christmas list.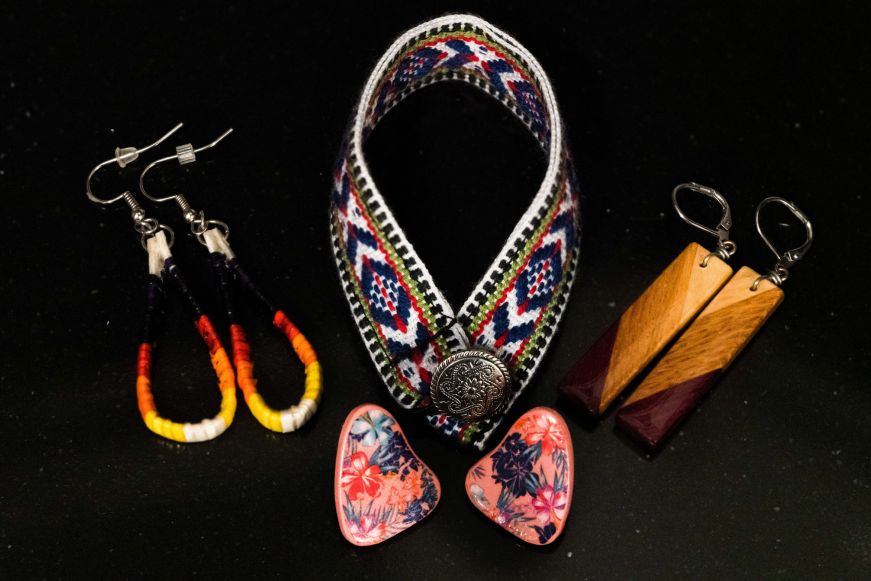 Jewelry
Clay earrings ($15-$40), Npauj
Hmong designer Bao Yang crafts polymer earrings that are both elegant and whimsical, often with floral motifs.  Although most designs are on the larger side—these are definitely statement pieces—I've found them to be relatively lightweight and comfortable to wear all day (I own the Enchanted Garden abstract stud earrings in coral).  Npauj also sells handcrafted hair accessories and bracelets.
Reclaimed wooden earrings ($22-$45), Melinda Wolff
Artist Melinda Wolff creates sleek, modern earrings from scraps of wood—the selection ranges from small studs to large dangling hoops.  (I've been wearing the rectangle earrings for several years, and they're somewhere in the middle of the size range.)  Each piece incorporates two or more different types of wood, with a clear resin coating that accentuates the natural colors.  In addition to earrings, Wolff offers reclaimed wood bracelets and necklaces, plus Minnesota-shaped ornaments and keychains, oil paintings, and watercolors.
Native-made earrings ($14-$45), Birchberry Native Arts and Foods
Birchberry owner Heidi Grika, a tribal member of the White Earth Band of Ojibwe, Mississippi Band, stocks products made by over 20 different Native artisans.  Each item is unique (I have a pair of tear drop-style earrings), with a lovely selection of beaded and metal earrings.  Other gift items include apparel, toys, fine art prints, and wild rice.
Swedish braid bracelet ($15), Steller Handcrafted Goods
A subtle celebration of traditional Scandinavian textiles, these bracelets are made from braid woven in Sweden and are finished with a Nordic-style button and elastic loop closure.  I own the Sami blue bracelet in medium (measure your wrist before purchasing to ensure the right fit)—other designs are inspired by Nordic flags, flowers, and hearts.  In addition to bracelets, Steller Handcrafted Goods produces mittens, apparel, and purses, and stocks gift items imported from Scandinavia.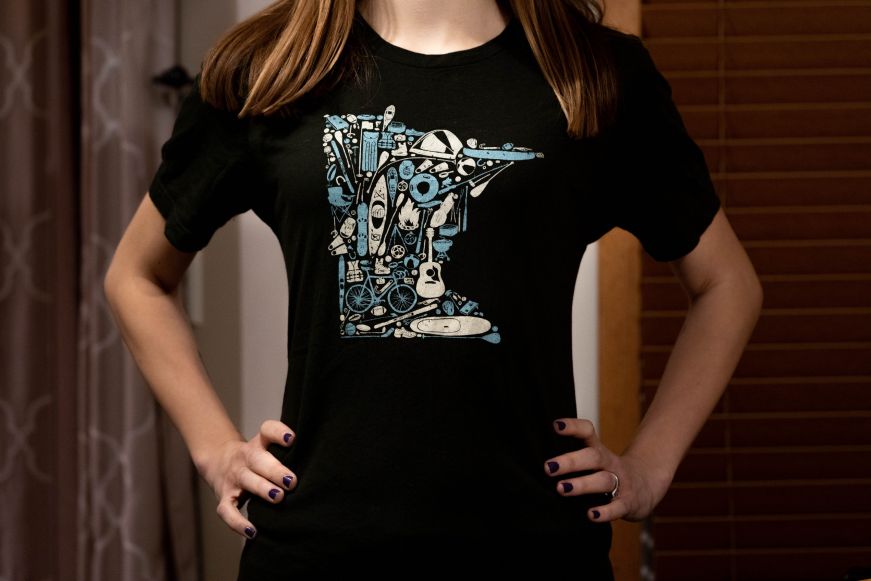 Clothing
T-shirts ($22-$25), i like you
I've purchased several t-shirts from i like you over the past decade—the designs change frequently, but always feature clever nods to various aspects of Minnesota life.  My favorites in the current selection are the City of Lakes and Capital City shirts, which depict the manhole covers of Minneapolis and St. Paul, respectively.  i like you also carries Minnesota-made home decor, jewelry, soaps, candles, jewelry, stickers, and more.
i-like-you-minneapolis.myshopify.com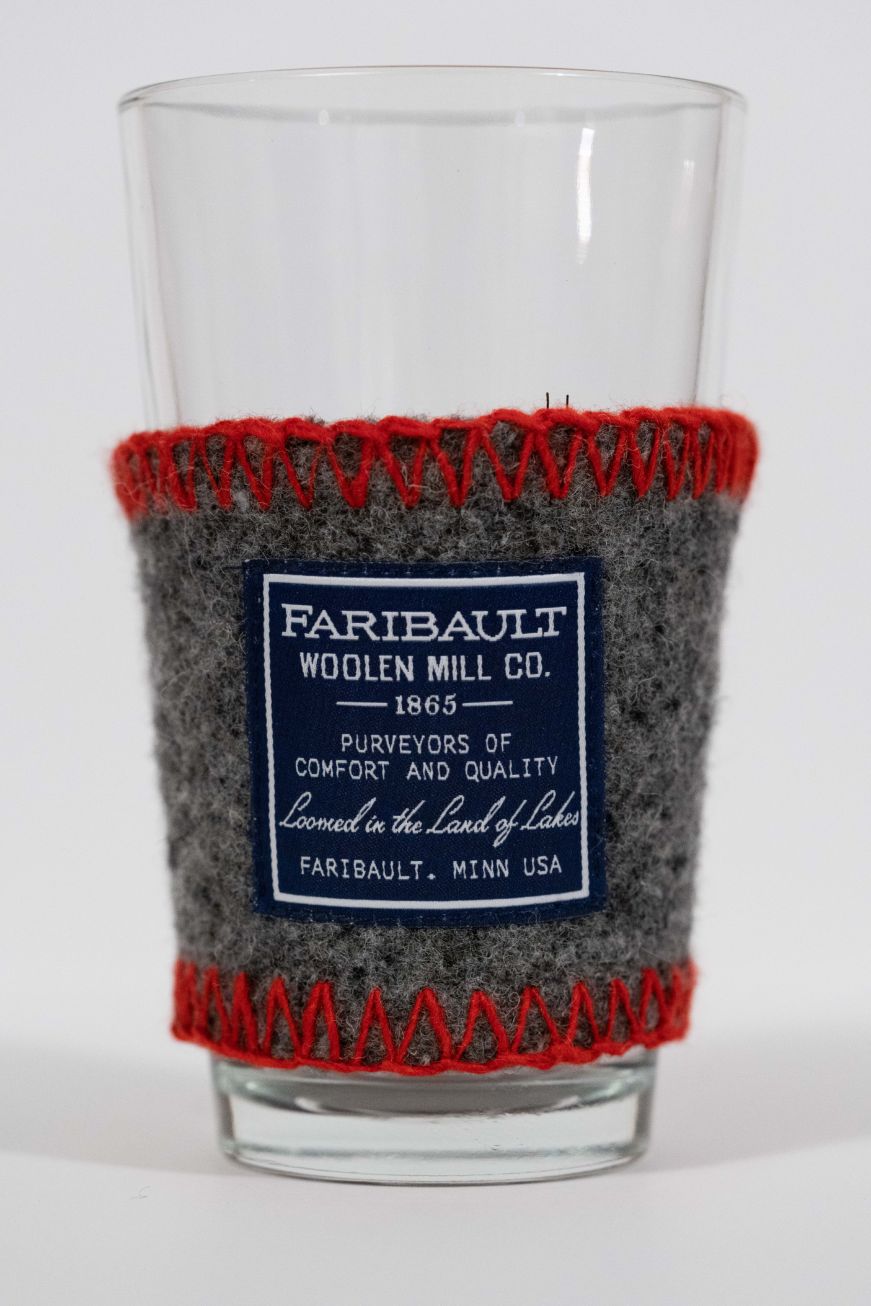 Home
Coffee/pint sleeve ($15), Faribault Woolen Mill
Faribault Woolen Mill's famous blankets are an heirloom-quality splurge—if you're on a budget, opt for a coffee cozy made from blanket ends that would otherwise be shredded and recycled.  There are a variety of patterns to choose from, and they make your disposable coffee cup feel oh-so-cozy.
Pint glass ($8.99), Northern Glasses
Sip local with Northern Glasses designs including the Minneapolis or St. Paul skylines and Minnesota landmarks like Split Rock Lighthouse and the Stone Arch Bridge.  As an added bonus, seven percent of glassware sales are donated to bring safe and clean water to developing nations.  We have a pair of Minneapolis Skyline pint glasses that have held up really well over the years—the screen-printed design still looks crisp.  Northern Glasses also sells Minnesota-themed coffee mugs, stickers, candles, and posters.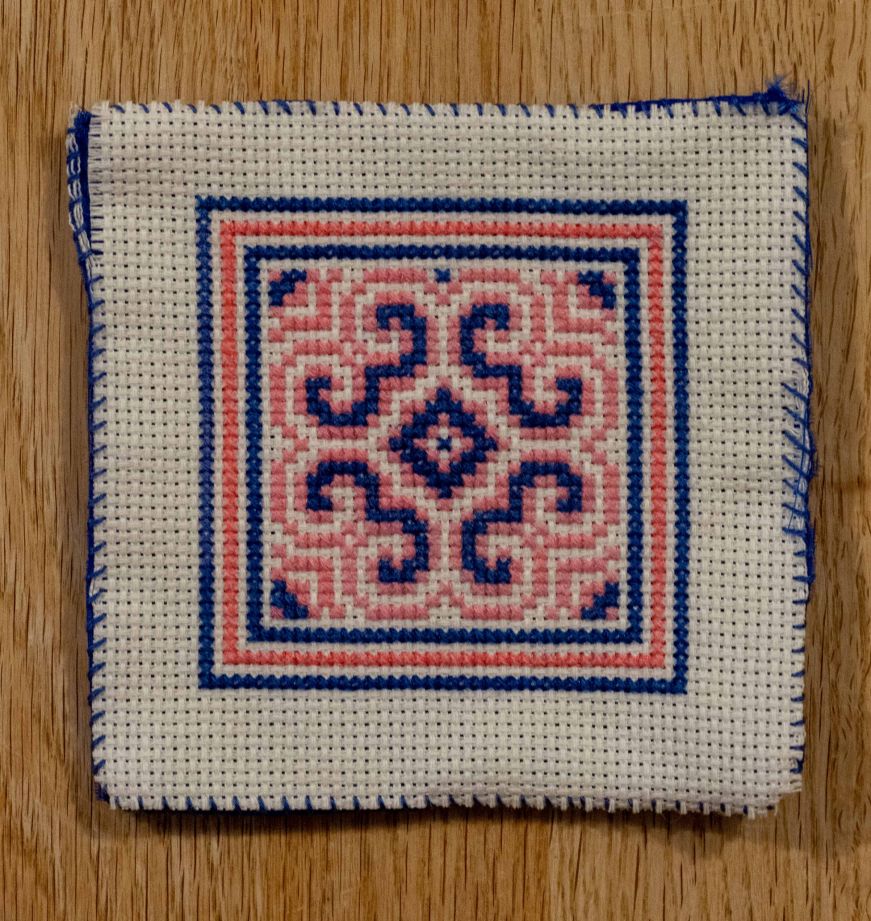 Paj ntaub embroidery kit ($10), Hmong Museum
Paj ntaub is a traditional form of Hmong embroidery, and the Hmong Museum's kits make great gifts for crafters (or purchase one for yourself to make someone a gift).  Beginner-friendly coaster and bookmark kits are available, with all the supplies you need are to complete a project.  The coaster kit was my first paj ntaub attempt, and I was pleasantly surprised with how lovely it turned out.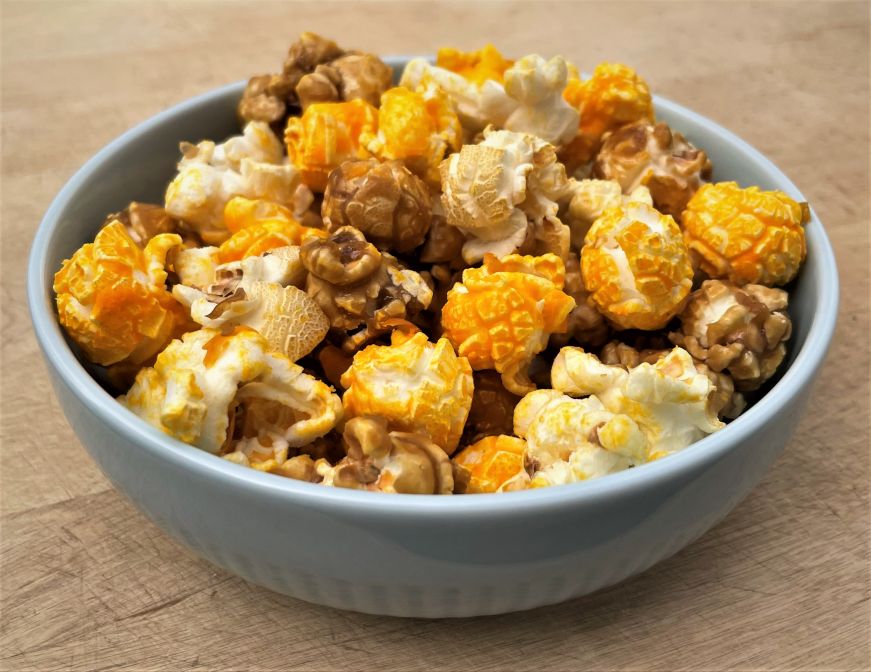 Food & Drink
Chip Zel Pop ($8.99 and up), Funky Chunky
Chip Zel Pop is my default gift item to send to others: the mixture of caramel corn, potato chips, and pretzels drizzled with caramel and chocolate is the perfect blend of sweet and salty.  There are various sizes to choose from, from an 8-ounce mini canister to a 5-pound gift tin, and the website makes it easy to ship to multiple addresses.  Other Funky Chunky include chocolate covered pretzels and gourmet flavored popcorn.
Chicago Mix ($9 and up), Candyland
If you want more of a snack than a dessert, opt for a tin of Chicago Mix: a combination of seasoned popcorn, caramel popcorn, and cheddar cheese popcorn.  I know a tin of popcorn sounds like a cliche Christmas gift, but the freshness and quality of Candyland's Chicago Mix make it special.  They also offer a wide variety of chocolate and candy.
Honey bon bons ($9.27 and up), Mademoiselle Miel
Made with single-origin chocolate, honey harvested from rooftop hives in St. Paul, and 23k edible gold leaf, these honey bon bons are a delight for the eyes and the taste buds.  The three-piece box is a lovely little luxury for less than $10.  Mademoiselle Miel also crafts smoked scotch honey bon bons, artisan chocolate bars sweetened with local maple sugar, and honey hot cocoa bombs.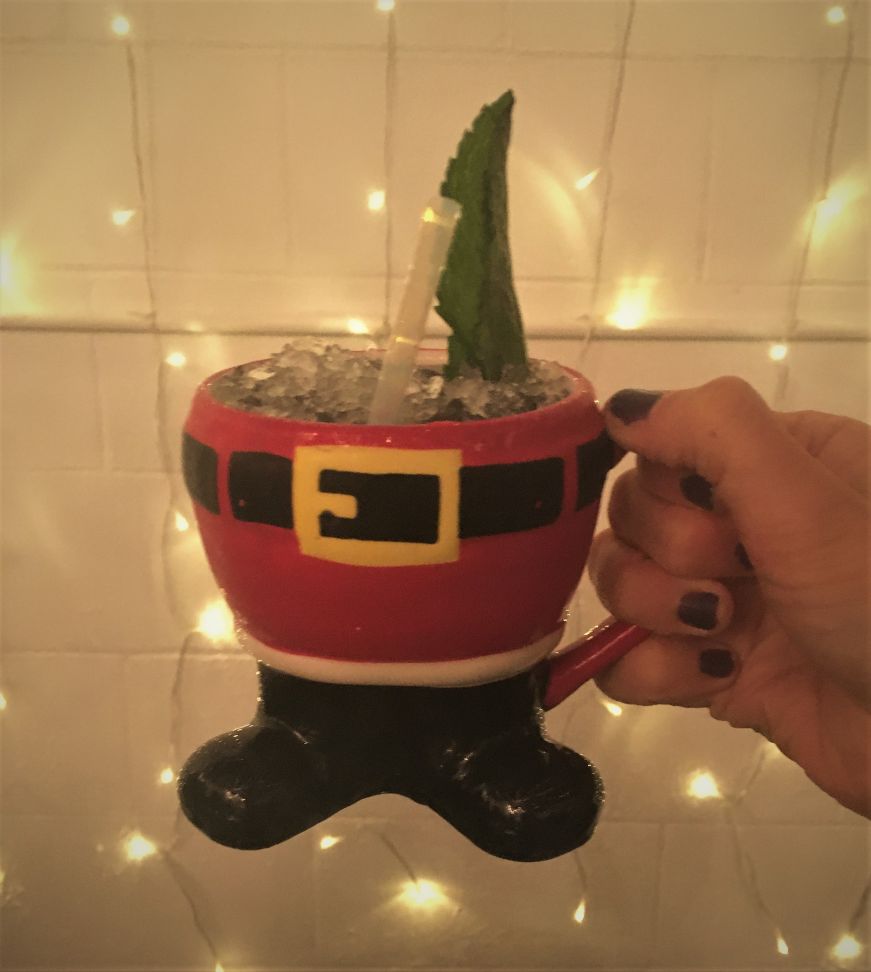 Holiday cocktail kit ($60.62-$65.13), Lawless Distilling Company
Due to pandemic business closures, I've sampled a fair number of cocktail kits from local distilleries, and Lawless Distilling Company consistently makes my favorites.  Their drinks are balanced and complex, even if you're mixing them at home as a novice bartender, and they include thoughtful touches like garnishes and a helpful hints card.  This year, Lawless is offering cocktail kits featuring the recipes from their famous holiday pop up—I recommend the Yippie Ki Yay Mother F*****r!
More made in Minnesota gift ideas
Thank you to Josh Feist for many of the images used in this post—you can find more of his work on Instagram @jaershh.
If you enjoyed this post, pin it!