This year, Minneapolis has replaced the underwhelming Holidazzle Parade with the German-inspired Minneapolis Holiday Market.  Located along Nicollet Avenue at Peavey Plaza, the market features vendors selling German Christmas decorations, European decor items, Turkish soaps, fair trade clothing, and locally made artisan products.  In the evenings, strands of Christmas lights and live music set a festive atmosphere.  But obviously, the highlight is the food.  There are German favorites like glühwein, potato pancakes, bratwurst, pretzels, and spaetzle, as well as a few American options like tomato soup with grilled cheese and deep-fried cheese curds (this is Minnesota, after all).
Mike and I spent a couple hours on a  Thursday evening eating and shopping our way through the market--I definitely recommend visiting on a weekday if possible.  The footprint of the market is small, and while this makes for cozy experience on a weeknight, I suspect it would be congested during the weekend.  Also, bring cash (there are ATMs on site if you don't mind withdrawal fees), and be prepared to spend it--while not ballpark exorbitant, food prices are on the high side.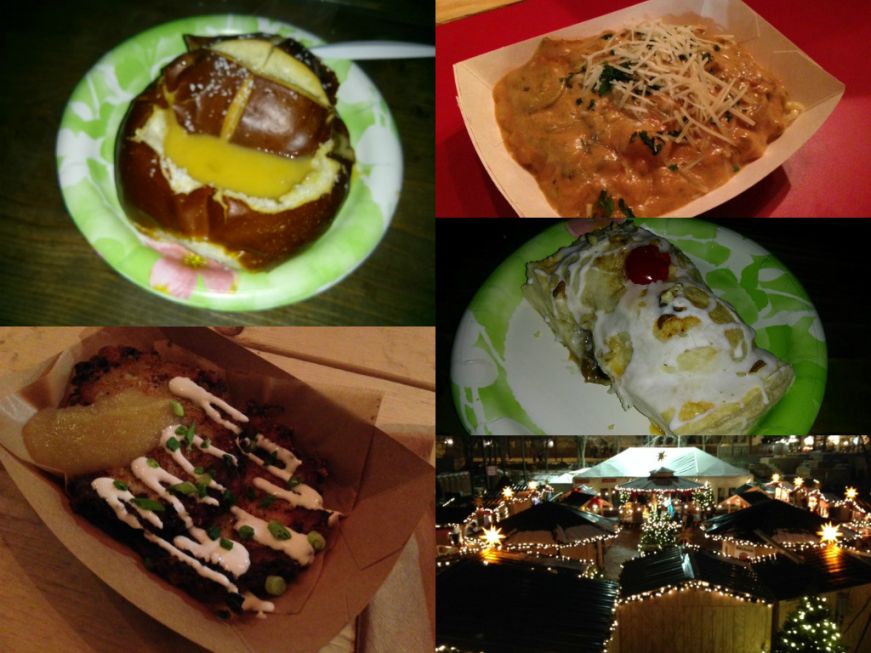 Sponsel's Minnesota Harvest was hit and miss.  The beer cheese soup was satisfying--the fermented tang of the beer cut through the richness of the melted cheddar--but unfortunately the pretzel bowl was a bit flimsy.  The traditional pretzel tasted suspiciously mass-produced, with a gummy texture and bland flavor; its only redeeming feature was that it was warm.  However, the apple strudel was a thing of beauty, with layer after layer of pastry yielding to a modest filling of spiced apples and raisins that make you feel like you've chosen a virtuous dessert, although the drizzle of icing hints otherwise.
The Black Forest Inn's stall features the best deal at the Market: a large serving of warm German potato salad for $3.  Tangy and fortified with chewy hunks of bacon, it will keep your energy up on a cold night.  The menu also includes decently priced bratwursts, weisswursts, and chicken curry sausages.
Although the offerings at Solomon's Bakery are for the most part typical American baked goods (chocolate chip cookies, sugar cookies, cinnamon twists, chocolate croissants), the price is right.  A giant chocolate chip cookie is only $2.  Baked with butter, it's on the crunchy side, perfect for dipping in hot chocolate.
My favorite food at the Market was the potato pancakes from Kartoffelhaus Potato Pancakes.  Fine shreds of potato are fried before your eyes and topped with your choice of sour cream and green onions or applesauce (I recommend the sour cream, since the applesauce is of the institutional variety).  The crisp, delicate potato cakes are the sophisticated cousin of diner hash browns--deep fried deliciousness without gratuitous grease.
Another tasty and authentically German food choice is Venus Spaetzle Haus.  For vegetarians, the spaetzle can be ordered topped with garlic and Parmesan, while meat lovers can enjoy the stroganoff version.  The servings are generous, making for a hearty meal.
Although you can only sample it at the market, another highlight was Brunkow Cheese's Finnish bread cheese.  It's a thin block of mild cheese that is baked to form a toasted crust and served warm, and it comes in several flavors including garlic, cranberry, jalapeno, and pizza (of course, we bought the garlic version).
The Minneapolis Holiday Market is located in downtown Minneapolis at the corner of Nicollet Mall and 11th street.  It's open every day until Christmas Eve from 11 am to 9 pm; on Christmas Eve, the hours are 11 am to 6 pm.  If you visit, be sure to save your ticket--it's good for the rest of the season, so you can make a return trip for more shopping and another round of potato pancakes.